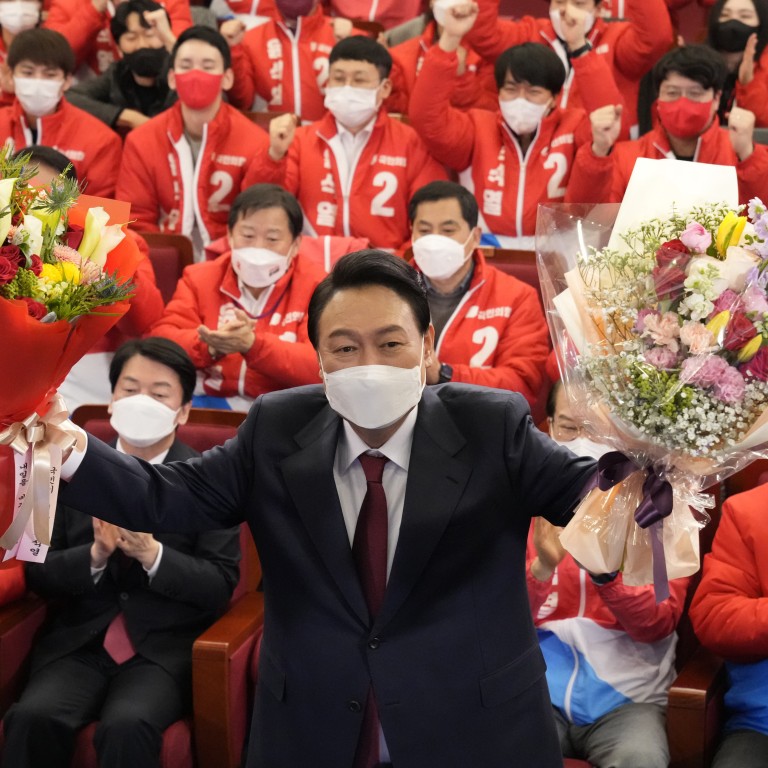 South Korea's president-elect Yoon Suk-yeol vows tougher stance on North Korea, 'mutual respect' with China
Analysts say Yoon can't sustain his tough rhetoric against Beijing and Pyongyang but his bid for a stronger military alliance with Washington could raise tensions
Critics argue the former prosecutor has no clear-cut policy orientation or experience as a policy setter
South Korea
's president-elect Yoon Suk-yeol on Thursday said he would sternly deal with
North Korea
's misbehaviour and reset ties with
China
, hinting he would shift back to the hardline posture taken under his conservative predecessors.
United States
President
Joe Biden
called Yoon to congratulate him on his election victory and they affirmed the need for strong alliance in the face of North Korea's repeated missile launches, Yoon's aides said.
Neighbouring North Korea did not comment on Yoon's election, but Pyongyang recently
conducted a series of missile launches
, sparking concerns it is preparing to test Inter-continental ballistic missiles (ICBM) under the pretext of satellite launches amid stalled denuclearisation talks.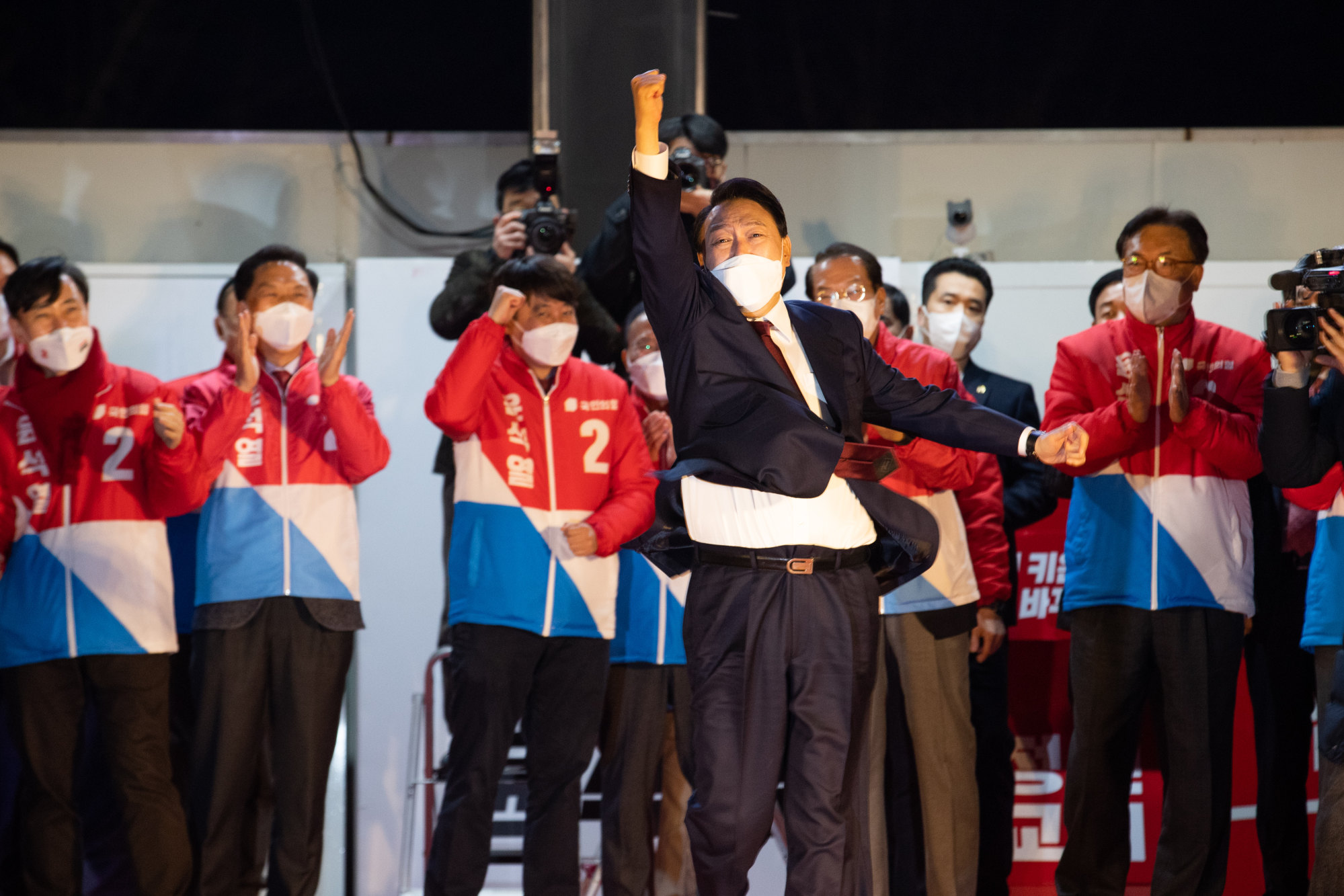 Ties between the two Koreas hit rock bottom under former conservative presidents Lee Myung-bak and
Park Geun-hye
when inter-Korean rapprochement yielded to military clashes and economic reprisals on their watch.
"We will build a powerful military force that can assuredly deter any provocation to protect the safety and property of our citizens, and safeguard the territorial integrity and sovereignty of our nation," Yoon said at his first press conference after he narrowly defeated his rival, the liberal candidate Lee Jae-myung of the Democratic Party.
"There will be firm, principled countermeasures to North Korea's illegal and irrational actions but the doors to dialogue will, however, always be left open," he said.
While running on the ticket of the conservative People Power Party, Yoon has criticised the outgoing liberal president Moon Jae-in's policy toward the North as too "indulgent" which he said only emboldened the Stalinist state to build up nuclear weapons and missiles.
He has called for close-knit cooperation with the United States and other allies to impose strict sanctions against the North with a view to coercing it to abandon nuclear weapons, a formula that has been fruitless for decades in disarming the North.
In contrast, Moon has been pursuing the liberals' "Sunshine" policy of engaging the North in dialogue and economic exchanges to lure the North out of self-imposed isolation and security paranoia which causes it to stick to nuclear weapons.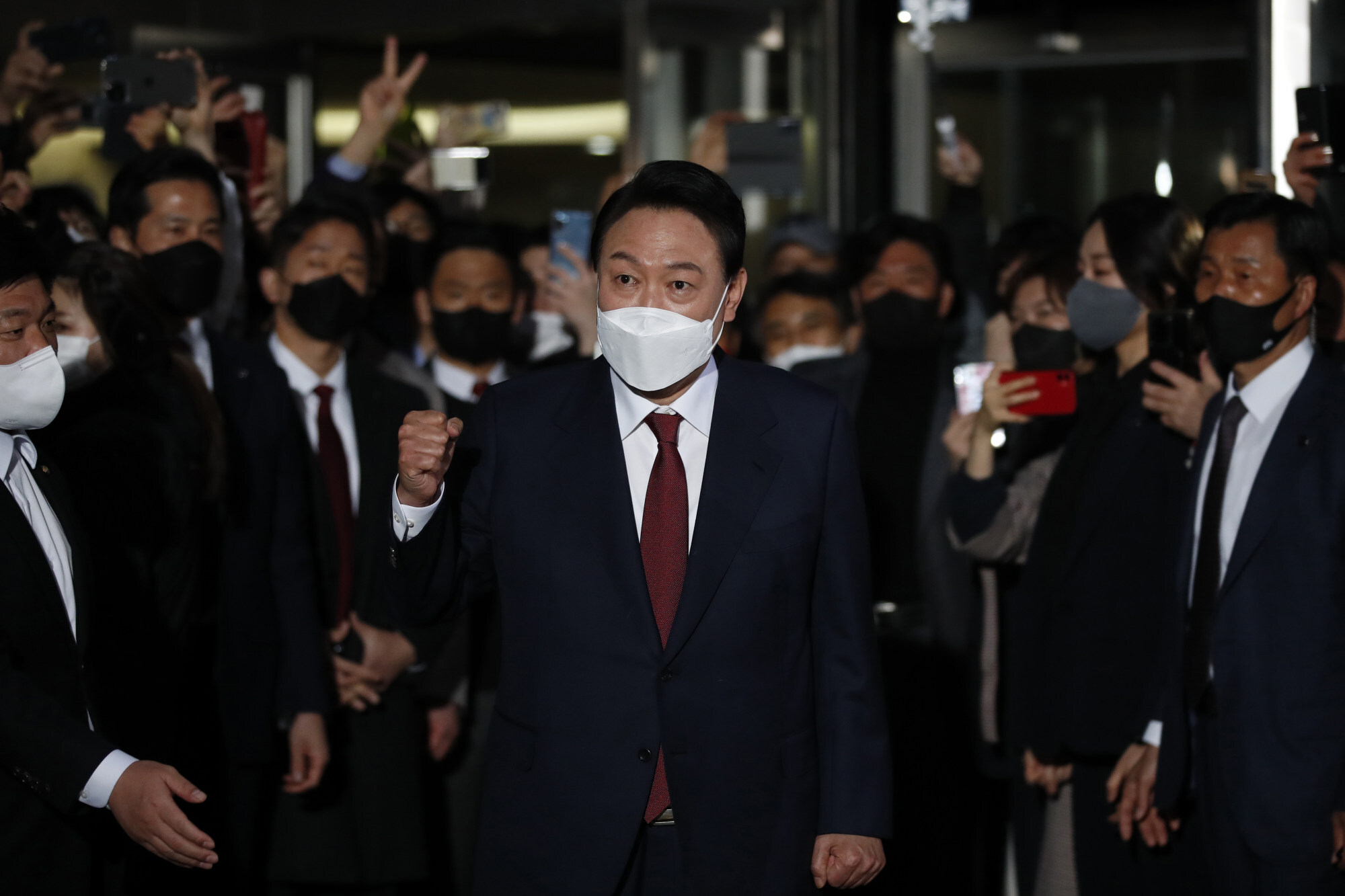 Under the hardline stance toward the North taken by former conservative governments from 2008-2017. The two Koreas exchanged fire across the border, their navy ships clashed, the North bombarded a South Korean island killing four people and the South shut down the Kaesong industrial estate in the North.
After Lee and Park fell into disgrace and were imprisoned for corruption, the liberals swept to power in 2017 in a landslide.
But the reins of power were again snatched back by conservatives in Wednesday's bitterly fought election amid widespread discontent over housing problems, scandals and pandemic-worsened economic woes.
Liberals have struggled to maintain a balancing act between the country's ally, the United States and its largest trade partner China, sparking attacks from conservatives who decried the purportedly "subservient" attitude toward Beijing.
At the same press conference, Yoon vowed to build a bilateral relationship of "mutual respect" with China while pledging to work for "a forward-looking relationship" with Japan without elaborating.
Yoon, whose single five-year term is to begin in May, campaigned on anti-China sentiments widely shared by young voters and sparked by China's supposedly overbearing posture as well as its alleged attempts to lay claim to certain elements of Korean culture, ranging from
kimchi and Hanbok
traditional clothes.
Yoon said at a speech at the American Chamber of Commerce last year that the Moon government has been implementing a "pro-China" policy but Koreans, especially young Koreans, "hate" China.
Choi Jin, head of the think tank the Institute of Presidential Leadership, said there will be an "about-face" in government policies under Yoon, especially on the security and diplomatic fronts.
"Relations with the North will undergo great changes under the new conservative government, raising military tensions higher," he said.
"As Yoon seeks firmer military alliance with the United States, relations with China will also likely suffer," he said.
However, International Relations Professor Jhee Byong-keun at the Chosun University said the tough rhetoric Yoon used against the North and China during his election campaign would be unsustainable.
"As a former prosecutor general who spent most of his adult life in prosecuting criminals, he has no clear-cut policy orientations or experiences as a policy setter," Jhee said.
"He is a centre-rightist and he is likely to be closely coached by moderate advisers and he has to seek cooperation from the National Assembly dominated by the liberals in pursuing his diplomatic agenda," he said.
Domestically, the prosecutor-turned-politician vowed to boost growth and create jobs in Asia's fourth-largest economy, where rising home prices and a widening wealth gap have fuelled voter discontent.
Yoon's private-sector approach contrasted with his opponent, former Gyeonggi Governor Lee Jae-myung, who had sought to make South Korea the region's first nation to pay a universal basic income.
Yoon also controversially pledged to investigate the
Moon Jae-in
administration excesses if elected.
Additional reporting by Bloomberg, Korea Times