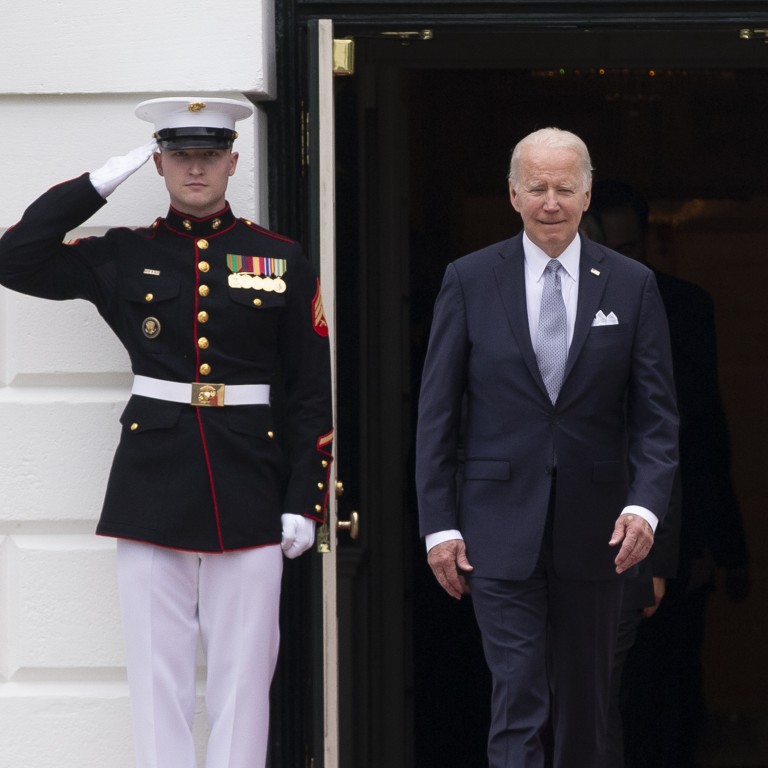 Joe Biden to plug Indo-Pacific Strategy in Japan and South Korea, with eye on China and Russia
The US President will seek to deepen security cooperation with both allies and encourage them to press further sanctions on Russia amid the Ukraine war
While Seoul is not a member of the Quad, its close ties with the US and support for the Indo-Pacific Strategy could see it invited to participate in working groups, an analyst says
On
Joe Biden
's first trip to Asia as US president this week, he is expected to engage Washington's two staunchest allies in the region more closely with its Indo-Pacific Strategy and encourage them to further step up pressure on Russia and China, analysts said.
From four days beginning on Friday, Biden will visit Seoul and Tokyo in a trip the White House says underscores US commitment to the region even as international attention is directed towards the Ukraine war.
On top of meetings with newly-inaugurated South Korean President Yoon Suk-yeol and Japanese Prime Minister Fumio Kishida, Biden and Kishida will also be attending the
Quad
partnership summit with India's Prime Minister Narendra Modi and Australian leader Scott Morrison.
While there are concerns that New Delhi might weaken the cohesion of the Quad given its refusal to criticise
Russia's invasion of Ukraine
, analysts said this would not affect cooperation in providing health and infrastructure assistance to the Indo-Pacific region.
Under the Indo-Pacific strategy, the US says it will build a free and open region, bolster security and build resilience with its allies and partners, with an eye on China as a threat.
Andrew Yeo, senior fellow and Korea Chair at the Brookings Institution in Washington DC, said both Tokyo and Seoul had supported sanctions against Russia, imposed export controls, offered humanitarian assistance and voted at the United Nations in support of Ukraine.
"That allies in Asia, and not just Europe, remain supportive of Ukraine gives Washington a major boost in its geopolitical contest with Russia and China," said Yeo, who is also professor of politics at the Catholic University of America.
Tom Corben, a research associate in the foreign policy and defence programme at the University of Sydney's US Studies Centre, said the Biden administration is likely to exert greater efforts in Seoul than Tokyo.
"With a new president in the Blue House who appears much more forward-leaning on alliance collaboration and security issues … (the) administration will sense an opportunity to secure greater Korean support for efforts to punish Russia and/or support Ukraine," Corben said.
Japan: the US' strongest ally in Asia
In Japan, Biden is likely to visit a space-related facility, in what Kyodo described last week as a bid to bolster bilateral cooperation in economic security.
Japan, the US' strongest ally in Asia, has in recent months imposed sanctions, restricted trade and announced a decision to phase out imports of Russian coal and crude oil.
Tokyo has also worked with Europe to step up further sanctions and strengthen engagements, including signing a defence cooperation pact with Britain earlier this month, which would enable faster deployment of their troops.
Yoichiro Sato, a professor of international relations at Ritsumeikan Asia-Pacific University, said Japan had expanded the scope of its financial sanctions against Russia despite the prospect of worsening relations with Moscow.
By visiting India, Indonesia and Vietnam in recent weeks, Kishida had also narrowed the gap between the US and Asian countries with significant military ties with Russia, according to Sato.
"Japan's quiet diplomacy contributed to maintaining a broad diplomatic coalition against Russia and is well appreciated in Washington," Sato said, adding that Kishida was likely to respond more positively to US efforts to forge a trilateralised security partnership between itself, Japan and South Korea.
"The Biden visit may offer an extra nudge Yoon needs," Sato said, noting that the new administration in Seoul had also spoken about the possibility of a reconciliation with Tokyo.
In recent years, ties between Japan and South Korea have come under severe strain over trade disputes, territorial wrangling and historical animosities including wartime compensation. These have prevented the two Asian allies from working closer especially on security, a prospect which the US has tried to encourage since the Barack Obama administration.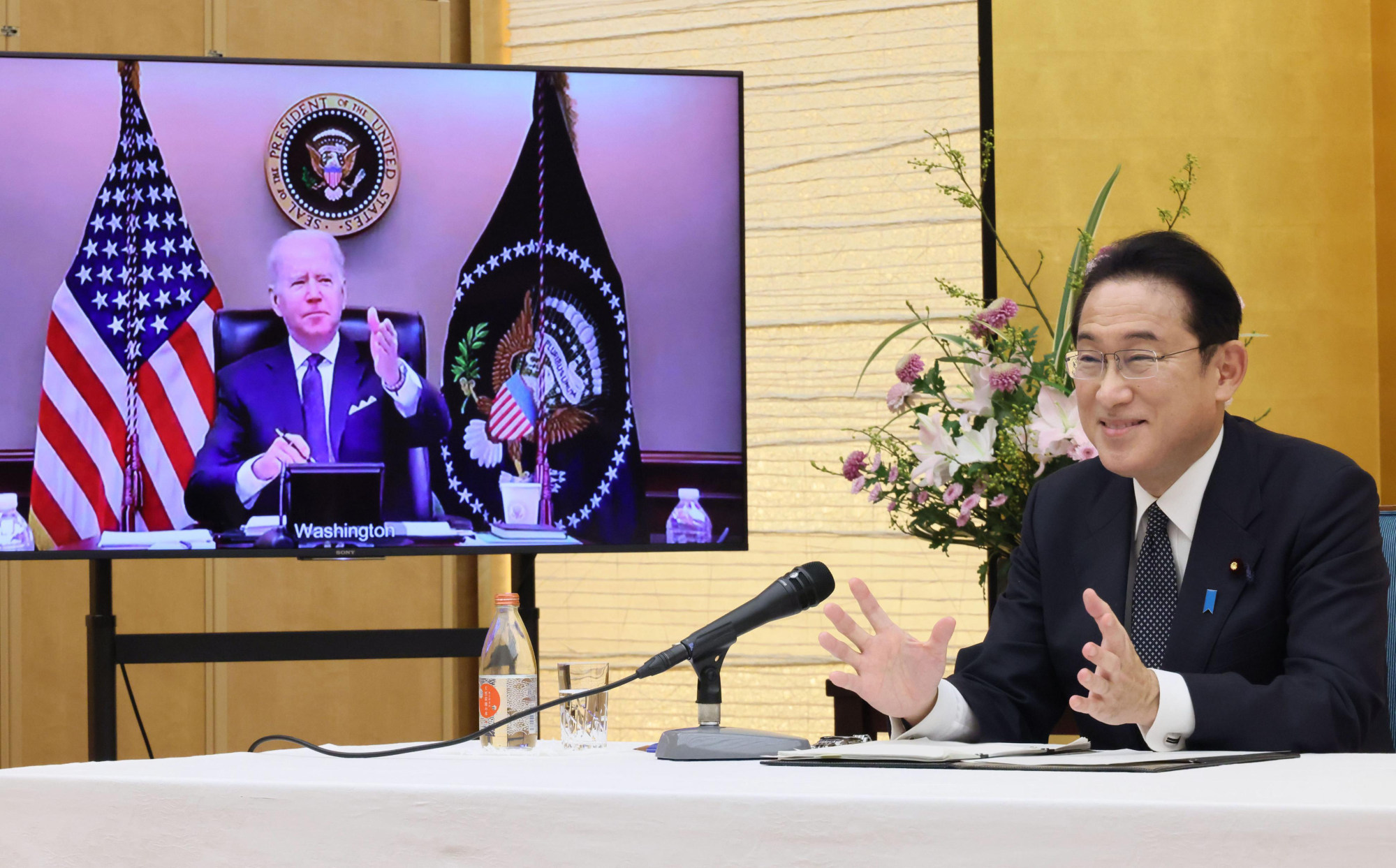 South Korea's policy on the North
Jae Jeok Park, an associate professor at Hankuk University of Foreign Studies in Seoul, said the Yoon administration is most likely to express its "strong support" for the Indo-Pacific strategy at the bilateral summit meeting with the US.
"Yoon's foreign policy aides would frame South Korea's stronger commitment on the strategy as an investment on, or insurance for, the US-ROK alliance," Park said, referring to the official name of the Republic of Korea.
He added that Washington was likely to draw Seoul further into the strategy by highlighting that the Ukrainian war had strengthened the coalition between China, Russia and even North Korea.
Washington is expected to also warn Seoul that if it does not undertake a strong commitment to security issues in the region, Japan would emerge as the major, and South Korea a peripheral partner in the US security network, Park added.
For years, South Korea has been reluctant to throw its weight fully behind the US alliance for fear of jeopardising strong economic and trade ties with China, which has in turn perceived Seoul as the weakest link in the US alliance network.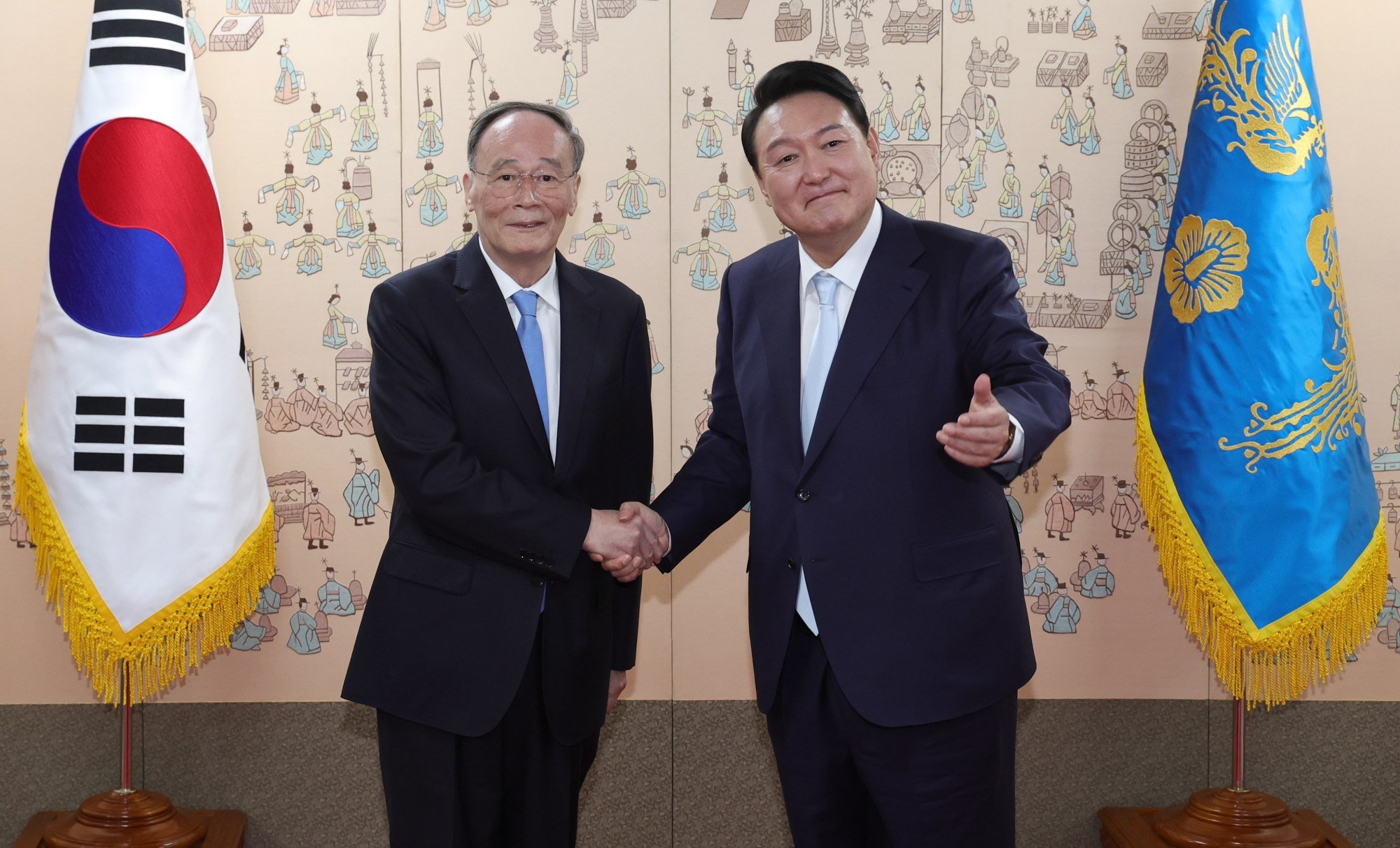 During a meeting with Yoon last week, Chinese Vice-President Wang Qishan – the highest-level Chinese leader to attend a South Korean presidential inauguration – called on the new administration to work with China to "safeguard multilateralism" and improve ties.
Khang Vu, a PhD candidate in political science at Boston College, said an increase in North Korean missile provocations and the prospect of a more hawkish South Korean president will allow both countries to set the tone of cooperation and even work out a more coordinated strategy towards Pyongyang.
"Yoon will not offer unconditional aid to North Korea like (former president) Moon Jae-in tried to do, and this shift is welcomed in the US," Vu said, adding that Biden favoured a sanction-first policy.
In recent months, North Korea has test-launched a number of missiles including the firing of three short-range ballistic missiles on Thursday, hours after it confirmed its first case of the coronavirus since the pandemic began.
Quad to overlook India's position on Russia
Ahead of the Quad summit, Japanese media have reported that issues to be discussed include space cooperation as well as key regional and global security issues, including China's increasing pressure on Taiwan.
Corben from the University of Sydney said
India's position on Russia
was unlikely to have a strong impact on the Quad's agenda. He added that the bloc's primary strategic aim was to counterbalance Chinese influence in the region across a range of domains, and not just in security.
"Presenting a united front regarding developments in Europe … or functioning as the vanguard of a supposed struggle of 'autocracy versus democracy' should not be a first-order priority for the Quad," Corben said, adding that for Biden or other Quad leaders to ostracise or punish India makes little sense considering how central New Delhi is to the grouping's Indo-Pacific strategies.
Pointing to the need for a "careful management of inflated expectations", Sato from the Ritsumeikan Asia-Pacific University said since the Quad was unlikely to coordinate economic sanctions against Russia, it would instead address issues ranging from the pandemic, digital economy, supply chain resilience and maritime security.
Park from Hankuk University of Foreign Studies said what he would pay attention to was whether and to what degree Quad countries could undertake coordinated actions regarding cyberspace and sensitive hi-tech, dual-use technologies.
Amid US competition with China and Russia in the fields of space and high technology, the Chinese top envoy in Moscow Zhang Hanhui said on Monday that Beijing would continue to deepen cooperation with Moscow on military technology, energy and space.
Even though reports in recent weeks have suggested that South Korea might be invited to join the Quad, White House press secretary Jen Psaki said on Monday that the US had no plans to extend the invitation as there were many ways Washington could engage with Seoul.
Yeo from the Brookings Institution noted that even though Seoul would not become a formal member of Quad, it could be invited to participate in working groups.
Vu from Boston College said that if Seoul increased its cooperation with the Quad, Biden's visit early in Yoon's term would "demonstrate that the US has South Korea's back against China's potential bully".
In 2017, China used its economic leverage to punish and retaliate against South Korea's deployment of a US anti-missile system by cancelling Chinese tour groups to the country, closing Korean conglomerate Lotte stores and even banning the airing of South Korean television dramas in China.