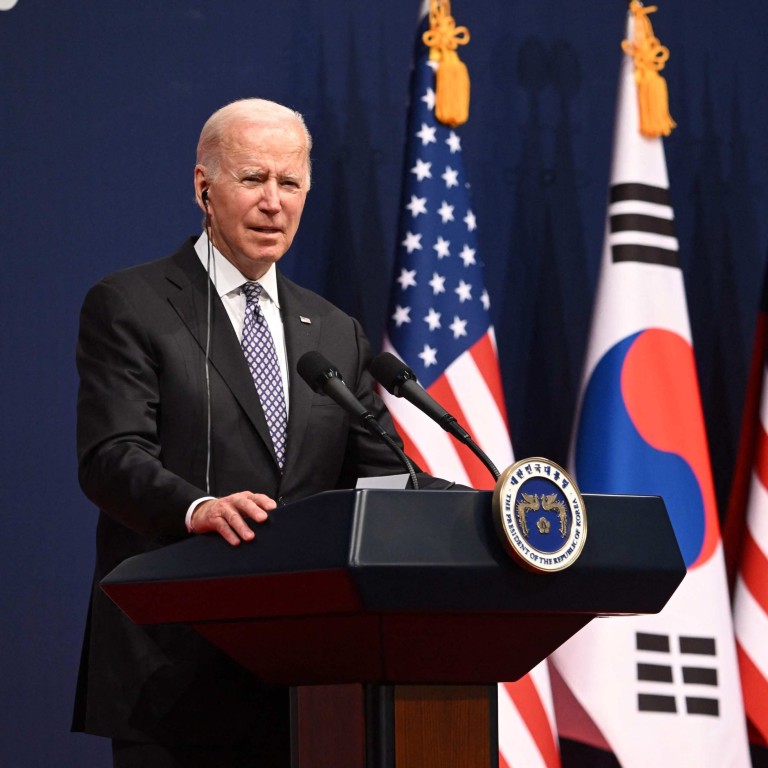 Biden touts wider regional cooperation in meeting with South Korea's Yoon Suk-yeol, avoids direct mention of China
Joint statement from Biden and South Korea's Yoon Suk-yeol said they were committed to promoting stability across the Taiwan Strait, but did not mention China
Biden also said that any potential meeting with North Korea's leader would depend on whether Kim Jong-un was 'sincere'
"And so we talked up at some length to make this larger than just the United States, Japan and Korea, but the entire Pacific, the South Pacific and the Indo-Pacific," he said. "You've heard me say it a hundred times and I am sorry to the American press for repeating it, but I really do think we are at an inflection point in world history … there is going to be a competition between democracies and autocracies, I mean that sincerely".
He said cooperation did not have to take the form of a formal written alliance, noting how Japan and South Korea both "stepped up" to support
Ukraine
in its war against larger neighbour
Russia
.
"So there's a whole range of things that affect whether or not democracy can be sustained in the midst of these incredible changes taking place," he said.
The Democrat President arrived in South Korea on Friday for his inaugural Asia visit of his term, and will travel to Japan next for a meeting with Prime Minister
Fumio Kishida
and a summit of the
Quad
group of nations.
The highlight of his trip is expected to be the formal launch in Tokyo of the Indo-Pacific Economic Framework (
IPEF
), which President Yoon will virtually attend.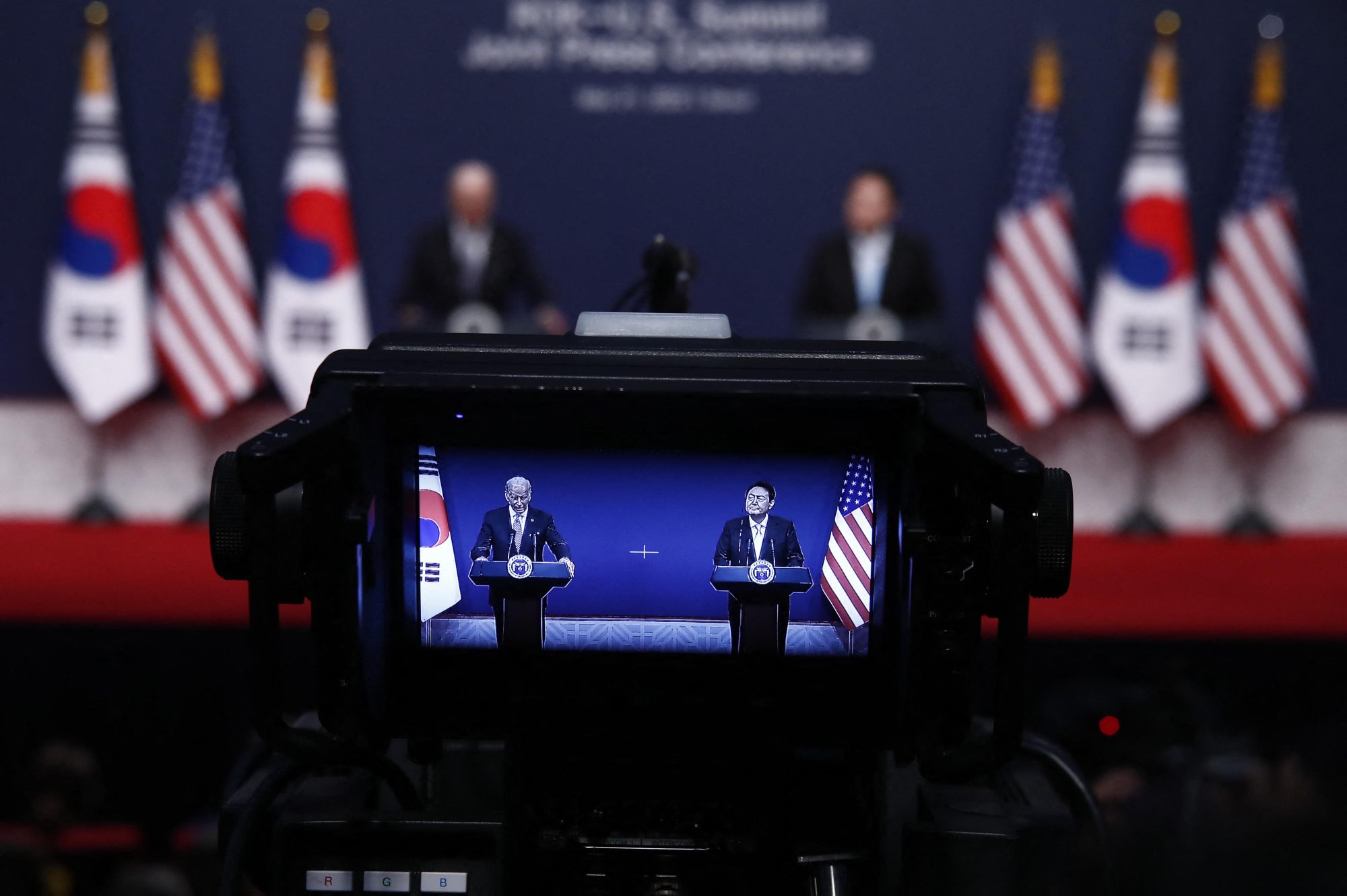 The framework – seen as an alternative to a conventional multilateral trade pact such as the
CPTPP
or the
RCEP
– is primarily aimed at making supply chains more secure and resilient, setting the rules of the digital economy, and investing in clean, modern, high-standard infrastructure.
After arriving in South Korea
on Friday
, Biden visited a Samsung semiconductor plant with Yoon where he stressed the need to ensure stable supply chains by working with close partners.
He said the pandemic had exposed the fragility of "just-in-time supply chains" with Russian President
Vladimir Putin
's "brutal and unprovoked war in Ukraine" further spotlighting the importance of ensuring "our economic and our national security are not dependent on countries that don't share our values".
IPEF doubts
There has been some scepticism in Asia about the IPEF, and expectations are that Kishida might ask Biden during their Monday meeting to reconsider participation in the Trans-Pacific Partnership – an ambitious trade deal that was pushed by President
Barack Obama
.
President
Donald Trump
pulled the plug on US participation when he came to power in 2017 saying such deals "stole jobs" away from America. Subsequently, the 11 remaining TPP participants formed the Comprehensive and Progressive Partnership for Trans-Pacific Partnership (CPTPP).
Asian countries, most of which have deep trade and economic ties with China, have also sought to make sure that the IPEF is not a means for Washington to exclude Beijing from global supply chains.
"The way I see it, we're not pushing for an agreement but creating a type of platform where we can work together," said a senior economic official in President Yoon's office, on condition of anonymity. "It makes me wonder if they're responding in an overly sensitive manner."
The official rejected the idea that being part of the framework would cause a "decoupling" between China and South Korea, noting that two-way trade exceeded US$300 billion last year. About one-quarter of South Korea's exports went to China in 2021, while 15 per cent were to the US.
"We've said to the Chinese that we should create a framework to manage stable supply chains through follow-up negotiations on the South Korea-China free trade agreement," the official said. "We are certainly not trying to exclude China."
Leif-Eric Easley, an international-studies professor at Ewha University in Seoul, said the IPEF was aimed at "raising standards, not containing China".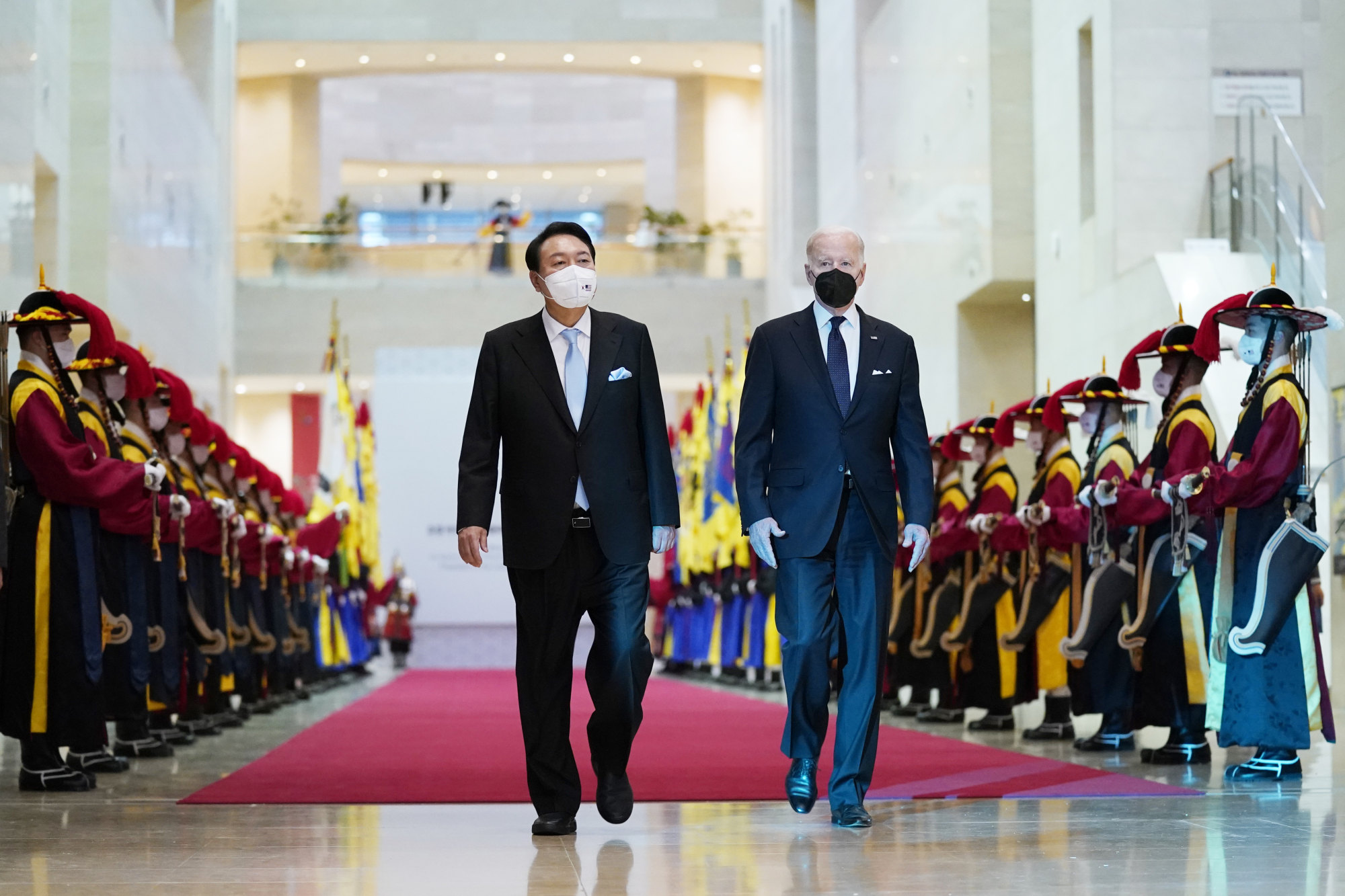 "Beijing would have no legitimate reason for retaliating against Seoul for joining the initiative," he said.
But Park Won-gon, a professor of North Korea studies at Ewha University, said it was "obvious" the framework was aimed at countering China's growing influence and assertiveness.
"It is a difficult choice for South Korea to make but it has been left with no other alternatives other than joining [the IPEF] in this zero-sum game," he said.
Asked during the press conference about the likelihood of US re-entry into the TPP, Biden demurred, saying the IPEF had various aspects that were "inclusive of what the TPP was about".
North Korea threat
In a joint statement, Biden and Yoon said they were committed to ensuring close cooperation to deter North Korea amid Pyongyang's "destabilising activities".
North Korea
has in recent months stepped up weapons tests and resumed intercontinental ballistic missile (
ICBM
) tests that have been paused since 2017.
Yoon said in the press conference that Biden "reiterated and re-emphasised" Washington's commitment to "effective extended deterrence" against North Korea, adding both countries would coordinate the deployment of "US strategic military assets" and stepped up joint exercises.
Asked if he'd consider holding talks with North Korean leader
Kim Jong-un
, Biden said that would depend on whether he was sincere and whether he was serious".
US officials have previously said Biden would not meet Kim unless there was a clear purpose.