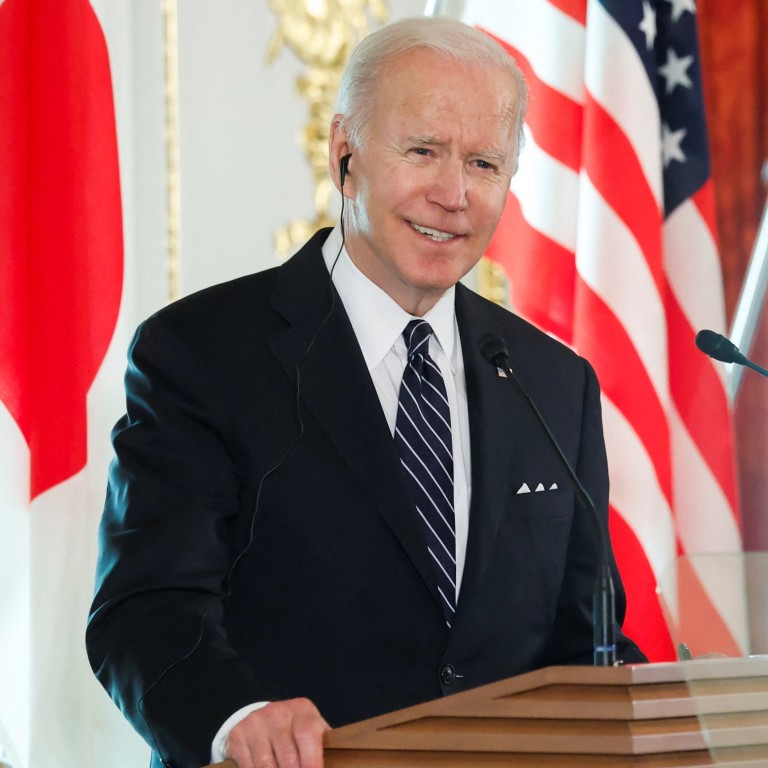 US and Japan will 'stand firmly' against Taiwan takeover, Joe Biden says
Stability on the Taiwan Strait was among the regional topics discussed by Biden and Japan PM Fumio Kishida during their bilateral talks in Tokyo
Biden said the US agreed with the One-China Policy, 'but the idea that it can be taken by force ... is just not appropriate'
US President
Joe Biden
on Monday said he did not expect China to attempt reunification with Taiwan by force, but underscored that Washington remained committed to militarily defend the self-ruled island if the need arose.
Stability on the Taiwan Strait was among the regional topics discussed by Biden and Japanese Prime Minister
Fumio Kishida
during their bilateral talks on Monday in Tokyo.
Biden, on his maiden Asia tour as US president, flew to
Japan
on Sunday after visiting
South Korea
, another American treaty ally.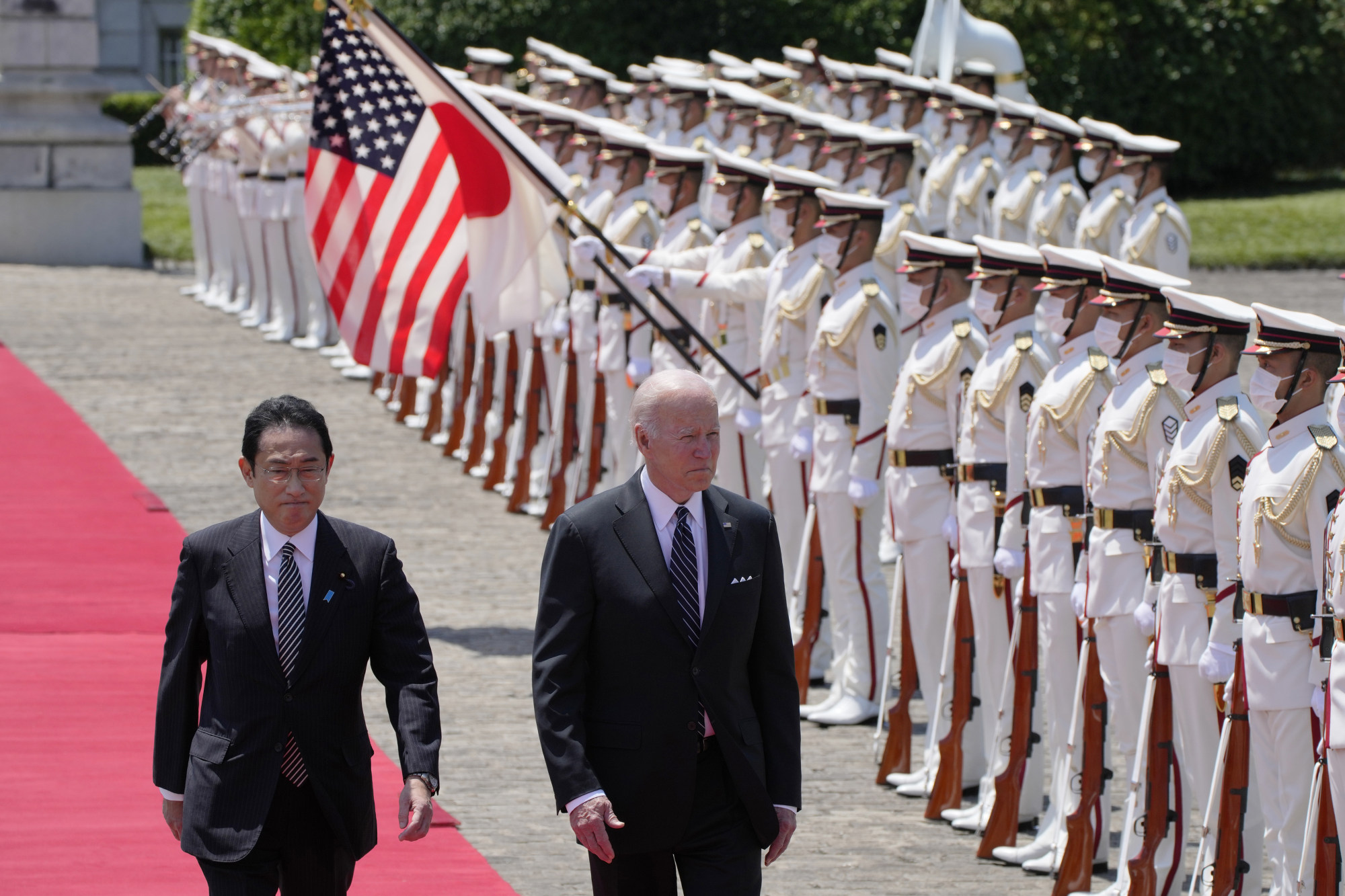 Asked during Monday's press conference if the US was willing to involved militarily to defend
Taiwan
given its decision not to get involved in the Ukraine-Russia war, Biden replied in the affirmative, saying "yes, that's the commitment we made".
"We agree with the One-China Policy, we signed on to it and all the attendant agreements made from there. But the idea that it can be taken by force ... is just not appropriate. It will dislocate the entire region and be another action similar to what happened in
Ukraine
," Biden said.
His comment suggesting that the US was resolute about defending Taiwan in the event of a Chinese invasion appeared to directly contravene Washington's decades-old policy of "strategic ambiguity" on the matter.
The 1979 Taiwan Relations Act, which has governed US relations with the island, does not require the US to step in militarily to defend Taiwan if China invades, but makes it American policy to ensure Taiwan has the resources to defend itself and to prevent any unilateral change of status in Taiwan by Beijing.
A White House official said Biden's comments did not reflect a policy shift. Still, in an immediate reaction, China's foreign ministry said it would take firm action to safeguard its sovereignty and interests.
Biden last October caused similar confusion when he said "yes, we have a commitment to do that" when asked on CNN whether the US would come to Taiwan's defence if mainland forces attacked. The White House later clarified that the president's comments did not amount to a change in policy.
Answering an earlier question, Biden said Washington abiding by the One China Policy "does not mean that China ... has the jurisdiction to go in and use force and take Taiwan".
"We stand firmly with Japan and with other nations not to let that happen and my expectation is that it will not happen," he said. "It will not be attempted, and my expectation is a lot of it depends upon just how strong the world makes clear that that kind of action is going to result in long-term disapprobation by the international community."
Asked how Japan would react if China invaded Taiwan, Kishida said there was "no change" in Tokyo and Washington's fundamental position on the matter. During Monday's talks, both sides "asserted the importance of peace and stability of the Taiwan Strait which is fundamental to international order".
"Peaceful resolution of the straits issue should be reconfirmed. In Asia, we are against any unilateral attempt to change the status quo by force," Kishida said.
Biden's meeting with Kishida preceded the launch of the Indo-Pacific Economic Framework (IPEF), an economic engagement plan aimed at bolstering supply chain cooperation among America's Asian strategic partners. Beijing has slammed the strategy as "divisive", with foreign minister Wang Yi saying on Sunday that it was "doomed to fail".
Kishida and Biden indicated that they considered economic alliances to be critical to security pacts, with a two-plus-two economic dialogue expected to be held in July. The Japanese leader added that he would sign up for the US-led IPEF, but he had not given up on convincing his US counterpart to rejoin the successor to the Trans-Pacific Partnership (TPP).
That trade bloc effectively collapsed in early 2017, when former President Donald Trump suddenly withdrew the US' membership. Tokyo worked hard to resurrect the pact, which is now the 11-nation Comprehensive and Progressive Agreement for Trans-Pacific Partnership (
CPTPP
), and Kishida is understood to have used the two leaders' talks in Tokyo to lobby hard for the US to return to the fold.
Immediately before the two leaders addressed the press, Japan also announced that the city of Hiroshima would host next year's Group of Seven (
G7
) meeting, with Kishida – who represents a political constituency in the first city to have been the target of an atomic bomb – stating that the event would send a message of peace in these troubled times.
"They have stated some strong positions on China, Taiwan, regional security and North Korea, but what is important is what they actually do now," said Yoichi Shimada, a professor of international relations at Fukui Prefectural University.
"I would argue that, given these comments, Kishida has to do something that is conspicuous to demonstrate that Japan really is willing to act rather than just talk," he said. "Japan has to show that it is willing to do more than simply hide behind the US every time there is an issue that has to be dealt with.
"If that means Japan developing an offensive capability, then so be it," he added. "We cannot continue to rely on the US for our own security."
Shimada welcomed the US leader reiterating Washington's position on security surrounding Taiwan and, by extension, the
Diaoyu/Senkaku Islands
, and suggested that now might be the time for the US and Japan to carry out joint naval exercises in the region – as the Chinese fleet surrounding the aircraft carrier Liaoning has been doing in recent weeks.
Shimada also expressed disappointment that Taiwan had not been invited to join the IPEF, an oversight that he described as "a major deficiency", as membership of the trade bloc would also go some way to cementing the island's security architecture with other nearby nations.
Toshimitsu Shigemura, a professor of international relations at Tokyo's Waseda University, pointed out that Biden's visit would help boost Kishida's support rate ahead of an election for the Upper House of the Diet in July. Public opinion polls released shortly before Kishida's joint press conference with the US president showed him at an all-time high of 61.5 per cent since taking office in October last year.
"The Kishida administration is placing a lot of emphasis on close security and economic ties with the US, and Biden coming to Tokyo underlines that he has the support of Washington," he said. "In Japanese politics, that gives him strength ahead of the election.
"The question now is how Kishida intends to make a strong stance against China," he agreed. "I have the impression that there is concern in the US that Kishida and Foreign Minister [Yoshimasa] Hayashi may be a little weak on Beijing, so Biden may have encouraged Kishida to join him in assuming a more forceful strategic position against China."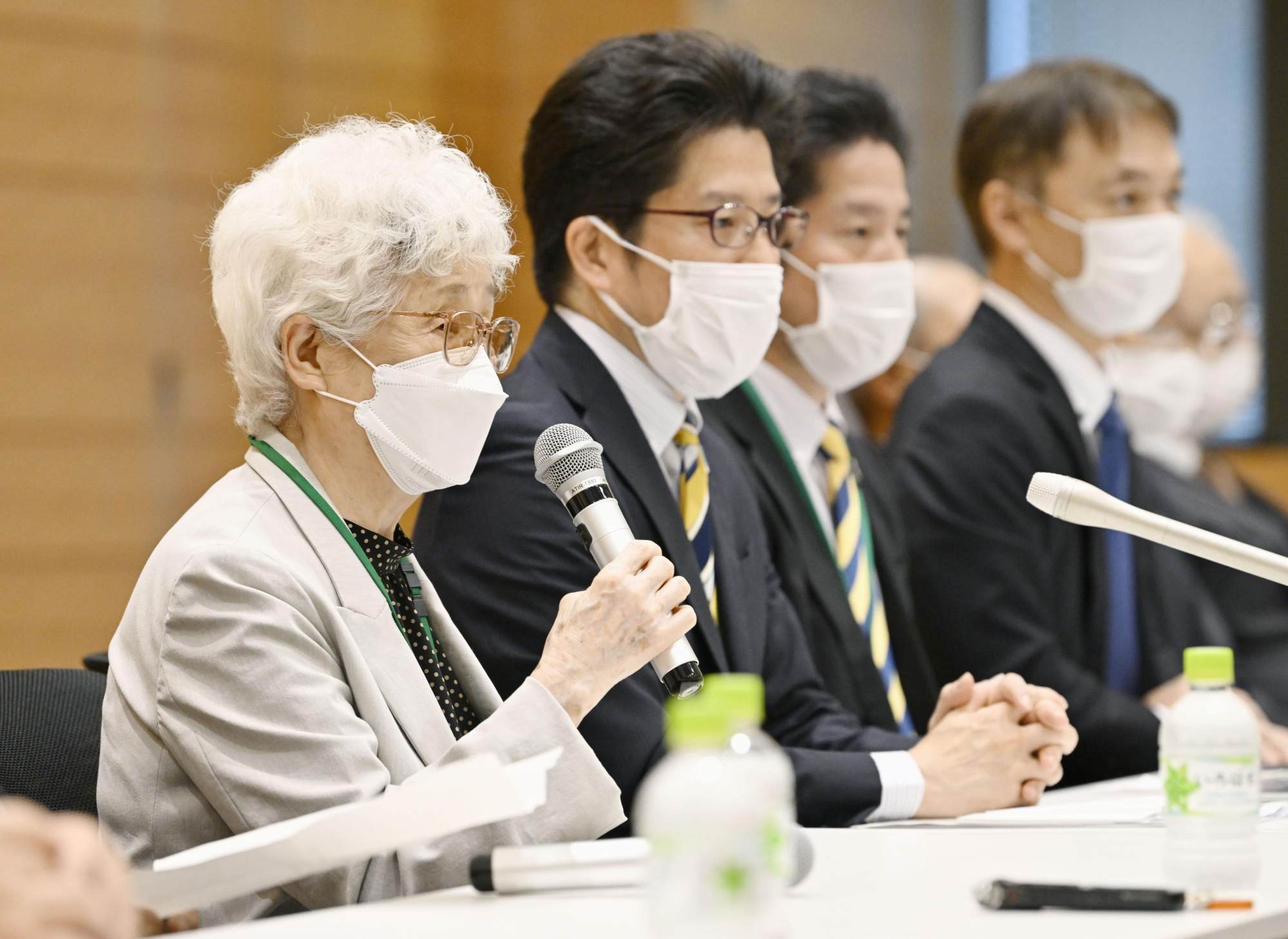 Also Monday, President Biden urged North Korea to correct the "historic wrong" of its past abductions of Japanese nationals in the 1970s and 1980s, and to fully explain the situations of those still unaccounted for.
In a Tokyo meeting with the families of Japanese who were abducted by North Korean agents, Biden expressed his condolences and "called on North Korea to right this historic wrong and provide a full accounting of the 12 Japanese nationals who remain missing", according to the White House.
Biden met the families "to express solidarity with the victims" and support Japanese Prime Minister Kishida's efforts to "resolve this painful issue", the White House added.
Additional reporting by Associated Press, Kyodo