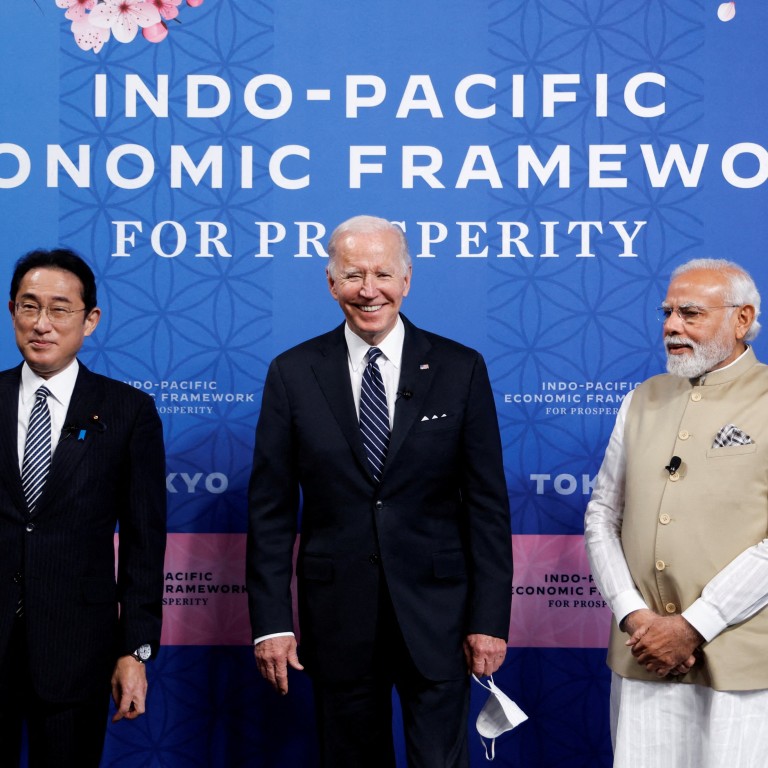 From Singapore to Malaysia and Philippines, Asean's interest in Biden's IPEF a signal to China it wants better 'balance of power' in region
After Trump withdrew the US from the TPP, Washington's economic disengagement from the region had enabled China to 'grow its economic footprint in Asia unhindered'
The Indo-Pacific Economic Framework is being viewed by the region as a chance for the US to 'regain a foothold in the region', both economically and politically
The move by seven Asean states to sign up for Washington's new trade pact, even as few details about the deal are known, is not only a signal of support for US re-engagement with the region but a bid to better ensure the balance of power in the neighbourhood, analysts say.
Last week, US President Joe Biden launched the Indo-Pacific Economic Framework for Prosperity (IPEF), a pact that covers supply chains, digital trade, clean energy and anti-corruption efforts.
Twelve economies in the Asia-Pacific signed up at its launch, with the participating countries saying in a joint statement that the IPEF would help prepare them for the future following disruptions caused by the pandemic and Russia's invasion of Ukraine.
Of Asean's 10 members, Brunei, Indonesia, Malaysia, the Philippines, Singapore, Thailand and Vietnam came on board. The others who joined were Australia, India, Japan, South Korea and New Zealand, with all participating economies accounting for 40 per cent of the world's GDP, according to the White House.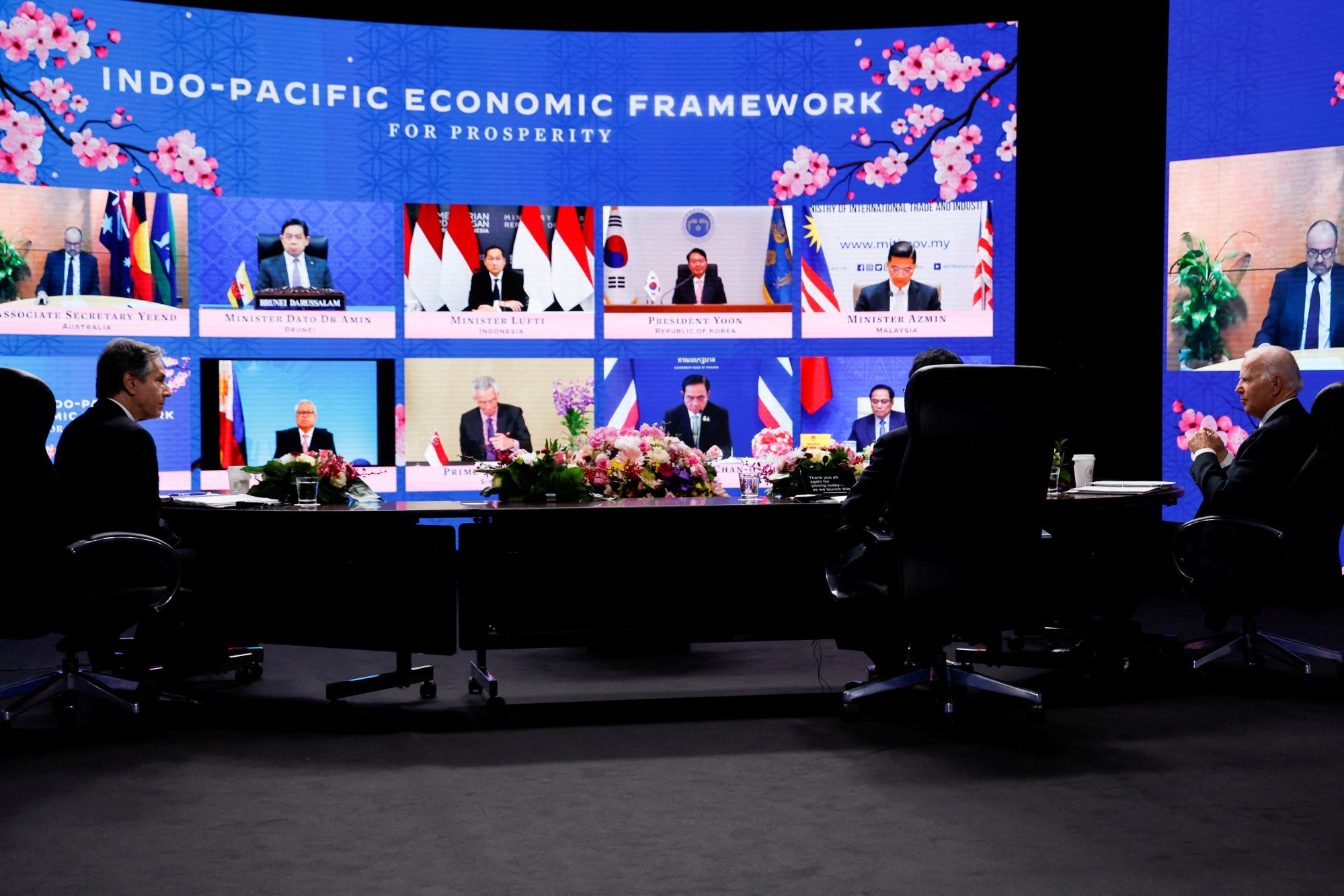 Jayant Menon, a senior fellow at the ISEAS-Yusof Ishak Institute in Singapore, said many Association of Southeast Asian Nations members had signed on even though the proposed deal was "less than what they might have hoped for".
"(They) are clearly keen to support the effort by the US to re-engage with the region after the disastrous episode with the Trump administration," Menon said, referring to former US president Donald Trump's decision to exit the Trans-Pacific Partnership (TPP) in 2017.
Tan See Seng, research adviser at the S. Rajaratnam School of International Studies (RSIS), said the US' withdrawal from the TPP was "an educational moment for the Asian region".
Noting that American ambivalence towards the pact was bipartisan, Tan said Washington's economic disengagement from the region had enabled China to "grow its economic footprint in Asia unhindered".
"Against this backdrop, I think Asian countries see the IPEF as America's attempt to regain a foothold in the region, not just economically, but more crucially, politically," Tan said. "Participation in the IPEF is a signal to China that some Asian states much prefer a balance of power and influence in the Indo-Pacific region."
China's foreign ministry spokesman Wang Wenbin on Wednesday described the IPEF as an attempt to disrupt regional cooperation and a tool of coercion.
Earlier in May, Chinese Foreign Minister Wang Yi accused the US of sowing division in the region, while on Monday he underlined China's commitment to economic development in the Asia-Pacific region.
China's nationalistic tabloid Global Times said on Tuesday that as the IPEF had not been approved by the US Congress, its political sustainability was in question since it was unclear "whether the Biden administration can be re-elected".
Ngeow Chow Bing, director of the Institute of China Studies at the University of Malaya, said it was unsurprising that the seven Asean countries would "sign up first and talk later", as there were "no significant harm, risks or costs" involved.
"Joining at this stage has almost zero costs, but not joining will risk them being seen by the US as being 'in China's pocket' and will lose them other opportunities in the future," Ngeow said, adding that since IPEF was about economic matters, Asean countries likely thought that China would not react too strongly.
Aaron Rabena, a visiting fellow at the ISEAS-Yusof Ishak Institute, said the seven Asean states were eager to capitalise on economic opportunities with the US wherever possible.
"These countries also want the US to be felt economically in the region as it seems to be the missing link in the US' Indo-Pacific strategy," Rabena said, referring to Washington's strategy of building a free and open region, bolstering security and building resilience, with an eye on China as a threat.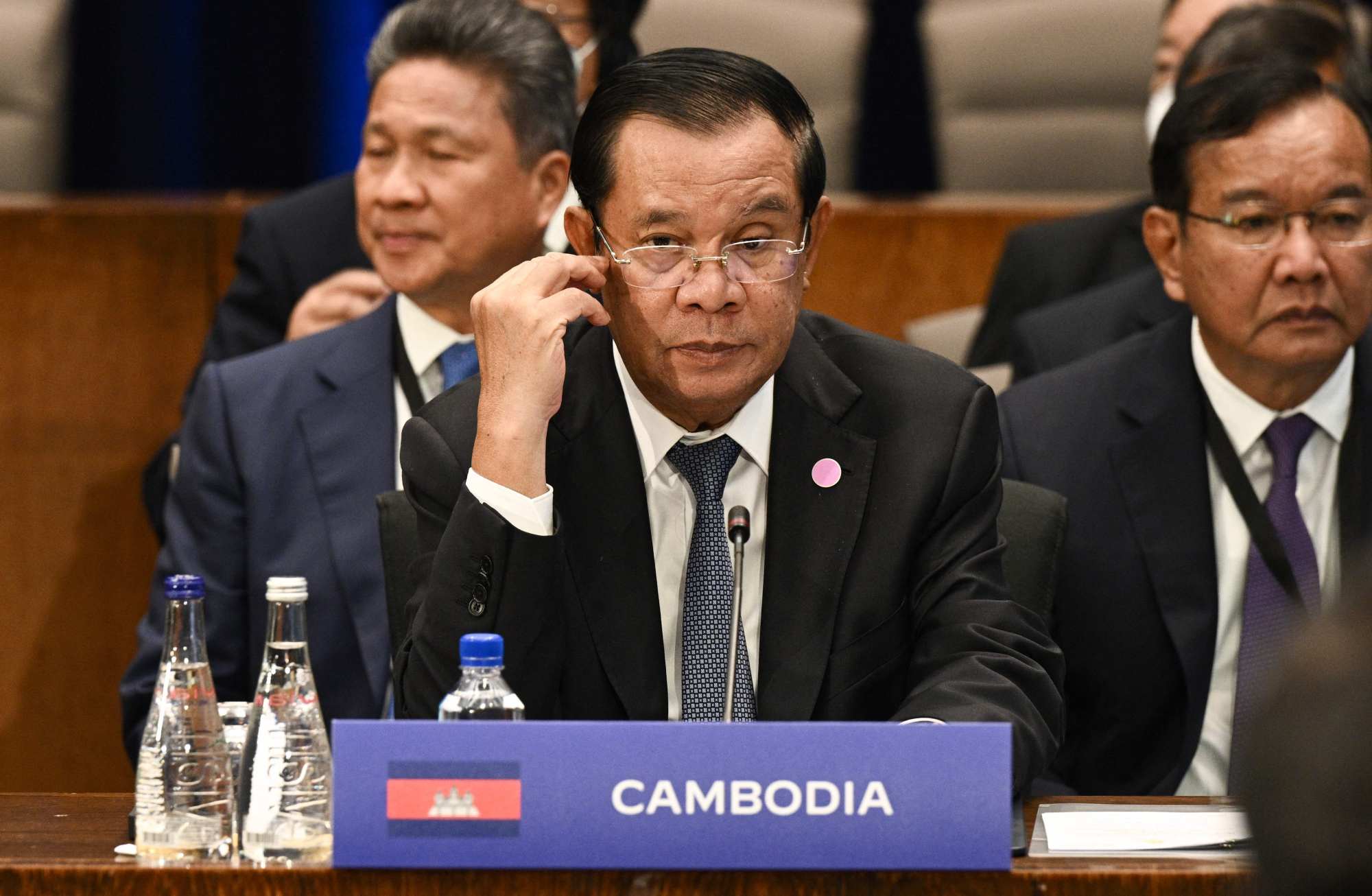 Asean holdouts
Apart from geopolitical reasons, the absence of the three remaining Asean members – Cambodia, Laos and Myanmar – is due to these countries' transitional economic status from central planning to free markets, Menon said.
These Asean members would find it difficult or costly to deal with some of the trade rules and standards involved, Menon said, adding that it also explained why they were not members of the CPTPP or other trade agreements with higher standards.
The successor to the TPP, the Comprehensive and Progressive Agreement for Trans-Pacific Partnership (CPTPP) has 11 member countries and came into effect in 2018. It has high standards for investment, financial services, intellectual property, the environment and labour rights.
Deborah Elms, executive director of the Asian Trade Centre, said while Washington was not currently offering market access in the form of lower tariffs, this did not mean that there would be no market benefits available.
"Some members might benefit from expedited processing of goods at the border or from improved access to testing facilities and easier qualification for products," Elms said, adding that these could be important for companies and might be included in the IPEF later on.
"It's just not certain at the moment," Elms said. She pointed out that the US may not have tried to attract Phnom Penh and Vientiane, as given their status as Least Developed Countries, they already had market access benefits into the US unlike other Asean members.
Protectionist sentiments in the US have prevented market access which is commonly found in trade deals or free-trade agreements.
Tan from RSIS said the Cambodian and Laos economies were so reliant on China that there was "no perceptible need for them to look to the US", especially since the US had been highly critical of Cambodian leader Hun Sen's crackdown on domestic opposition in his country.
Ngeow from the University of Malaya said the three least-developed Asean members were perceived by the US as "not sufficiently distant from China, and hence do not deserve to be 'rewarded' in a US-led initiative".
Economic ties between China and Asean have grown rapidly over the years, with trade in goods ballooning from just US$9 billion in 1991, to US$685 billion in 2020. Last year, China's direct investment in Asean reached US$14.4 billion.