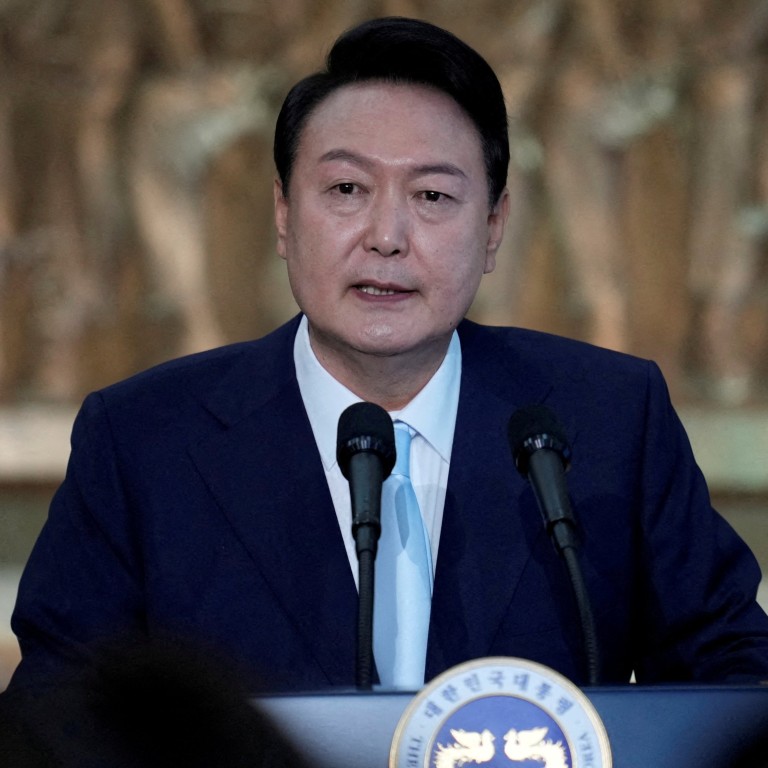 Yoon Suk-yeol says South Korea will no longer 'appease' North, but are Seoul's policies and China affecting future talks?
Yoon Suk-yeol said Seoul will no longer 'appease' the North, and any talks must be initiated by Pyongyang, as analysts warn rising tensions could spark new war
Yoon also said his predecessor Moon Jae-in's soft stance on North Korea turned out to be a 'failure' because it failed to rein in Pyongyang's nuclear build-up
South Korea's new president was talking tough on North Korea in his first international sit-down interview since taking office on May 10, but for all of Yoon Suk-yeol's bravado, his conservative government's policy may keep the situation on the Korean peninsula in a "deadlock".
Yoon Suk-yeol
told CNN last week "appeasement" toward
North Korea
is over and any talks must be initiated by Pyongyang, as some analysts warn rising tensions could spark a new war on the
Korean peninsula
.
"I think the ball is in Chairman Kim's court – it is his choice to start a dialogue with us," Yoon said, referring to the North's leader, Kim Jong-un.
Political Science Professor Andrei Lankov of the Kookmin University said South Korea's conservative governments have been making the same demand since 2008 that the North should abandon nuclear programmes first before being rewarded.
"Of course, the North has no intention to move first and give up nukes, therefore, this conservatives' policy line results in a deadlock," he said.
Yoon was quoted by his presidential office during the same interview that his predecessor, liberal former president
Moon Jae-in
's "appeasement" turned out to be a "failure".
Moon met Kim Jong-un three times in 2018 and helped arrange unprecedented
summits
between Kim and then US President
Donald Trump
before denuclearisation talks ended without a deal.
North Korea fired three ballistic missiles last week, including what is believed to be an intercontinental ballistic missile (
ICBM
), marking the 17th missile launch this year.
The North is also believed to be preparing for a nuclear test, which, if conducted, will mark the first test since September 2017, and seventh overall.
Leif-Eric Easley, a professor at Ewha University in Seoul said Pyongyang is pushing ahead with military modernisation despite
pandemic
challenges and is likely "emboldened by division" among major powers as a result of China's rivalry with the
United States
and
Russia's invasion of Ukraine
.
"A lesson of the latest conflict in Europe is the need for more diplomacy on the Korean peninsula, but the Kim regime continues to boycott negotiations," Easley said.
Some of President Yoon's conservative supporters have called for additional THAAD missile defences, pursuing alliance nuclear sharing, and even redeploying US tactical nuclear weapons, he added.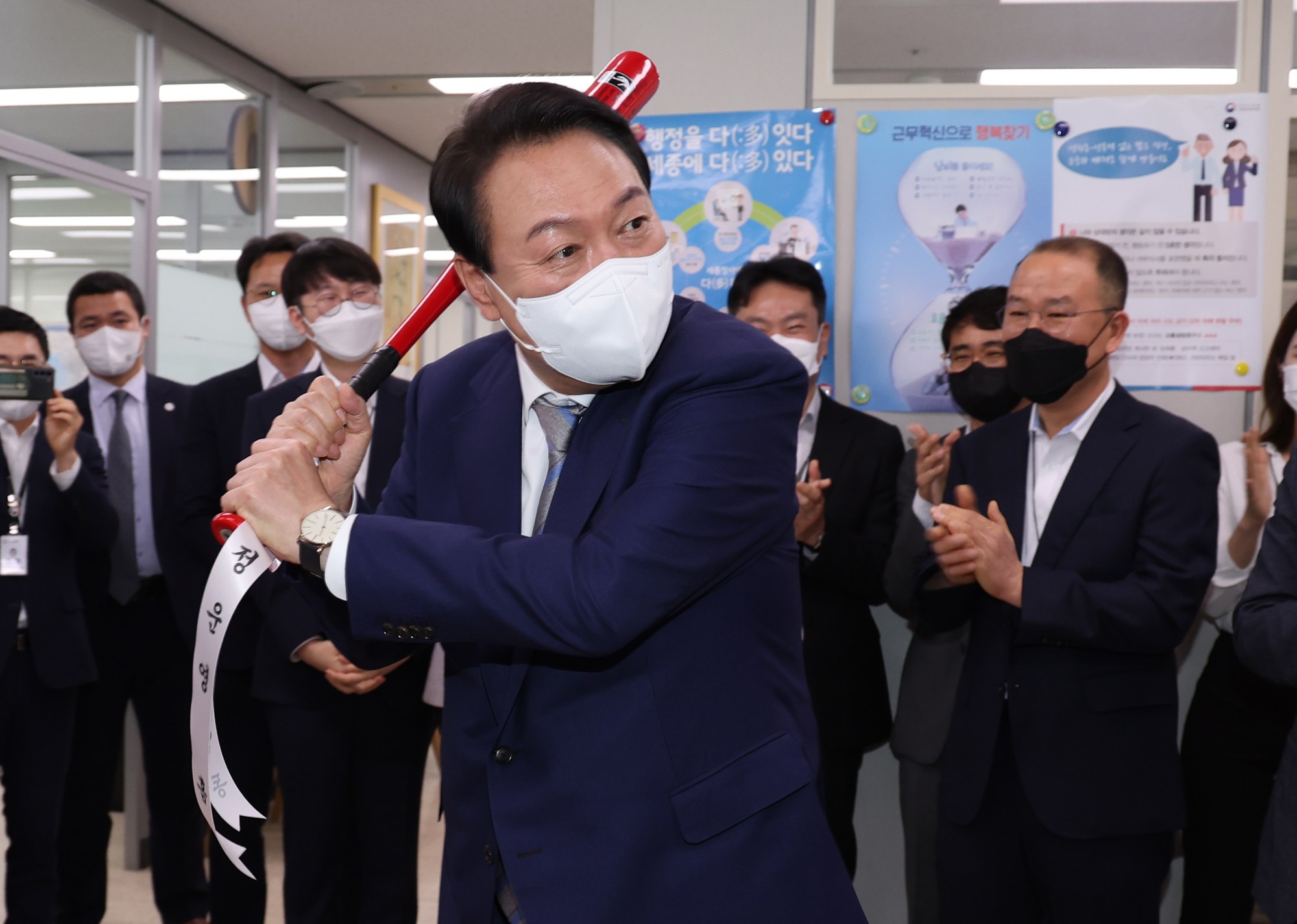 The South's decision to deploy the highly sophisticated US anti-missile defence system in 2017, seen as a direct security threat by
China
, sparked painful economic reprisals from Beijing.
"Beijing may criticise the Yoon administration's tougher foreign policy, but China is enabling the Kim regime by shielding it from
UN
sanctions and providing aid under the table," Easley said.
"It is up to Kim when North Korea will escalate tensions further with another nuclear test, but it is largely China that is setting the geopolitical stage," he added.
At their first summit earlier this month, Yoon agreed with US President
Joe Biden
to initiate discussions to "expand the scope and scale of combined military exercises and training on and around the Korean peninsula" which had been scaled back amid the pandemic and as part of previous efforts to engage the North.
The massive joint exercises by the two allies are scheduled for August. North Korea condemns such drills as rehearsals for an invasion.
Choi Kang of the Asan Institute for Policy Studies said Yoon is seeking to "force chances to the North's strategic calculations" by heaping pressure through sanctions and strengthening its alliance with the United States in the face of growing nuclear and missile threats after "Moon's soft stance failed to rein in its nuclear build-up".
But former Unification Minister Jeong Se-hyun who served under former president
Kim Dae-jung
said pressure tactics will never work with North Korea, recommending incentives such as food and fertilisers to lead it back to dialogue.
Since the first nuclear crisis broke out in 1993, policies toward the North have blown hot and cold, alternating between sticks and carrots, only resulting in the expansion of the North's nuclear capabilities, Jeong said.
Returning to dialogue is the best option, "Otherwise, we could see a war break out during Yoon's [five-year] official tenure," Jeong said on Tuesday on YTN TV.
He cautioned North Korea tends to push ahead with whatever is necessary for its own interest, no matter how China and
Russia
view it.
"We must stop daydreaming that we can restrain the North by asking China or Russia to help persuade it," he said.
Political Science professor Yang Moo-jin of the University of North Korean Studies said when the North carries out a potential nuclear test, the Korean peninsula will be a frontline of a "new Cold War confrontation" involving world powers and the two Koreas.
Kim Yeon-chul, Moon's ex-Unification Minister, said on Hankyoreh TV last week that Yoon and Biden were emphasising only military deterrence, "leaving the door closed shut for dialogue" in the eyes of North Korea.
"Inter-Korean tensions are likely to mount high and when this happens, possibilities are very high that the stages for
China-US
confrontations will move from
South China Sea
to
Taiwan
Strait and to the
Korean peninsula
," Kim said.