India
Get more with myNEWS
A personalised news feed of stories that matter to you
Learn more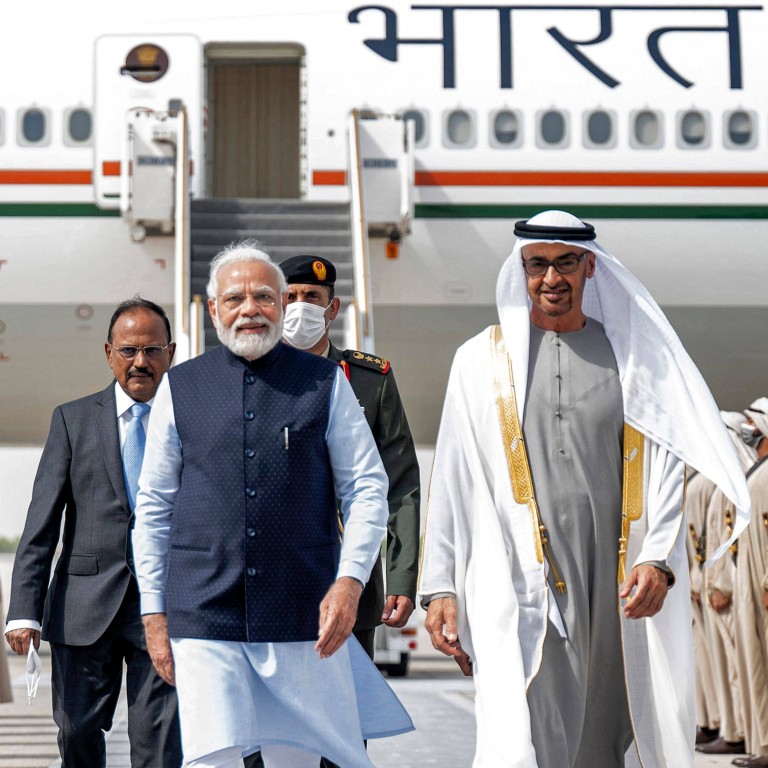 India PM Narendra Modi's meeting with UAE president Sheikh Mohammed bin Zayed Al Nahyan highlights New Delhi's concerns about Gulf ties after Prophet Mohammed row
Narendra Modi stopped off at Abu Dhabi airport on his way home from G7 summit to meet UAE president Sheikh Mohammed bin Zayed Al Nahyan
In India many believe their brief conversation trumped the summit, given the recent diplomatic storm after two spokespersons from Modi's party were accused of insulting the prophet Mohammed
Even as the Group of Seven (G7) summit in Germany made headlines, some curious commentary in India pointed to a lesser-publicised, brief stopover in Abu Dhabi by Prime Minister Narendra Modi on his way home on Tuesday.
There, he called on United Arab Emirates (UAE) president Sheikh Mohammed bin Zayed Al Nahyan, with the two meeting at the airport.
In New Delhi, many believed that this brief conversation, lasting just over an hour, "trumped" the two-day G7 summit in terms of its significance for India.
India is not in the G7 but was invited, along with Argentina, Indonesia, Senegal and South Africa, as a partner country.
Ostensibly, the Modi-Nahyan meeting did not achieve much, with an Indian readout saying "the main purpose" of the visit was to convey Modi's personal condolences on the death last month of the former UAE president, Sheikh Khalifa bin Zayed Al Nahyan.
Modi was last in the seven-emirate UAE in August 2019.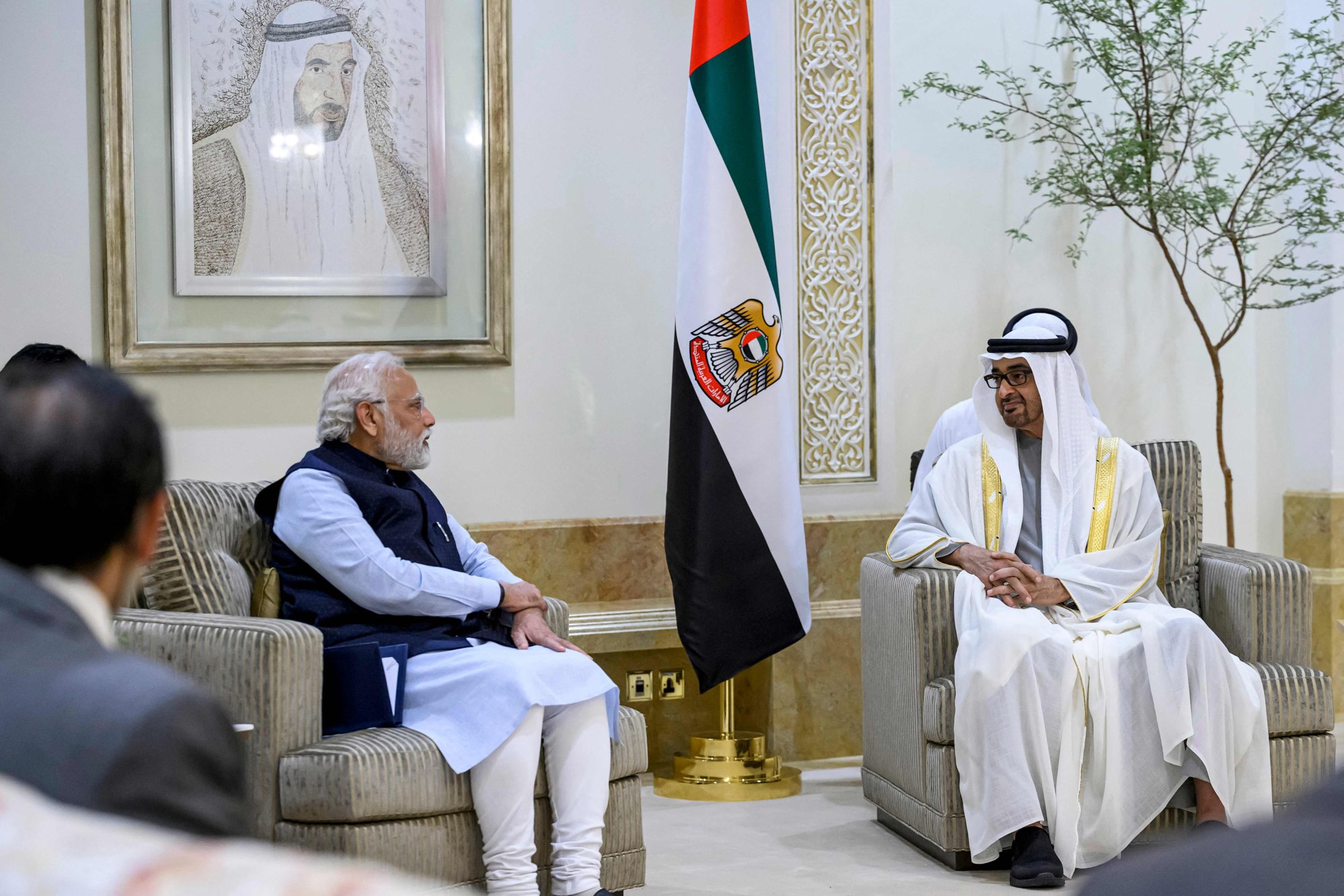 But the timing of this latest visit was crucial. Earlier this month New Delhi found itself under fire and red-faced after two spokespersons for Modi's Bharatiya Janata Party (BJP), made what were seen as derogatory remarks about the prophet Mohammed.
Their words led to a diplomatic storm with multiple countries, especially in the Gulf region, responding furiously, lodging diplomatic protests and even summoning Indian envoys.
Joining these countries was the UAE, with its Ministry of Foreign Affairs and International Cooperation condemning the statements, expressing its "denunciation and rejection of insults of the Prophet".
The controversy threatened to derail the close relationship between India and the UAE. Each is among the other's top three trading partners and earlier this year they signed a free-trade agreement, India's first in nearly a decade.
'Damage control'
In New Delhi, foreign policy analysts tracking the UAE visit said Modi's stopover was an exercise in damage control.
"It has taken a lot of diplomatic levers and capital to bring this [India-UAE] relationship to this stage," said a New Delhi-based scholar, focused on the Middle East, who refused to be named fearing government censure. "This episode threatened to throw a spanner into it," the expert added.
Rising incidents of communalism (allegiance to an ethnic group rather than to society) and Islamophobia under the Hindu nationalist Modi government have been a growing concern in the Muslim world over the years, the analyst said. "Each time scholars from that region interact with us, they raise concerns around this issue."
"In the Muslim world, blasphemy is a very emotive and powerful issue and this won't go away suddenly," the scholar added.
However, retired Indian ambassador Rajiv Bhatia, a Distinguished Fellow at the Mumbai think tank Gateway House, thought the BJP episode had led to only "temporary damage", pointing to the optics around Modi's UAE stopover.
"There was a very clear appreciation of Modi's visit where President Mohammed broke the protocol, came to the airport and the summit took place at the airport itself," said Bhatia. "This summit was an opportunity for both to reconnect and re-emphasise this special relationship," he added.
An eye on trade
Analysts believe that the visit, and the reset it presses, are crucial, especially for trade ties to continue and flourish. Indian government data shows that the nation was the UAE's second largest trade partner in the 2021-2022 financial year, whereas the UAE was India's third largest partner. Trade between the two reached nearly US$73 billion during the same period.
The trade agreement they signed in February this year – the Comprehensive Economic Partnership Agreement (CEPA) – which will end tariffs for 90 per cent of Indian exports to the UAE, is expected to push non-oil trade to US$100 billion a year in five years.
Navdeep Singh Suri, a retired diplomat who was India's ambassador in Abu Dhabi between 2016 and 2019, when the relationship really took off, said both countries had become crucial economic partners.
"As the UAE wants to diversify from oil, they see that India is the big economy next door and hence, Emirati companies want to anchor some of their growth in India, going forward," said Suri, pointing to a slew of investments UAE companies have made in India.
In May, Indian commerce minister Piyush Goyal said New Delhi had received investment commitments worth US$100 billion from Emirati companies. "These are all strategic decisions the UAE has taken," Suri said.
An eye on China
But it is not just economic reasons driving the bonhomie between the two nations. For New Delhi, a stronger relationship with the UAE is also important to counter an increasing and assertive Chinese presence in the region.
Beijing has been steadily expanding its presence and cultivating ties with various Gulf states and in January the foreign ministers of Kuwait, Oman and Saudi Arabia visited Beijing.
Suri, the former ambassador, agreed that a rising Chinese presence was a factor in India's decision to reach out in the Middle East. "China is always on the mind," he said, adding that "China has made vast inroads in the region by virtue of their ability to bring major projects, like the special economic zone outside Abu Dhabi for Chinese companies".
But Md. Muddassir Quamar, an associate fellow at the Institute for Defence Studies and Analyses in New Delhi, said the Chinese presence was much more strategic in nature. Quamar pointed to a string of moves by Beijing to fund and develop ports in the region.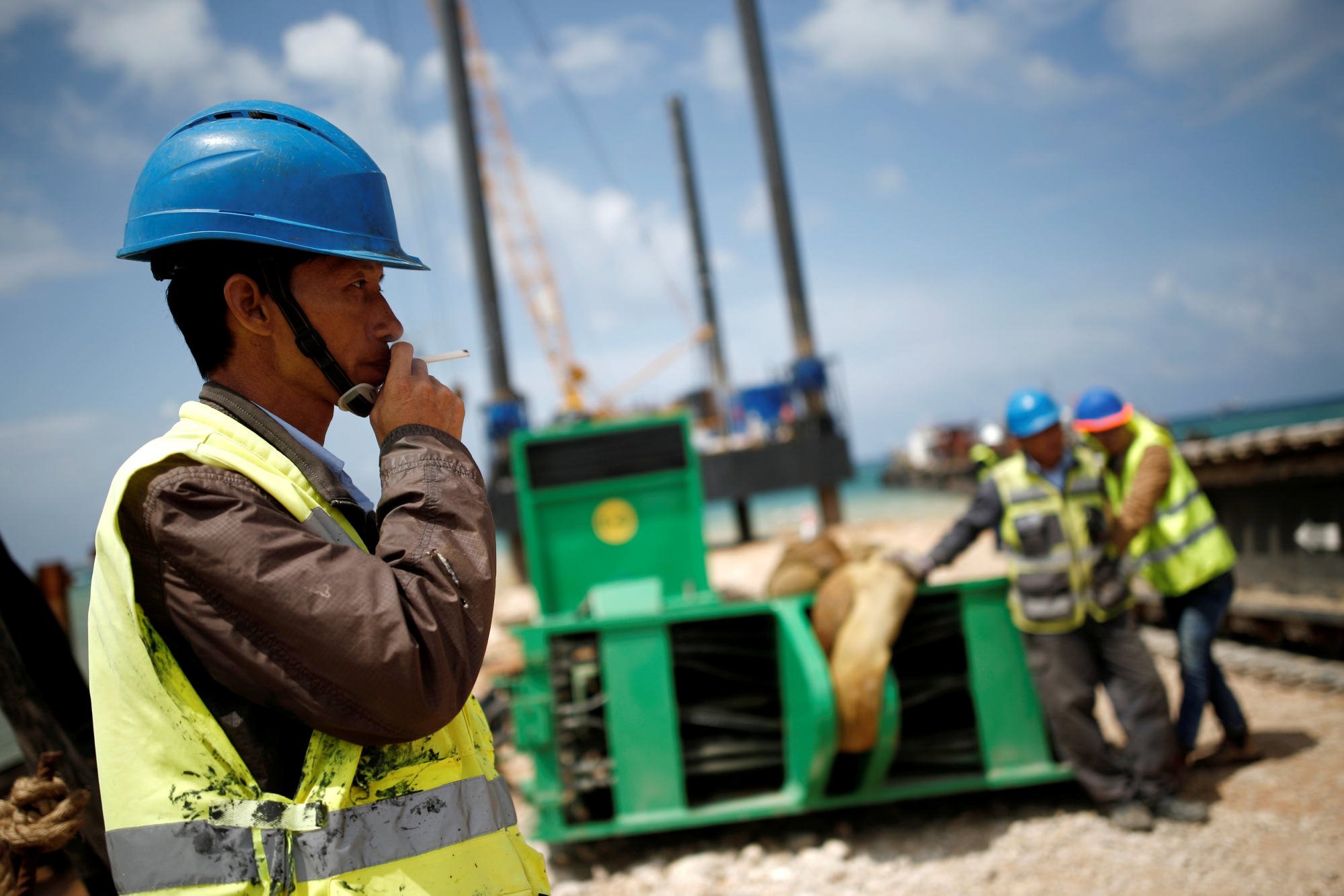 In September 2021, Israel inaugurated the Chinese-built and operated Bay Port in the northern city of Haifa. "Similarly, China has also poured in investment to construct and operate ports in Oman and Kuwait," Quamar said.
"Even in Iran, where India was involved in developing the Chabahar port, China has been increasing its presence."
In the UAE, China has been steadily increasing its footprint. In a call with new leader Nahyan last month, Chinese President Xi Jinping said that China-UAE's comprehensive strategic partnership had reached "the highest level in history".
New Delhi, Quamar said, was keenly tracking this growth. "But far too many Gulf countries have engagements with China at a bilateral level," he said. "It is not going to be easy to contain China in the region."
Amid this, India's ties with the UAE might be the key to expanding its own presence in the area. Bhatia, the retired Indian diplomat, said that a possible trade deal between India and the six nations of the Gulf Cooperation Council, including the UAE, may be on the agenda in the medium term.
Such partnerships will require New Delhi to stay invested in the region, said analysts. "If India does not cultivate the UAE, China will do it and get a free run of the place," said Bhatia.