India
Get more with myNEWS
A personalised news feed of stories that matter to you
Learn more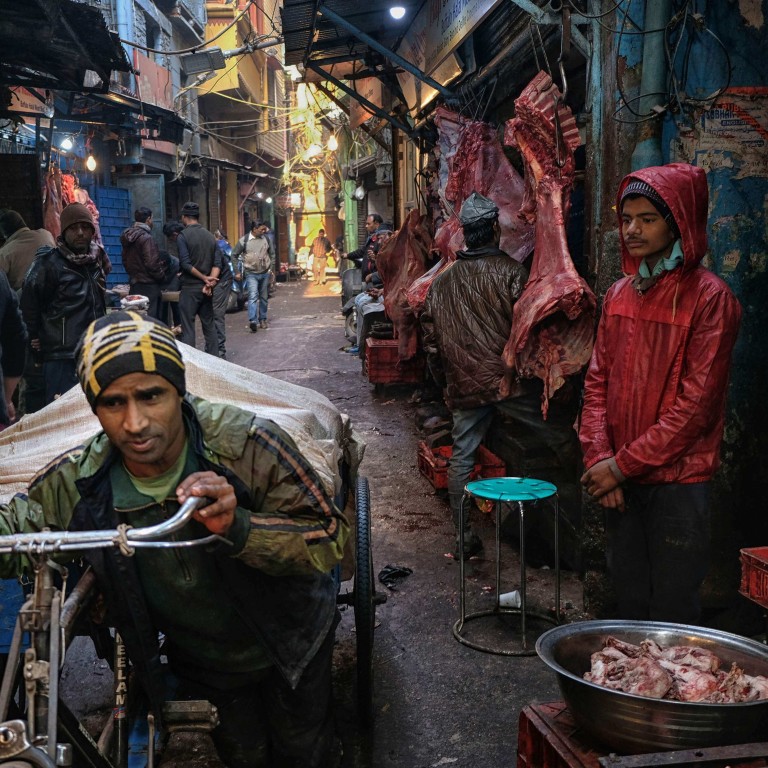 India's war on meat could be critical for PM Modi's BJP in the 2024 election
Anti-meat advocates are expanding their fight beyond beef, to meat of all animal sources, in a campaign led by the ruling BJP's parent organisation
This could set the stage for India's general election in 2024 as the BJP, under repeated backlash for politicising food, seeks to retain power
Ahead of the general election in 2024,
India
's ruling Bharatiya Janata Party (BJP) is extending its war on meat by going beyond beef – despite the constant backlash Prime Minister
Narendra Modi
's government has faced for politicising food.
The most recent effort reiterates on the idea of a pure Hindu State (Hindu Rashtra), as declared by the first chief and founder of Rashtriya Sevak Sangh (RSS), Keshav Baliram Hedgewar, who believed that "Hindu culture needs to be fostered first".
The RSS organisation is the ideological parent of the BJP.
Food policing in India, typically
targeted at Muslims
, Christians and Dalits who consume beef, is now rapidly expanding to include anyone who is not a vegetarian, even non-vegetarian Hindus, observers say.
Since the BJP government came into power in 2014 with a sweeping majority, it has been on a
campaign
against slaughtering cows, which are sacred to Hindus. Critics have blamed the campaign for heightened vigilante violence against those who consume beef, such as Muslims.
Before beef sales became illegal in 2017, RSS chief Mohan Bhagwat said: "We want cow slaughter to be banned across the entire country. It is the duty of the government to make this law effective."
But before the law took effect, a militant campaign led by the Gau Rakshaks, or beef vigilantes mostly comprising members of the right-wing organisation Vishwa Hindu Prishad (World Hindu Council), carried out violent attacks against Muslims.
Between 2014 and 2018, about 44 people were killed in lynching incidents, 36 of whom were Muslims. More than 280 people were injured in 100 incidents across the country, reported Human Rights Watch.
The right to choose
Making India a vegetarian nation is at odds with India's constitution, which states: "No person shall be deprived of his life or personal liberty except according to procedure of law".
"Aggressively pushing anti non-vegetarianism is deeply unconstitutional," said MA Khalid, general secretary of the Maharashtra State of All India Milli Council, a national platform of Indian-Muslims dealing with community issues. "The government's job is to provide adequate and healthy food to its people. Instead, they are snatching away the food of their choice."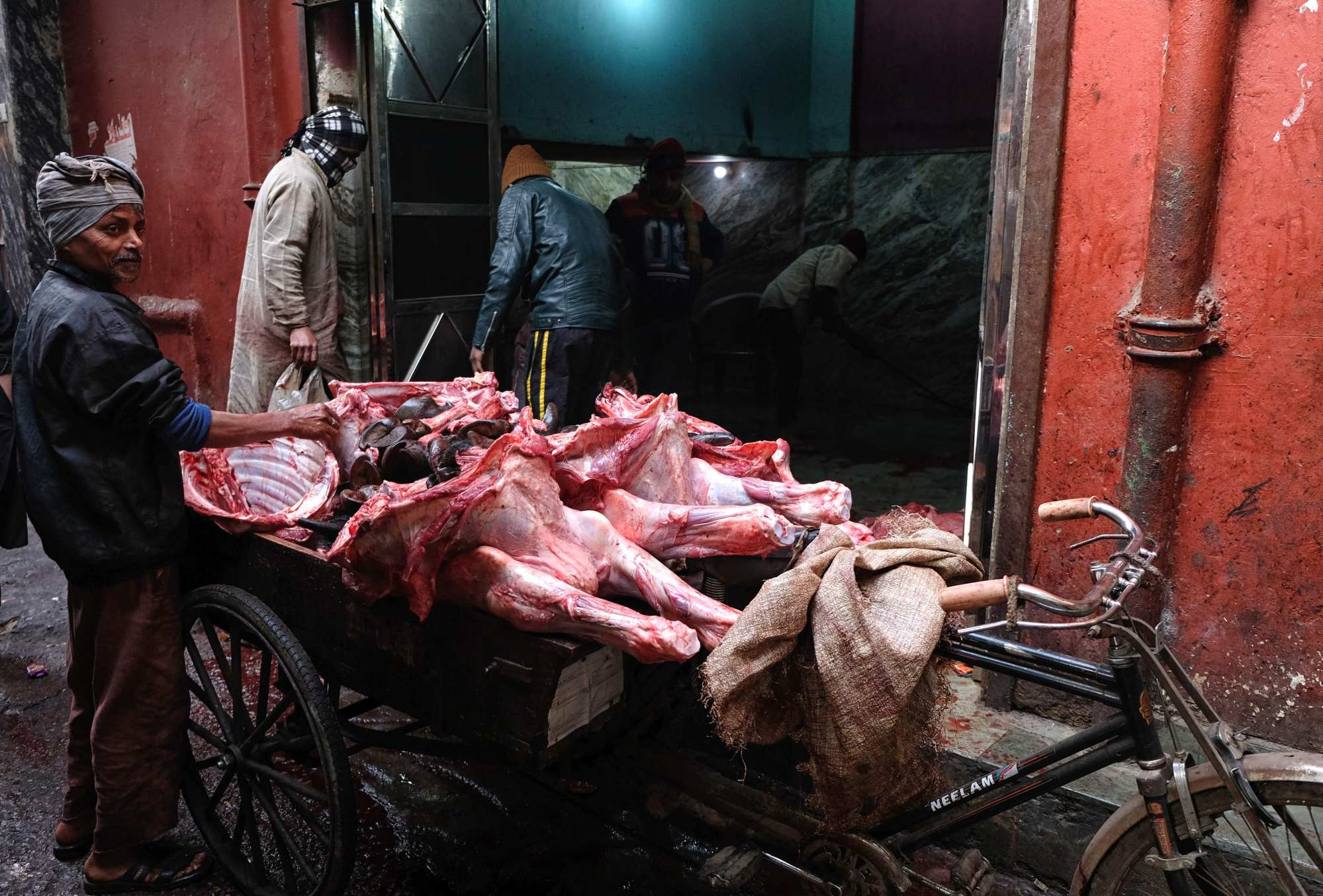 For millions of Muslims, Dalits and Christians in India, beef has been the primary choice and source of protein as it costs less than fish or mutton. A Pew survey in 2021 stated that 81 per cent of Indians consume meat in some form. Deprivation of meat would mean inadequate nutrition for a large swathe of the population.
In 2021, the Global Hunger Index ranked India at 101 out of 116 countries, seven ranks lower on the year. India's current ranking and its score of 27.5 places it in the "serious" category.
Critics have also consistently accused the BJP-led government of using food as a political foil, discriminating against non-Hindus especially Muslims.
Food policing made headlines again in April when a BJP member of parliament, Parvesh Verma, called for a nationwide closure of meat shops during the nine-day Hindu festival of Ram Navami, expanding the ban on beef sales to all animal sources.
This effort again painted India as a country with an insignificant number of non-vegetarians.
Verma's call, which came at the same time Muslims were observing Ramadan, also ignored the fact that not all Hindus celebrate Ram Navami or abstain from non-vegetarian food during the festivities.
"All this anti-beef and now anti-animal food campaigns corner common people like us making a basic living. Our sales have downsized. After the pandemic, the general retail situation is worse, lowest in a long time," said Ibrahim Qureshi, a butcher in Mumbai.
Advocates of vegetarianism, who view the campaign as justifiable scientifically, often promote vegan diets. Dr Subhash Rikabchand, a Jain by faith, a homeopath by profession and an active community member of the Jain Association of Mumbai, is all for vegetarianism.
"I am a pure Jain vegetarian, we are against any kind of killing, but more than that being a vegetarian is scientific. As a doctor, I advise vegetarian food for my patients, consuming non-vegetarian [food] is by and large harmful for human metabolism."
He added that animal protein is difficult to digest and even alters the impact of homeopathic medicines.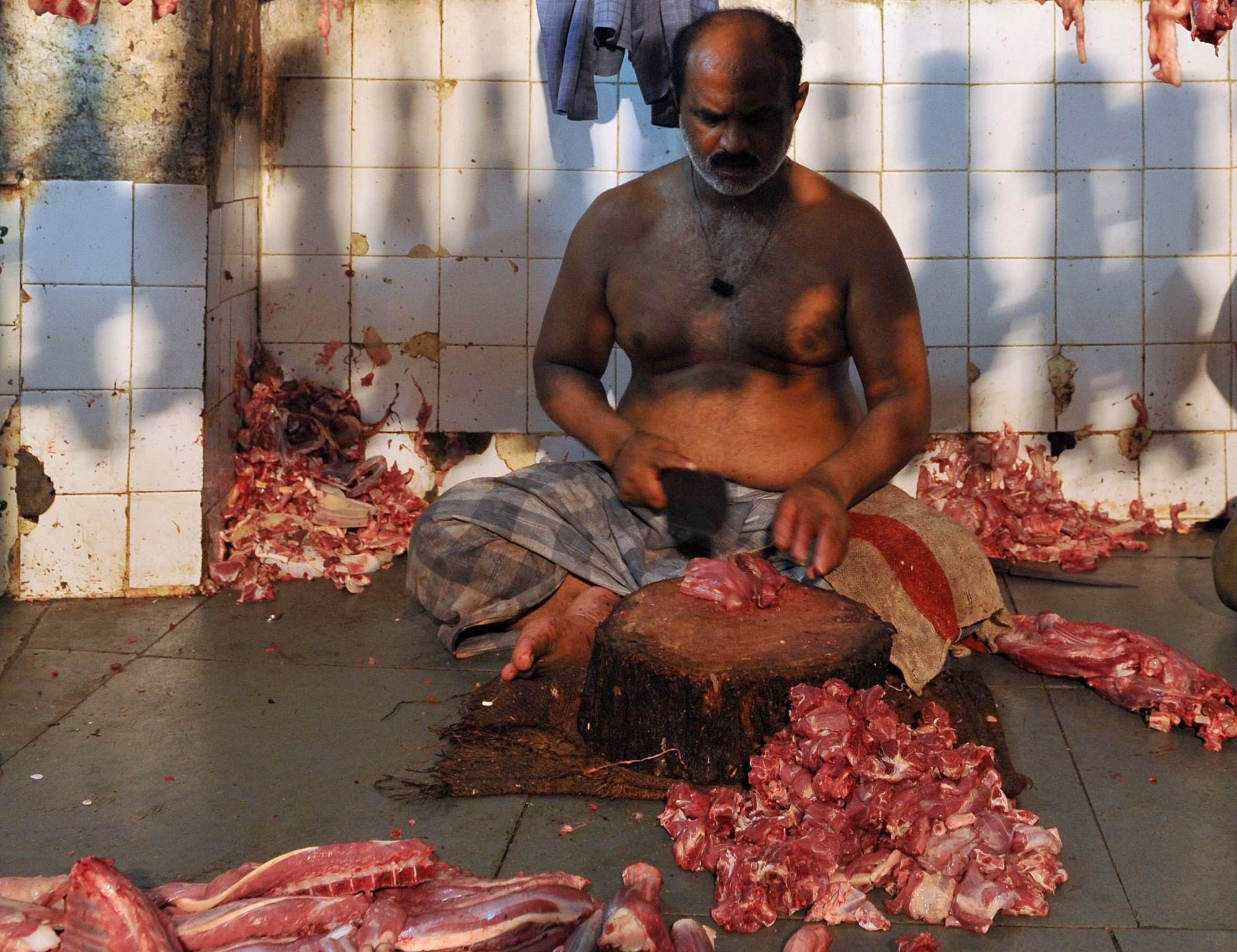 Meat's long history in India
But India's history paints a different picture. Historian and food critic Prof Pushpesh Pant said that consumption of meat was a common practice in ancient India.
"Meat eating was common in ancient India. The meat wasn't taboo, only some orthodox Brahmins eschewed meat. The literature includes the Veda, Purana, and the epics Ramayana and Mahabharat. Ayurvedic texts extol the exceptional nourishing properties of myriad meats."
Ancient Sanskrit texts have also pointed out that meat was not taboo in ancient India, and highlighted the prohibition of eating mushrooms, an "impure" food that grows in dirt. But advocates of non-animal protein, mostly upper-caste Hindus, have promoted mushrooms as a meat alternative.
During the process of constitution building in India, many prominent leaders including independence hero Mahatma Gandhi and the first President of India, Rajendra Prasad, received numerous requests to outlaw cow slaughter.
Gandhi said in 1947: "In India, no law can be made to ban cow slaughter. I have long pledged to serve the cow, but how can my religion also be the religion of the rest of the Indians?"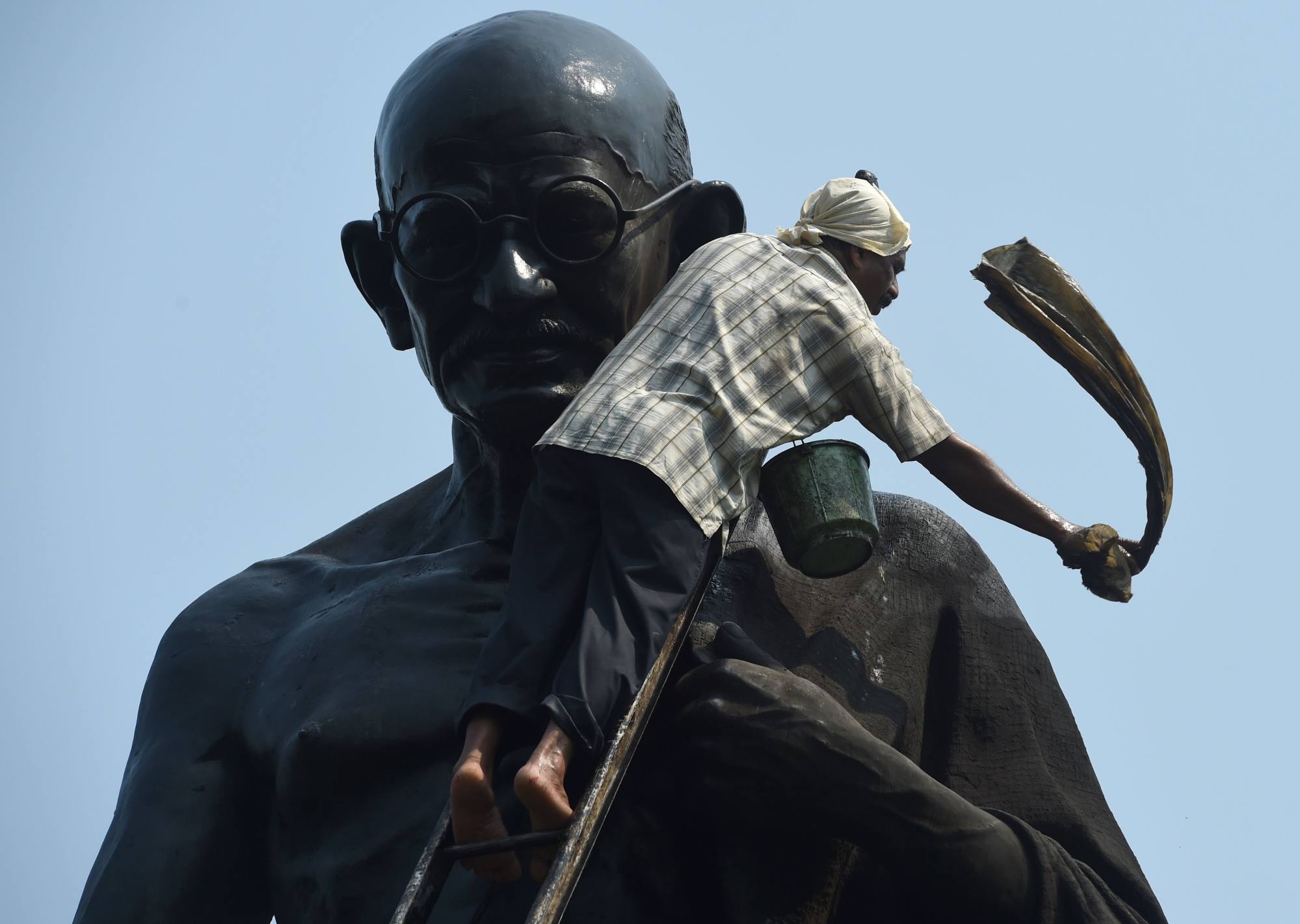 Affordability, health concerns
The affordability of meat meant it was not limited to the wealthy and upper castes, such as regional cultures in West Bengal, Konkan and Kashmir, where upper-caste Hindus including Brahmins, historically consumed fish and meat.
Millions of lower-caste Dalit Hindus, Muslims, Christians and indigenous people also eat animal meat throughout the year.
"Food is both a personal choice and a health matter. For the poorest of Dalit, Muslim or Christian families with 5 or 6 members or more, fish or mutton is unaffordable," said M.A. Khalid of the All India Milli Council.
"Anti-meat calls leave them with no choice, deprived from their animal protein, which could be often as basic as cuts of meat, beef that don't make it anywhere or are scraps."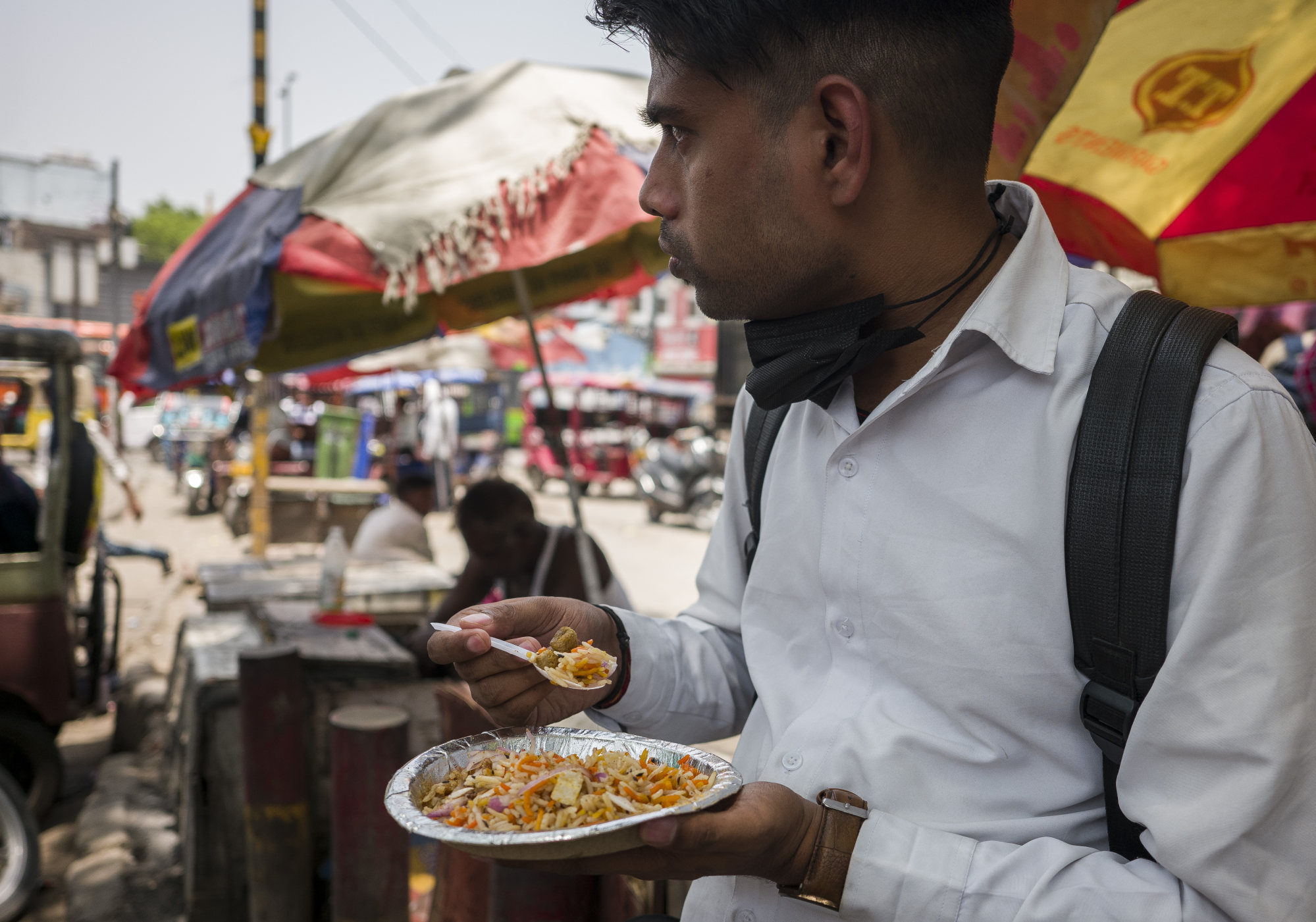 Khalid's observation resonates in the southern states of Kerala and Tamil Nadu where anti-meat calls have failed. Consumption of beef and "scraps of meats" is common across working classes of all faiths. A locality named Dashamakkan in Tamil Nadu's capital Chennai is nicknamed as a 'land of beef' known for its street food stalls and eateries that serve beef and meat-based dishes.
The masses frequent this area for beef biryani or tawa fry, a quarter portion of which costs as little as 80 Indian rupees (US$1). Beef has been the unifying factor in this working-class neighbourhood.
"Beef is the only animal protein that my family of 6 can afford, once a week," said Dalit street vendor Murugan. He fears that they will be deprived of meat-based protein and suffer inadequate nutrition if an anti-meat campaign gains ground.
An Indian government survey conducted between 2019 to 2021 showed a marked rise in consumption of non-vegetarian food across the country, even in the strongholds of anti-vegetarianism regions such as Uttar Pradesh, Madhya Pradesh and Karnataka.
In Madhya Pradesh, one of the biggest states in India where most claim to have vegetarian food, data showed regular egg consumption on a daily, weekly or occasional basis.
Egg consumption became a contentious issue in the state when it was extended to the national 'Midday Meal Scheme', a free school lunch programme for children in primary and upper primary classes whose parents could not provide or afford food.
Anti-meat advocates in India have labelled consumers of non-vegetarian diets as "demonic", accusing them of not being "Indian enough". The divisive issue of meat consumption is likely to remain a point of contention in India, and could be a foil for the ruling BJP in the 2024 election as it tries to retain its grasp on power.