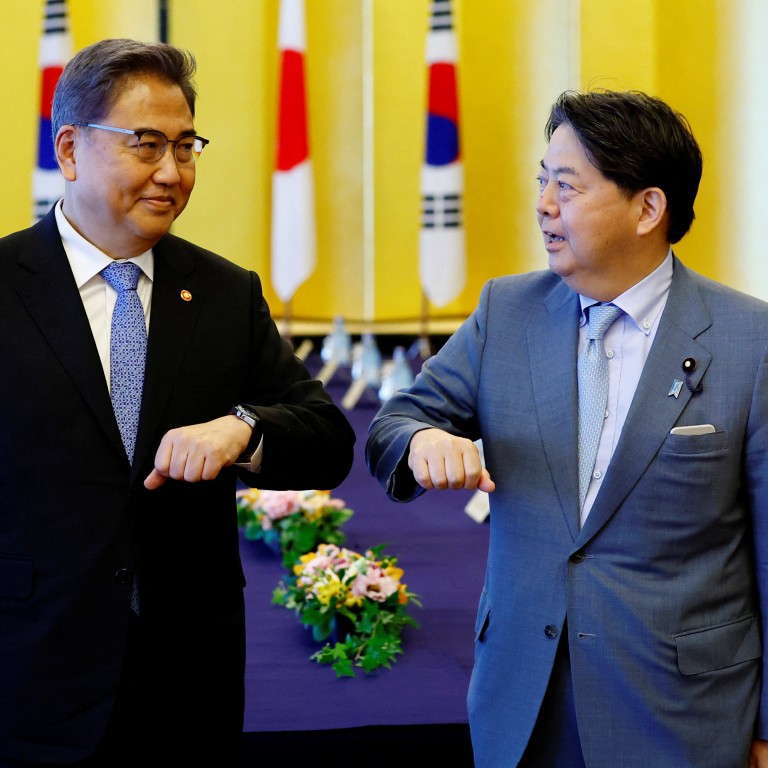 As South Korea seeks to mend ties with Japan, forced labour victims fear a repeat of 2015's 'comfort women' deal fiasco
The two countries' top diplomats held a rare meeting in Tokyo on Monday to discuss how they could end one of their long-running historical disputes
They agreed 'to find a solution'. But the plan that's been proposed has raised suspicions that it's the victims who'll be forced to make concessions
The foreign ministers of
South Korea
and
Japan
have agreed to find an early resolution to the two countries' long-running dispute over compensation for Korean victims of wartime force labour – but it remains to be seen how the two sides will overcome what one analyst called their "seemingly incompatible objectives".
In a rare meeting of the two neighbours' top diplomats in Tokyo on Monday, South Korea's Foreign Minister Park Jin and his Japanese counterpart, Yoshimasa Hayashi, held talks on how to mend ties soured by the legacy of Japan's colonial rule of the Korean peninsula from 1910-45.
Relations between the two countries have long been dogged by disputes over history and territory. But the issue of compensation for wartime forced labour sent ties into a nosedive
after 2018
, when South Korea's Supreme Court ordered Japanese companies Nippon Steel and Mitsubishi Heavy Industries to make amends to the surviving victims.
Both companies refused to pay, leaving the victims to seek the legal seizure of the firms' assets in South Korea, with a ruling by the country's top court on their liquidation expected by the end of the year.
Japan's government has previously made it known that it would retaliate against South Korea if the liquidations go ahead.
'Peace and prosperity under turbulent circumstances'
Park said Seoul would "make efforts to find a solution" to the issue, according to a South Korean foreign ministry statement, which added that both ministers shared the view that an early resolution was needed.
It said the two agreed that South Korea and Japan "should cooperate closely in various sectors for peace and prosperity in the region and the world under the turbulent circumstances".
They also agreed to "resolutely respond to further North Korean provocations, while also keeping the door open for dialogue and promoting a flexible and open diplomatic approach," the statement added.
Japan has long argued that the issue of compensation for victims of forced labour – and for wartime sex slaves euphemistically known as "comfort women" – was settled under a 1965 agreement the normalised relations between the two countries and entailed the payment of US$800 million in reparations.
But South Korea's Supreme Court has since ruled that the 1965 agreement did not cover private compensation claims and said that Seoul should engage Tokyo diplomatically to ensure payments for the victims.
Tokyo responded to the court's rulings in 2018 by restricting exports to South Korea of key materials needed to make semiconductors, prompting Seoul to threaten to pull out of the General Security of Military Information Agreement (GSOMIA) intelligence-sharing pact.
This concerned Washington, which put pressure on Seoul to restore the GSOMIA as the US had been trying to bring Japan and South Korea together in
a trilateral alliance
to deter nuclear-armed
North Korea
and cope with a more assertive China.
South Korean President
Yoon Suk-yeol
, a conservative who took office in May, has distanced himself from his liberal predecessor President
Moon Jae-in
by promising to bolster the country's alliance with the
United States
and improve ties with Japan.
Yoon's government recently launched a public-private consultative body to develop proposals for resolving the forced labour issue. This body brings together government officials, experts, journalists, businessmen and the victims' lawyers.
"One challenge for the consultative body will be finding a solution that can be acceptable to both the Japanese government and victims of forced labour – each of which currently have seemingly incompatible objectives", Troy Stangarone, a senior director and fellow at the Korea Economic Institute of America, wrote in online news magazine The Diplomat last week.
Around the time that the consultative body held its inaugural meeting on July 4, news reports emerged that it was likely to consider the creation of a compensation fund to pay the victims.
Money for this fund would reportedly be raised through the "voluntary" participation of Korean companies that benefited from the 1965 reparations payments and some Japanese companies – but not Nippon Steel and Mitsubishi Heavy Industries, to avoid giving the impression that Japan had acknowledged the South Korean court rulings.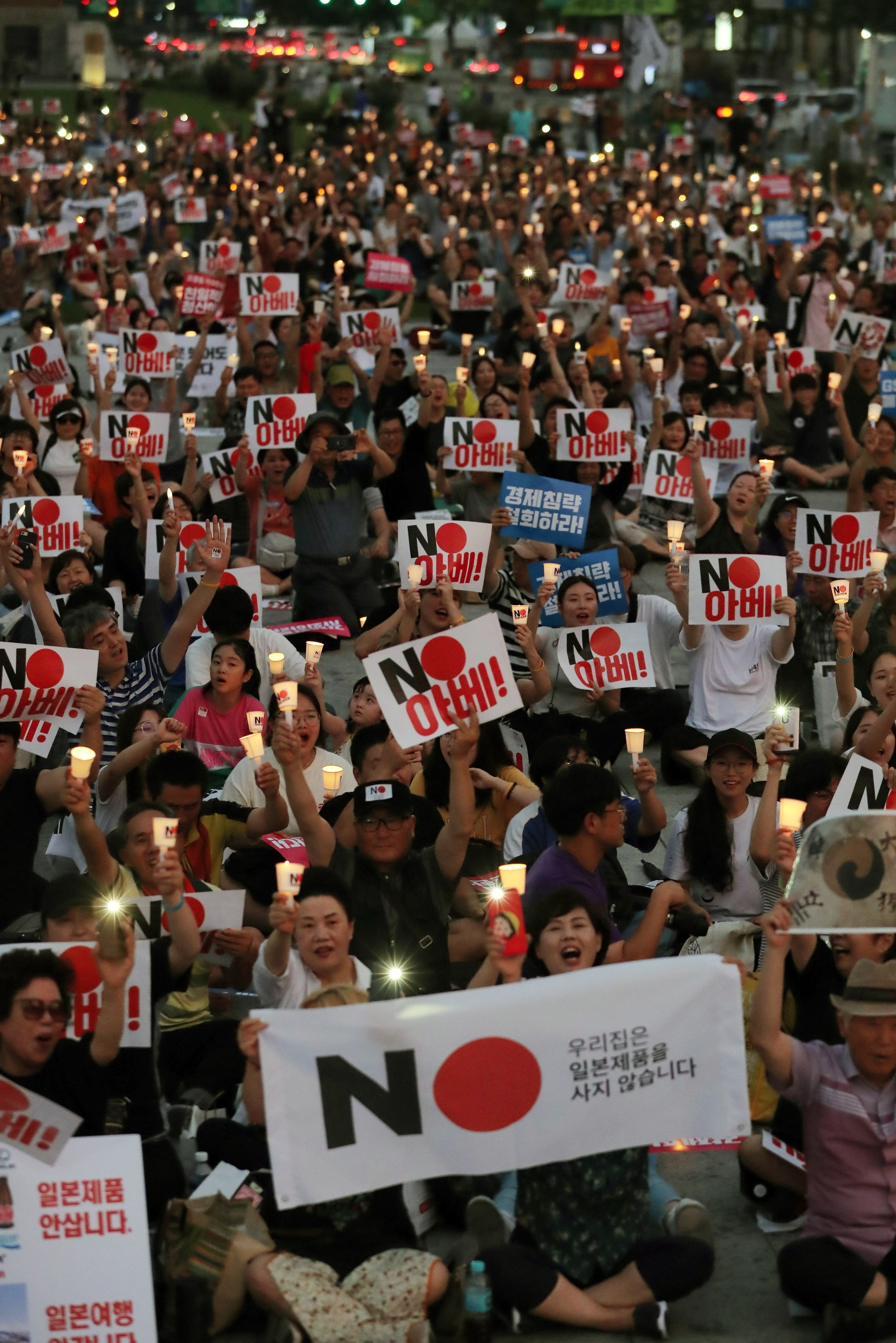 Discussions of such a solution to the wartime labour issue has sparked concerns of a repeat of a 2015 agreement under which Japan's government offered up 10 billion yen (US$72.4 million) for a fund to compensate former sex slaves and their families. That accord, agreed to by the government of disgraced former conservative president Park Geun-hye, was rejected by the victims as it was not accompanied by an official apology.
Lim Jae-sung, a lawyer representing victims of wartime forced labour, said there was "a growing suspicion that the government is using the consultative body to give the appearance of legitimacy to its own proposal".
"If the Korean government let the Japanese companies reject the Supreme Court rulings, it would amount to giving them a legal indulgence", he told television channel news YTN on Monday.
"We wonder whether the consultative body wants to gather opinions or force victims to make concessions," Lim added.
Kim Joon-hyung, former head of the Korea National Diplomatic Academy that trains future envoys, said the Yoon administration appeared to be serious in its efforts to normalise ties with Japan at a time when Tokyo is "unwilling to give an inch".
"Under these circumstances, the resolution of the issue means that Seoul would have to make unilateral concessions", he said.
"However, it is quite doubtful whether the Yoon government could afford to risk a serious backlash from the public by conceding to Japan at a time when his
approval ratings are falling
."