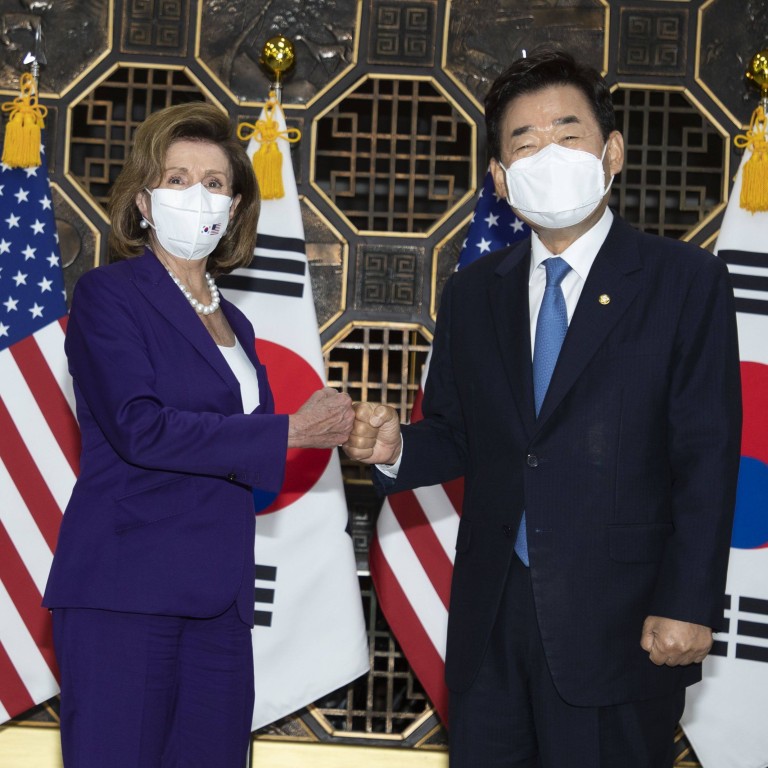 Threat from North Korea is 'heightening', say Nancy Pelosi and Seoul official
US, South Korea parliamentary speakers agree to support efforts for denuclearisation and peace in joint statement, which omits mention of Pelosi's trip to Taiwan
Pelosi expected to head to demilitarised zone on Thursday, the highest-ranking US official to do so since Trump visited in 2019
US House Speaker
Nancy Pelosi
and her South Korean counterpart Kim Jin-pyo on Thursday expressed concerns over increasing threats posed by nuclear-armed
North Korea
, in a statement that stopped short of mentioning the turmoil left by the American official's trip to Taiwan.
The two sides expressed concern over "the grave situation in which North Korea's level of threat is heightening", said Kim, the National Assembly Speaker, reading from a joint press statement following his meeting with Pelosi.
"Based on a powerful and extended deterrence against North Korea that our public can recognise, we agree to support the two governments' efforts for denuclearisation and peace through international cooperation and diplomatic dialogues," the statement said.
China on Thursday kicked off an intense
live fire drill
around the island as an expression of anger over Pelosi's provocative trip to Taiwan, which Beijing considers a rebellious province that should be reunified.
North Korea warned it would "never tolerate" the US' criticism of its nuclear programme, calling Washington the "kingpin of nuclear proliferation" and saying it would not allow any encroachment of its sovereign rights.
Pyongyang has conducted missile tests at an unprecedented pace this year and international experts believe it is readying its seventh nuclear test, the first since 2017.
The North's permanent mission to the United Nations issued the statement on Wednesday as diplomats gathered in New York for a month-long UN conference to review the Treaty on the Non-Proliferation of Nuclear Weapons.
US Secretary of State Antony Blinken said during the meeting the North "continues to expand its unlawful nuclear programme" and "is preparing to conduct its seventh nuclear test".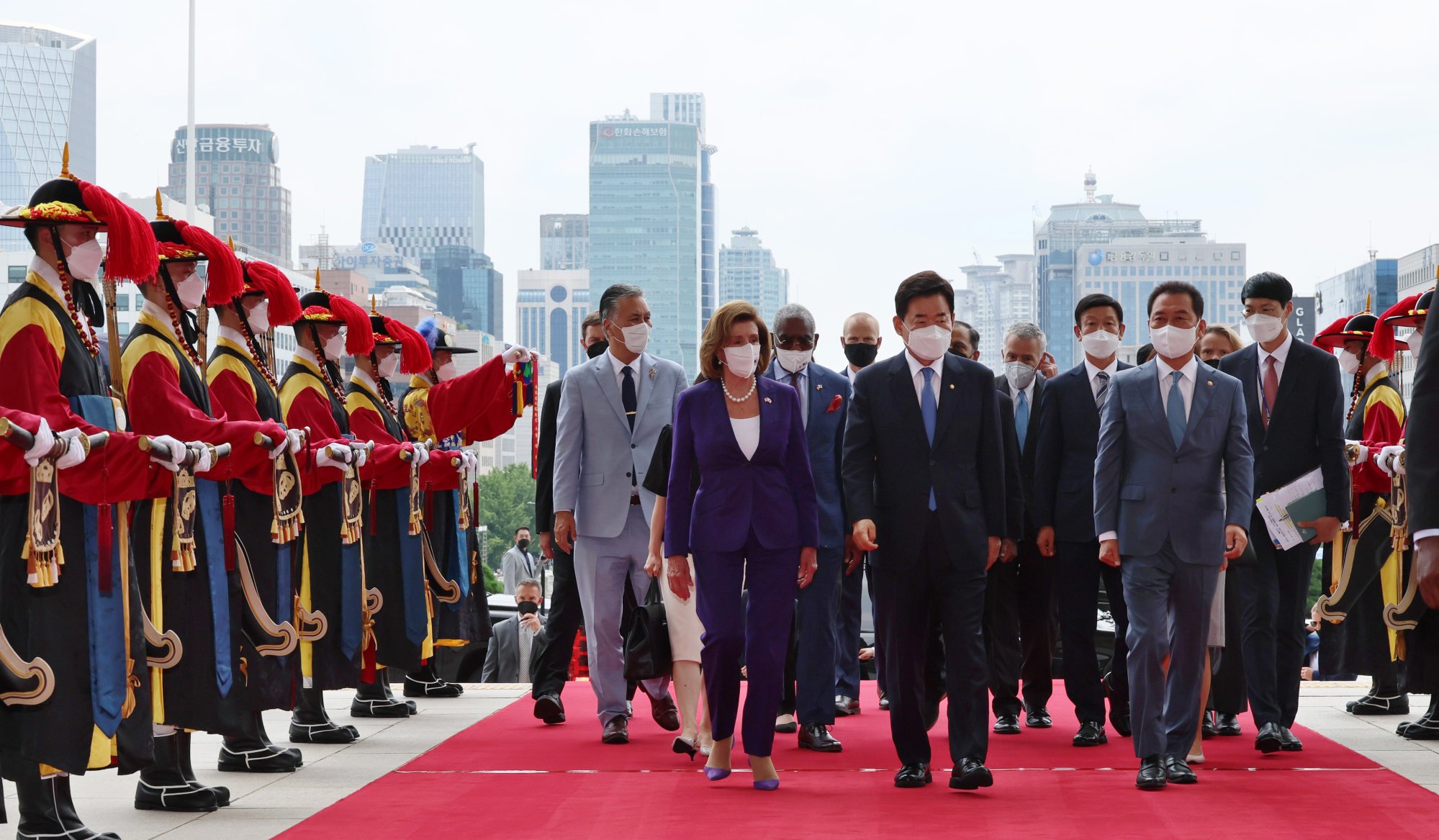 The US-South Korean alliance, initially forged around defence and security, has been expanding into a more comprehensive one including economy and technology, Kim and Pelosi said.
The two speakers agreed to lend parliamentary support to help expand the alliance to a global one, according to the statement.
Pelosi reiterated her Asian trip was part of efforts to reaffirm US commitment to its allies and friends with a focus on mutual security, economic partnership and democratic governance in the Indo-Pacific region.
Pelosi was expected to visit the heavily fortified demilitarised zone (DMZ) on Thursday, where North and South Korean forces stand face-to-face. She would become the highest-ranking US official to visit the inter-Korean truce village of Panmunjom since then president
Donald Trump
met North Korean leader
Kim Jong-un
there in 2019.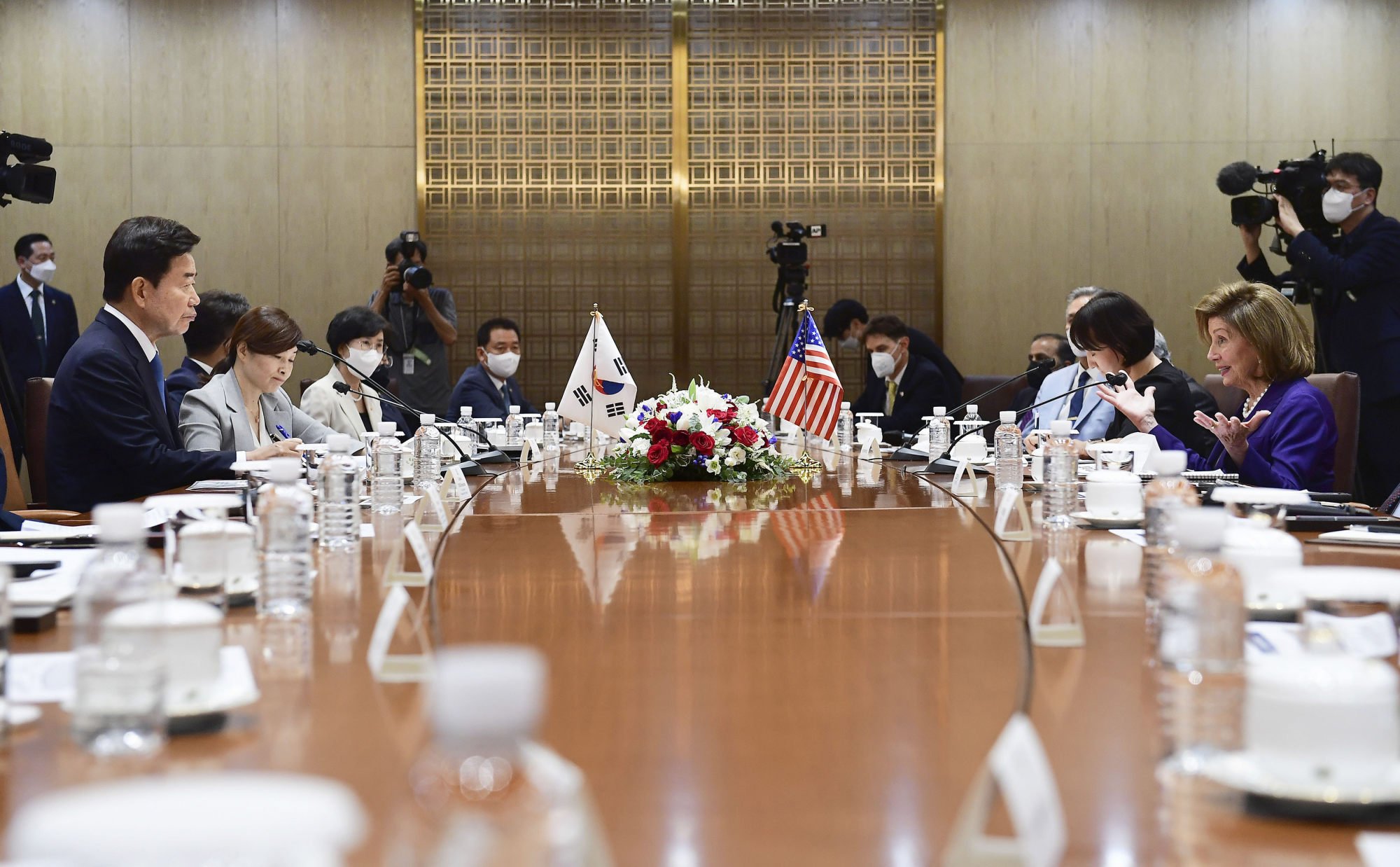 Pelosi also spoke to South Korean President
Yoon Suk-yeol
, who has come under attack for failing to see her in person while he was
on holiday
this week.
According to a senior aide to Yoon, the South Korean leader told Pelosi during the 40-minute phone call that her visit to Panmunjom would serve as a "sign of deterrence" and that he would work closely with the US Congress to deepen the bilateral alliance. Pelosi said the allies needed to jointly build a "free and open" Indo-Pacific order.
The conservative Chosun Ilbo said in an editorial that Yoon's failure to meet Pelosi would give the US and China "a wrong signal".
It noted Yoon had been elected on a platform to strengthen the US-South Korea alliance and that Pelosi had met former President Park Geun-hye when she last visited Seoul in 2015.
"South Korea needs to tread carefully in dealing with China as it is the country's largest trading partner and a key country related to the North Korean nuclear issue," the newspaper said. "However, it is feared if the government continues with a submissive attitude like that of (former liberal president) Moon Jae-in's administration towards China, China-South Korea ties would remain distorted."
Another conservative daily, the Dong-A Ilbo, said the US-China conflict, which is "heading toward its worst", is bound to put a "significant burden on South Korea as well".
"In the face of the mounting crisis in the Taiwan Strait, the North Korean nuclear issue is likely to be put on the back burner and South Korea will come under increasing pressure from Washington to do its bit as an ally," the Dong-A said.
The 28,500 US troops stationed in South Korea could be redeployed elsewhere in the region despite Seoul's opposition and it would be pressed by Washington to allow the deployment of new middle-range missiles targeting China. South Korea would also come under mounting pressure to join Japan, Taiwan and the US for the
"Chip 4" alliance
to forge a stable supply chain without China, it added.
The paper urged prudence from the government in the face of mounting tensions across the Taiwan Strait and the intensifying semiconductor security conflict, saying it was "unclear where the sparks of the furious Chinese reaction will fall".
Yoo Seong-min, a former lawmaker of Yoon's ruling People Power Party, criticised what he called "inconsistency" in the president's diplomacy over the failure to meet Pelosi.
Yoon, who has been at home since Monday, left his residence with his wife and watched a play on Wednesday, hours before Pelosi landed at a US airbase in Osan, 42km south of Seoul.
"It is not understandable that the president is not going to meet the No. 2 from Washington while he had time to spare for watching a play and an after-party," Yoo wrote on Facebook. "It won't be of any help for our national interests for the government which is passing the first months in office to blow hot and cold in diplomacy."
Ironically, Yoon's inaction earned praise from the opposition.
Lawmaker Kim Eui-gyeom of the opposition Democratic Party of Korea, an outspoken critic of Yoon, went out of his way to compliment Yoon for avoiding Pelosi.
"It's like jumping into the fire carrying a powder keg on the back (for Yoon) to meet Pelosi amid mounting US-China conflicts," he said.