A new Hong Kong story: can battered city reclaim its image amid US-China tensions?
City leader John Lee has made winning the narrative war a key task of his administration, but experts say it is more than just a publicity exercise
Changing perceptions of the city needs to be 'a strategic conversation about the future image of mainland China and the future image of Hong Kong together'
Hong Kong's reputation as a global city has taken multiple hits in recent years, from protests to a sweeping national security law and strict quarantine rules, but it wants to reclaim its image. Can it succeed against the odds?
When the British press reported in June that UK ministers might have subjected their judges to political pressure over unfavourable rulings, Regina Ip Lau Suk-yee got behind her keyboard.
"What better evidence of the decline of Britain than the moral decline of British politicians?" the top adviser from the
Hong Kong
government's Executive Council fired away on Twitter.
The tough-talking, no-nonsense Ip saw it as an opportunity to clear the city's name, now that the very people who had accused Hong Kong of jeopardising the rule of law when Beijing imposed a
national security law
in 2020 were being lambasted for the same allegation of undue influence on the judiciary.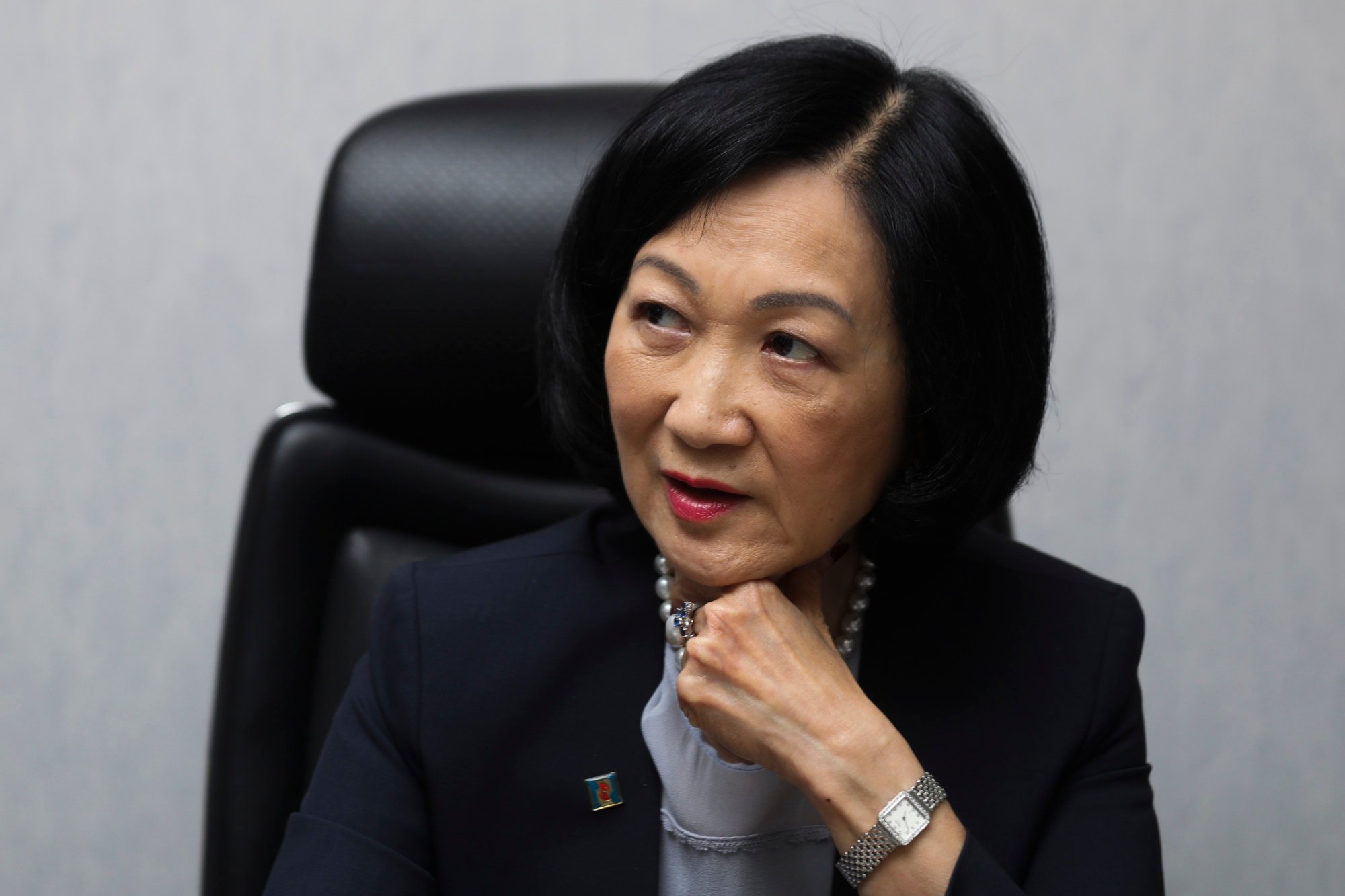 Pouncing on the double standard, she continued: "What right [does] Britain [have] to lecture others when its government is led by liars, law breakers and buffoons?"
Ip is not always combative. Sometimes, the Beijing stalwart appears more eager to win over people rather than wage war on them.
"We need to tell the Hong Kong story honestly, accurately and comprehensively, deploying both our 'hard power' – our economic, financial, cultural and human assets – and our 'soft power' – our unique history and lifestyle at the crossroads of China and the West, Hongkongers' understanding of Western institutions and values, and the indomitable fighting spirit of our younger generation," she wrote in an opinion piece in the Post last week.
Ip's dual approach – a mix of hard-hitting attacks and soft-selling appeals – may have much to offer the Hong Kong government, which is about to embark on a campaign to "tell the Hong Kong story" a phrase modelled after Beijing's strategy to "tell the China story".
"When we draw a cartoon character, we should draw its intestines as well," he said, using a colloquial Cantonese phrase that calls for the need for concrete details.
These woes, set against the backdrop of rising geopolitical tensions between the United States and China, have coagulated into a narrative that the city's best days are well behind it, with its freewheeling politics quashed, freedoms neutered and international financial hub status in serious danger of being eclipsed if it does not fully open its borders soon.
Fighting back
But what is the Hong Kong story to tell? How should it be told and will it be persuasive?
For a start, businessmen, scholars and pro-establishment politicians have pointed to the city's long-standing attributes, such as its rule of law, abundant business opportunities and unique role as the "superconnector" between China and the rest of the world.
But experts specialising in advising governments on their image cautioned that there was simply no quick fix or guarantee that the resources invested would necessarily translate into a new and improved understanding of the city, as brand-building could only go so far.
"It's got to be through a changing reality, a real action on the ground, and real initiatives that show a commitment to change a policy that might eventually, in the long run, lead to a change in reputation," said Robert Govers, the Belgium-based chairman of the International Place Branding Association.
In a recent interview, Ip said the government was not out to gloss over issues, but was prepared to tackle them head-on. "It doesn't mean just talking about the good things of Hong Kong. It means telling it as it is," she said.
According to Ip, who led the Department of Industry between 1995 and 1996, the city has had a long track record of being out and about promoting its image and interests but has not always done so consistently.
She recalled how in the 1990s, when Hong Kong was still a British colony, the city played a high-profile role in lobbying Washington to renew China's status as a most favoured nation for trading.
Ip said she still believed a similar tack – that is, for officials to go out there and put Hong Kong on the map – would work, but conceded the task for now would be an uphill one. "Hong Kong is a hard sell currently," she said.
She expected the West to remain sceptical about the city's human rights record while taking issue with its still relatively stringent quarantine policy – the government recently cut mandatory hotel quarantine from seven to three days.
With quarantine measures expected to eventually be phased out, and Lee formally unveiling his governing blueprint in his October policy address, the government would have more ammunition in its charm offensive in the court of global public opinion, she said.
"I'm sure there'll be questions on human rights, democratic backsliding. You'll still have to deal with them. Then, we move on to talk about new things," she said.
The dozen-strong group from the Democratic Alliance for the Betterment and Progress of Hong Kong would visit civil bodies and business communities in Thailand, Malaysia, Singapore, Vietnam and Indonesia between September 4 and 10, sources told This Week in Asia, adding details were still being finalised.
"Many people don't care about the politics that much, and they may be keen to learn about the commercial side of things, in terms of the city's software and hardware," Chow said. He planned to update Asean counterparts on the city's latest cultural attractions, such as the Palace Museum showcasing historical pieces loaned from its counterpart in Beijing.
He admitted the choice of Asean countries was a conscious one, rather than going to the West as civil and business groups there were feeling the pressure to fall in line with their governments over tensions with China.
"The world is big and of course you would like to focus on those who are willing to listen or even help us voice out," he said.
Leading groups, such as the American and British chambers of commerce, have events lined up to discuss the way forward.
City leader Lee also plans to attend the Asia-Pacific Economic Cooperation meeting in Bangkok, Thailand, in the same month, to reassure the region Hong Kong is still open for business and collaboration and to "tell good stories" about it.
In the long run, however, Lee's ability to reach out to the international community could be affected by the sanctions imposed on him and 10 other Hong Kong and mainland officials by Washington, which accused them of undermining the city's freedoms. Lee has brushed aside such concerns, saying the world is a "big place".
Substance over form
Promoting a city's tourism or trade and investment might be a key initiative but it would take much more than a publicity campaign to lead to a positive change in image, international government adviser Simon Anholt said.
Substance must accompany form for without real policy changes there was only so much a publicity drive could do, he said. In Hong Kong's case, it could be about attracting talent or creating economic vibrancy.
While South Korea has invested a great deal of money on promoting its soft culture and tourism, Anholt said its rise to prominence stemmed mainly from its increasing role as a developed country giving aid in the African continent, investing in broader economies and taking a more principled stance on regional conflicts.
"If the aim is not to change the image of the place, but just to stimulate more trade, more tourism, more cultural relations, then sure, an advertising campaign can be quite effective," he said.
But altering people's perception of a place involved changing their mindset on very deep-rooted stereotypes, often perpetuated and reinforced by the media over a long period of time, said Anholt, who runs the Good Country Index.
Thus far, the Hong Kong government's recent efforts to put up advertisements overseas, touting "A new era – Stability. Prosperity. Opportunity", has not received the welcome it hoped for. Brussels' public transport operator pulled the advert from a tram, while residents in Sydney, Australia complained about the billboards.
Anholt pointed to misconceptions some governments might have on the need to tell their "true story" to counter media misrepresentation. "If we spend enough money, and we shout loud enough, eventually the true story will win. But it doesn't, it just doesn't," he said.
"If you've got a weak or negative image, it's kind of stuck and it's the only story that people want to listen to. And if the government starts saying the opposite … it doesn't matter how much money they spend on it, nobody pays any attention. And that, unfortunately, is just the way these things work."
To make a difference, Anholt said, it would take "a long period of ways of behaving" to prove to people that "the reality is more nuanced than they think".
"That is a job for the policymakers. It's not a job for PR agencies," he said.
But there had been a time when the two – policy and PR – seemed to work.
In 2001 when Hong Kong was marketed as "Asia's World City" linking the East and the West, it left a lasting impression for the next two decades.
Peter Knapp, group chairman of branding specialist Landor & Fitch which was behind the campaign, insisted elements of that image still held true.
The firm's president for Asia and Pacific regions Jonathan Cummings, who also worked on the 2001 campaign, said in terms of infrastructure, Hong Kong was in an even better position now, with a high-speed railway connecting to the mainland and more tourist attractions.
"But we've got to reinvigorate," Cummings said. "What does it mean in five years' time, in 10 years' time? What does 'Asia's world city' mean? What does Hong Kong stand for? What is Hong Kong's role in the world?"
After researching key markets, the firm concluded that Hong Kong was "the only city in the world that offers a secure, dynamic environment for business, an exciting, cosmopolitan lifestyle and direct access to the mainland market".
Beyond that, its work left no impression.
An Information Services Department spokesman said it had used some of the advertising materials from the campaign, without specifying where, but stressed it was taking "a phased approach" to rolling out publicity plans due to the pandemic.
Govers, the Brussels-based adviser, said places burdened with a negative or tarnished image, like Hong Kong, would find the task of changing a narrative very difficult.
"I think the most difficult part is when you have a government that is distrusted internationally, then it becomes really, really difficult" regardless of whether the distrust was founded upon a fair basis, he said.
But hosting events that featured an international crowd was a good starting point, Govers added. It would encourage conversation and debate, as opposed to a reliance on diplomatic statements or advertising campaigns, often seen as a form of propaganda.
China in the room
Then there is the China factor. Hong Kong has become a convenient weak spot to kick China on, Beijing loyalists said.
Lau Siu-kai, vice-president of the semi-official Chinese Association of Hong Kong and Macau Studies, said the city was hard-pressed to clear the air from what he felt was biased coverage by Western media.
"When we talk about telling the Hong Kong story, it is about fighting a public opinion war with the West over their criticisms on the 'one country, two systems' model implemented in Hong Kong," he said. "This is to correct the misconception or deliberate distortion in the West."
The Hong Kong government, meanwhile, has become more proactive in defending itself, writing to international news outlets to complain about their coverage and issuing robust statements more frequently to hit back at the West.
A closer alignment with Beijing's stance done without sophistication, or worse in a dogmatic, parrot-like fashion could complicate the city's efforts to rebuild its brand name, according to experts.
"The challenge … is that Hong Kong itself was blessed with a very positive image around the world, while the mainland has got a very negative image, for the simple reason that most of the West has been subjected to anti-Chinese propaganda for centuries, literally centuries," Anholt said.
"So the merger of those two, it was always obvious which image was going to win … And so, for Hong Kong to attempt to reverse the negative image that China has got, is completely impossible."
Such a proactive approach might not necessarily help get the message across, but could instead reinforce stereotypes, Anholt added.
According to the experts, the way out required a delicate balance of strategies, being a part of China, and yet apart from it.
Ip, the Exco convenor, is known for her staunch defence of the city. In a recent tweet, she referred to former British foreign minister Liz Truss as "that woman". Truss, known for her hawkish attitude towards China, is now a top contender for UK prime minister.
"I should have said that obnoxious woman," she quipped when asked if such feisty comments would be counterproductive. "Mature politicians understand. They understand we all have to be robust. But it doesn't mean we cannot communicate."
Lau said timely, forceful rebuttals were needed when the government came under attack as it was important to set clear bottom-lines.
Anholt likened it to a "game of chess" that could not be done by Hong Kong alone.
"I don't see a future for the image of Hong Kong, unless it's a strategic conversation about the future image of the mainland and the future image of Hong Kong together," he said.
"And how do those two players interact with each other? … Do we want to try to see if we can preserve some of that different image that Hong Kong has got, and which is not just valuable, but fundamental to Hong Kong's prosperity?
"You've got two pieces here, which need to survive, and they need to play to their strengths."
The Chinese government appears to have accepted this need, recognising Hong Kong's unique status and strengths.
Like Ip, businessman Allan Zeman, founder of nightlife district Lan Kwai Fong, said the city needed time to win over the sceptics as the attacks had been unrelenting over the past few years.
He will attend the Milken Institute Asia Summit in Singapore next month, where he plans to tell his version of the Hong Kong story.
The city will likely remain in international headlines with the prosecution of 47 opposition activists under the national security law in the coming months.
But for businessmen like Zeman, for now, nothing could be more effective than seeing Hong Kong get rid of its hotel quarantine measures once and for all so that travellers could fly in to see the city for themselves and bring back the vibrant vibe.
"Once the buzz starts again, you'll start to see a different story emerging again. Seeing is believing."
Additional reporting by Jeffie Lam