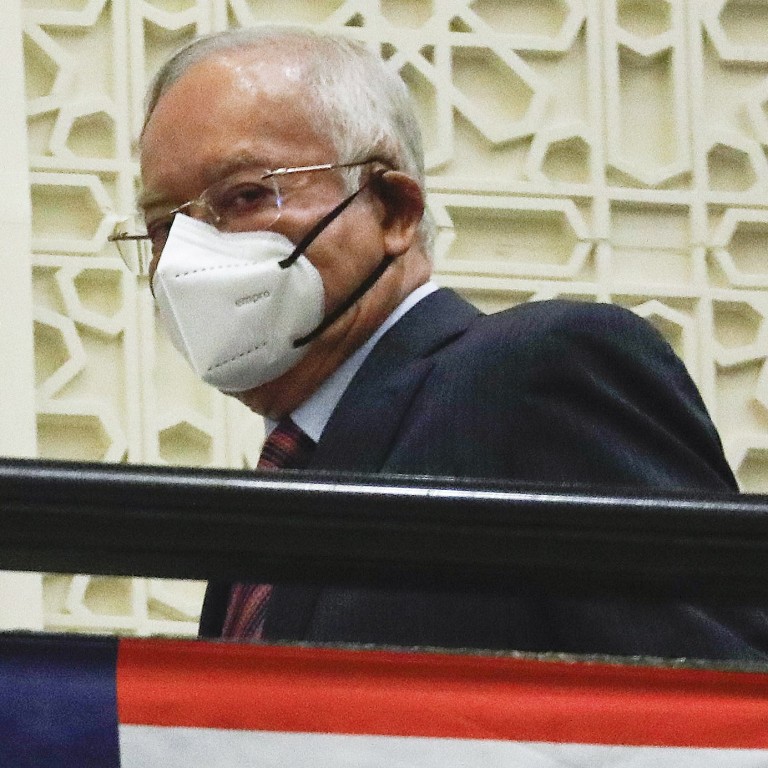 Malaysia's Najib Razak begins 12-year jail term after apex court upholds guilty verdict in 1MDB-linked case
The Federal Court has ordered the ex-premier to serve his sentence over several counts of corruption involving SRC International
The charges are related to Najib's role in some US$4.5 billion being looted from state investment fund 1MDB and siphoned through his personal accounts
Malaysia's
Najib Razak
on Tuesday earned the dubious distinction of being the nation's first former prime minister to be jailed, after the Federal Court dismissed his final appeal against his corruption conviction linked to a former unit of scandal-tainted state fund 1Malaysia Development Berhad (
1MDB
).
The ruling is a landmark moment in the years-long effort by anti-corruption activists to bring to justice those responsible for the plunder of 1MDB, which was founded and controlled by Najib during his tenure as prime minister from 2009 to 2018.
Chief Justice Tengku Maimun Tuan Mat said Najib's lawyers had failed to prove that the findings of the lower courts were incorrect, nor were they "perverse or plainly wrong so as to warrant appellate intervention".
"These appeals are therefore unanimously dismissed and the conviction and sentence are affirmed," Tengku Maimun said when reading out the judgment on behalf of a five-judge panel.
Najib in 2020 was sentenced to 12 years' jail and fined 210 million ringgit (US$46.8 million), after the High Court found him guilty of seven counts of corruption and abuse of power linked to some 42 million ringgit that flowed from SRC International, a former 1MDB subsidiary, to his personal accounts.
He faces four other cases linking him to the plundering of 1MDB, and has pleaded not guilty to all charges.
The former leader's failure to overturn this conviction also means he is disqualified from holding office as MP for Pekan in his home state of Pahang, and barred from contesting in an
election
.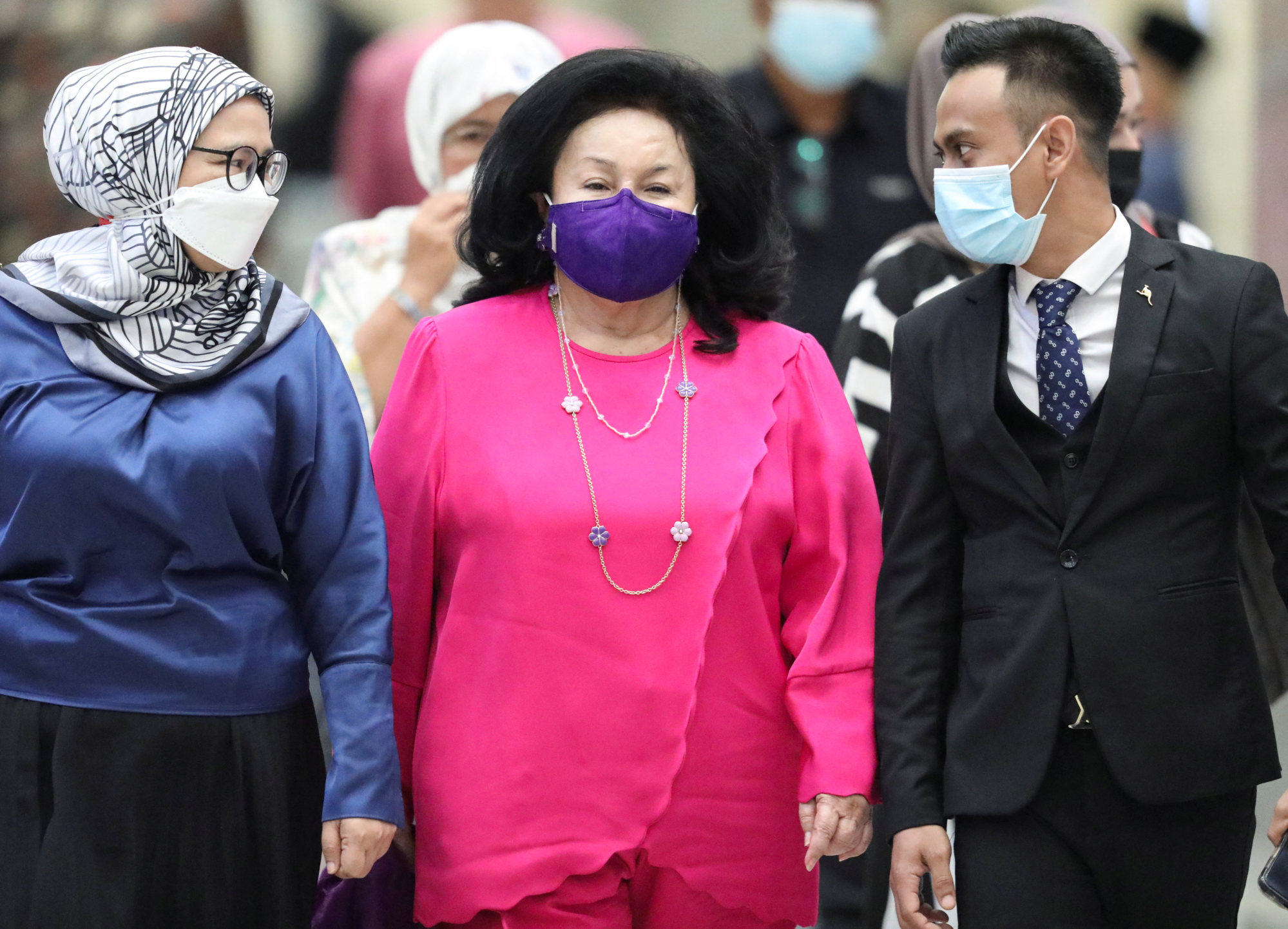 Najib, who remained stoic as Tuesday's judgment was read, was immediately surrounded by family members after the judges left the court. His wife
Rosmah Mansor
, as well as daughter Nooryana and sons Ashman and Nizar, were present in court.
Rosmah is scheduled to hear the verdict of her own
corruption trial
on September 1, linked to a 1.25-billion-ringgit solar energy project for rural schools in the state of Sarawak in Malaysian Borneo.
Najib was transported to Kajang Prison – located 30km from Kuala Lumpur – in a police motorcade about an hour after the court delivered its ruling.
Previously, high-profile figures such as the reformist opposition leader
Anwar Ibrahim
were detained in Sungai Buloh Prison, also near Kuala Lumpur.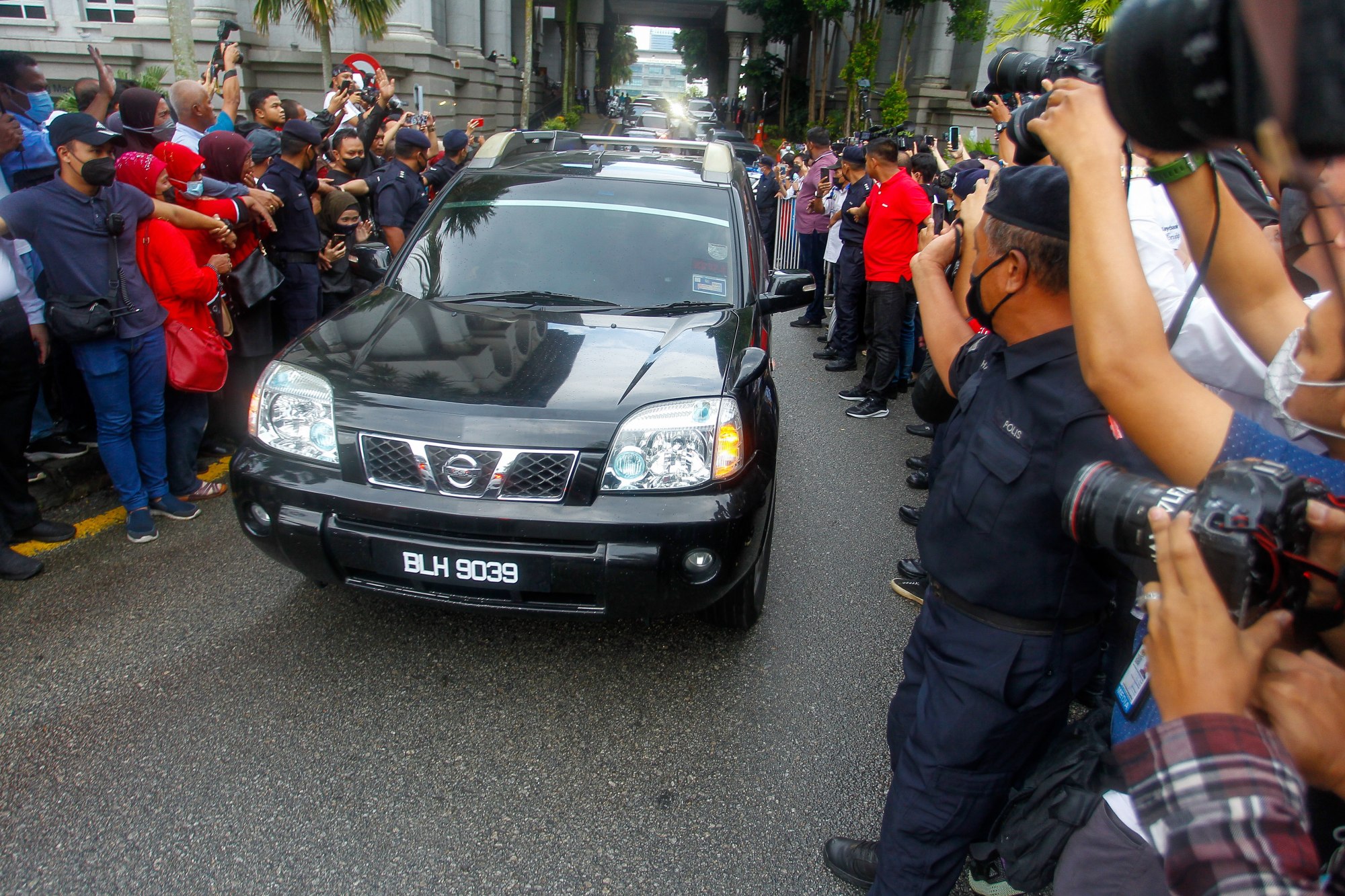 Hearing was 'not cricket'
Before the judgment, Najib said he felt he had been deprived of justice in the Federal Court's decision to dismiss his applications to
postpone the hearing
to allow his new counsel, led by Hisyam Teh Poh Teik, to prepare for the case.
He said the decision was akin to being taken out of a contest "that affects my liberty".
"I feel this is not cricket at all as there is total unfairness executed on me … This Honourable Court seems to be overly concerned about the time allotted for this appeal, and that any adjournment would pose inconvenience to this Court and perhaps the Prosecution," Najib said when reading out a prepared statement from the dock.
"But, Yang Arif, surely in the light of what I have said and what would be said later on, must justice be sacrificed at the altar of convenience?" he said, referring to the Chief Justice.
Najib can still file a judicial review for the courts to decide if the latest judgment was illegal, irrational, unreasonable or involved procedural impropriety, but he must begin serving his sentence first.
The ex-leader could also seek a
royal pardon
from Sultan Abdullah Sultan Ahmad Shah, Malaysia's reigning king who hails from Pahang state where Pekan is located.
A royal pardon – such as the one Anwar obtained
in 2018
– could see Najib's jail sentence commuted, and allow him to continue taking part in politics.
He entered frontline politics after the death of his father, the country's highly respected second prime minister Abdul Razak Hussein.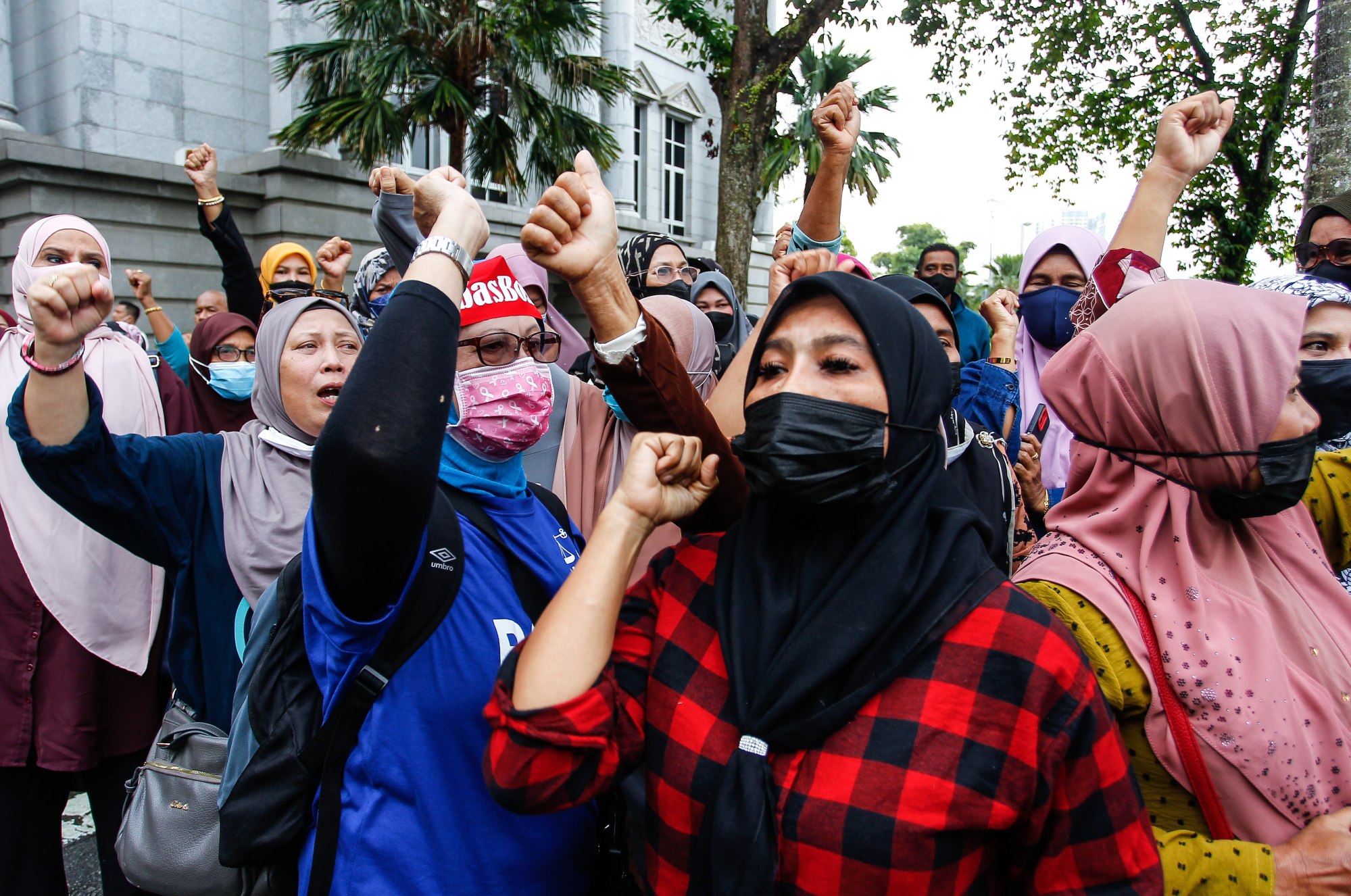 Najib's supporters were furious over the verdict and refused to speak to the media when approached for comment.
It was a far cry from their hopeful optimism earlier in the day, when they happily waved for press cameras while chanting the ex-premier's name on his arrival to court.
Across the aisle, Najib's critics hailed the ruling as a victory for Malaysians in the fight against corruption and abuse of power by those in the highest seats of power.
"Let today's decision become a lesson and warning to all in positions of responsibility to not once abuse power for their own gains," said Anthony Loke Siew Fook, secretary general of the opposition Democratic Action Party.
"Today is also a new chapter for the nation to move forward and declare to the world that Malaysians reject corruption and kleptocrats," he said.
The Center to Combat Corruption and Cronyism (C4 Center), which has for years tracked alleged corruption by Najib when he was in power, said the Federal Court's ruling reaffirmed trust in the judiciary and "brought new optimism for a better Malaysia".
"Today's guilty verdict for the former prime minister serves as a testament to the efforts of whistle-blowers, media workers, investigators, civil society organisations, public officials, and members of the public who spoke up and exposed his crimes for all to see," it said in a statement.