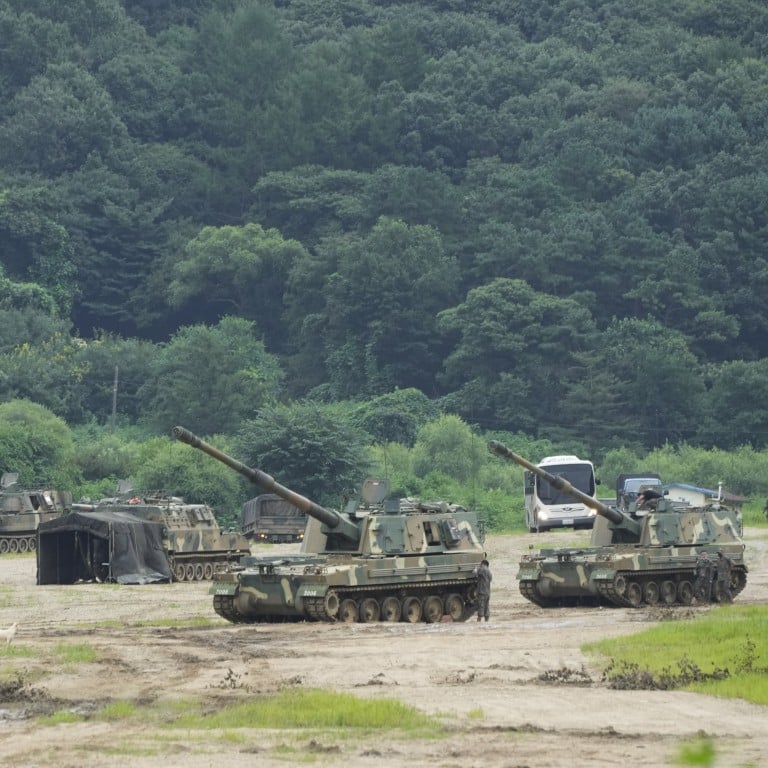 Massive US-South Korea military drills watched by China, Russia amid growing tensions
South Korean military has said it will be 'normalising' the joint exercises that have been portrayed as invasion rehearsals by the North
The exercises, which could include some US soldiers from outside the Korean peninsula, have raised eyebrows in China and Russia, analyst notes
The ongoing
South Korea
-US joint military exercises, known to be the two allies' biggest combined defence training in years, are drawing much attention in the region amid mounting superpower rivalry, analysts have said.
Code-named the Ulchi Freedom Shield, the military exercises that began on Monday will last until September 1. They involve aircraft, warships, tanks and potentially tens of thousands of troops, with some US soldiers likely to be flown in from outside the Korean peninsula.
The South Korean military on Tuesday said it would be "normalising" the joint exercises that had been scaled down and modified under the past liberal government seeking reconciliation and dialogue with the North.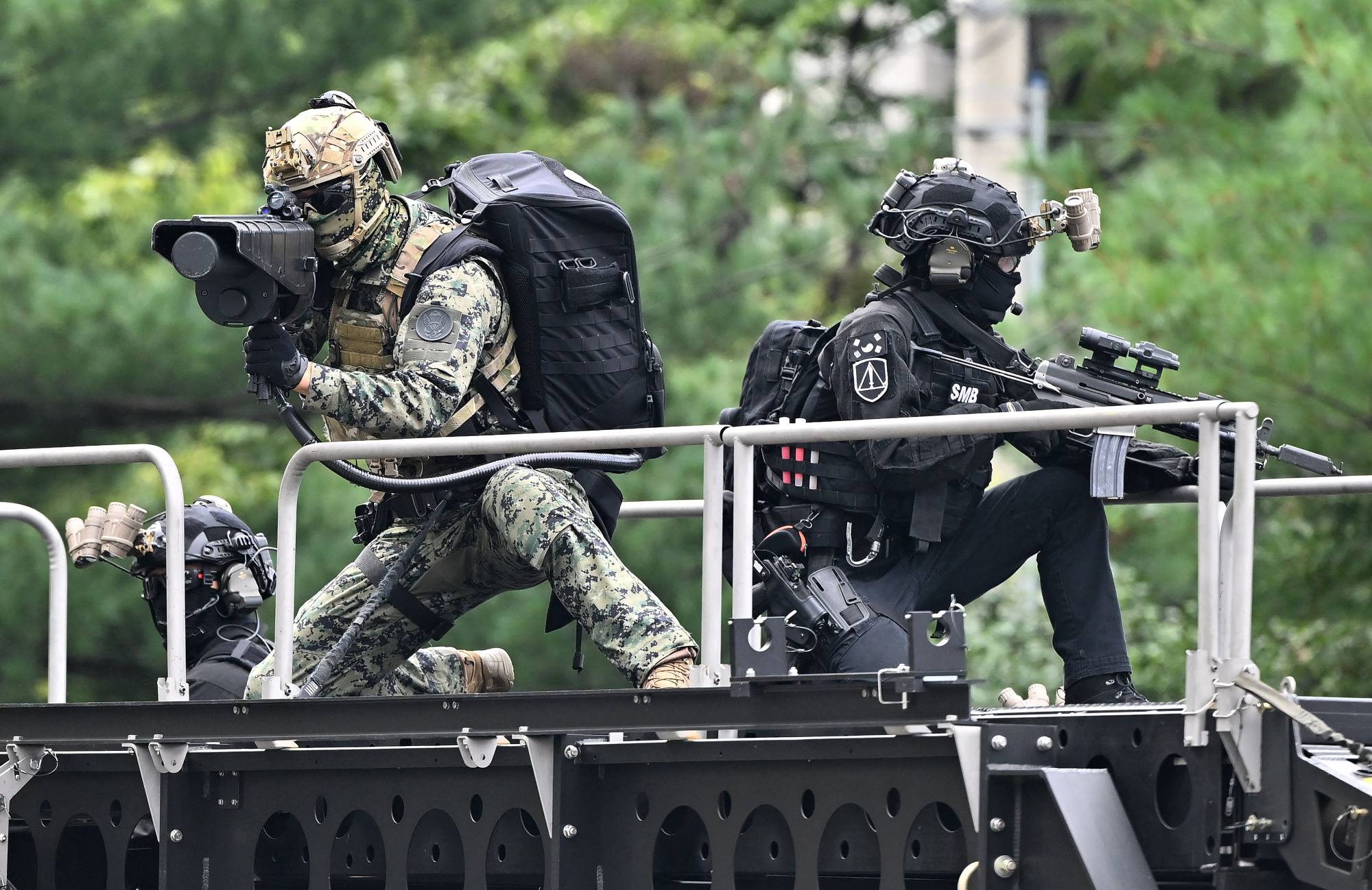 "There is greater international interest in these US-South Korea defence exercises because they are gradually returning to a scale and sophistication typical before the pandemic and [Donald] Trump's inconclusive summitry with North Korea (in 2018)," said Leif-Eric Easley, a professor at Ewha University in Seoul.
Seoul and Washington's combined drills also came at a time of heightened tensions in the region after Beijing conducted extensive military manoeuvres in the vicinity of Taiwan, he said.
While Washington and Seoul describe their exercises as defensive,
North Korea
portrays them as invasion rehearsals and has used them to justify its nuclear weapons and missiles development.
Theatre-level South Korea-US joint military exercises where the entire Korean peninsula is treated as a battlefield take place twice a year – once in March and once in August.
While the March exercises usually include field training exercises with large-scale movement of troops and equipment as well as command post exercises (CPX) using computerised war games, the August exercises tend to be focused on CPX.
South Korean military authorities said the Ulchi Freedom Shield would not be limited to computer simulation-based CPX and would also include a total of 13 joint field drills and battalion-level joint weapons of mass destruction removal training.
The independent Hankyoreh newspaper said it was media hype to report that large-scale field exercises were "making a comeback" after four years.
"It's inaccurate to speak of a 'comeback' when the two sides are simply doing what were previously 13 separate drills all at once during their joint exercise," it reported on Monday.
"The 13 drills may be happening all at once rather than being scattered throughout the year, but it's still 13 drills per year. It's a bit of deceptive packaging."
Park Won-gon, a political-science professor at Ewha University, said the themes of the Ulchi Freedom Shield were "absolutely" primed for the defence of the South in case of attacks from the North and they contained no other purposes.
"Of the themes of these military exercises, there is nothing at all that can be seen as aiming at China or Russia," Park said.
"But these exercises, which include US troops' reinforcement movements from outside the Korean peninsula, are raising many eyebrows in China and Russia amid peaking tensions over
Taiwan
and the
raging war in Ukraine
."
The Russian foreign ministry went out of its way to express concern over the exercises on Wednesday, calling them "counterproductive and dangerous", according to Tass news agency.
It also called for a diplomatic solution to "tension" on the peninsula "without the intervention of external forces".
The statement came after a pair of Tu-95 bombers escorted by Su-30 fighter jets on Tuesday entered the Korean Air Defence Identification Zone in the Sea of Japan or East Sea, causing South Korea to scramble F-16 fighter jets.
The rare move sparked speculation that it was aimed at registering Russia's resentment against the Ulchi Freedom Shield.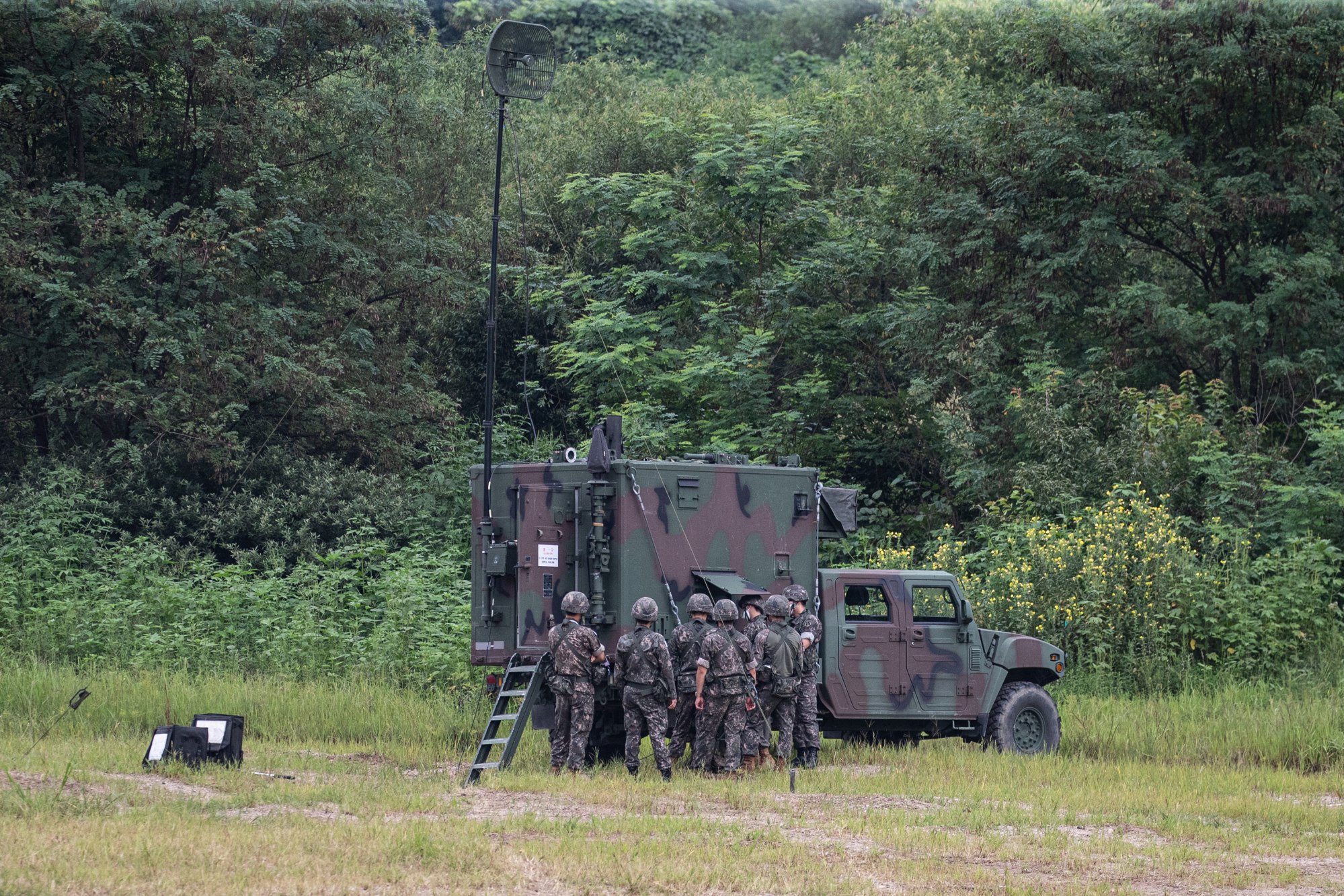 "The joint military exercises were not only aimed at North Korea, but also to flex the US' muscle in the Asia-Pacific region and to demonstrate its military presence in the region and to deter China," it said, citing Lü Chao, an expert on Korean peninsula issues at the Liaoning Academy of Social Sciences.
According to the paper, Lü predicted that the US was likely to deploy more strategic weapons, such as aircraft carriers and strategic bombers. He also noted that China needed to be vigilant on this amid mounting tensions in the Taiwan Strait.
The Ulchi Freedom Shield drills are also taking place after the US, South Korean and Japanese navies conducted missile warning and ballistic missile search and tracking exercises off the coast of Hawaii from August 8 to 14 to enhance three-way cooperation against threats from the North.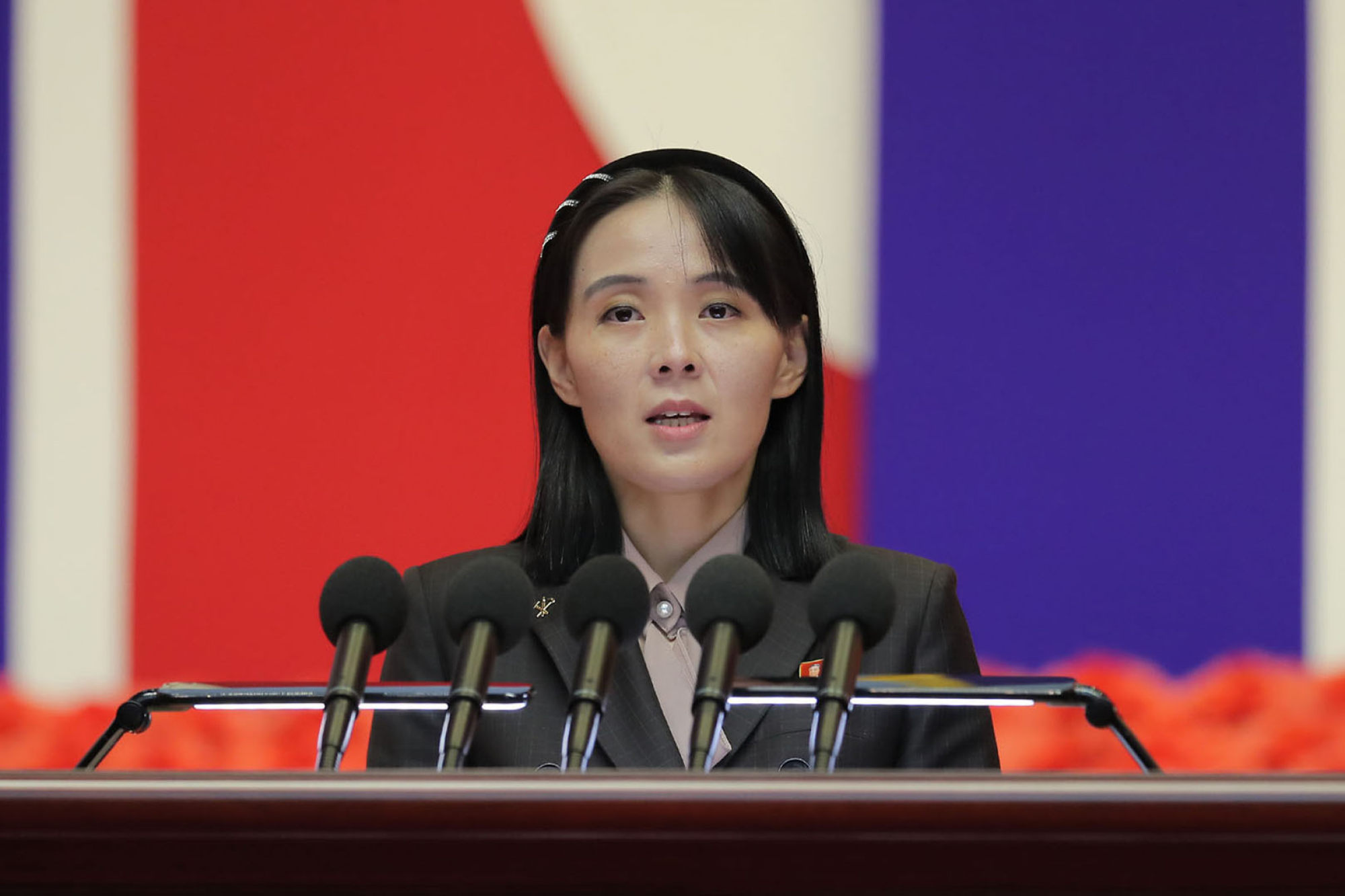 Kim Yo-jong, sister of North Korean leader Kim Jong-un, last week rejected an
"audacious" proposal
by South Korea's conservative President
Yoon Suk-yeol
on economic benefits in exchange for denuclearisation steps, accusing Seoul of recycling proposals Pyongyang had long rejected.
She described Yoon's proposal as "foolish", stressing that the North has no intentions to give away an arsenal her brother clearly sees as his strongest guarantee of survival.
Kim criticised Yoon for continuing military exercises with the
United States
and also for letting South Korean activists fly anti-Pyongyang propaganda leaflets across the border by balloon. "We detest Yoon as a person," she said emphatically.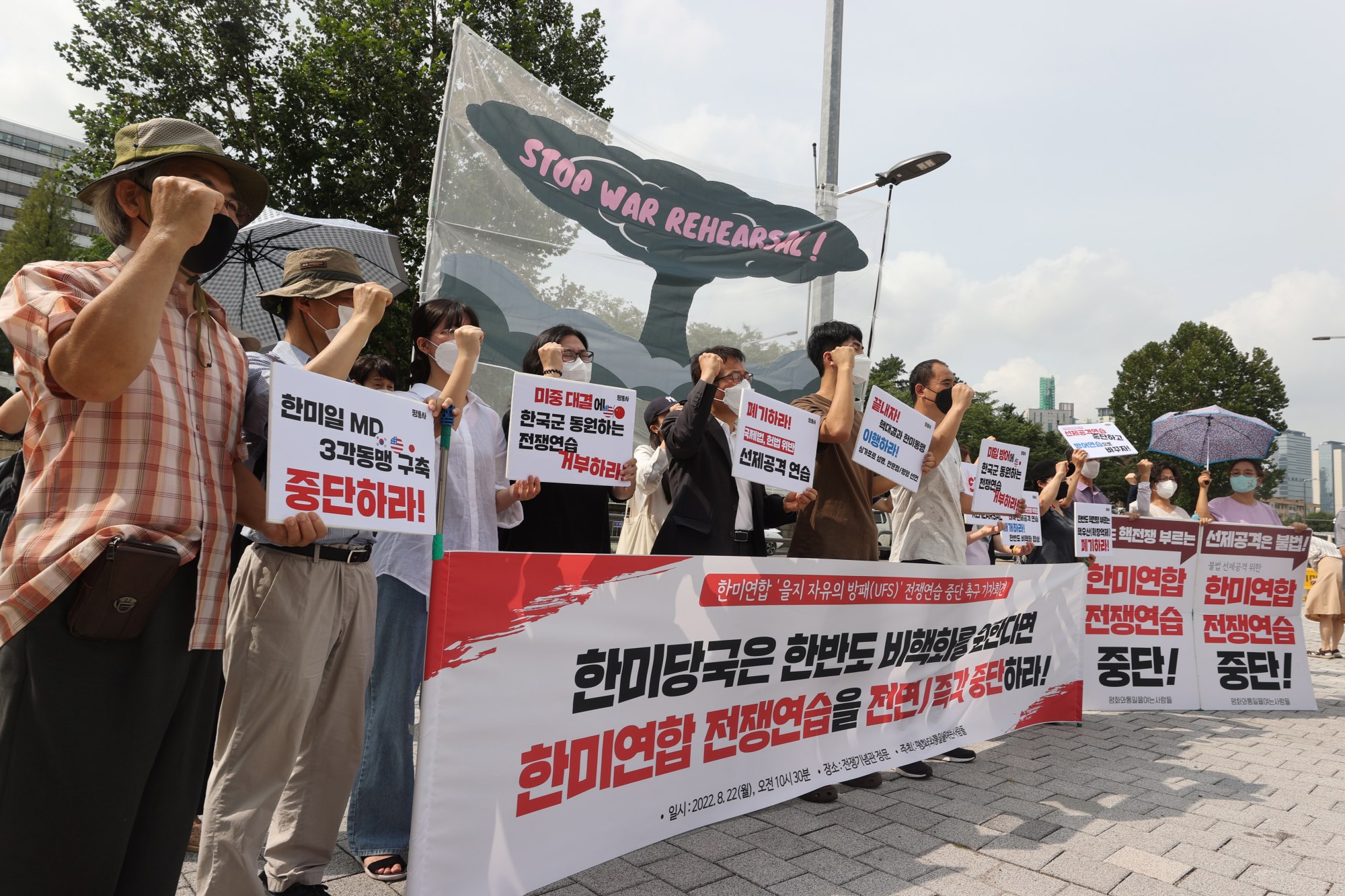 Park said Pyongyang was likely to respond to the Ulchi Freedom Shield exercises by conducting fresh missile tests.
"However, the North is unlikely to advance its next nuclear test because of the exercises as it moves in accordance with the existing timetable for nuclear development," he said.
Former South Korean spy chief Park Jie-won on Monday said North Korea could conduct a nuclear test ahead of US midterm elections in November.
"They are going to do it to show that its missile carrying miniaturised nuclear warheads can fly to the US and to deal a blow to the
Joe Biden
administration ahead of the midterm elections," the National Intelligence Service director said on KBS Radio.
Additional reporting by Associated Press