Japan
Get more with myNEWS
A personalised news feed of stories that matter to you
Learn more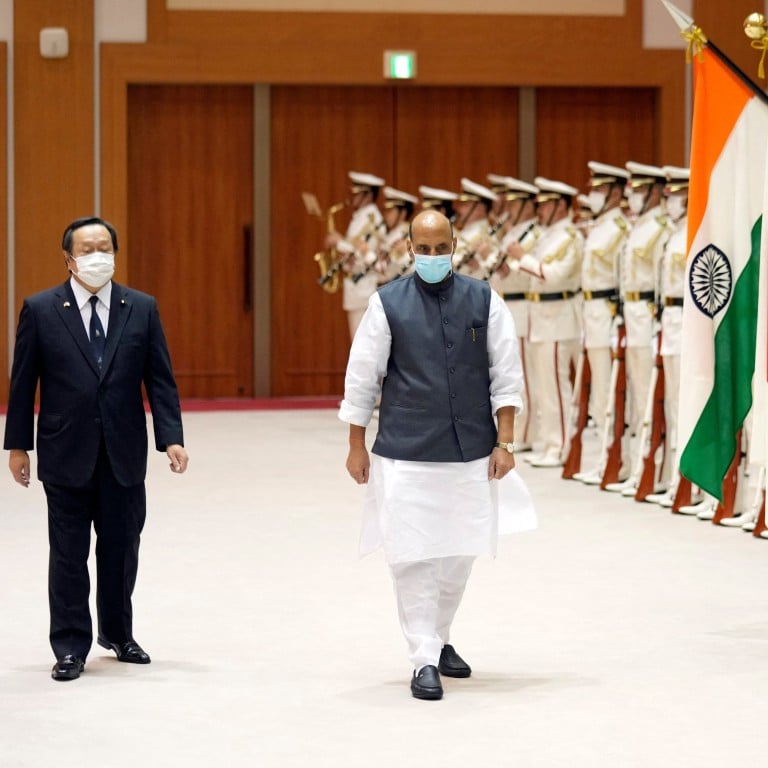 India, Japan discuss China, Russia in 2+2 talks as analysts urge 'realistic' relationship
Officials holding '2+2' meeting in Tokyo; observers say that while Beijing is a mutual concern, Japan is also worried about India's links to Moscow
Talks are also likely to include Japanese manufacturers shifting from China to India and both nations' concerns over energy security
Senior government officials of Japan and India were holding a "two-plus-two" meeting in Tokyo on Thursday, with security and defence issues expected to dominate the discussions in a year that marks the 70th anniversary of diplomatic relations between the two nations.
Analysts say that in addition to the challenges posed by Beijing, Japan is, in private, concerned about India's close ties with Moscow, which have not faltered in spite of Russia's invasion of Ukraine. They caution, however, against applying too much diplomatic pressure on New Delhi to switch its allegiances.
Other issues on the agenda are likely to include Japanese development assistance, the shift among Japanese manufacturers from China to India and both nations' concerns over
energy security
.
The conference is being hosted by Japanese Foreign Minister Yoshimasa Hayashi and Defence Minister Yasukazu Hamada, while the Indian delegation is headed by External Affairs Minister Subrahmanyam Jaishankar and Rajnath Singh, the Defence Minister. Singh is also due to hold separate talks on defence issues and is expected to call on Prime Minister Fumio Kishida while he is in
Tokyo
.
The "two-plus-two" meeting is the second between the two nations after India hosted a similar get-together of ministers three years ago, an effort to engage that was very much championed by former Prime Minister Shinzo Abe as he sought allies in the Indo-Pacific region to counter an increasingly outward-looking and belligerent China.
As early as 2007, Abe delivered a speech in the Indian parliament in which he declared, "The Pacific and the Indian Oceans are now bringing about a dynamic coupling as seas of freedom and of prosperity." Such was the importance that India placed on its ties with Japan that
New Delhi
declared a national day of mourning after Abe was assassinated in July.
The present Japanese government clearly intends to build on the relationship, with Hayashi telling a press conference on Tuesday that "India is a partner that shares fundamental values and strategic interests with Japan."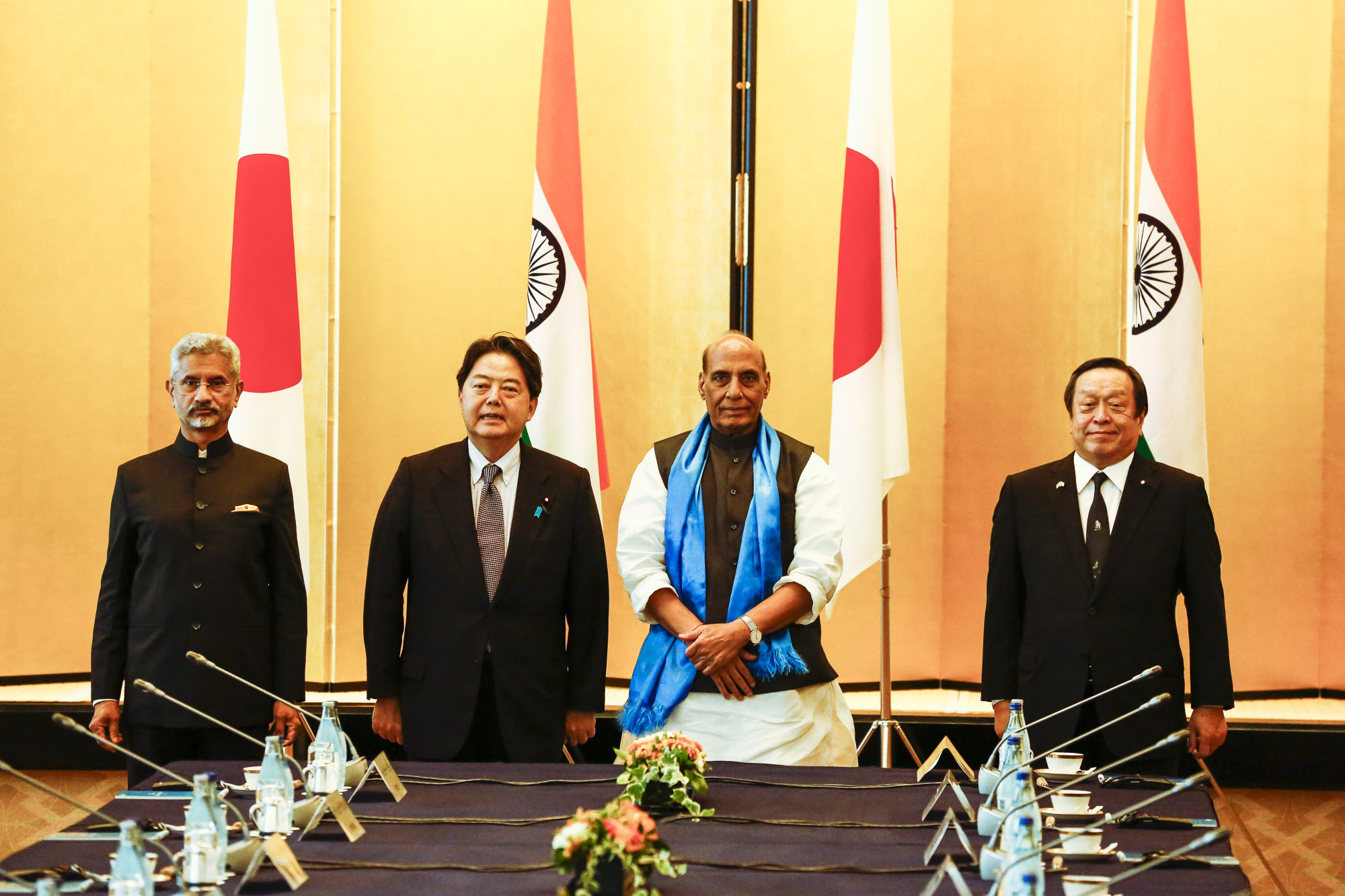 The most pressing issue for both nations is certain to be the security challenges posed by China, said Kumao Kaneko, a retired professor who specialised in Indian affairs at Tokyo's Tokai University.
"Both Japan and India have security challenges posed by China, which makes them automatically allies to a degree, and what can be done to counter Beijing in the region will be high on the agenda," he said, pointing to Tokyo's territorial dispute with China over the Japanese-controlled Senkaku Islands, which Beijing claims and refers to as the Diaoyutai archipelago, while India and China are in dispute in their border regions in the Himalayas.
Japan is likely to be supportive of India's rapid enhancement of its military capabilities in the Indian Ocean, with the recent commissioning of the nation's first domestically built aircraft carrier and work progressing on its first nuclear-powered submarine.
A stronger Indian military will help protect the sea lanes that are critical to imports of energy and food to Japan, Kaneko pointed out, while Japan and other countries are concerned about growing Chinese influence over Sri Lanka, which is facing an economic crisis and has run up a large debt to China linked to infrastructure projects Beijing initially bankrolled.
"Our relations with China are more or less the same, primarily antagonistic, but India is, in contrast to Japan, much closer to Russia," Kaneko said.
New Delhi has declined to impose sanctions on Moscow for its invasion of Ukraine, as other nations have done, and is benefiting from plentiful supplies of cheap energy. India similarly has long-standing defence deals with Russian manufacturers.
As a result, Tokyo would have been concerned about Indian units taking part in the Vostok 2022 military exercises, hosted by Russia in its Far East provinces earlier this month. Several other nations participated, including China, Syria, Tajikistan, Belarus and Laos, although India's involvement was limited to strategic command and staff drills.
Before the exercises New Delhi went out of its way to tell Tokyo that it would not be sending warships for the manoeuvres and that its personnel would not take part in those parts of the drills staged on islands off northern Japan that Russia seized in the closing stages of World War II and which Tokyo continues to claim as its territory.
Yoichi Shimada, a professor of international relations at Japan's Fukui Prefectural University, said India's participation in the drills was "not an issue" and might actually benefit Japan if India shared intelligence gathered at the exercises, including information on the strength of Russian and Chinese forces.
However, he said it was important "Japan does not use these talks with India to try to exert pressure because that could serve to antagonise New Delhi and, if they feel threatened, force them closer to Russia".
"Japan needs to have a realistic relationship with India," he added. "Abe was instrumental in getting India into the Quad security dialogue, along with Australia and the US, but we must understand that India is very much a developing country and the weakest link, so we must work to protect that relationship and make countering China our shared priority."
One potential way of helping to achieve that aim could be through additional development aid, he suggested, including progress in stalled efforts to provide India with nuclear energy technology.
And while standing up to China in the security arena is important, Shimada said, there are other ways to simultaneously weaken a rival while strengthening an ally.
"A lot of Japanese companies that previously invested in China and built manufacturing facilities there are now looking to leave the country and the Japanese government has a scheme to help them do that," he said. "They can be encouraged to go to India, which would be an economic and trade win for both nations."