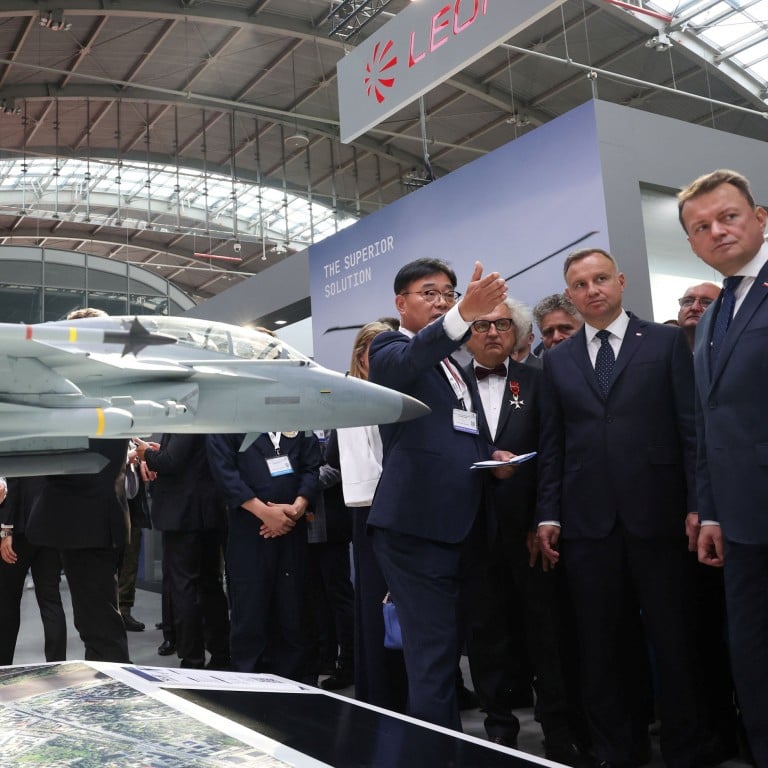 South Korea emerging as key arms supplier amid billion-dollar deals with Poland, Malaysia
Korea Aerospace Industries is expected to sign an executive contract this week to export 48 FA-50 aircraft to Poland for some US$3 billion
South Korean total arms exports in 2022 are likely to surpass US$10 billion, up from US$7 billion last year
South Korea
is reportedly expecting to sign multibillion-dollar contracts to export its home-grown light combat aircraft to
Poland
and
Malaysia
as early as this month as the country is quickly emerging as a key player in the weapons market.
Analysts said South Korea's fast growth in arms exports was largely thanks to its vast manufacturing industries that were ready to be used for weapons production in large quantities to cope with persistent threats from
North Korea
.
"South Korea is one of a few countries in the world that have arms production capacities that are able to meet the growing needs of countries in the current geopolitical turmoil," Senior Researcher Kim Mi-jung at the Korea Institute for Industrial Economics and Trade (KIET) told This Week in Asia.
SBS TV, citing a well-informed industry source, said a representative of Korea Aerospace Industries Ltd. (KAI), the developer of the supersonic FA-50, left for Poland on Tuesday to sign a contract this week to export 48 of the aircraft for some US$3 billion.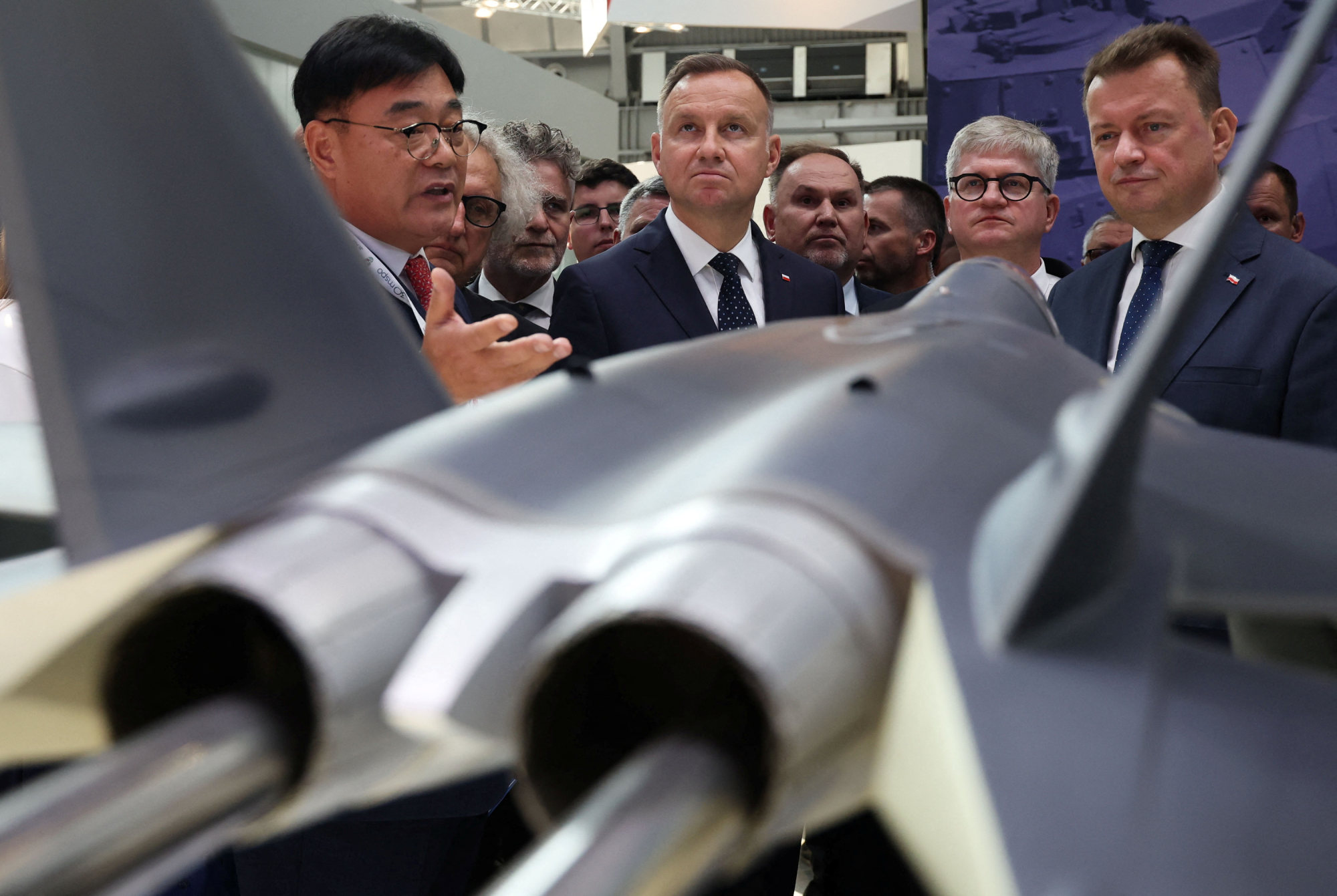 The deal with Poland will be "the largest in history in terms of the exports of FA-50", the source was quoted as saying.
A KAI spokesman declined to comment until the agreements are signed – which could take place by the end of the week according to SBS TV.
KAI is also expected to sign a separate contract with Malaysia to export 18 FA-50s worth US$1 billion dollars "as early as next week", SBS TV said.
KAI is seeking to arm the exportable FA-50s with air-to-air missiles and the localised AESA (Active electronically scanned array) radar that detect multiple targets simultaneously, according to the SBS TV report.
Based on the airframe of KAI's T-50 trainer, the FA-50, featuring combat data processing and self-protection systems and precision guided weapons, has been deployed and operated in the South Korean air force since 2013.
KAI is also the developer of the KF-21 semi-stealth fighter which is currently undergoing flight testing, and is reportedly being eyed by the Philippine Air Force as a possible contender for its multi-role fighter project, according to the
Philippine
news agency.
The impending deal to export 48 FA-50 jet fighters to Poland has been envisioned under the framework contracts announced in July, through which Warsaw is also committed to procuring 980 K2 tanks and 648 K9 howitzers from South Korea.
The contracts could potentially be worth up to 25 trillion won (US$18 billion), making them one of Poland's "most important and largest" defence orders in recent years according to Warsaw's defence ministry.
Last month, Hyundai Rotem Co. and Hanwha Defense signed contracts worth US$5.76 billion with Warsaw's Armament Agency for the initial delivery of 180 K2 tanks and for 212 K9 "Thunder" howitzers. The weapons will be provided between now and 2026.
The orders from Poland mark the latest in a series of major arms procurement contracts awarded to South Korea this year, whose total arms exports in 2022 are likely to surpass US$10 billion, up from US$7 billion last year.
Earlier this year, LIG Nex1 signed an arms export contract with the
United Arab Emirates
worth US$3.5 billion for its interceptor missile Cheongung II.
In December, Hanwha Defense signed a contract to supply 30 K9 howitzers to
Australia
for one trillion won (US$718 million), and in February signed a deal with Egypt to supply two trillion won (US$1.44 billion) worth of K9 howitzers.
The 155-mm K9 self-propelled guns, which were used for shelling North Korean military outposts in a 2010 border clash, have already been snapped up by
Türkiye
,
India
,
Finland
,
Norway
, Estonia and Australia in addition to Poland and Egypt.
Hanwha Defense also hopes to be selected as the preferred bidder to supply about 400 next-generation infantry fighting vehicles to Australia.
Emboldened by the surge in exports, President
Yoon Suk-yeol
last month said in a speech marking his 100th day in office that the government will help the country's arms industry become the world's fourth-largest exporter.
According to Stockholm International Peace research Institute, South Korea was the eighth largest global arms exporter between 2017-21, with a 2.8 per cent share. Seoul's exports for the five-year period jumped 177 per cent from the previous five years.
The
United States
topped the list with a 39 per cent share, followed by
Russia
at 19 per cent, and
France
at 11 per cent.
China
ranked fourth at 4.6 per cent.
"As many countries are racing to stock up on weapons following the outbreak of the
Russian-Ukraine war
, South Korea's defence exports are likely to see a boom in the next five years or so," Kim Mi-jung of KIET said.