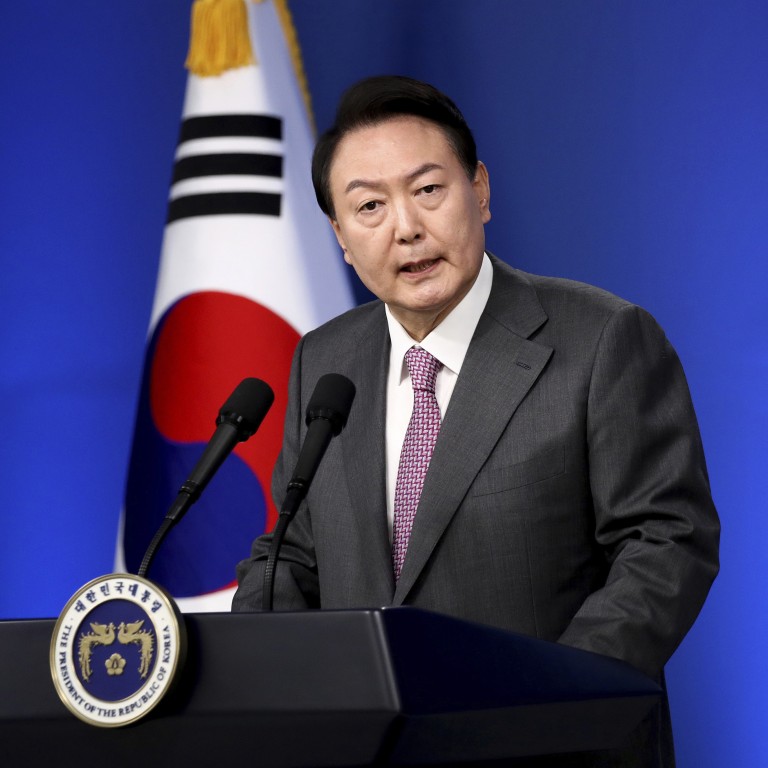 South Korea's Yoon Suk-yeol must appease both US and China during his first UN address, analysts say
South Korean leader has shown a desire to reverse Seoul's foreign policy that seemed timid towards China under his predecessor Moon Jae-in
Beijing has been critical of South Korea hosting a US anti-missile system, and Seoul faces pressure from Washington to speak up on issues such as Taiwan
South Korea's conservative President
Yoon Suk-yeol
faces a delicate diplomatic test with a debut address at the
United Nations
on Tuesday as the mounting
Sino-US
rivalry makes Seoul's balancing act between the superpowers increasingly more difficult, analysts said.
His trip to the UN will provide a welcome respite from domestic headaches stemming from allegations of nepotism, and controversies surrounding his high-profile wife Kim Kun-hee that have contributed to his dismal approval ratings.
Yoon, meanwhile has been critical of his liberal predecessor
Moon Jae-in
, accusing him of appeasing
North Korea
and being weak-kneed toward assertive China, vowing instead to step up alliances with the United States and Japan.
He has said his government will join forces with other like-minded countries in helping expand freedom, human rights and "rules-based order", a description chosen by Washington on how the world should work to cope with
China
and
Russia
.
"It is expected that his speech at the UN will contain the tenor of working together with freedom-loving countries in expanding a global alliance for freedom," a senior official of the presidential office told journalists on Thursday.
But the official said this does not necessarily mean
South Korea
will antagonise specific countries such as China and Russia.
"There would be some countries that may not entirely consent to the idea of promoting freedom, human rights and rules-based order. With such countries, we will find ways to mutually respect and develop agendas that are mutually beneficial," he said.
In an interview with The New York Times published on Sunday, Yoon criticised Moon for his ambiguous policy towards the US and China.
"I will pursue predictability, and South Korea will take a more clear position with respect to US-China relations," Yoon was quoted as saying.
On the promotion of freedom, political Science Professor Park Won-on at Ehwa University said the term was Yoon's favourite.
Park said the term was one the president used to distance himself from the former liberal government that took a conciliatory gesture toward
North Korea
and stressed the importance of allying with the United States,
Nato
and
Japan
to cope with Pyongyang.
"But he is not intending to alienate China," Park said.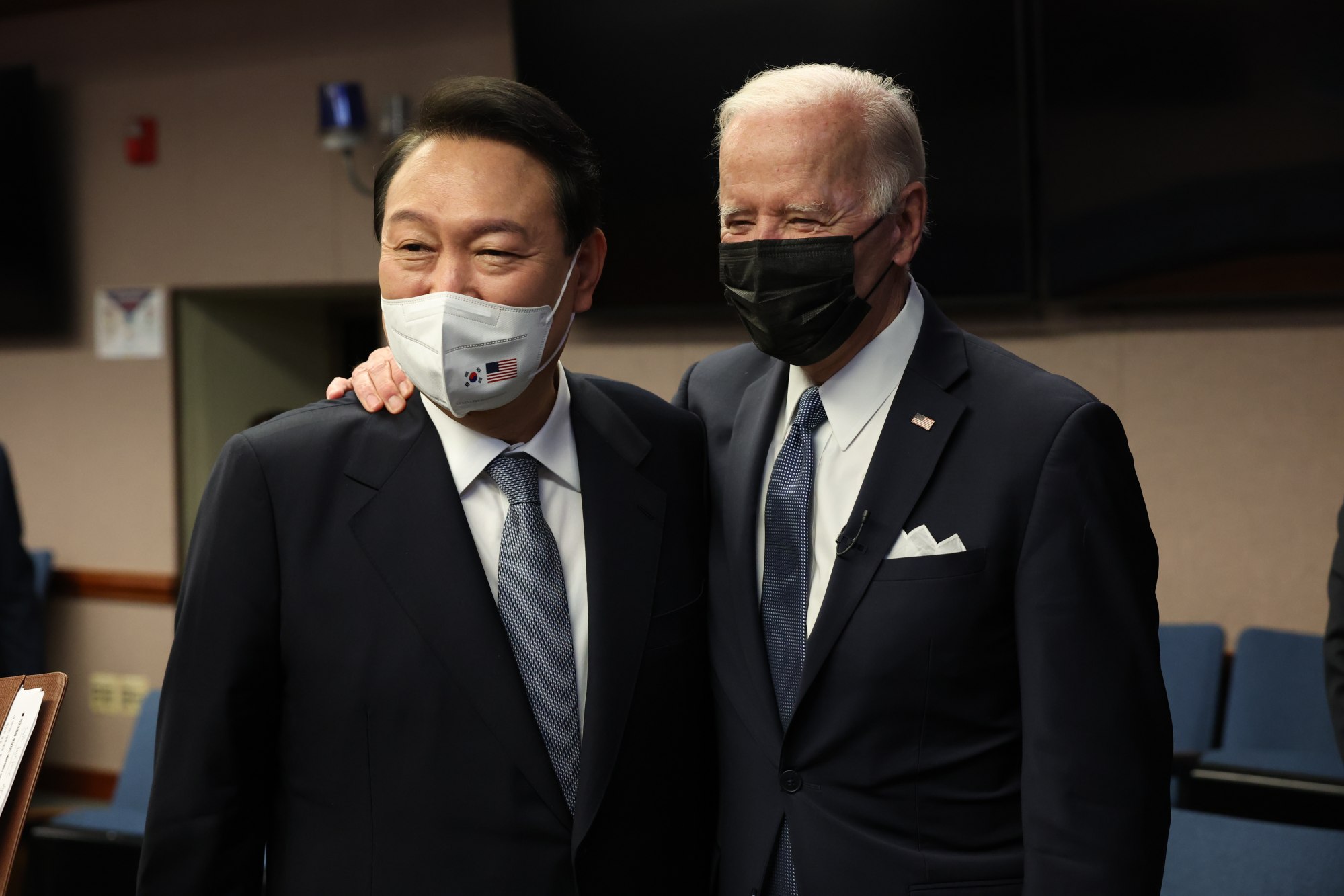 He warned, however, freedom is a vague political slogan that could clash with South Korea's national interests by provoking the North and raising eyebrows in Beijing and Moscow.
"Pursuing liberal international order does not necessarily mean South Korea should always take the US side as the United States appears to be moving toward a closed multilateral trade system [outside China and Russia] instead of an open, embracing multilateral trade system upon which the principle of free trade is based," he said.
Despite concerns over harming ties with China and Russia, Yoon justifies bolstering an alliance with the United States, Nato and Japan by citing the need to counter growing nuclear threats from North Korea.
The United States and South Korea on Friday denounced
North Korea's first-use nuclear doctrine
unveiled this month as "escalatory and destabilising" and Washington vowed to continue to deploy and exercise strategic assets to deter and respond to Pyongyang.
A joint statement after a vice ministerial-level meeting of the Extended Deterrence Strategy and Consultation Group (EDSCG), the first convening of the body since 2018, reiterated the "ironclad" US commitment to defend South Korea and said any North Korean nuclear attack would be met with an "overwhelming and decisive response."
The statement referred to combined training of F-35A fighter jets in July and Friday's deployment of the USS Ronald Reagan Carrier Strike Group in the region "as a clear demonstration of such US commitment."
South Korea also cites North Korea's nuclear warnings as a reason to deploy the US-controlled Terminal High Altitude Area Defense (THAAD) antimissile system, which Beijing sees as a direct threat to China's security.
On Friday when Yoon met with China's top legislator
Li Zhanshu
, Yoon addressed Beijing's concern.
Yoon told Li the two sides need to communicate closely "to make sure that THAAD does not become an obstacle to South Korea-China relations," according to the presidential office.
Li replied "properly handling sensitive issues is crucial" to ensuring the healthy and steady development of China-South Korea relations,
Xinhua
News Agency said in reference to THAAD.
Beijing also urged Seoul to uphold the so-called "Three Nos" pledge made by the Moon government in 2017 – no additional THAAD deployments, no participation in a US missile defence network, and no joining in a US-South Korea-Japan military alliance.
But Yoon's government says the Three Nos policy was not an official pledge or agreement.
The shift in THAAD policy comes at a time when South Korea finds it increasingly difficult to keep its balancing act between Washington and Beijing amid an intensifying rivalry between the two superpowers.
South Korea is also under pressure to join the "
Chip 4
" strategic alliance between major semiconductor powerhouses
Taiwan
, the US and Japan, as well as the Indo-Pacific Economic Framework for Prosperity (
IPEF
) that are seen as tools to counter China's growing influence in the industry and the region.
"South Korea bears the brunt of pressure to choose between the two superpowers although many other countries feel the same constraints," Professor Park said.
Additional reporting by Reuters