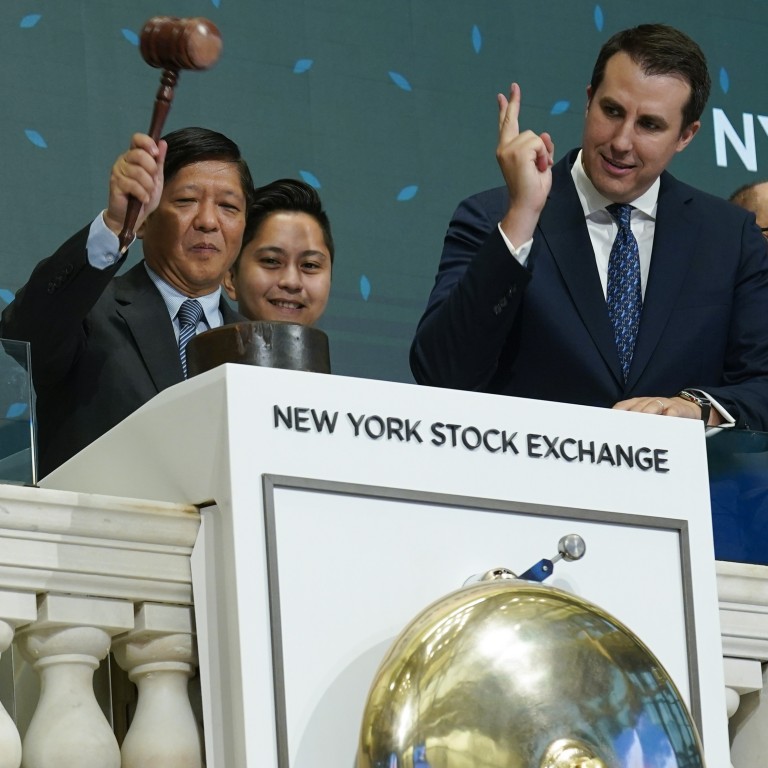 Philippines' President Ferdinand Marcos Jnr pitches US investors, unlike pro-China Duterte
The Filipino president is in New York where he rang stock exchange bell and gave a speech; he is also due at the UN General Assembly
He said his 'vision' for the future was 'having the United States as a partner', in contrast to his predecessor, who courted Beijing
Filipino President Ferdinand Marcos Jnr has said the future of his nation is tied up with the United States as a "partner", in effect reversing his predecessor Rodrigo Duterte's approach of "separation" from the global superpower and a pro-China orientation.
After ringing the closing bell at the New York Stock Exchange on Monday, Marcos Jnr said it was "very clear to me in my vision for the way that the country will move forward that I cannot see the Philippines in the future without having the United States as a partner".
He added: "When we are in crisis, we look to the United States."
He urged US investors to invest in his country and explained how they have helped it, saying "many drivers of the early economy were actually American corporations. Many of the strongest corporate benefactors really, to government and to the rest of society in the Philippines, were coming from the United States".
Such words are in stark contrast to Duterte, who, during a visit to Beijing in 2016, early in his term, announced the Philippines "separation" from the US. He also threatened to end a military deal with his nation's former coloniser but retained it eventually as he thanked the US for Covid-19 vaccines.
The
Philippines
under
Marcos Jnr
has been ramping up protests against Beijing over a territorial dispute in the South China Sea.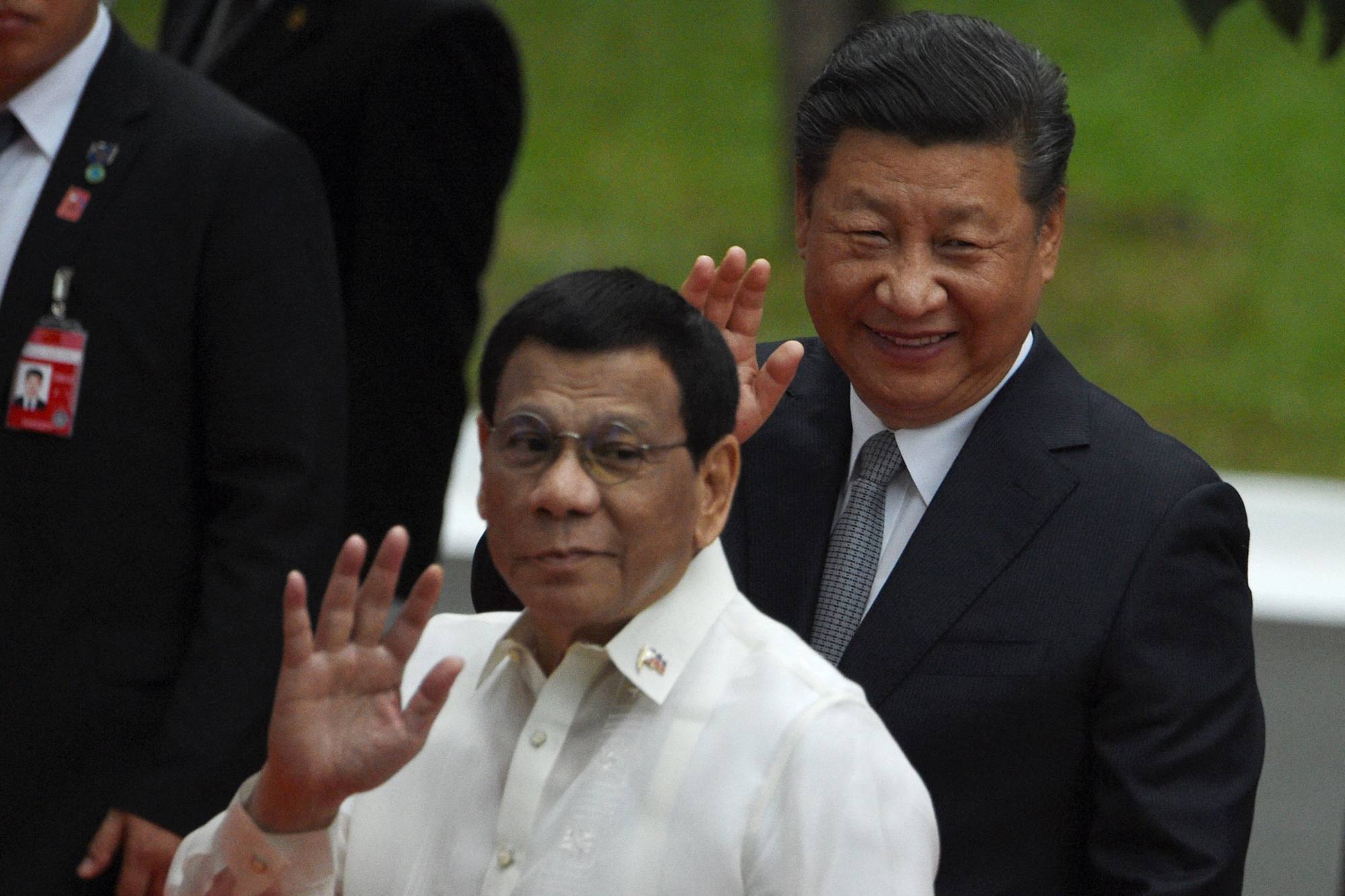 However, in an early sign of balancing interests soon after winning the elections in May, Marcos called China the nation's "strongest partner" in pandemic recovery and said the government is open to talks with Beijing on oil exploration in the disputed area.
But on Monday, the US was the focus. During an address on Monday to the Philippine-American community in New Jersey, Marcos Jnr said he was "hoping to be able to meet President Joseph Biden and other world leaders on the sides of the UN General Assembly" the next day.
Last month, he had a brief meeting with US State Secretary Antony Blinken during the latter's overnight visit to the Philippines.
In contrast, when Liu Jianchao, minister of the International Department of the Central Committee of the Communist Party of China (IDPC) visited Manila for three days last month, he said he was unable to see Marcos as the latter was due to leave for a state visit to Indonesia.
During Minister Liu's visit, he told reporters that "we have no differences, and we have no objections, to normal state-to-state relations between the Philippines and the United States. We should understand that they have the longest journey of a relationship".
Liu, a former envoy to Manila, added that Marcos Jnr was "always welcome to visit China at the time that is convenient to both sides. So, we're working with the Philippine government on a certain date at a certain time where a visit could be made".
While Marcos Jnr immediately appointed his second cousin, Jose Manuel "Babe" Romualdez, as the envoy to Washington, he has yet to appoint one to Beijing. The post has remained empty since April when then Ambassador Jose Santiago "Chito" Sta. Romana died of Covid-19.
Marcos Jnr's US visit is his third foreign trip since assuming office in July and his first time to the United States since 1997. The Marcos family fled from Manila's Malacanang Palace in 1986 following a people-backed peaceful uprising.
They were taken by a US military plane to Hawaii although the family, including Marcos Jnr, claimed later his dictator father, Marcos Senior, had wanted to go to Paoay in their home province of Ilocos Norte to wait out the revolution.
However, Marcos Jnr and his mother Imelda left the US and returned home before the US District Court of Hawaii ruled in favour of a class-action suit filed by 10,059 human rights victims of Marcos Senior. Since the latter had died in 1989, the Marcos estate and therefore his heirs became liable for the payment of US$2 billion awarded by the court.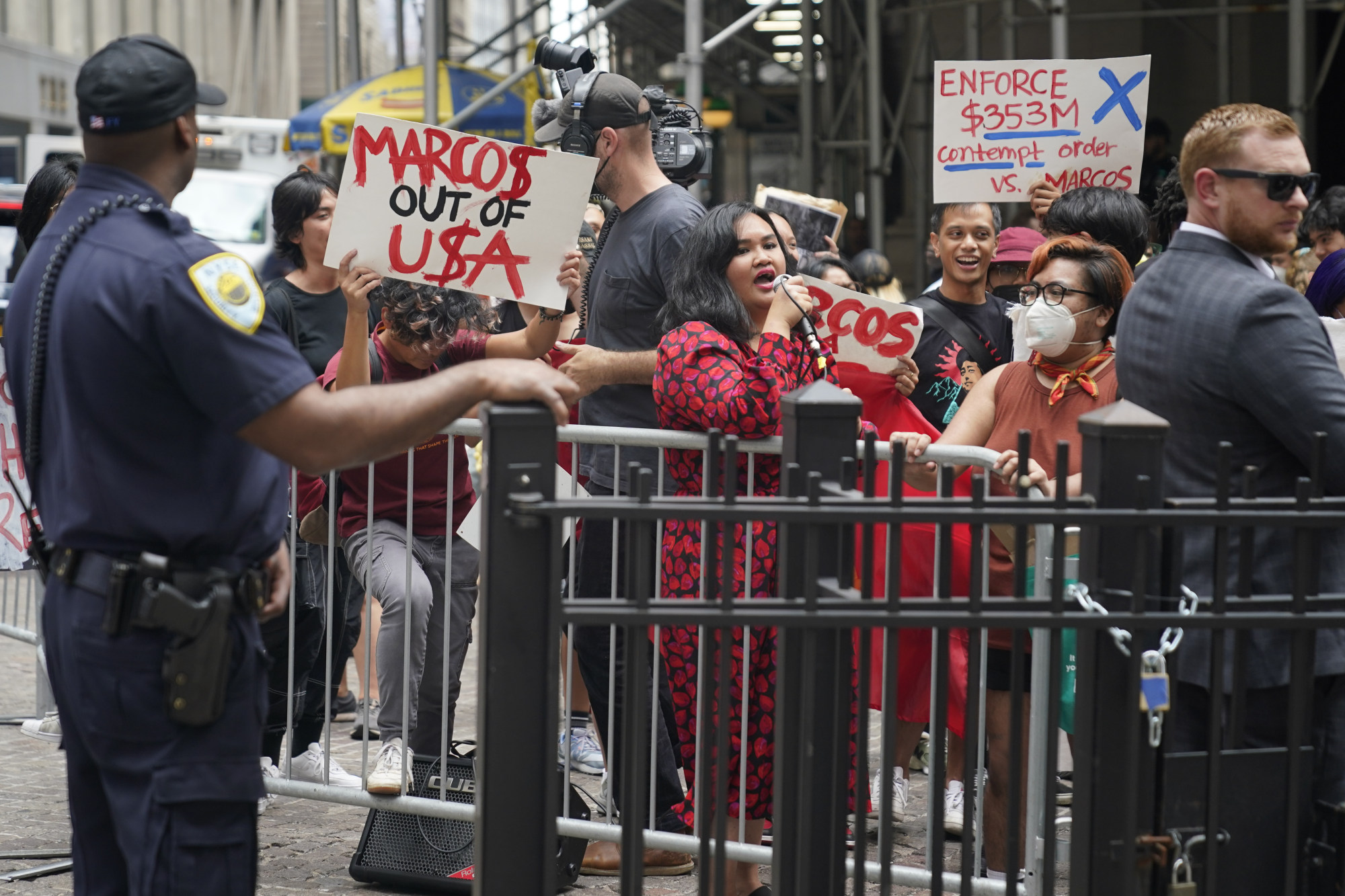 The late dictator's son is facing a US$354 million fine for contempt of court in the US after he failed to comply with rulings on disbursing the family's assets. However, US Deputy Secretary of State Wendy Sherman said in June that Marcos Jnr has diplomatic immunity as head of state and can enter America.
In his New York Stock Exchange speech on Monday, he cited new laws in the Philippines that give foreign investors more perks. He said: "First, we passed legislation to lower corporate income tax rates and rationalise fiscal incentives. Second, we reduced the minimum paid-up capital requirements for foreign retailers and foreign start-ups bringing in advanced new technology. And third, we now allow full foreign ownership of companies providing public services, such as telecommunications, shipping, air carriers, railways, subways, airports, and toll roads."
But Marcos Jnr made no mention of former President
Duterte
who passed the measures. The current Philippine Congress, dominated by Marcos allies, has yet to enact anything noteworthy.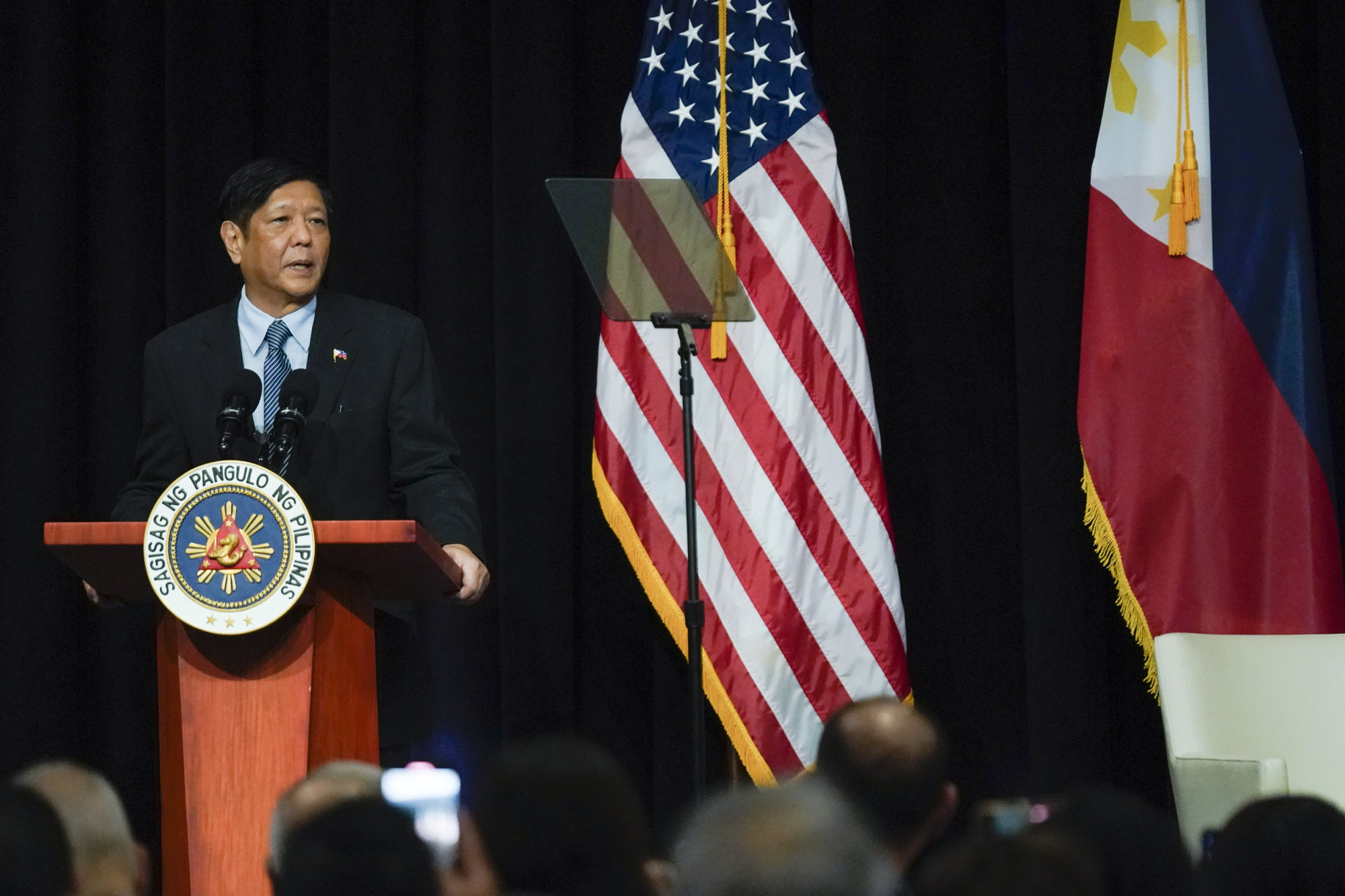 Marcos painted a rosy picture of the future Philippine economy by the time he finishes his term in 2028: a 51.2 per cent debt-to-GDP ratio from the 62.1 per cent when he assumed office on July 1; US$99 billion gross international reserves at the end of August, and an "upper-middle-income country status" in two years.
However, the reality on the ground is rather different. Flying to New York to address the UN, he left his Office of the President in disarray and having to deal with multiple food crises.
Soft drink companies have cut down on production due to a lack of sugar; burger joints no longer put onions in hamburgers due to a lack of white onions. There is also a shortage of locally grown corn and rice and an imminent shortage of salt and chilli peppers, even as some areas have had to destroy their vegetable crops or let garlic crops rot due to low prices.
To address these issues, Marcos appointed himself secretary of agriculture, which also automatically made him chairman of the Sugar Regulatory Administration (SRA). The SRA chief decides on the amount of sugar that can be imported, to protect the local sugar industry.
On Saturday, a day before his departure for the US, Marcos Jnr's top aide Victor Rodriguez resigned as executive secretary after the president's senator-allies investigated the questionable order by the SRA to import 300,000 metric tons of sugar, which Marcos had stopped.
Documents for the transaction were apparently issued without the president's approval.
During the senate probe, four SRA officials, who have since resigned, said they had signed the import order after receiving positive signals from Rodriguez.
He told senators he had merely told the officials to "draft" the order but only Marcos, being then the secretary of agriculture and therefore the SRA chief, could sign it.
However, newly resigned agriculture undersecretary Leocadio Sebastian told senators he assumed he had earlier been given the power to sign import orders when Rodriguez issued on July 15 a memorandum authorising Sebastian to represent Marcos in the SRA, which automatically made him (Sebastian) the SRA chair and gave him the power to sign import orders too.
The Senate probe urged the filing of corruption charges against the four resigned officials but inexplicably left out Rodriguez for censure. Rodriguez was Marcos' lawyer and a spokesman during his presidential campaign.
Additional reporting by Bloomberg