India
Get more with myNEWS
A personalised news feed of stories that matter to you
Learn more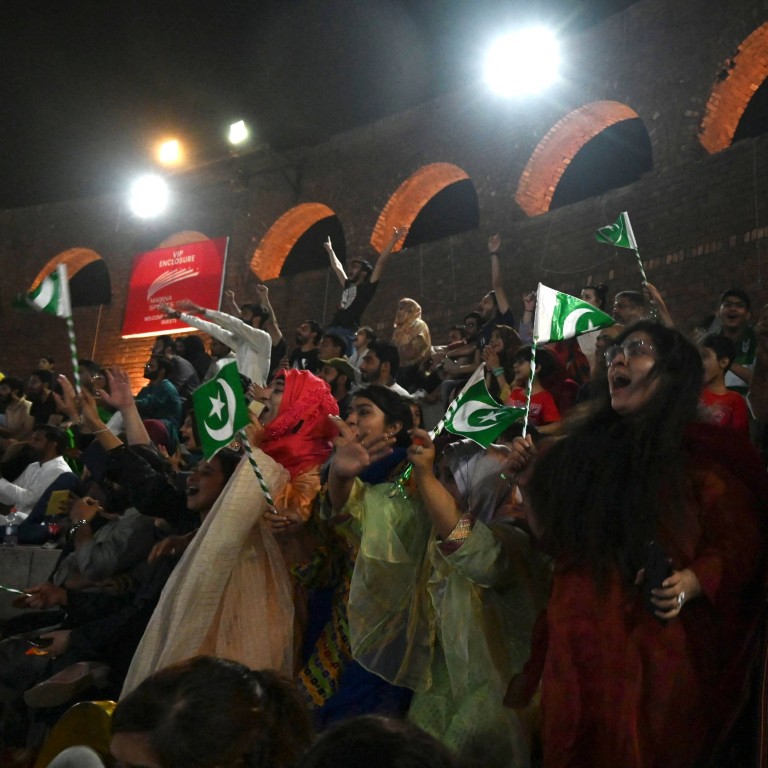 Are Hindu-Muslim tensions in India behind mob violence in UK's Leicester?
Violent clashes in the British city of Leicester following an India-Pakistan cricket match could be linked to growing communal tensions in India, analysts say
While some observers say the tensions may be fuelled by India's rising Hindu chauvinism, community organisers in the UK have emphasised that the clashes involved provocative acts by both sides
Increasing communal tensions in
India
may be provoking discord between Muslims and Hindus in the Indian diaspora, some observers say, after a recent India-Pakistan cricket match in Dubai led to violent clashes thousands of kilometres away in Britain.
Community organisers told This Week in Asia the recent clashes in Leicester City – which have continued this week – involved provocative acts by members of both communities.
Fights first broke out in Leicester City after India beat Pakistan in the Asia Cup T20 cricket tournament on August 28. Trouble deepened after disinformation on social media led a group of Hindu men to target a street lined with Muslim businesses on September 17.
Leicestershire Police this week said at least 47 people had been arrested for offences including common assault, violent disorder and possession of offensive weapons. The "significant aggression" left several officers and a police dog injured.
"The impact of the disorder on our communities is not acceptable. We will not tolerate violence or disorder in our city," it said. Religious community leaders in the city also called for an immediate end to the "provocation and violence".
The clashes in England come as nationalist Hindu ideology espoused by Indian Prime Minister
Narendra Modi
's Bharatiya Janata Party (BJP) has been linked to growing violence and unrest in India.
India has faced incidents of communal violence
within its own borders
, but nationalist sentiments have also reverberated with members of the Indian diaspora in other parts of the world.
For example, in August, the Indian Business Association in the US state of New Jersey faced backlash from local senators and religious organisations after it brought bulldozers adorned with images of Modi and BJP minister Yogi Adityanath to India Day Parades.
This came on the back of
protests across many Indian cities
in June over what many critics call a growing pattern of "bulldozer justice" – the demolition of homes and businesses belonging to Muslim activists.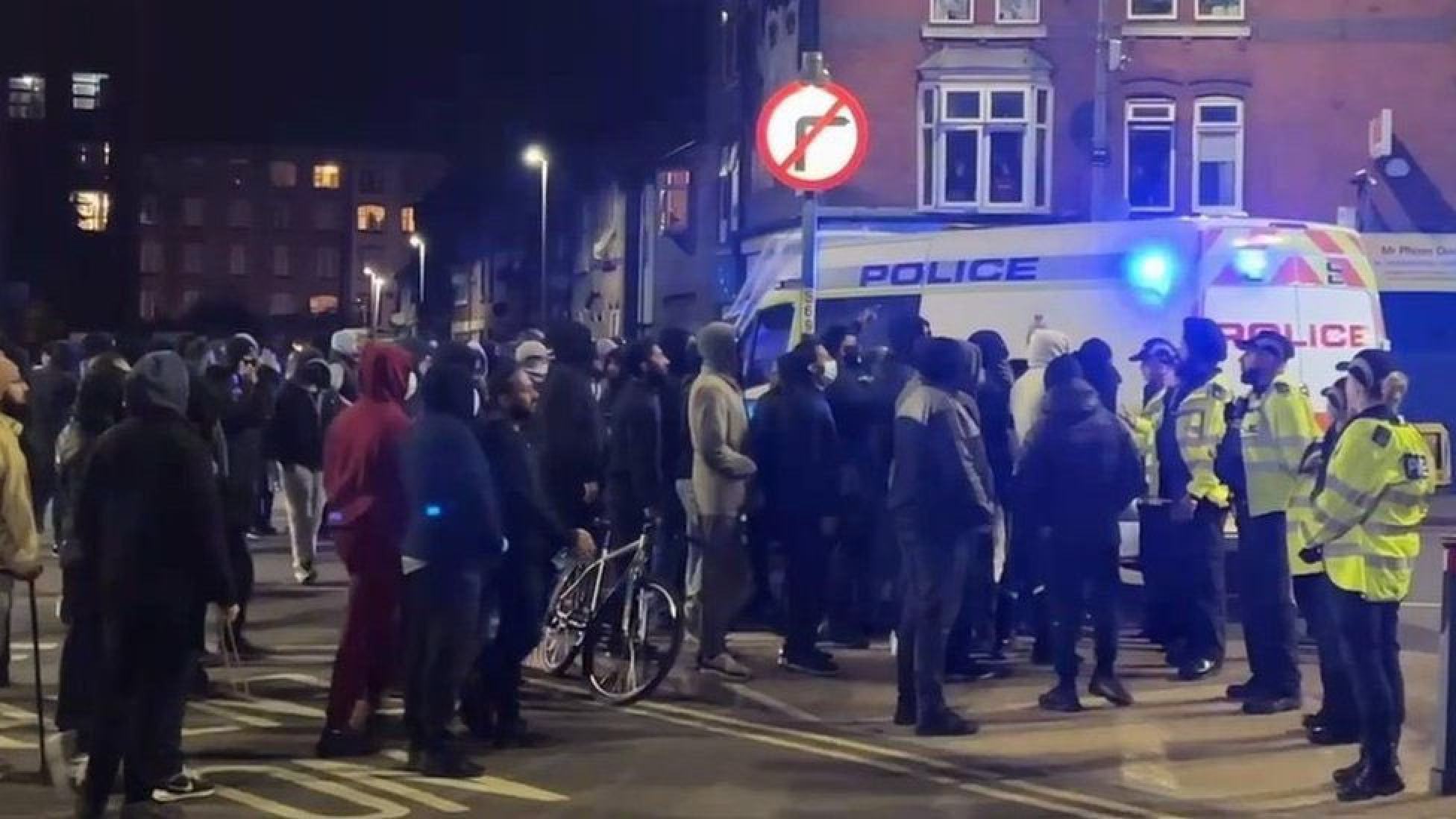 In the September 17 clash in Leicester, a video showing a group of people chanting "Jai Shri Ram", or Hail Lord Ram, at an area populated by Muslims, was shared widely on social media. The chant – often used as a greeting among Indian Hindus – has recently become linked to anti-Muslim violence perpetuated by Hindu fundamentalists in India.
Another clip, reportedly recorded on the same day, showed a man pulling down a saffron-coloured Hindu flag outside a temple. Leicestershire Police said they were investigating the incident.
The Indian High Commission in London highlighted the incident in a statement "condemning the violence perpetrated against the Indian community in Leicester, and vandalisation of premises and symbols of Hindu religion".
"We have strongly taken up this matter with the UK authorities and have sought immediate action against those involved in these attacks," it said.
Gurharpal Singh, an emeritus professor of Sikh and Punjab studies at SOAS University of London and a visiting fellow at the University at Leicester, said members of the Indian diaspora were inevitably influenced by homeland politics because they continued to share aspects of the country's media culture.
"This in some ways has been accentuated by the government in power, which has aggressively courted the diaspora and the promotion of a particular kind of identity about being Indian within the diaspora," he said.
That effort appeals to non-secular majoritarian nationalist sentiment, which has stigmatised minorities and others, he said. "In that way, it tends to communalise minor differences into a broader grand narrative of religious conflict."
Suleman Nagdi, a spokesman for the Leicester-based Federation of Muslim Organisations, said the cricket match was merely a trigger point for tensions that had been growing in the city for some time. "The tension that may be happening thousands of miles away in another country is perhaps translating itself onto the streets of Leicester now," he said.
Sanjiv Patel, a representative for Hindu and Jain temples in Leicester, said the unrest was influenced by false information shared online.
"The altercation after the cricket match was misreported on social media as being a Hindu-Muslim attack," he said. "This fake news on social media blew up the [the situation] into something completely different.
"Leicester has always had harmony, and that is what we are to the core," he added, saying that the city should not let superimposed narratives from social media incite further unrest.
Data from a 2011 census conducted by the UK's Office for National Statistics showed that 15 per cent of respondents in Leicester identified as Hindu, and 18 per cent as Muslims.
According to Singh, there were some underlying tensions and socio-economic factors that contributed to the unrest, but external factors such as "politicisation" of the situation on social media must also be considered. "The use of social media for mobilisation against other communities has also been a critical factor," he said.
Peter Soulsby, Leicester's elected mayor, told the BBC that he and other community leaders were "baffled" by the events over the weekend.
"It got fanned by some very distorted social media," Soulsby said. "And then fuelled by a lot of people who came in from outside as well as some young local lads who seemed to feel it was appropriate to frighten and disturb this peaceful city."
A joint statement by members of the Leicester Council of Faiths at a unity event organised by the Hindu and Muslim communities on Tuesday urged that provocation and violence be immediately ceased.
"We together call upon the inciters of hatred to leave our city alone. We are a strong family, we will work together to resolve whatever concern may arise," it said. "Leicester has no place for any foreign extremist ideology that causes division."