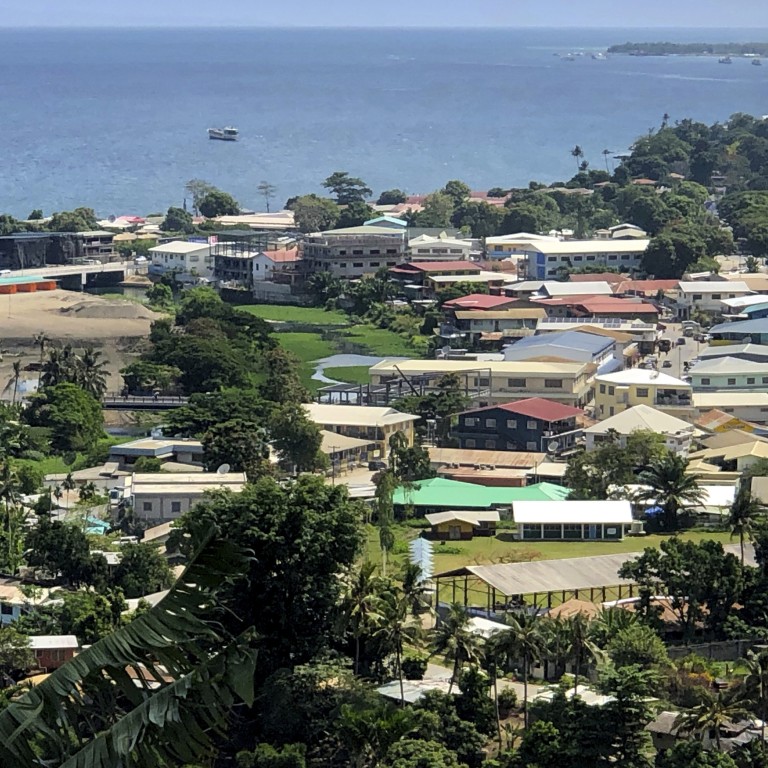 Biden boosts Pacific climate aid, but region remains 'cautious' over defence outreach amid US-China rivalry
Washington's plan to deepen diplomatic engagement comes as concerns grow about China's expanding influence in the Pacific
One analyst believes Pacific Island nations are likely to continue to leverage ties with both the US and China to push for action on climate change
The US strategy to strengthen ties with
Pacific nations
is expected to go some way in helping the region tackle its challenges even as the support may appear modest compared to
China
's, analysts said, but any efforts to undertake defence cooperation would be less welcomed.
Last month, after hosting a summit with leaders of the region, the
United States
released its first strategy for ties with Pacific nations, pledging to help them fight
climate change
and rebuff what it called China's "economic coercion".
The summit marked the first time Washington hosted leaders of a region it had considered its maritime backyard since World War II, but is now a place where China has made steady advances.
Apart from investing
US$810 million in expanded programmes
to aid the islands, and in addition to the US$1.5 billion provided in the past decade, Washington also pledged to deepen economic engagement and maritime security and expand educational opportunities.
In remarks made then, US President
Joe Biden
said security of America depended on the security of the Pacific nations, adding that new US help was aimed at ensuring "an
Indo-Pacific region
that's free and open, one that is stable and prosperous, and resilient and secure".
Washington's plan to deepen diplomatic engagement comes as concerns grow about China's expanding influence in the Pacific.
Brian Harding, a senior Asia expert at the United States Institute of Peace noted that relatively small investments had the potential to make large impacts given the small populations and economies of most Pacific nations.
He added that Washington was "trying to step up and get back to the basics" like having diplomatic representation in countries where it has been absent, and re-establishing a USAID mission in the region.
During the summit, the US has also announced that "following appropriate consultations", it will recognise the self-governing territories of the Cook Islands and Niue.
The US Agency for International Development (USAID) is also expected to open a Pacific regional mission in Fiji by September 2023, and elevate its presence in Papua New Guinea through a country representative office.
Harding said that Pacific Island leaders see the geopolitical context clearly and seek to channel new-found US interest into tangible gains for their countries.
Zhu Ying, director of the Australian Centre for Asian Business at the University of South Australia, said the various help measures were welcomed by Pacific countries.
"People may say that the amount of money from the US is not sufficient in comparison with China's trade, investment and financial support in the region, but any kind of support will do good to these countries," Zhu said.
Between 2006 and 2017, China provided close to US$1.5 billion in foreign aid to the Pacific region through grants and loans, according to the Lowy Institute, an Australian think tank. In 2017, China was the third-largest donor to the Pacific, and also delivered other forms of help, especially large infrastructure projects funded by concessional loans.
"As for tackling climate change concerns, the island countries do not see a detailed action plan and they will take the position of 'wait and see' for the US to take more concrete actions," Zhu said, adding that Pacific leaders had made clear they would not take sides in the
US-China
geopolitical rivalry.
"They could see both of them as their friends if they act consistently as friends towards these Pacific countries," Zhu added.
Edward Cavanough, a PhD candidate at the University of Adelaide, said even though the US commitments were relatively modest in total financial scale, it signified a step turn in Washington's approach in the region.
The greater diplomatic presence in the region will create more future opportunities for Pacific Island countries to seek further financial support for important projects, Cavanough added.
Noting that the climate commitments made by the US focused more on resilience from climate disaster rather than on prevention, Cavanough added that Pacific countries were likely to continue to leverage their geostrategic asset – "being a region courted by both Washington and Beijing" – to push the world's two largest economies on climate.
Apart from collaboration on climate resilience, the US has also pledged to provide greater support for climate forecasting and research and to set up a fellowship programme which will offer leaders in the Pacific Islands the opportunity to gain expertise in climate resilience, sustainable food systems, and renewable energy development.
Last month, during the China-Pacific Island Countries dialogue held in Beijing, China said it would provide more support in tackling climate change such as through the joint establishment of near-zero carbon zones, and supply training to climate change officials to implement climate change mitigation and adaptation projects.
Adding that the summit was being framed as a diplomatic "win" by Biden, Cavanough said it was historic for Pacific countries as "a diplomatic win of unique scale".
"Here you have countries that are ostensibly the 'smallest', and least powerful nations on earth, negotiating face to face with the world's most powerful leader, working through a distinctly Pacific issues agenda," Cavanough said.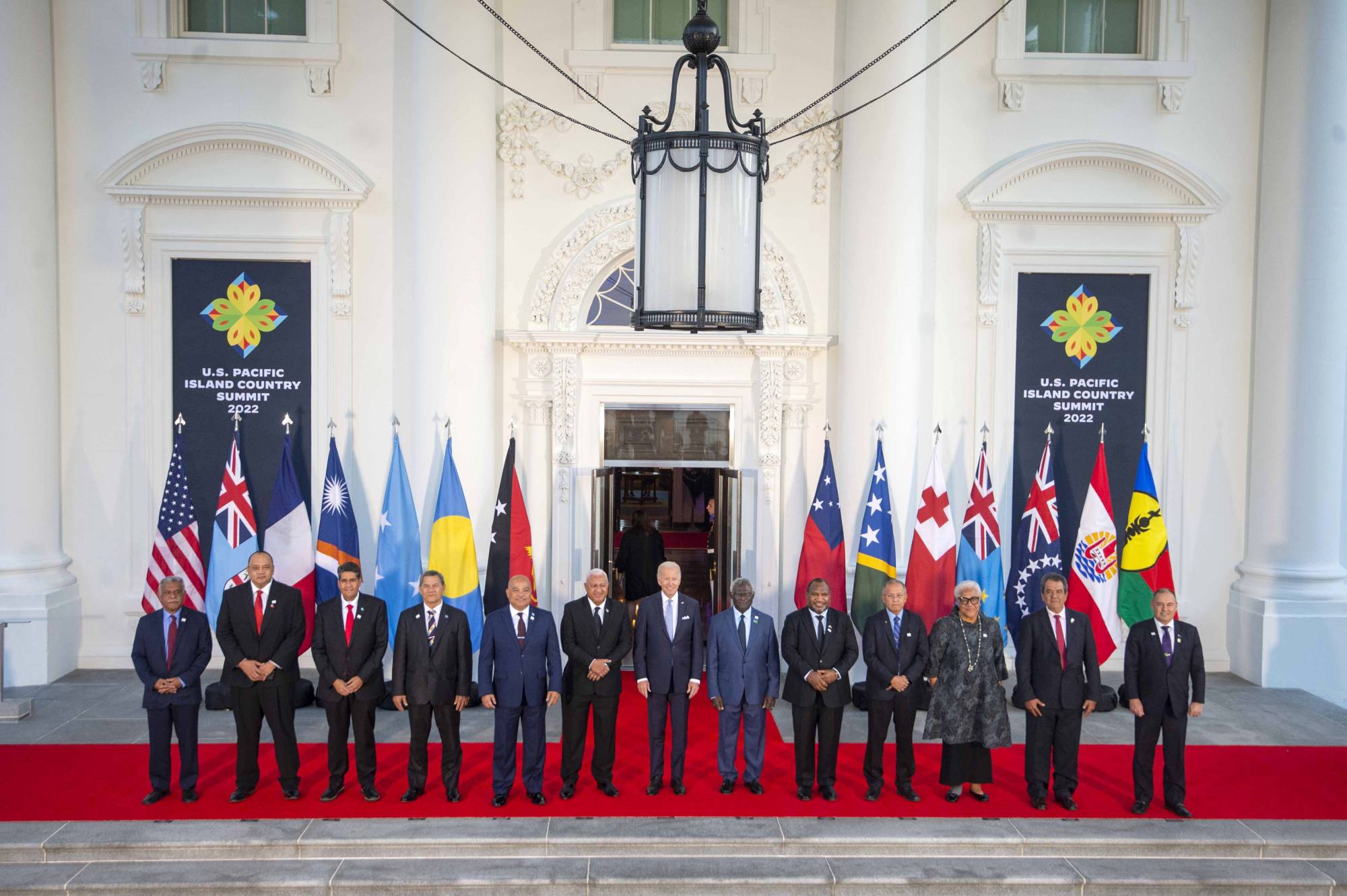 Defence cooperation
Washington also plans to begin talks soon with Papua New Guinea on a defence cooperation agreement.
The US had agreed to provide US$2.8 million to step up FBI training to enhance the capacity of the law-enforcement with some Pacific nations, including in 2022 with the Solomon Islands, which drew scrutiny earlier this year for
signing a security deal with China
.
On such arrangements, Zhu warned that people in the Pacific would be "sensitive and cautious", adding that these countries would also weigh and consider the reactions from other stakeholders in
East
and
Southeast Asia
, especially China.
Harding said Pacific Islanders were wary of anything that would contribute to militarisation of the region, but welcomed cooperation that would assist with maritime domain awareness and law enforcement.
"The
Quad
initiative to help Pacific Islands countries monitor their vast exclusive economic zones through the use of new technologies holds great promise and is warmly welcomed," Harding said, referring to the strategic security dialogue between
Australia
,
India
, Japan, and the US.
In May, China and the Pacific islands were unable to reach consensus on a security agreement, prompting Chinese Foreign Minister Wang Yi to urge the region not to be "too anxious" about Beijing's intentions.
In April, the US, Australia,
Japan
and
New Zealand
expressed concerns about the security pact signed by the Solomon Islands with China, arguing that it had regional consequences and could lead to a
Chinese military
presence close to Australia.
However, Wang condemned interference in the deal and said the Solomon Islands' relationship with China was a model for other Pacific island nations.