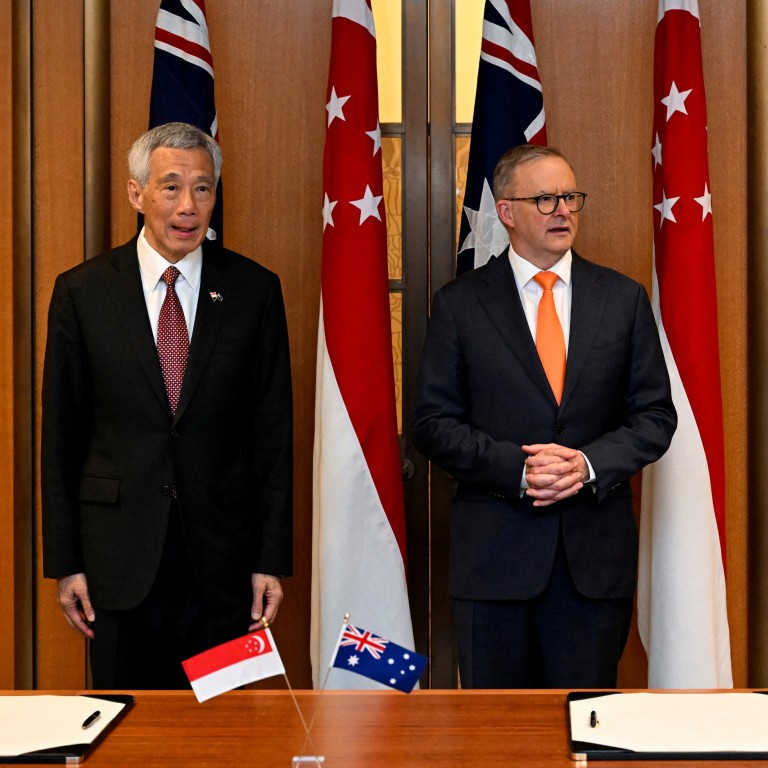 US chip action against China may have 'wide ramifications' for the world: Singapore's PM Lee
'Decoupling is a worry', PM Lee says, adding that Biden's move may lead to 'less interdependency, less trust and possibly ultimately a less stable world'
Lee was visiting Australia, where he signed a 'green economy' deal to deepen cooperation on climate investment, financing and technology
The United States' export restrictions on chip equipment to China may have been based on valid national security considerations but nonetheless will have "wide ramifications" for the rest of the world, Singapore's Prime Minister Lee Hsien Loong has said.
"Decoupling is a worry. National security concerns are real, how wide or how narrowly they are defined, it's a judgment of each government and administration," Lee said in a joint press conference with Australia's Prime Minister Anthony Albanese in Canberra.
"I think the Biden administration's latest move is a very serious one. I'm sure they have considered it carefully. It can have very wide ramifications," he said, responding to a question about economic decoupling between the superpowers following Washington's move to expand curbs on access to chips technology.
"We will have to see how things work out, but we do worry that valid national security considerations may trigger further consequences and may result in less economic cooperation, less interdependency, less trust and possibly ultimately a less stable world," Lee added.
On the same issue, Albanese reiterated his administration's willingness to work with China, adding that when it came to issues like trade and cooperation, all countries needed "national resilience", which included ensuring that Australia was "less vulnerable to shocks of whatever form", like a future pandemic or trade issues.
Besides the friction between the superpowers, the two leaders also touched on Australia's concerns about China joining the Comprehensive and Progressive Agreement for Trans-Pacific Partnership (CPTPP).
Canberra has urged Beijing to lift bilateral sanctions imposed in recent years amid a diplomatic freeze and has suggested that its biggest trading partner may not be able to fully meet the trade pact's conditions.
The Singapore leader said "it's good" if China could join the partnership, adding that it was possible for it to fully meet conditions and obligations through negotiations.
The agreement removes an estimated 95 per cent of tariffs among members and is derived from the Trans-Pacific Partnership, the sprawling multilateral trade pact championed by US President Barack Obama but later torpedoed by
Donald Trump
when he took office in 2017.
The CPTPP was eventually signed the following year and its 11 members now include Australia, Singapore, Japan and Malaysia.
Five other economies have also indicated their interest to join – Britain, China, self-ruled Taiwan, Ecuador and Costa Rica. Canberra has expressed concerns about China joining and has urged Beijing to lift sanctions imposed on a raft of Australian products.
Singapore, which is chairing the CPTPP Commission this year, will "do our duty and has been canvassing views among the participants on applicants who want to join" though there has not been a consensus on China's membership yet, Lee said.
Ascension by a new country requires a consensus among the pact existing participants.
Australia and Singapore on Tuesday also signed a "green economy" deal to deepen cooperation on climate investment, financing and technology.
Under the agreement, which has 17 joint initiatives, the two nations sought to improve cross-border trade in clean energy, increase business engagements in trade and investments in the green sector and deepen research collaboration.
Lee added that the two countries are also "looking at new strategic areas of cooperation" in areas like strengthening the security and resilience of supply chains.
"We're very happy that the relations between our two countries have remained strong," he said. "It's a troubled world. Given the tensions of the world, it's important that like-minded countries work together for mutual benefit."
Additional reporting by Reuters