Pakistan
Get more with myNEWS
A personalised news feed of stories that matter to you
Learn more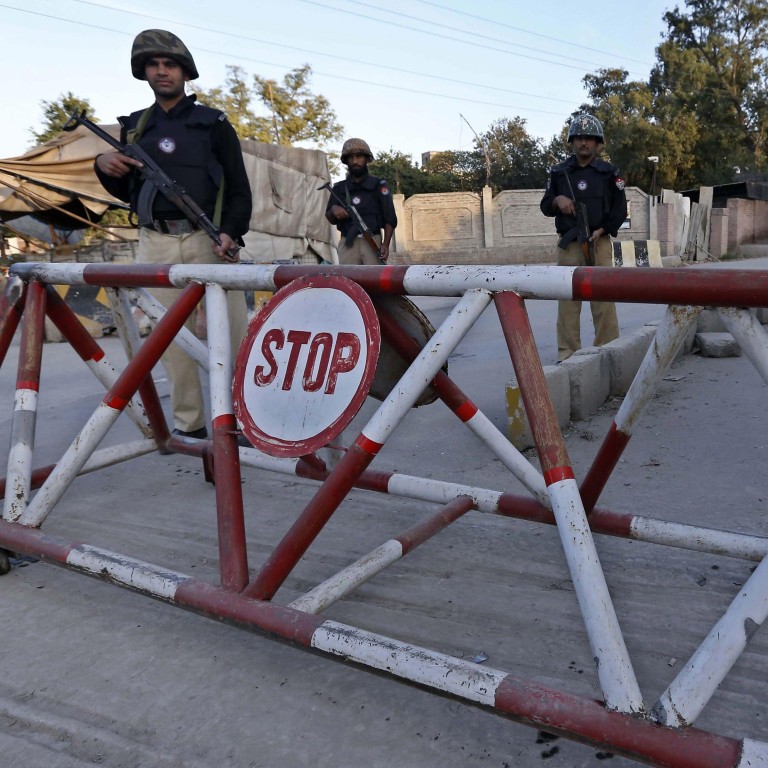 Why is Pakistan's attempt to negotiate with Taliban insurgents backfiring?
Taliban insurgents (TTP) have taken advantage of a ceasefire to re-establish an armed presence in northwest Pakistan resulting in an escalation in violence
Infuriated byfailure of authorities to take action to dislodge the resurgent TTP, large scale public protests have been held in Khyber Pakhtunkhwa province
Pakistan
's attempt to negotiate peace with Taliban insurgents has backfired, with hundreds of militants taking advantage of confidence-building measures, including a ceasefire to re-establish a significant armed presence in northwest Khyber Pakhtunkhwa province.
Instead of coming in peace with a view to agreeing to an armistice and restoring safety to civilians as Pakistani negotiators had hoped, the Tehreek-i-Taliban Pakistan (TTP) has instead in recent months resumed daily terrorist attacks, revenge killings, and kidnappings for ransom and extortion.
Under the terms of a ceasefire agreed in early June, Pakistani negotiators agreed to allow hundreds of TTP militants to return to their home areas as a confidence-building measure, Khyber Pakhtunkhwa provincial government officials and counterterrorism police officers told
This Week In Asia
.
The officials spoke on condition of anonymity because they are not authorised to speak to the press.
Corroborating their reports, Islamabad-based security analyst Saifullah Mahsud said "the Pakistani side miscalculated" the TTP militants' intentions.
Instead of returning home as defeated men looking to surrender in return for a pardon, TTP militants re-entered Pakistan's tribal districts "full of confidence and with the intention of making a show of strength", he said.
Between 800 and 1,200 TTP militants have moved from Afghanistan to Pakistan, since the truce Mahsud said, citing long-standing "responsible sources" across the seven tribal districts.
The strength of the encroaching TTP units has been boosted by sleeper cells, raising their overall numbers to between 2,000 and 2,500 men in northwest Pakistan said Mahsud, who is president of the Fata Research Centre, a think tank focused on the tribal districts of Khyber Pakhtunkhwa.
Since the ceasefire took effect, the TTP has built up significant forces in the Bajaur, Khyber, and North and South Waziristan districts bordering Afghanistan, patrolling villages and opening offices, Mahsud added.
From there, TTP militants fanned out across Khyber Pakhtunkhwa, first appearing in Dir and Swat in groups of 10-15 men in August.
A well-placed official security source in Islamabad told This Week In Asia that peace talks between the government and the TTP are taking place "in accordance with the constitution".
This effectively rules out most of the TTP's demands, such as being given control of the seven tribal areas of Khyber Pakhtunkhwa, leading to the breakdown of negotiations in late July and a steady escalation in violence since.
Faced with a fast deteriorating security crisis, the national security committee of the cabinet, which includes armed forces and intelligence services chiefs, finally decided to reactivate Pakistan's nationwide counterterrorism apparatus on October 15. That plan of action sees federal and provincial governments working in concert, rather than individually.
The talks with the TTP had "delivered no concrete outcomes", Defence Minister Khawaja Mohammed Asif said.
There has since been a surge in intelligence-based military operations against the TTP, resulting in a fast climbing fatality toll on both sides.
According to the Islamabad-based Pakistan Institute for Conflict and Security Studies think tank, militant attacks intensified in August and September, resulting in the death of 77 people – about 60 per cent of them security forces personnel – and a further 132 injured.
The institute said 17 militants were killed and 18 arrested.
The momentum of TTP attacks has continued to build in October, with policemen being shot dead in various parts of Khyber Pakhtunkhwa practically every day over the last couple of weeks.
The reappearance of armed, organised TTP units in the province – apparently without the opposition of the security forces – has aroused deep-seated feelings of fear, anger and betrayal among the millions of residents of Khyber Pakhtunkhwa who suffered terribly during Pakistan's war on terror between 2007 and 2015.
They were forced to flee their homes when Pakistan's military launched massive operations including up to 170,000 troops at a time to liberate TTP-held districts in the tribal areas bordering Afghanistan and inland as far as the Swat Valley.
Many people returned to find their homes and businesses destroyed, and their farmland turned into minefields by both warring sides.
Infuriated by the failure of the authorities to take decisive military action to dislodge the resurgent TTP, tens of thousands of people have joined a campaign of regular, large scale public protests across areas of Khyber Pakhtunkhwa which were captured by thousands of TTP militants between 2007 and 2015.
Yousafzai added "my voice to the thousands of people protesting for peace in Swat" after the TTP marked the 10th anniversary of her shooting by opening fire on a van carrying schoolgirls in the area, killing the driver and wounding a student.
The "attack on a school bus full of children is a frightening reminder that our people must not be forced back into lives of fear and terrorism," Yousafzai said in a post on Twitter.