Asean
Get more with myNEWS
A personalised news feed of stories that matter to you
Learn more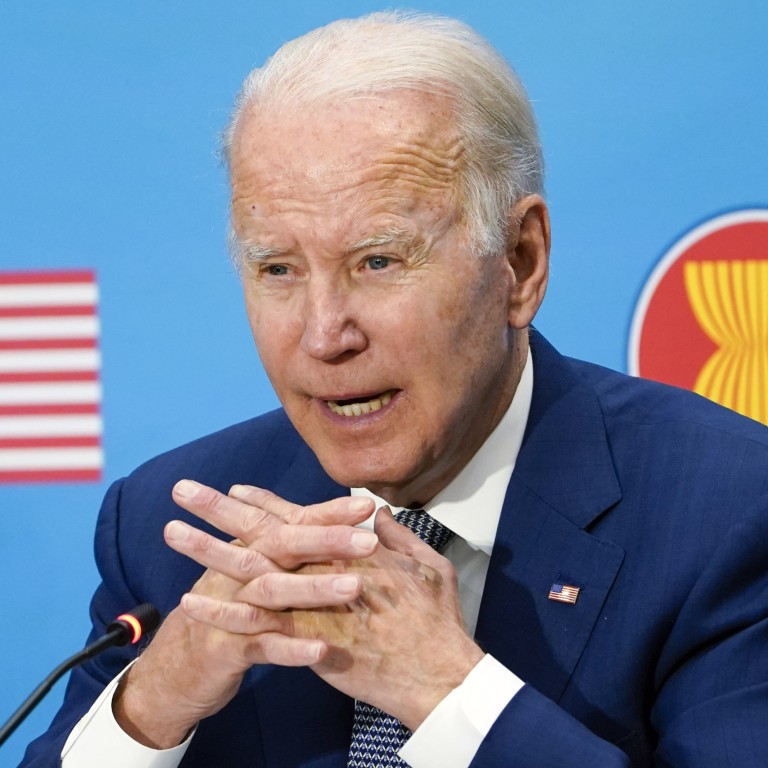 Biden eyes boosting US-Asean ties, countering China's influence in first post-pandemic 'summit season'
Joe Biden will travel to Cambodia this weekend to meet Asean leaders in an effort to convey that Washington remains committed to the region
Last November, Beijing committed US$1.5 billion in developmental help to Asean – 10 times more than a recent US infrastructure pledge to the region
Washington's continued commitment to
Southeast Asia
will be on display when
United States
President
Joe Biden
visits Cambodia to meet with Association of Southeast Asian Nations (
Asean
) leaders this weekend, analysts said.
While Biden's Democratic Party may be smarting from its potential loss of control of the House of Representatives to the Republicans in Tuesday's midterm elections, the president is likely to emphasise that his administration's stance on boosting ties with the region – amid China's rising influence – is here to stay, observers added.
On Wednesday, the race for control of both houses of the US Congress remained tight, though the media projected the Republicans would gain control of the 435-seat House of Representatives.
Biden will arrive in Phnom Penh on Saturday to attend the annual US-Asean summit and the East Asia Summit featuring Asean member states and eight of its key trading partners including
China
and
Russia
. Biden will later travel to
Bali
for the
G20
summit.
While Biden has previously engaged Asean leaders, this is the first time he is attending the region's so-called year-end 'summit season' in person since taking office in 2021.
Joanne Lin Weiling, Asean Studies Centre co-coordinator at the Singapore-based ISEAS-Yusof Ishak Institute said a new Asean-US Comprehensive Strategic Partnership (CSP) was expected to be announced during the meeting.
The CSP will mean greater support from Washington for Asean's implementation of Outlook on the Indo-Pacific (AOIP), Lin said, referring to the mechanism through Asean hopes to engage with stakeholders in the Asia-Pacific and Indian Ocean regions.
This will be the second summit between Biden and Asean leaders this year. In May, Biden hosted a gathering in Washington where he promised to spend
US$150 million on the region's infrastructur
e, security, pandemic preparedness and other efforts aimed at countering the influence of China.
Washington is also expected to push for new ministerial-level meetings on some areas of cooperation with its Southeast Asian partners, Lin added.
Hanh Nguyen, a research fellow on Southeast Asia politics and security at the Honolulu-based Pacific Forum said countries in the region are facing a looming recession due to slower demand in major markets, rising inflation, currency depreciation, as well as food and energy security caused by the
Ukraine-Russia war
.
"The Biden administration should put out offers supporting the region's economic recovery, dealing with energy and food security issues, and reassuring regional states that US dollar rate hikes will not plunge them into a balance of payment crisis," Hanh said, adding that setting up funds to help Southeast Asia deal with climate change will also boost US credibility in the region.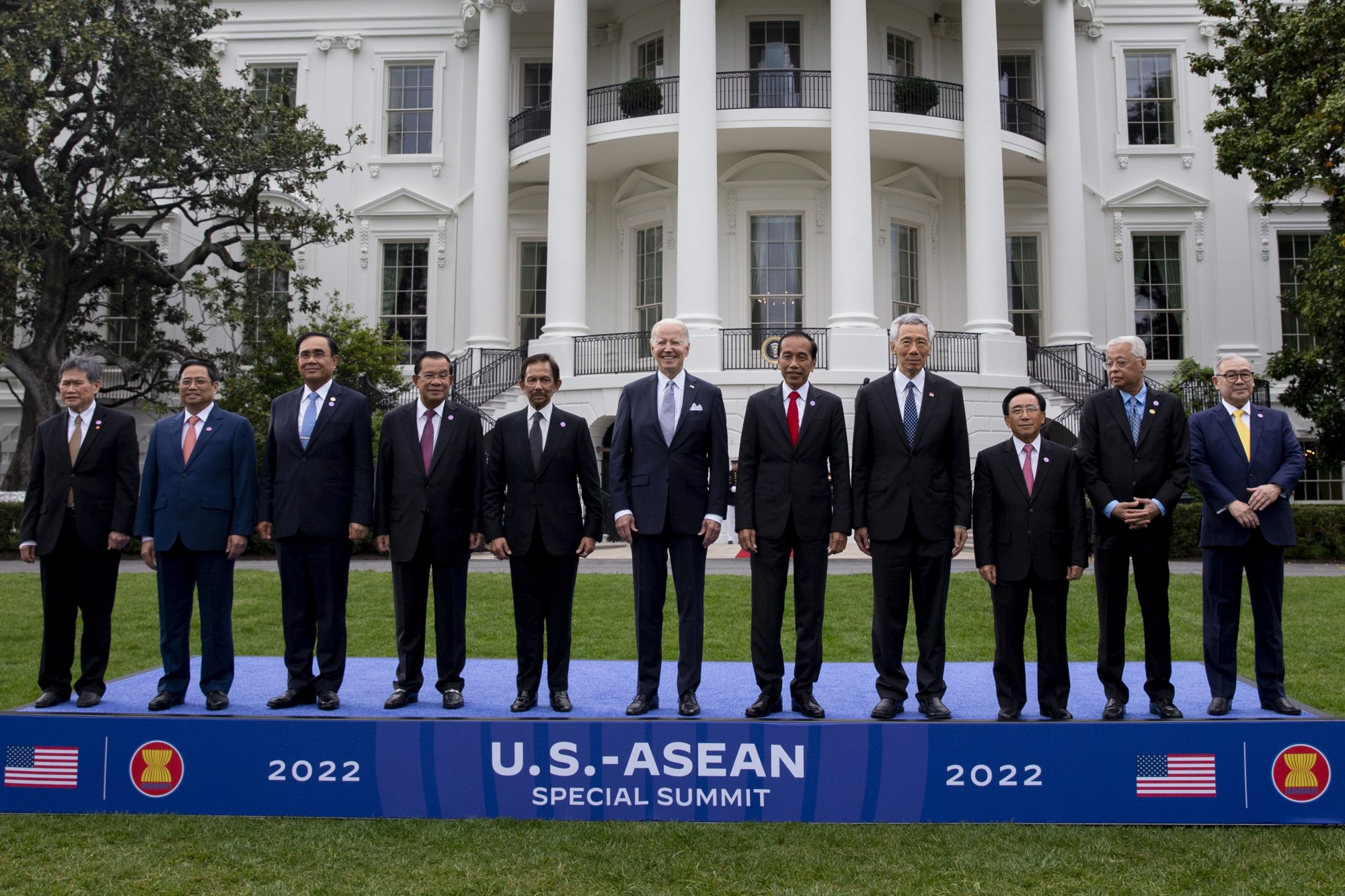 With the current slowdown of China's economy, Hanh said that if the US "plays its cards right", it might even receive support from the region on critical issues such as the Ukraine war.
Don McLain Gill, director of Southeast Asia and South Asia at the
Philippine
-Middle East Studies Association said Washington will put out assurances it will remain committed to providing security and strengthening its role as a development partner in the region.
"[This comes] at a time when
China
has been continuously consolidating its material capacity and projecting its power and influence throughout the [region]," Gill said, referring to China's growing aid to Southeast Asia in recent years.
Last November, China pledged US$1.5 billion in development assistance to help Asean nations with pandemic control and economic recovery for the next three years, and deliver 150 million Covid-19 vaccine doses to the region.
A cornerstone of the Biden administration, the
IPEF
is widely seen as a mechanism for countering China's regional influence and offers trade facilitation through the negotiation of standards and rules.
However, many in the region have argued the IPEF is no substitute for formal free trade agreements, pointing out that Washington's unwillingness to reduce tariffs and offer market access called into question its commitment to strengthening economic engagement in Asia.
Policy changes after midterm elections?
Gill said the overall trajectory of US foreign policy towards addressing Chinese expansion and assertiveness "will be more or less continuous" even with the results from the
US midterm elections
.
"Asean should not be too concerned as US relations with Asean generally receive bipartisan support" ISEAS-Yusof Ishak Institute's Lin said, noting that most of the region's ambassadors, and even the Asean ambassador have already been appointed by Biden.
Strengthening US presence in
Asia
and ties with its allies in the region and "like-minded strategic partners will continue to be of great Importance" to Washington, Gill added.
The White House confirmed on Tuesday that Biden will hold bilateral talks with Cambodia's Prime Minister Hun Sen during his two-day visit to the country for the Asean meetings. Cambodia is the chair of the 10-nation bloc this year.
Biden's trip to Cambodia will be the first since
Barack Obama
's visit in 2012 where the former US president pressed the Southeast Asian nation on its human rights record.
In the decade since, Cambodia has forged close economic ties with China. In 2021, China was the top investor with a total investment of US$2.32 billion, up 67 per cent year-on-year.
Hanh from the Pacific Forum said that US-Cambodia relations are unlikely to be improved even after the Biden-Hun Sen summit as the meeting between the Cambodian leader and US secretary of state Antony Blinken in August "did not end with positive results".
That is because both sides held very different views on "critical issues such as China's military presence at Ream Naval base and human rights concerns," Hanh said, noting that Washington also did not invite Cambodia to join the IPEF.
"Phnom Penh might see [that] as a deliberate slight," Hanh said.
Lin from the ISEAS-Yusof Ishak Institute said that if the US wishes to engage with Cambodia meaningfully, it should focus on more functional areas of cooperation including greater trade and investment, green infrastructure support, and less use of sanctions.