Japan
Get more with myNEWS
A personalised news feed of stories that matter to you
Learn more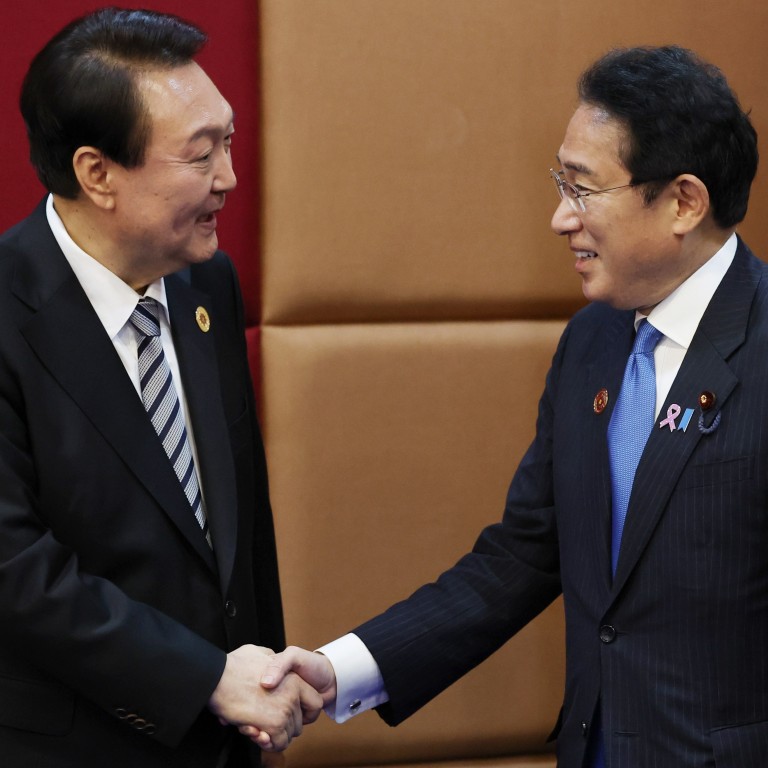 Boost for Japan-South Korea ties as Kishida, Yoon vow to resolve historical disputes, security issues
Leaders of both nations hold first talks in three years, affirm they will work to reach settlement on issues of forced labourers, comfort women during World War II
Analysts welcome warming of ties, but caution leaders may lack political capital to make significant inroads into resolving differences
Bilateral ties between
Japan
and
South Korea
took a "small, positive step forward" at the Asean-East Asia Summit in Phnom Penh over the weekend, with the leaders of both nations unanimous in their agreement on an improved working relationship and importance of broader regional security.
The warming of ties between Tokyo and Seoul is to be welcomed as tensions in northeast Asia worsen, analysts say, but caution that a clear demonstration the two nations have put their differences behind them is still some way off, given the lack of statesmanship and political will on both sides.
Prime Minister
Fumio Kishida
and President
Yoon Suk-yeol
both wore broad smiles as they posed for the cameras in the Cambodian capital ahead of the talks on Sunday.
The first summit between leaders of the two nations in three years addressed the ongoing issue of legal cases brought by former forced labourers at Japanese corporations during Tokyo's colonial rule of the peninsula between 1910 and 1945.
Kishida and Yoon affirmed they would work to reach an early settlement of the issue, including discussions through diplomatic exchanges, which Kishida said had been "accelerating".
They also underlined the importance of ensuring a "free and open" Indo-Pacific, a commitment that Tokyo has long championed and is widely regarded as an effort to balance China's growing assertiveness in the region, as well as the need to develop "future-oriented" relations.
North Korea
was another common ground, with Kishida and Yoon describing Pyongyang's recent ballistic missile launches as a "grave and imminent threat" to regional stability. They also shared concerns about a possible North Korean nuclear test and agreed to work together to combat the regime's weapons development.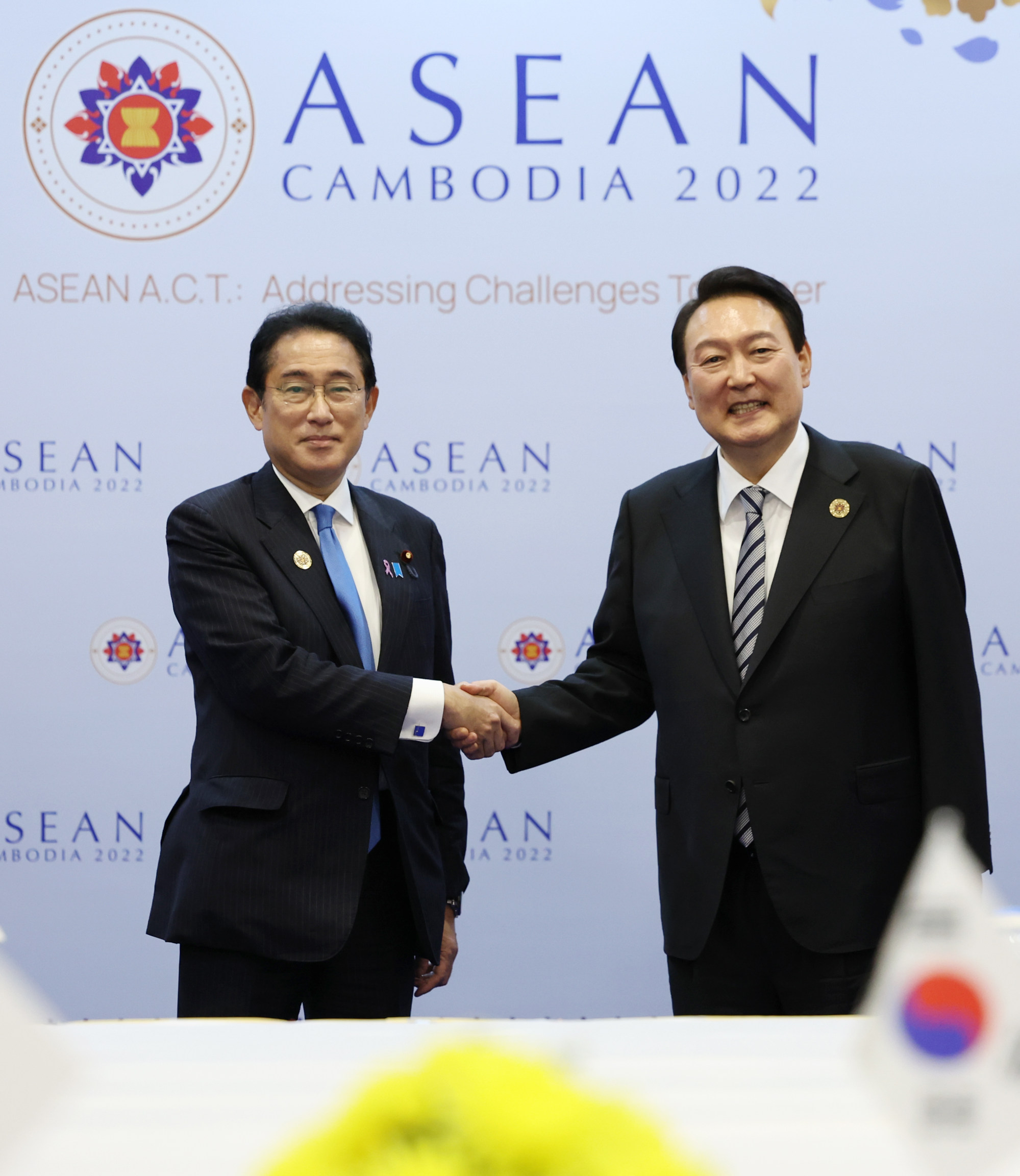 "The fact that they are meeting is a positive first step after the relationship has been at an extremely low ebb since 2019," said Ben Ascione, an assistant professor of international relations at Tokyo's Waseda University.
"It was always going to be easier for the two leaders to meet on neutral territory and this will be welcomed by the US, which has been trying to get South Korea and Japan to cooperate more, particularly on the issues of North Korea and Indo-Pacific security," he told This Week in Asia.
"So it's a small, positive step forward, but it remains to be seen how far and at what pace the two countries can go forward."
In Japan, Kishida is apparently being constrained by the conservative wing of the ruling Liberal Democratic Party, which will resist any concessions to Seoul, including on the former forced labourers and the "comfort women", who were forced to serve in military brothels during World War II.
Yoon also faced challenges at home and had limited political capital to forge ahead with initiatives that could be unpopular with the electorate, Ascione said.
"For Japan and South Korea to take any significant steps forward, they really need to address the underlying historical issues," he said. "But that requires political vision, statesmanship and commitment and I do not think that either leader has sufficient political capital to do that."
Ryo Hinata-Yamaguchi, a project assistant professor at the Research Center for Advanced Science and Technology at the University of Tokyo, said the talks were "positive" on the critical issue of security.
"I think there has been progress on the security front, especially when it comes to North Korea, and that is important because tensions are likely to remain high on the Korean peninsula for the foreseeable future," he said, adding that Washington would have been heartened its two key allies in the region appeared to be drawing closer together.
"The progress in the area of security was not just symbolism, there are substantial improvements as well, as we saw the South Korean navy taking part in Japan's recent fleet review for the first time in several years," he said.
History, however, remains the likely sticking point, according to Hinata-Yamaguchi.
A big part of the problem is that Tokyo is concerned that any agreement might meet a similar fate to the 2015 pact that was described at the time by both governments as the "irreversible" solution to the comfort women issue. It was unilaterally scrapped by the next administration in Seoul, leaving Japan concerned that any new agreement might meet the same fate at the hands of a new South Korean government.
An official visit by either leader would send a strong signal that the hatchet had finally been buried, Hinata-Yamaguchi said, but that was not imminent.
"It would be hard for that visit to take place without an exchange of 'souvenirs'" that each side could point to as a positive development in the relationship, he said, suggesting a significant compromise or concession on an issue that had to date proved to be a stumbling block.
Ascione agreed but said, "Turning down the heat in the relationship from boiling to a simmer is a victory when we consider just how bad the relationship did get."