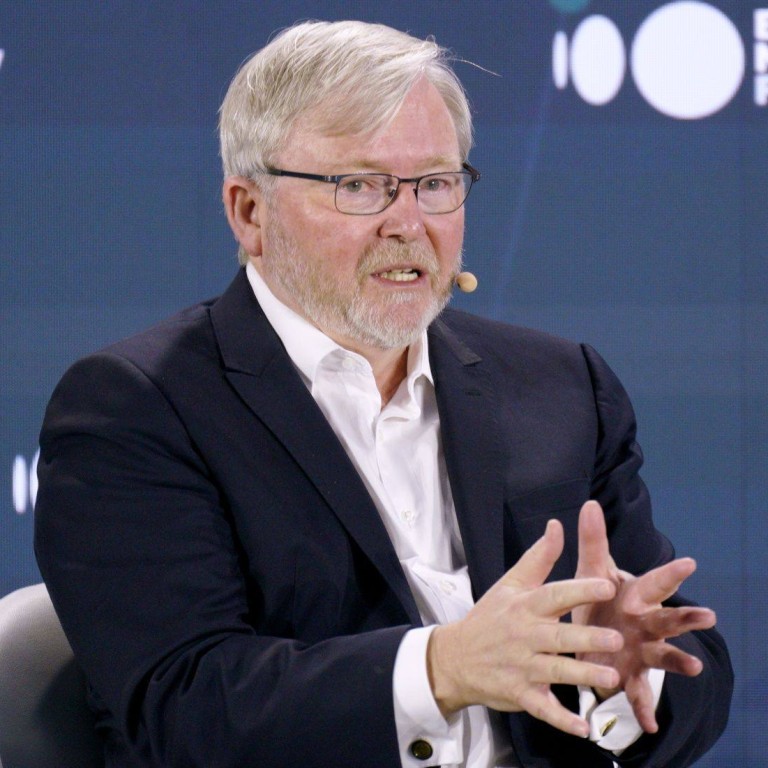 China 'crab-walking' away from zero-Covid, hardline diplomacy here to stay, Australia's Kevin Rudd says
Ex-Australian PM Kevin Rudd said indications are China will emulate a 'Hong Kong model' in its zero-Covid policy by easing restrictions by mid-2023
Rudd also said a recent Xi-Biden dialogue shows the countries want to stabilise strained relations, and that neither wants a war over self-ruled Taiwan
"That will have a huge impact on domestic consumer demand which has been suppressed for a long time," Rudd said.
"The thing about a consumer economy, you can't order people to spend, they have to have confidence," McGregor said. The government may need to "move ahead with some economic reforms that we're not expecting out of necessity."
"He is now the paramount leader and so any question about the future of the US-China relationship or where the economy ultimately goes, he is decision maker number one, two and three. We just have to get used to that fact," Rudd said.
Noting that the section about the city in Xi's work report was "the longest" when compared to previous meetings, Tam said the text offered clear evidence the governing model of "one country, two systems" was here to stay for the long term.
The consensus view of experts is that the Communist Party is likely to retain the system beyond 2047, which in turn offers businesses certainty about the retention of the capitalist system and common law that underpin their success, Tam said.
Hong Kong's use of common law will aid Beijing's aim of making the city an international arbitration hub, especially in matters involving Chinese financing, she said.
While there are other established arbitration hubs such as London and Singapore, Hong Kong's "connection with the mainland" offers it an edge when it comes to being the seat of arbitration for deals involving China, Tam added.
On Xi including loyalists in the Communist Party's top-decision-making body – a development some suggested would entrench "yes-men" culture in the leadership – Tam offered a different perspective, saying it could also give the president more room to delegate key tasks.
The Party Congress was also a topic of discussion at other panels on the final-day of the conference. Singapore's prime minister-in-waiting Lawrence Wong said in a dialogue session that Beijing's new leadership team was likely to be "very focused on setting the direction for China's economy going forward".
When asked if he was concerned that a greater consolidation of power domestically translates to a more assertive Chinese foreign policy, Wong said that this was "not unique to China" and something that Singapore experiences "all the time" as a small state.
On the Xi-Biden meeting at the G20 Summit this week, Deputy Prime Minister Wong said that while the meeting had positive undertones, it was only "the beginning of a long and difficult journey", stressing that bilateral relations between the two superpowers will not be repaired overnight.
"There has been such deep suspicions and distrust built up over so many years and as the saying goes, trust is built in drops, but lost in buckets," he said, adding that the risk of moving towards "a more bifurcated and balkanised world still remains".