Thailand
Get more with myNEWS
A personalised news feed of stories that matter to you
Learn more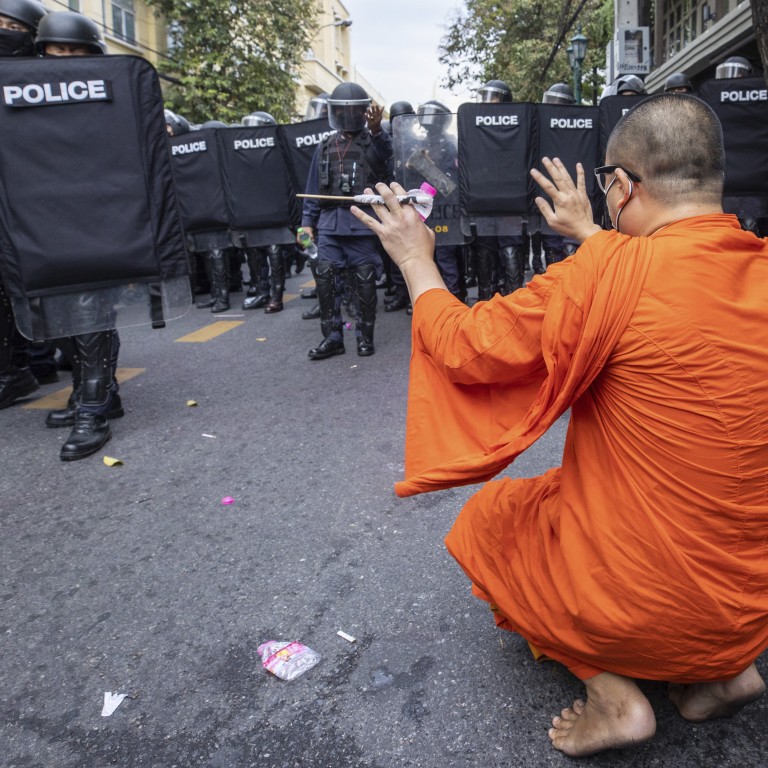 Apec summit: rubber bullets and tear gas fired as Thai police, anti-Prayuth protesters clash in Bangkok
Around 300 protesters had gathered near Bangkok's Democracy Monument in a protest against Thailand's controversial 'BCG' growth policy
A police spokesman said officers had to use 'self defence' after protesters damaged vehicles and 'harmed' officers
Police fired rubber bullets and tear gas during rolling clashes on Friday with pro-democracy protesters rallying against
Thailand
's hosting of the Apec summit, in a reminder of the deep political troubles which stalk the premiership of
Prayuth Chan-ocha
.
Around 300 protesters, an amalgam of young pro-democracy activists and rural farmers, had gathered since early morning near Bangkok's Democracy Monument in a protest against a Thai government flagship policy called the "BCG" (Bio Circular Green) which is up for endorsement at Apec.
Demonstrators drew graffiti and held banners decrying Apec, ex-army chief Prayuth and even
Xi Jinping
– whose country's giant economy is increasingly dominant in Thailand.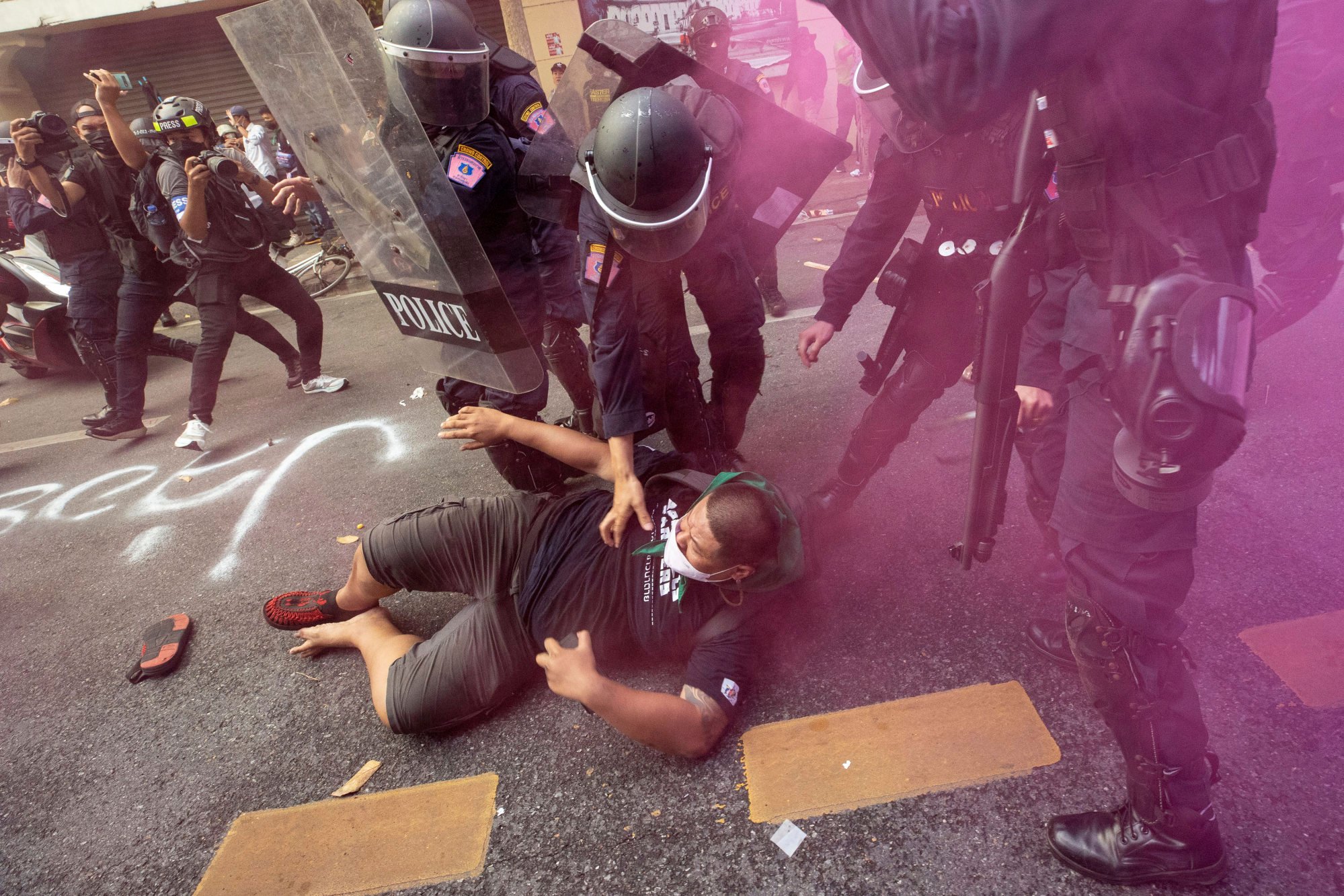 Several protesters were hit by rubber bullets as lines of riot police with shields advanced after a hard core group of demonstrators threw water bottles, sticks and coloured smoke bombs into the police ranks.
"We are going to make sure they hear our voices so they know they are not welcome here while the government comes from a coup," one young protester said, giving his name as Thip.
"Officers had to use force for self-defence. Ten protesters were arrested," said police spokesman Major-General Anchayon Kraithong on Friday. "Protesters broke the law, created chaos, damaged police vehicles and harmed officers."
Around the time he spoke, Prayuth entered the Apec summit centre in downtown Bangkok alongside Xi, who is making his first visit since the pandemic to Thailand – a country which is integral to Beijing's
Belt and Road
ambitions through the Mekong.
Prayuth, an ex-army chief, seized power in a
2014 coup
and later became a civilian prime minister under a constitution critics say is rigged in favour of the military, palace and business elite who dominate Thailand.
He has faced repeated rounds of protests against his government as well as efforts in parliament and through the courts to unseat him.
But he has proved resilient to all his critics and held onto office. Experts say he appears poised to run for office again in a general election which could be held by March.
Thailand's royalist military is embedded in the country's political structure with 13 coups since 1932 reinforcing its position every time it appears weakened.
The centrepiece of the Apec summit for Thailand is an agreement to endorse the BCG policy from global figures and business leaders. The aim of the ambitious project is to transform the Thai economy into a green engine of growth, drawing foreign investors using its natural resources as well as smart cities and special economic zones.
Thai government blurb says the BCG will focus on "agriculture and food; medical and wellness; bioenergy, biomaterial and biochemical; and tourism and creative economy" with the potential to meet 24 per cent of GDP within five years.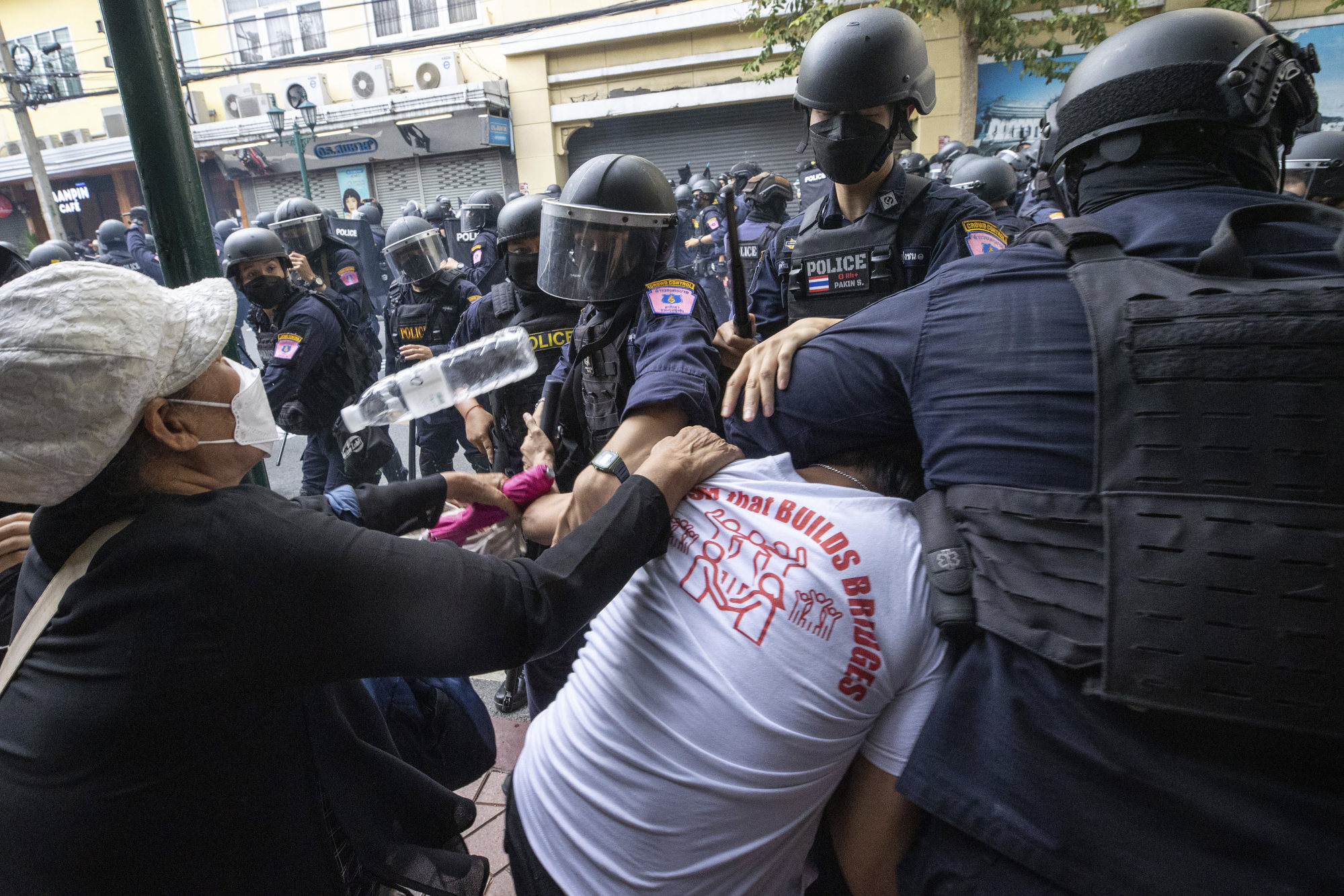 But critics say it will simply hand more powers to a military-aligned government to move poor farmers and minority groups from ancestral land in favour of large farming and carbon capture schemes run by conglomerates.
"As usual it's a policy for big companies not the people," said Kornkanok Khumta, a protest leader. "Monopolies already have the whole market here, and now the bits of land they don't have they will be able to secure with government backing."
"It's not right," said another protester Phatchara Kamchamnarn. "Prayuth has had eight years in power and all of his policies help only his friends. We are urging Apec leaders to hear our demands for Prayuth to get out."
Scuffles in the afternoon saw police charges met by volleys of bottles from the protesters, who had punctured tyres on the police cars blocking them in.
"We'll be here all night, we cannot back down," protester Thip added.