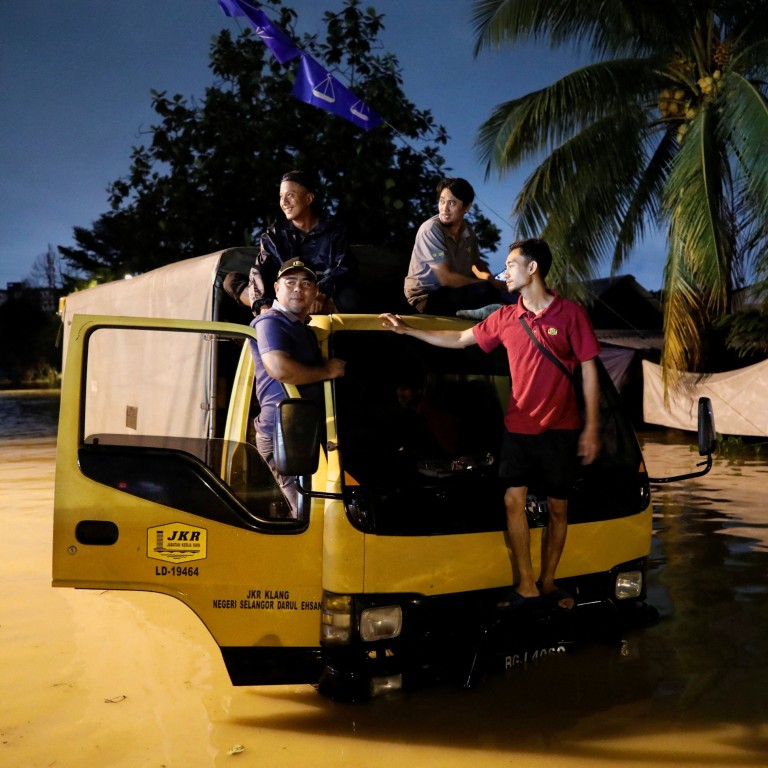 Malaysia election 2022: Washed out by floods, angry voters vow to 'teach a lesson' to absent leaders in coming polls
Some voters are angry about authorities not dealing with increased flooding and pushing, earlier than necessary, for general election
'If it rains, bring an umbrella', said one politician; some schools, also used as polling stations and flood relief centres, have been flooded
The return of dreaded floods just days before Malaysians go to the polls on Saturday has washed away many voters' apathy, leaving behind a sense of anger as more than 4,000 people were displaced across the country due to rising waters, which reached waist level in some areas.
Selangor, the nation's richest state, leads the tally of displaced people with 1,244 residents from 305 families having to be relocated to 20 flood relief centres.
In Klang, a major port city in Selangor at the mouth of the Klang river, flash floods have been happening more frequently since September 2021, with massive floods on December 18 devastating the country's most populous region and costing more than 6.1 billion ringgit (US$1.3 billion) in losses.
The lack of progress in flood mitigation since then has left many voters apathetic about
the election
, with over 400 households in the neighbourhood of Taman Melawis saying they will stay home on polling day, believing nothing will change their predicament.
This is exacerbated by the fact that Charles Santiago – their member of parliament since 2008, who champions the fight for better flood mitigation – has been dropped from running as a candidate due to internal party politics, despite winning by a majority of 78,773 votes in the last election.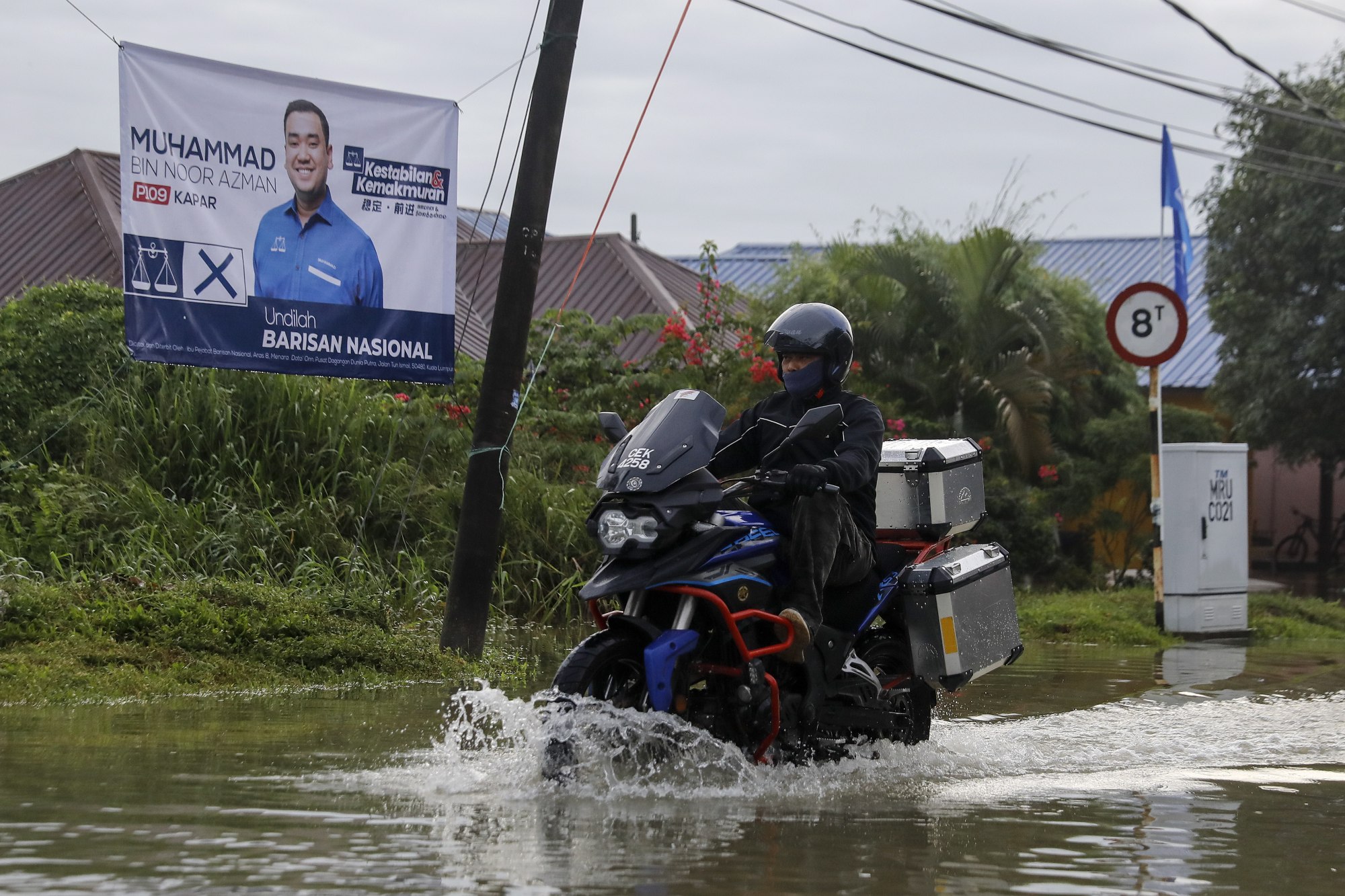 Hit with
yet more flooding
on Wednesday night, resident activist Joe Lee said many people are feeling angry about how the authorities can continue letting this happen to them while at the same time canvassing for votes.
"People here now are saying 'let's teach these [people] a lesson," he said. "From apathy to 'let's teach them a lesson, a 180-degree turn."
While it is no surprise that flooding happens during the regular monsoon season – known locally as tengkujuh – the public has criticised
Prime Minister Ismail Sabri Yaakob
and his Umno party for what they say is irresponsible and reckless election timing.
Umno president Ahmad Zahid Hamidi, who pressured the prime minister to trigger the election, had downplayed flooding risks, saying that while they are aware of the threat of severe weather, they will be "willing to brave the floods".
"We can't delay the elections any longer," Ahmad Zahid said in September, ahead of the dissolution of parliament last month.
This sense of urgency is at odds with the July 2023 deadline for parliament to be dissolved and is widely believed to be based on the party's determination to secure an electoral win, having gained confidence in their strong showing in last year's Melaka and Johor state elections.
His sentiment was echoed by party secretary general Ahmad Maslan who dismissed concerns that such timing would hamper voter turnout, saying people have no excuse not to vote.
"If it rains, bring an umbrella. For me, they have to come out and vote," Ahmad said in October.
The prime minister as late as Wednesday gave no clear plan to mitigate the situation if widespread flooding indeed happens on polling day on Saturday.
He told reporters that if that happens, the government will discuss an alternative solution with the Election Commission.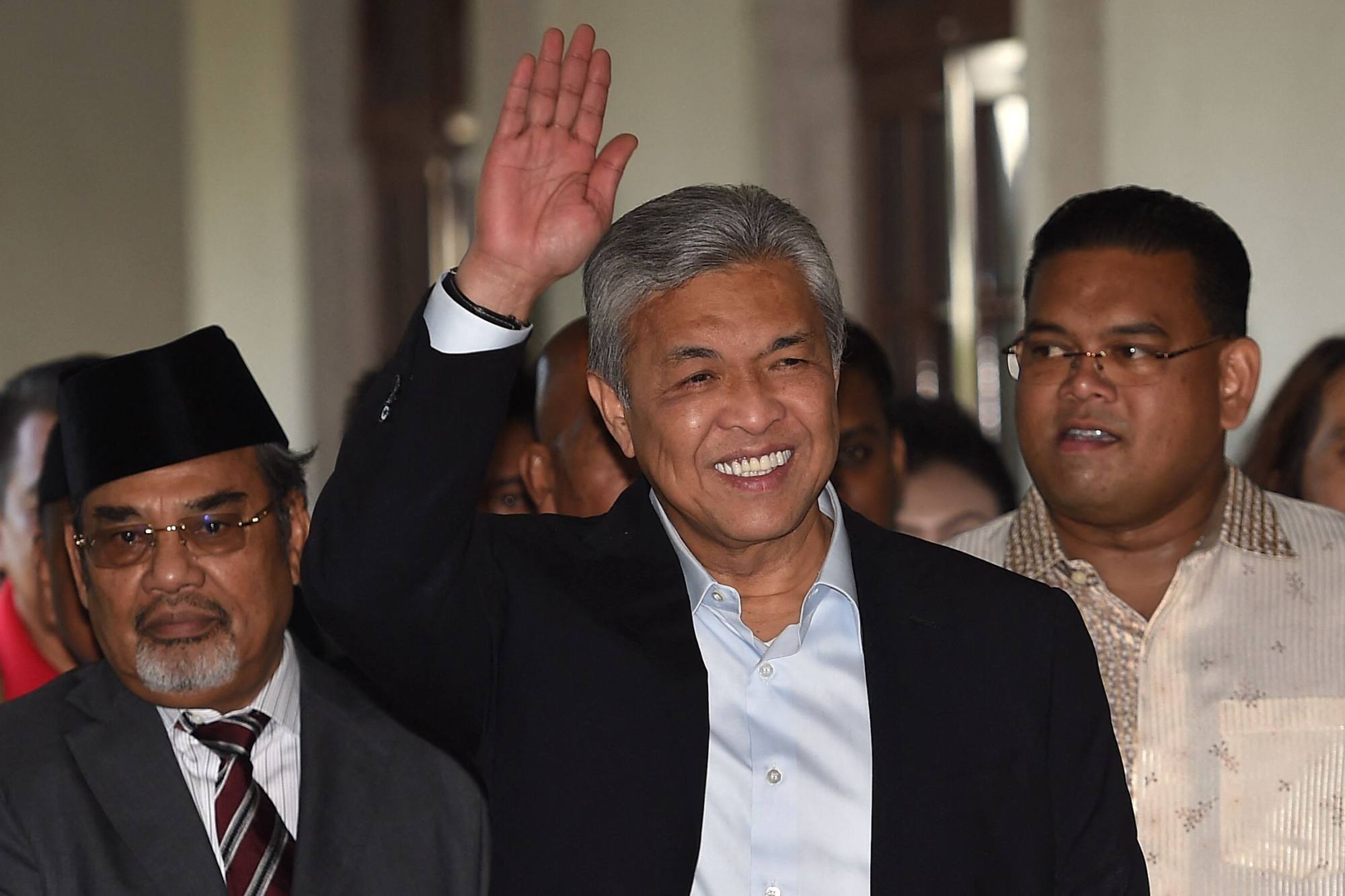 "They can decide what can be done, but so far I was made to understand that these floods are just flash floods," the prime minister said.
The Election Commission has remained silent on the topic, with its chairman refusing to take questions from the media from the start of the election process, leaving the public in the dark about what to expect.
Charles Santiago, the incumbent member of parliament for Klang, has been hammering the commission over its radio silence, particularly after at least five schools in his area, which are also used as polling stations and flood relief centres, were flooded.
"My simple question to the commission: what happens if the polling station is flooded? What's the procedure?" asked Santiago. "Are you deaf, dumb or both?"
Similarly, Nurul Izzah Anwar, who is defending her seat of Permatang Pauh in Penang, is asking the commission to be "objective and professional" over the flooding issue and not only act at the last minute.
Last weekend the politician waded through knee-high water at midnight to check on her constituency that was flooded after just two hours of rain, with more than 200 homes affected.
"Our fears came true," she told local TV station Astro Awani.
Nationwide polling opens at 8am on Saturday.