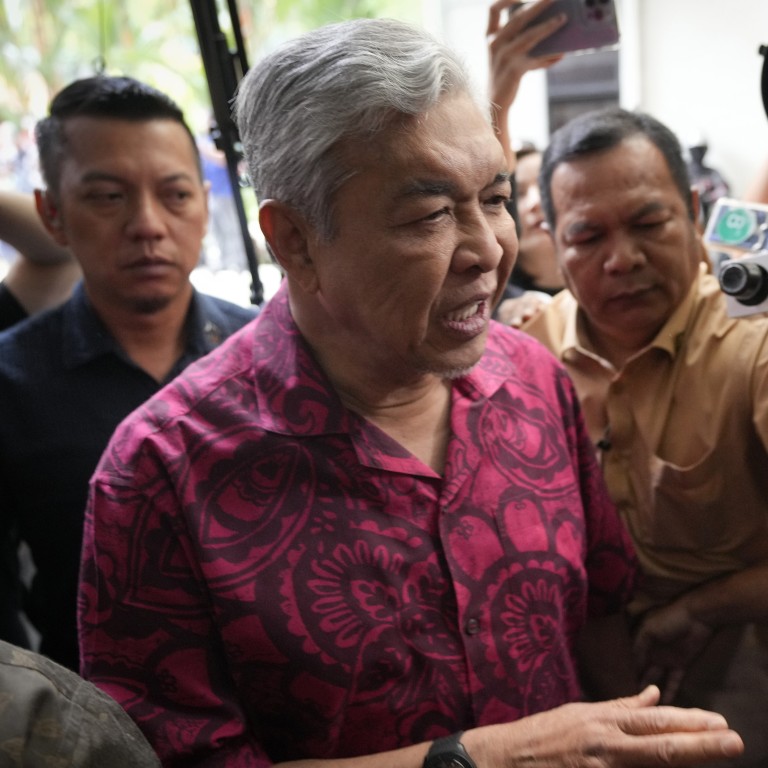 Malaysia election 2022: Coalition government with Zahid's BN likely; 'I'm still the PM candidate', Anwar says
Pakatan Harapan's Anwar Ibrahim is seeking to form a simple parliamentary majority with Ahmad Zahid Hamidi's Barisan Nasional
Both groups have opposing ideologies, but they now appear to be receptive towards working together to stop Muhyiddin Yassin from becoming PM
Anwar, the reformist long-time opposition leader, on Monday morning held talks with leaders from Barisan Nasional (BN), the once-powerful bloc that suffered major setbacks in the latest vote.
Anwar's multiracial Pakatan Harapan (PH) and BN – the bloc anchored by the ethnonationalist United Malays National Organisation (Umno) – are diametrically opposed in ideology, but they now appear to be receptive towards working together to stop Muhyiddin from becoming prime minister.
Muhyiddin, a canny political operator who has previously been a member of both BN and PH, leads the Perikatan Nasional (PN) alliance that stunned the country by winning 73 of the 220 seats contested in the election.
The coalition comprises Muhyiddin's own Bersatu party – created to rival Umno – and the hardline Islamist PAS. PN made major gains in the north of Peninsular Malaysia, where its message of being the bloc grounded in Islamic teachings, with technocratic credentials, resonated with heartland Malays jaded by constant bickering between PH and BN – until now the main political forces in the country.
Here's the latest on Malaysia's post-election political turmoil.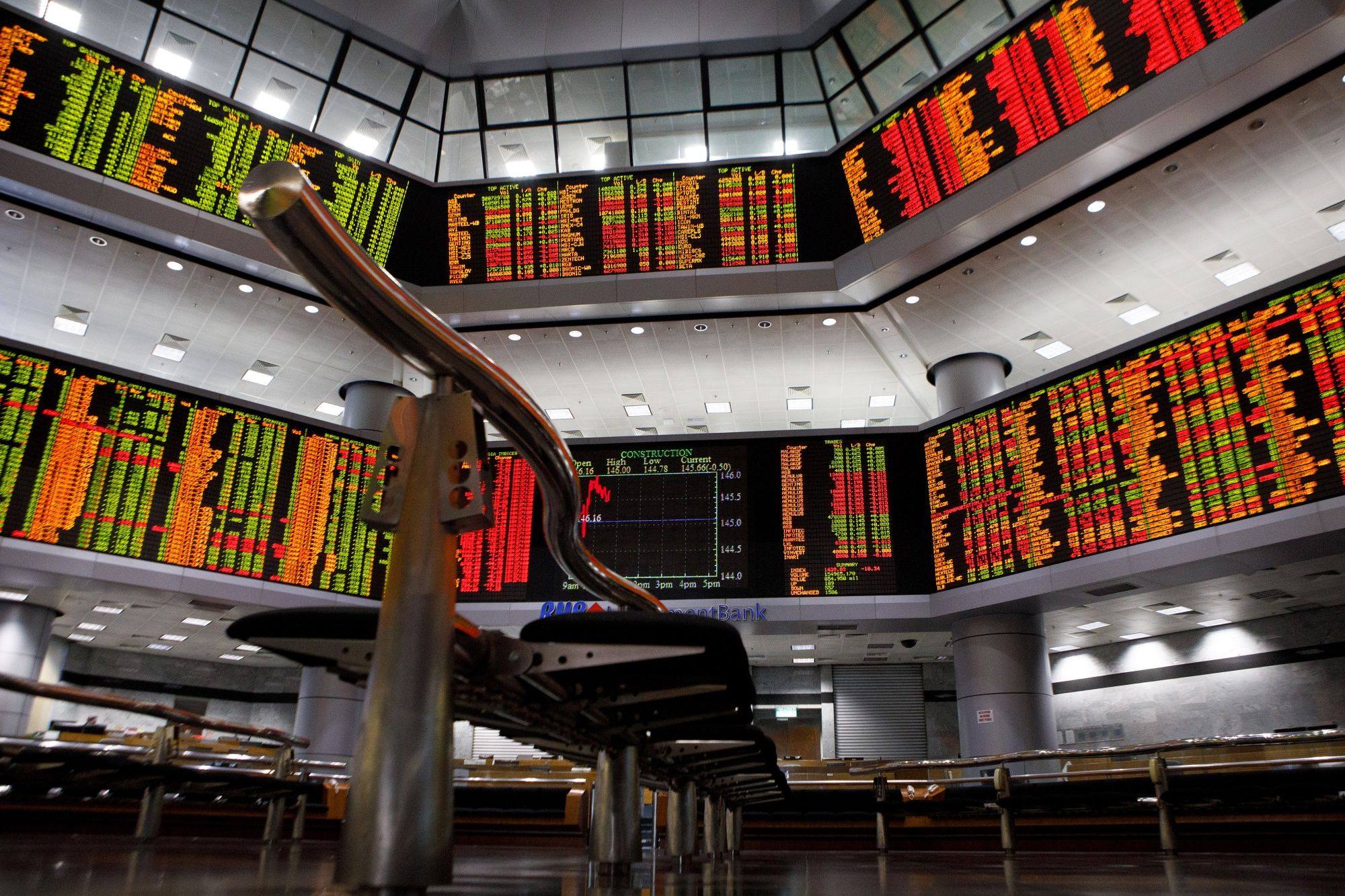 Markets slip on election stalemate
Malaysia's share market pared losses and ringgit currency weakened on Monday as the country's post-election stalemate continued with no clear indication on who will become prime minister and form the next government.
Kuala Lumpur's main stocks index closed just 0.1 per cent lower at 1,447.96, after sliding more than 1 per cent in early Asia trade. Gambling and liquor stocks lead equity losses, on fears that a PN administration – which would include the hardline Islamist PAS -could lead to a clampdown on gaming or drinking.
The ringgit was heading for its worst day in about six weeks, dropping 0.5 per cent to 4.57 per dollar.
Casino operator Genting Malaysia and investment holding and management company Genting Berhad led the losses. Heineken Malaysia shares fell more than 6 per cent in their steepest drop for more than two years. Carlsberg Malaysia shares fell 5 per cent.
Shares in lottery operator Magnum fell 8.7 per cent to a 13-year low and shares of rival Sports Toto hit a 24-year low. Genting Malaysia shares fell more than 5 per cent.
"There is a question mark that is triggered by this rise of ethno-religious politics in Malaysia, with longer term implications for economic and social policy," said Alvin Tan, head of Asia FX strategy at RBC Capital Markets in Singapore.
"Business and religion generally do not mix well," Maybank's analysts said.
Reporting by Reuters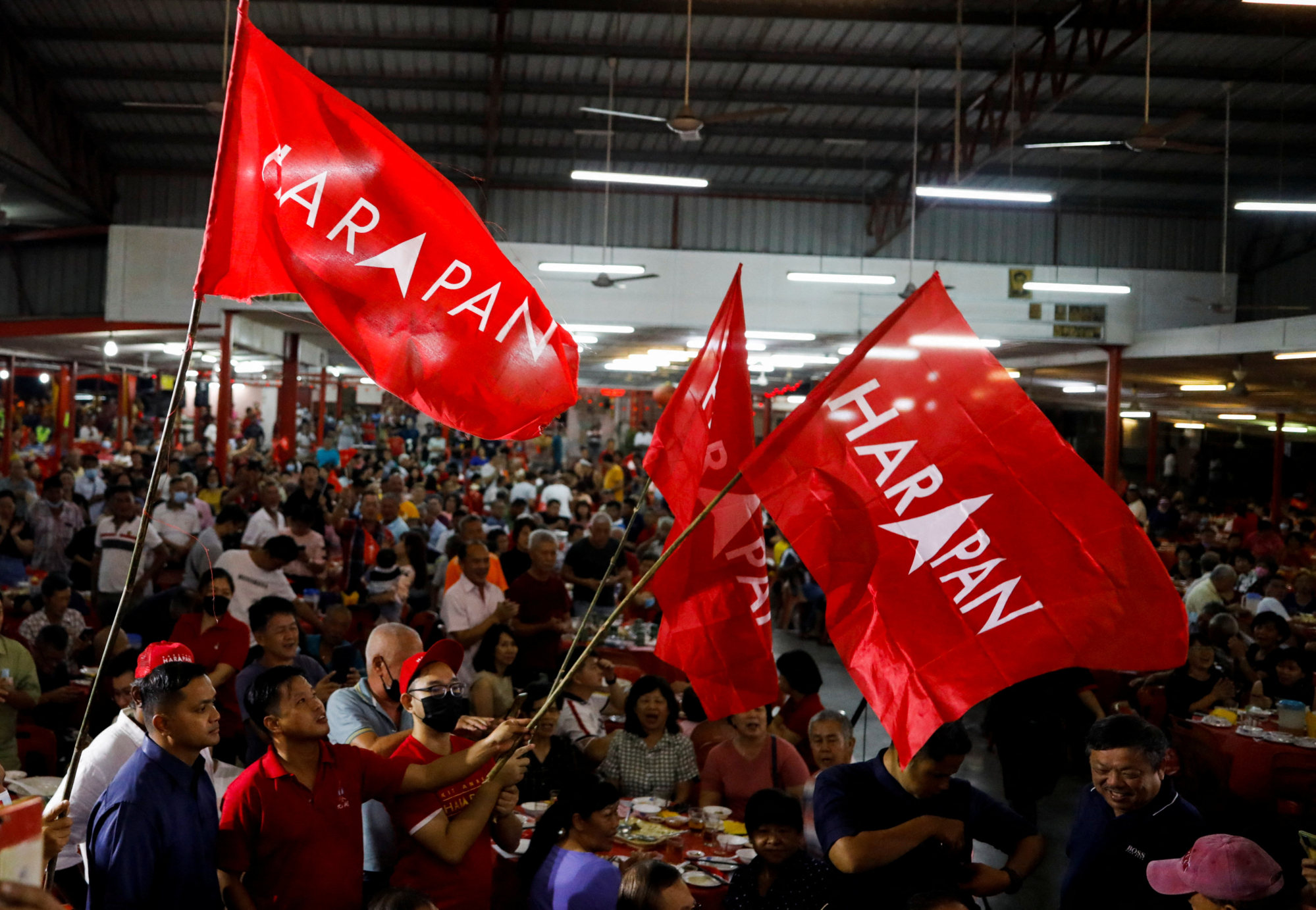 Bellwether state? BN and PH to form government in Perak
It remains to be seen if arch-rivals PH and BN will indeed put aside their past baggage to form Malaysia's next federal government. For now, the two blocs have committed to forming the next state administration in the central Peninsular Malaysia state of Perak.
Umno's Saarani Mohamad, the incumbent chief minister or Menteri Besar, will lead a new administration comprising nine BN state legislators and 24 PH state legislators.
The state's monarch, Sultan Nazrin Shah, will swear in Saarani at 5.30pm on Monday. A palace official told local media that Sultan Nazrin also held an audience with PN representatives, who conceded that they did not have a simple majority in the 59-seat state legislature.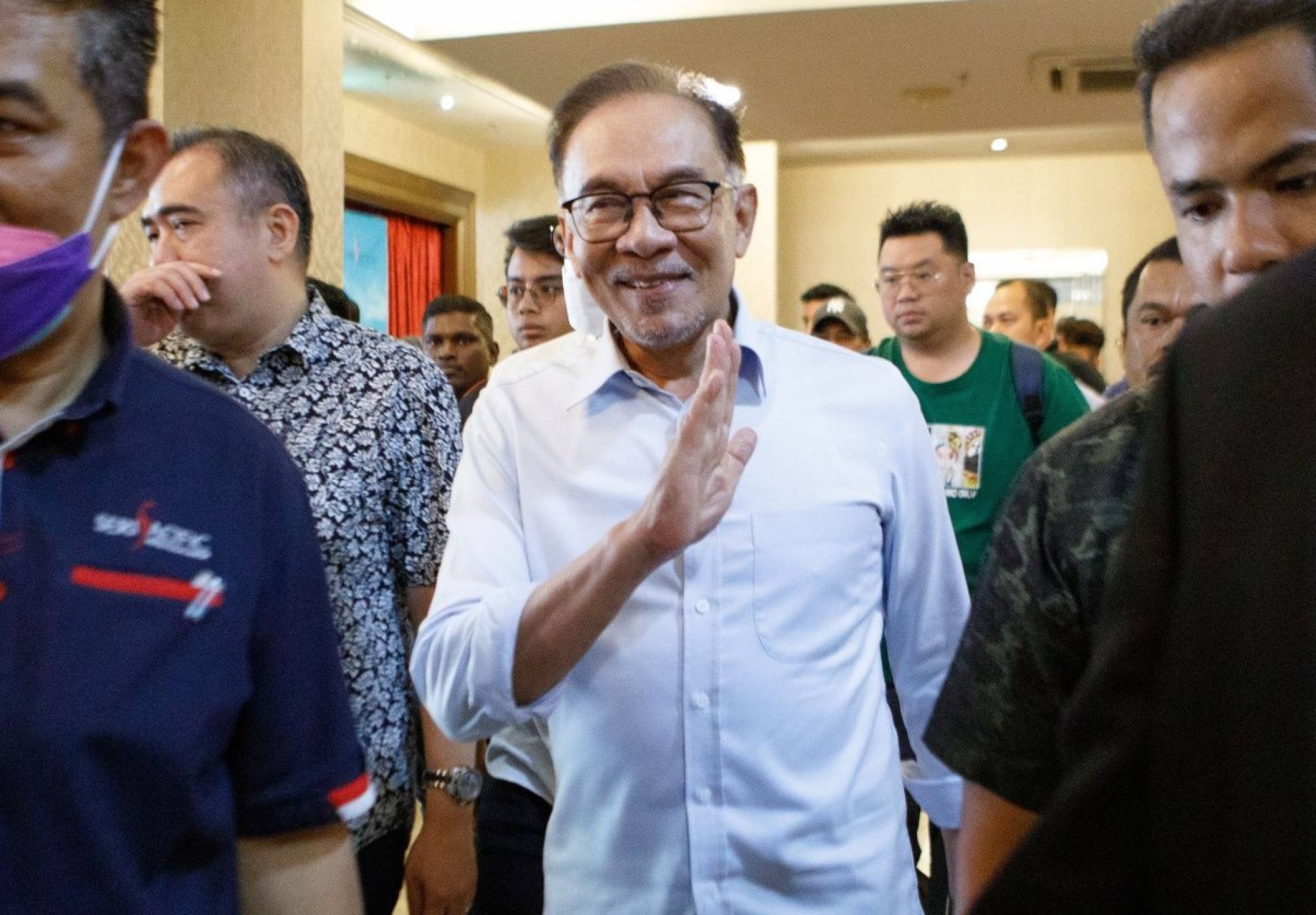 Anwar Ibrahim says 'coalition government' with BN likely
Anwar Ibrahim has said in a press conference that he is "very optimistic" about the formation of a coalition government that includes BN. There is a consensus regarding governing with a focus on the economy and "in the interests of the rakyat", Anwar said.
Asked about the BN heavyweight Hishammuddin Hussein's pointed comments on Monday morning that he would rather be sacked as an MP than work with PH, Anwar said the caretaker defence minister might have thought that the talks would result in a "PH or DAP" government. "That is not the case, it is a coalition government," he said.
Asked who would be prime minister candidate for the proposed alliance, Anwar said "for now" he would be the nominee. Also raised during the press conference were the legal troubles of BN leader Ahmad Zahid Hamidi.
Earlier, BN critics had charged that Ahmad Zahid was hoping an outright BN victory at the polls would aid him in efforts to get prosecutors to drop the various corruption charges against him. Anwar said the various cases "were not raised at all" in various meetings.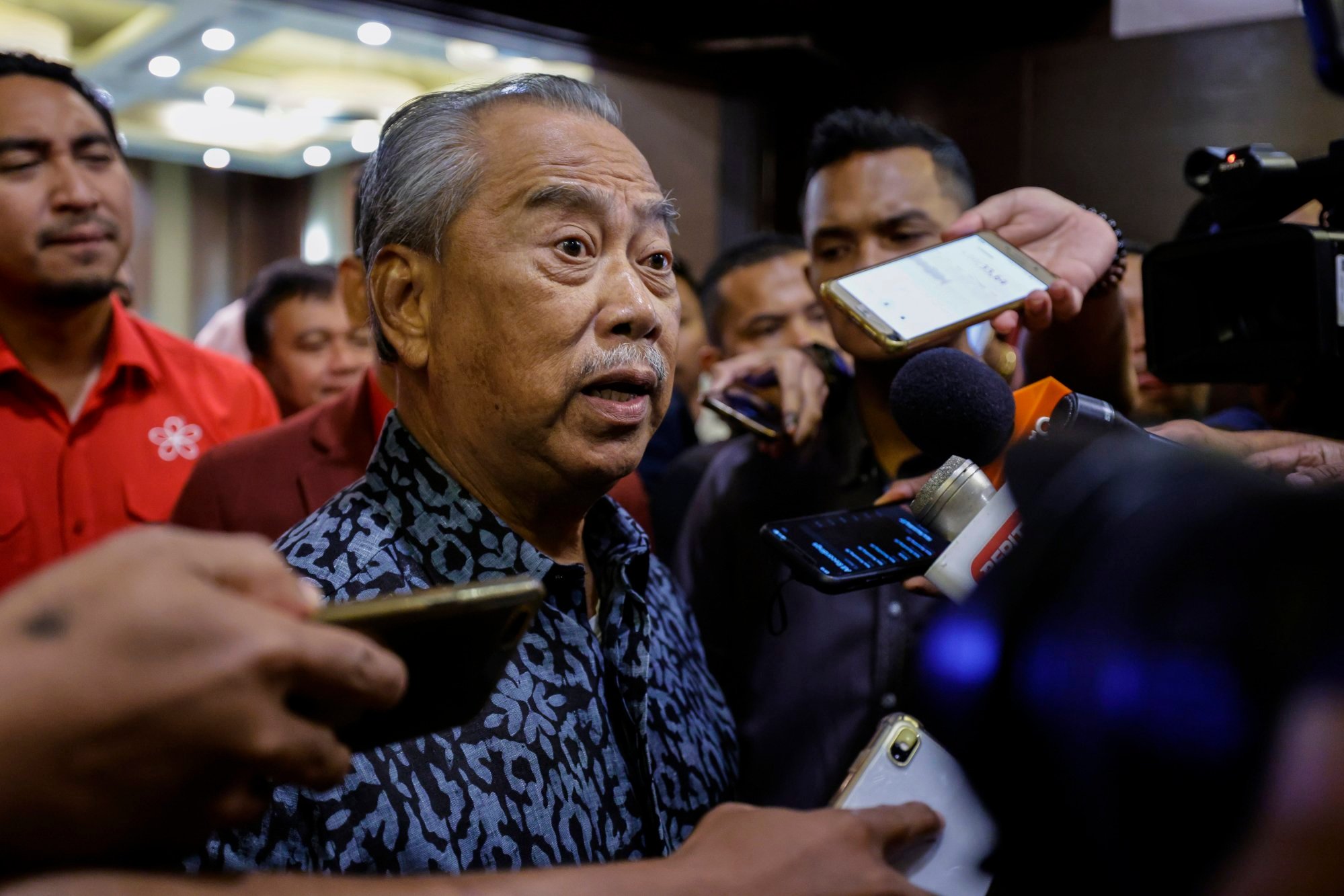 Muhyiddin claims support of 'more than 112 MPs'
Muhyiddin's PN said in a statement just after 2pm on Monday that it has submitted statutory declarations to the National Palace from "more than 112" MPs supporting the veteran politician's bid to be the next prime minister. The statement did not specify which MPs had aligned with PN, which on its own has 73 MPs.
Two regional alliances, Gabungan Rakyat Sabah and Gabungan Parti Sarawak, on Sunday pledged support for Muhyiddin. But even with their backing, he would have the support of only 101 MPs, 11 short of what is required for a simple parliamentary majority.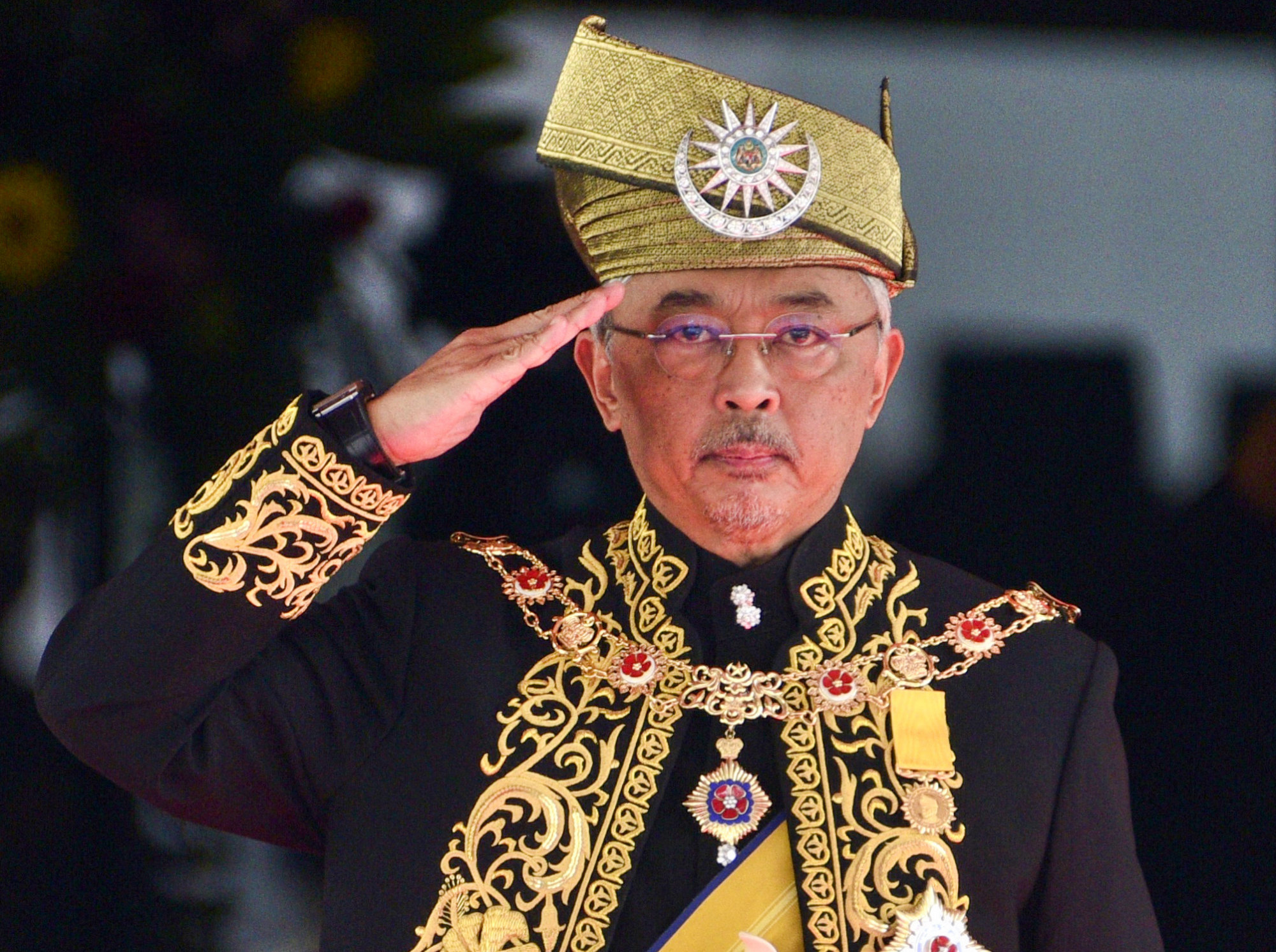 King extends deadline
Malaysia's constitutional monarch, Sultan Abdullah Sultan Ahmad Shah, on Monday afternoon said he would extend the deadline for political parties to submit prime ministerial candidates to 2pm on Tuesday.
The king had initially directed the party leaders to submit their nominees by 2pm on Monday. Sultan Abdullah, who is currently serving a five-year rotational term as king, said he was extending the deadline at the request of party leaders. He visited a media area outside the national palace in Kuala Lumpur just before 2pm on Monday but said he would not be making comments on the situation.
As king, or Yang di-Pertuan Agong, Sultan Abdullah plays a largely ceremonial role in the country's politics – though his final seal of approval is required for various key appointments, including that of prime minister.
In 2020, when the government of veteran leader
Mahathir Mohamad
collapsed, Sultan Abdullah chose Muhyiddin as premier after interviewing all 222 lawmakers to decide who had majority support. When Muhyiddin's bloc also collapsed, he chose the current caretaker prime minister,
Ismail Sabri Yaakob
.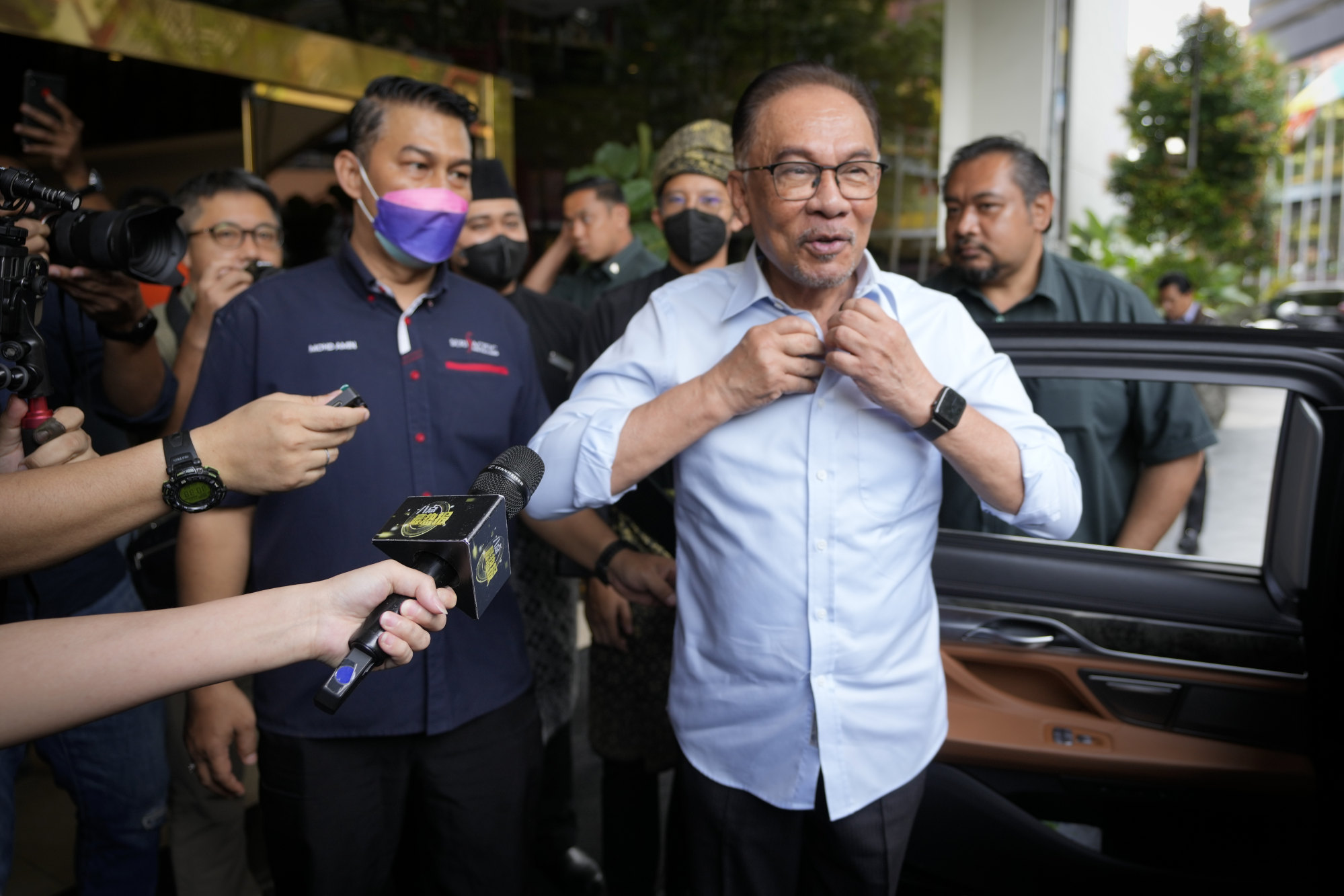 BN the kingmaker?
BN leaders on Monday morning met Anwar Ibrahim's PH ahead of the national palace's 2pm deadline for party leaders to declare the state of play of their parliamentary support. A tie-up between BN and PH would provide them the simple majority to form a new administration. PH won 82 seats and BN won 30 – a total of 112 MPs gives the potential alliance a simple majority in the 222-seat lower house of parliament, the Dewan Rakyat.
BN chief Ahmad Zahid Hamidi said he would request for more flexibility over the 2pm deadline to provide the king with its choice of prime minister. Any decision will only be made after the negotiating committee has concluded and the supreme council has provided its endorsement, said Ahmad Zahid.
All but four of BN's 30 MPs were present at the meeting, BN's Ahmad Maslan said separately on Twitter.
Reporting by Reuters and Bloomberg