Myanmar
Get more with myNEWS
A personalised news feed of stories that matter to you
Learn more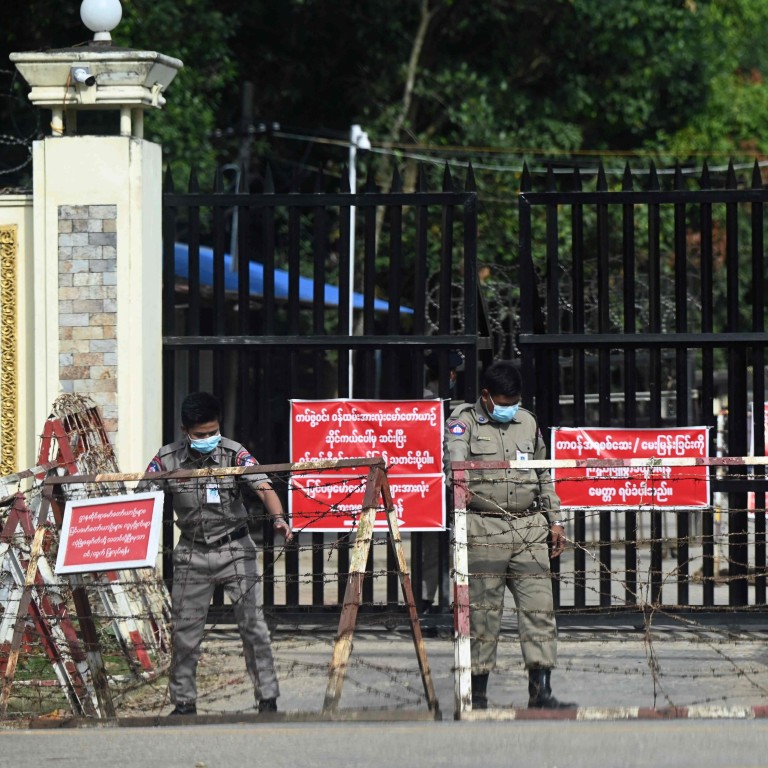 Did Myanmar release 4 foreign prisoners as 'tactic' to ease pressure from Asean?
Myanmar's release of thousands of prisoners, including four foreigners, has been called 'disingenuous' by a former government adviser
It comes as Indonesia, the new chair of the Association of Southeast Asian Nations, signalled it will take a harder line against the junta
The pardons came amid a flurry of diplomatic gatherings in Asia that Myanmar's military leaders were barred from attending.
Philipp Annawitt, who served as an adviser to Myanmar's parliament and government from 2015 to 2021, said the prisoner release was a "symbolic but disingenuous conciliatory move by the junta designed entirely to relieve international pressure from the regime in the short term".
Sam Baron, an analyst researching Myanmar's foreign policy at The University of Tokyo, said high-ranking officials from Indonesia had made a number of statements suggesting they would take a harder line on junta leaders.
At least 80 people died and more than 100 were injured at the music festival after a military air raid in the northern state last month. It is believed to be the single-worst air attack since the military seized power.
Baron noted that Myanmar was recently added to the blacklist of global watchdog Financial Action Task Force (FATF), which coincided with the continued decline of the Myanmar economy.
"[This] could mean that the junta is posturing to remaining foreign investors that it is willing to take the actions necessary to loosen pressure and create a better operating environment for companies," Baron said.
Last month, the FATF added Myanmar to the list, citing the country's failure in addressing illicit financial flows, a move which could severely affect the junta's ability to participate in international financial transactions.
Myanmar seeks allies within Asean
He said that in a proposal leaked before the Asean summit, Phnom Penh suggested the junta should be engaged based on their "own five-point plan, which centres around the junta's plans to hold a sham election in 2023".
Noting that Cambodia was quick to welcome the prisoners release, Annawitt said "it has become quite clear … that Cambodia, and probably some other members, lean towards allowing the junta to try and extricate itself from international isolation" through the elections.
Asean's Five Point Consensus called for an immediate end to violence and discussions involving all stakeholders but these have been ignored by the junta.
"The international community has to be vigilant in scrutinising what will almost certainly be a sham election process and deny lending any legitimacy to an election where citizens and political opposition will not and cannot participate freely," she added.
"The junta is desperately in need of support and recognition from its Asian neighbours," Htwe Htwe Thein said, adding that with the prisoners' release, "the junta is trying to gain some breathing space, especially regionally".
Past release of inmates
Since the February 2021 coup, the junta has released batches of political prisoners on three separate occasions, noted Baron who is also a policy fellow at the Yokosuka Council on Asia-Pacific Studies.
While last week's amnesty is good news for the families of those detained, Baron said that almost 13,000 political prisoners remain in jail.
"The move is not a signal that the military is changing its ways, but rather a political tactic that the junta hopes will prevent further punitive actions against them," Baron said, adding that the use of political prisoners such as Turnell and Bowman was a "tried-and-true tactic" of the junta to gain concessions from Western governments.
Curtin University's Htwe Htwe Thein said the decision on who to release is "often arbitrary, personality-driven and not necessarily based on consistent and rational principles".
"We also don't know under what conditions they are released, especially for local prisoners, as they can be rearrested anytime," she added.