Malaysia election 2022: Anwar Ibrahim sworn in as new PM; says role of China 'pivotal'
The king said he was satisfied that Anwar and his Pakatan Harapan coalition had secured enough support from fellow elected representatives
Anwar said the first order of business when parliament reconvenes would be a vote of confidence
This story has been made freely available as a public service to our readers. Please consider supporting SCMP's journalism by
subscribing
.
Malaysia's king convened a special meeting between the heads of the nation's nine royal houses on Thursday, on day five of a post-election political impasse.
Saturday's polls
led to a hung parliament, although the reformist long-time opposition leader
Anwar Ibrahim
's Pakatan Harapan (PH) alliance and the Malay-Muslim Perikatan Nasional (PH) coalition led by Malay nationalist
Muhyiddin Yassin
emerged as the two biggest blocs.
Constitutional monarch Sultan Abdullah Sultan Ahmad Shah sought the meeting to seek the views of his fellow sultans and assist him in making a decision on the leadership tussle "for the interests and well-being of the nation and people".
Here's the latest on Malaysia's post-election political turmoil.
First press conference as prime minister
Prime Minister
Anwar Ibrahim
is holding his press conference after being sworn in earlier on Thursday. The session was temporarily interrupted after Turkey President Recep Tayyip Erdogan telephoned to offer his congratulations. Indonesia's President
Joko Widodo
, Singapore Prime Minister
Lee Hsien Loong
and Brunei's Sultan Hassanal Bolkiah have also sent Anwar their congratulations.
Anwar said the first order of business when parliament reconvenes will be a vote of confidence. The new leader said along with the backing of the 82 MPs in his Pakatan Harapan alliance and its ally
Muda
, he also had the support of 30 MPs from the Barisan Nasional bloc and 23 MPs from the Gabungan Parti Sarawak. That means Anwar has the support of 135 MPs – well over the 112 simple majority threshold.
"We have a truly convincing majority ... this is a national unity government, all are welcome," Anwar said, adding however that new entrants to the coalition government had to accept pre-conditions of incorruptibility, upholding good governance and ensuring a "Malaysia for all Malaysians".
Asked about ties with
China
, he described the Asian superpower as "pivotal". "I would not just leave it as it is, but need it to be enhanced," he said. Anwar added that relations with other parts of the world, including
Asean
and
Europe
, were equally important.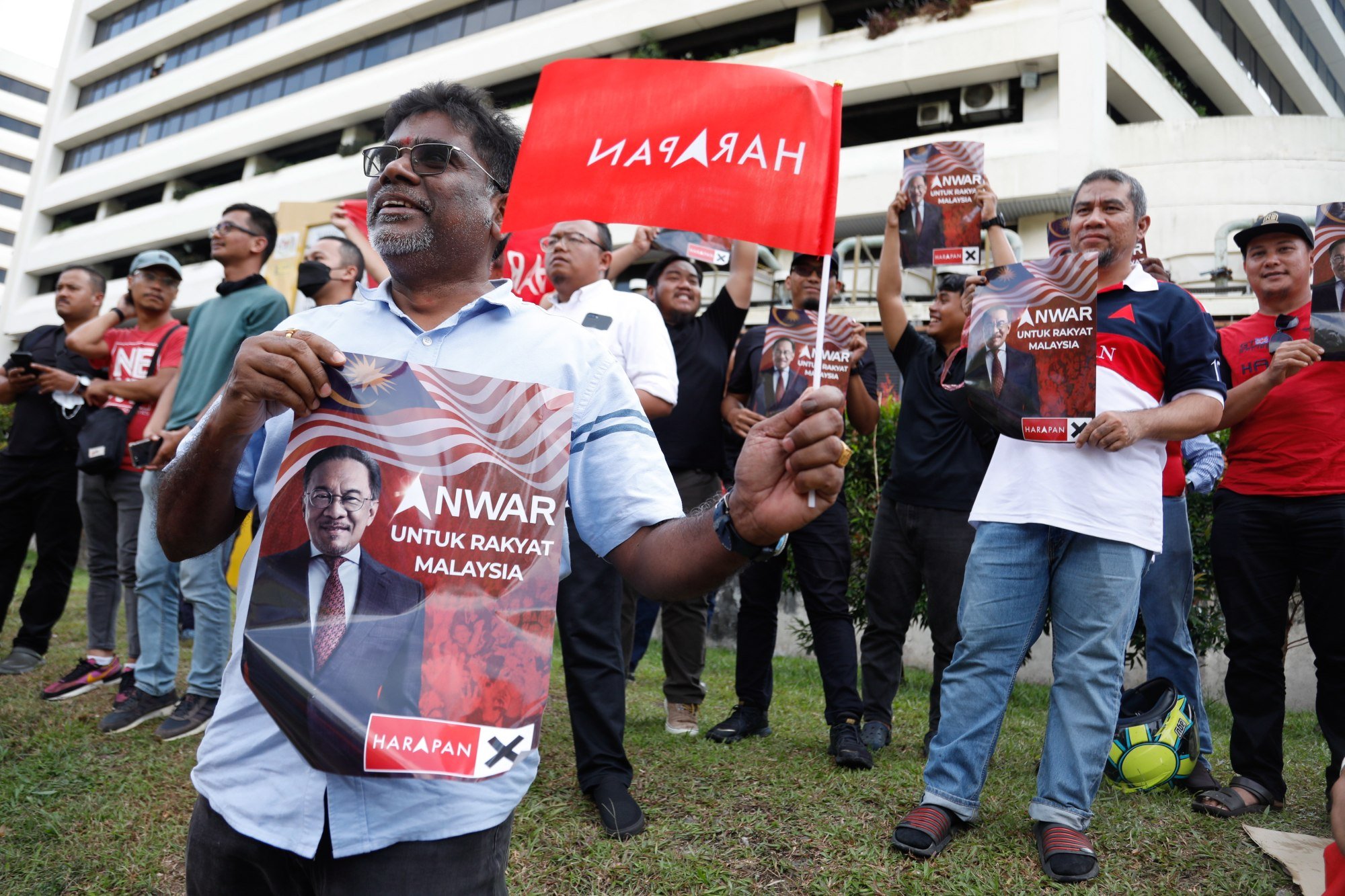 Malaysian stocks advance most since March 2020
Malaysian stocks surged the most in over two years after Anwar Ibrahim was appointed the new prime minister, ending a political impasse that has weighed on markets this week.
The benchmark FTSE Bursa Malaysia KLCI Index rallied 4 per cent at the close. Gaming and brewery companies including Genting Malaysia, Sports Toto, Magnum, and Carlsberg Brewery Malaysia rose as the conservative Malay-Muslim alliance Perikatan Nasional led by Muhyiddin Yassin lost out on its bid to form the government.
Reporting by Bloomberg
Serving with 'absolute humility'
In a tweet, Anwar said his responsibility as prime minister "will be carried with absolute humility and responsibility". He added: "This heavy task that I now bear will be guided by the will and heart of the people along with the team."
Anwar Ibrahim sworn in as 10th PM of Malaysia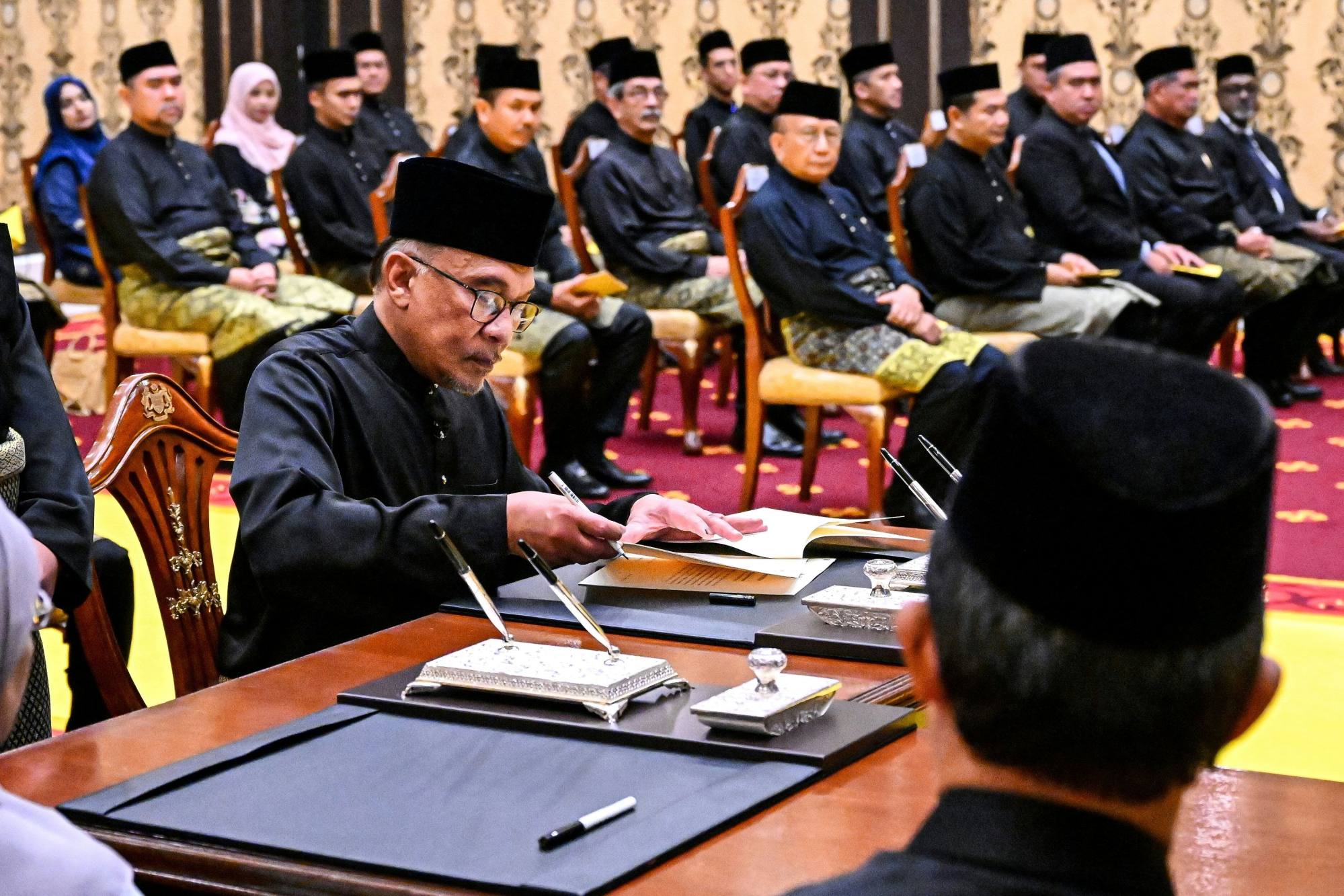 Anwar Ibrahim has been sworn in by Sultan Abdullah.
Anwar, dressed in the customary black baju melayu, read out his oath of office before the king before signing off on the official documents of his appointment.
Anwar was seen beaming as he accompanied the king and queen out of the hall at the end of the brief ceremony. Those seen in attendance include his wife, Wan Azizah Wan Ismail, and their six children, top PH and BN leaders and the speakers of the lower and upper houses of parliament.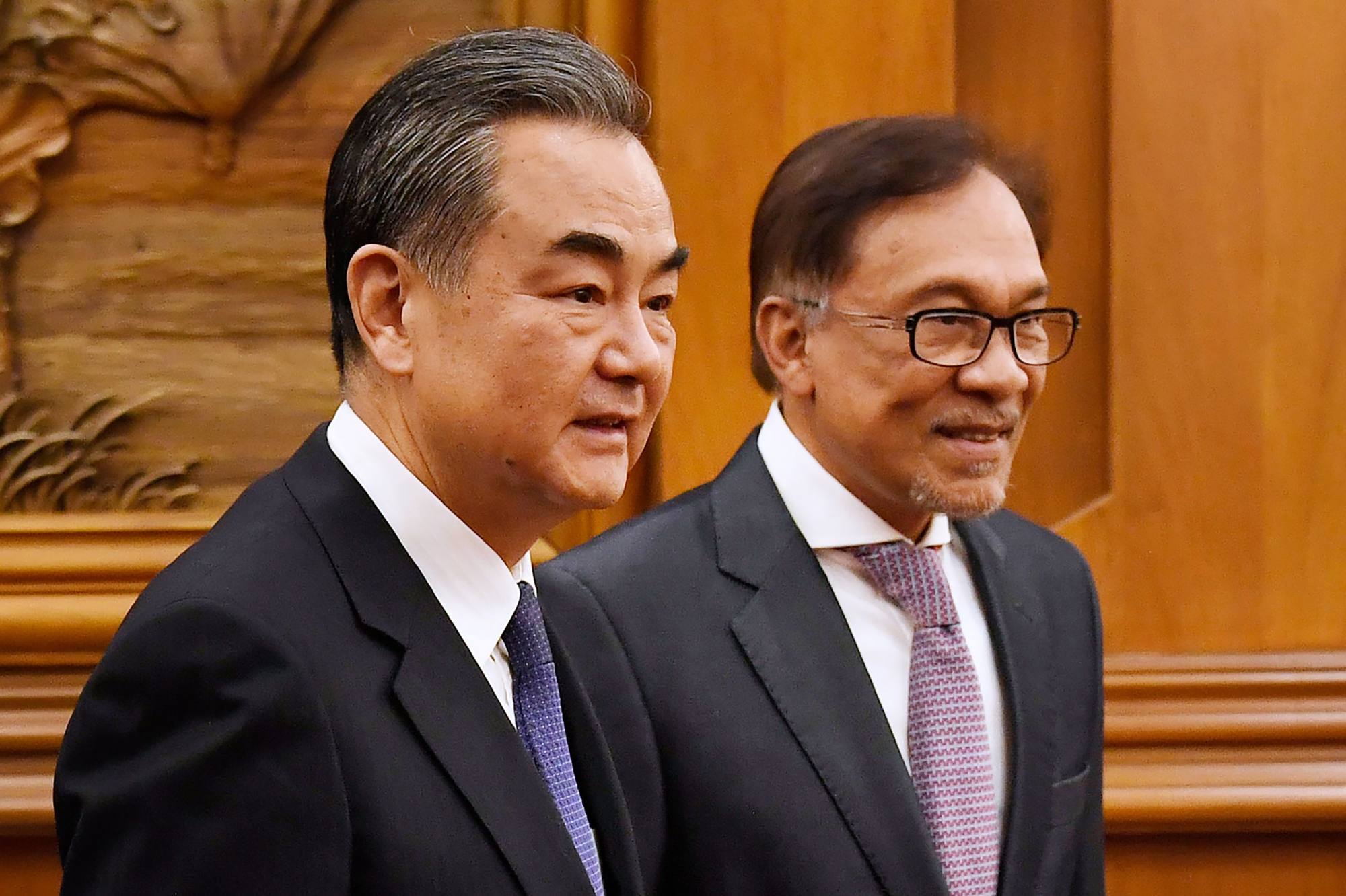 Malaysia-China ties 'will be steady'
Ngeow Chow Bing, director of the Institute of China Studies in the University of Malaya, said he expected Malaysia-China ties to remain steady with "room for improvement and enhancement" under Anwar's leadership.
"In contrast to his major rival Muhyddin, Anwar has more international exposure and he will devote more energy into international matters," Ngeow told This Week in Asia, adding that he expected the new administration to have "more initiatives in foreign policy".
While Anwar is known to have good ties with US politicians and officials, and is generally seen as America-friendly, "that does not really suggest much in terms of his policy approach towards China", Ngeow said, noting that the prime minister-designate was "well received" by Chinese Foreign Minister Wang Yi and other Beijing officials during a visit in 2018.
'Always proud of you, Papa'
Anwar's eldest daughter, Nurul Izzah Anwar, has penned a heartfelt note to her father, who was jailed twice – on charges critics say were trumped up to keep him from politics – over the last three decades.
"I love you, Papa. Am always proud of you – even as you lay imprisoned as a prisoner of conscience," Nurul Izzah said in an Instagram post.
She added: "The legacy we leave behind for our children and future generations is not properties, rank or money, but the idealism and the principles of our struggles that cannot be bought. Make the future, our shared future."
Anwar named Malaysia PM, ending political deadlock
Malaysia's king has named
Anwar Ibrahim
the nation's 10th prime minister, ending five days of political uncertainty after the general election on Saturday ended with no single coalition earning enough seats to form the government.
Sultan Abdullah Sultan Ahmad Shah, the country's constitutional monarch, said he was satisfied that Anwar and his Pakatan Harapan (PH) coalition had secured enough support from fellow elected representatives to lead Malaysia for the next five years.
The king "made a decision to appoint a member of the Dewan Rakyat who to his understanding may hold the support of the majority of Dewan Rakyat members as prime minister".
"After going through the views of the other Malay rulers, HRH has granted his consent to appoint DS Anwar Ibrahim as Malaysia's 10th prime minister," the palace said in a statement.
"HRH reminds all parties that the winners do not win all and the losers do not lose everything. Hence … reach out your hands to each other and come together as members of the Dewan Rakyat for the future of our beloved nation."
The swearing in will take place at 5pm local time today.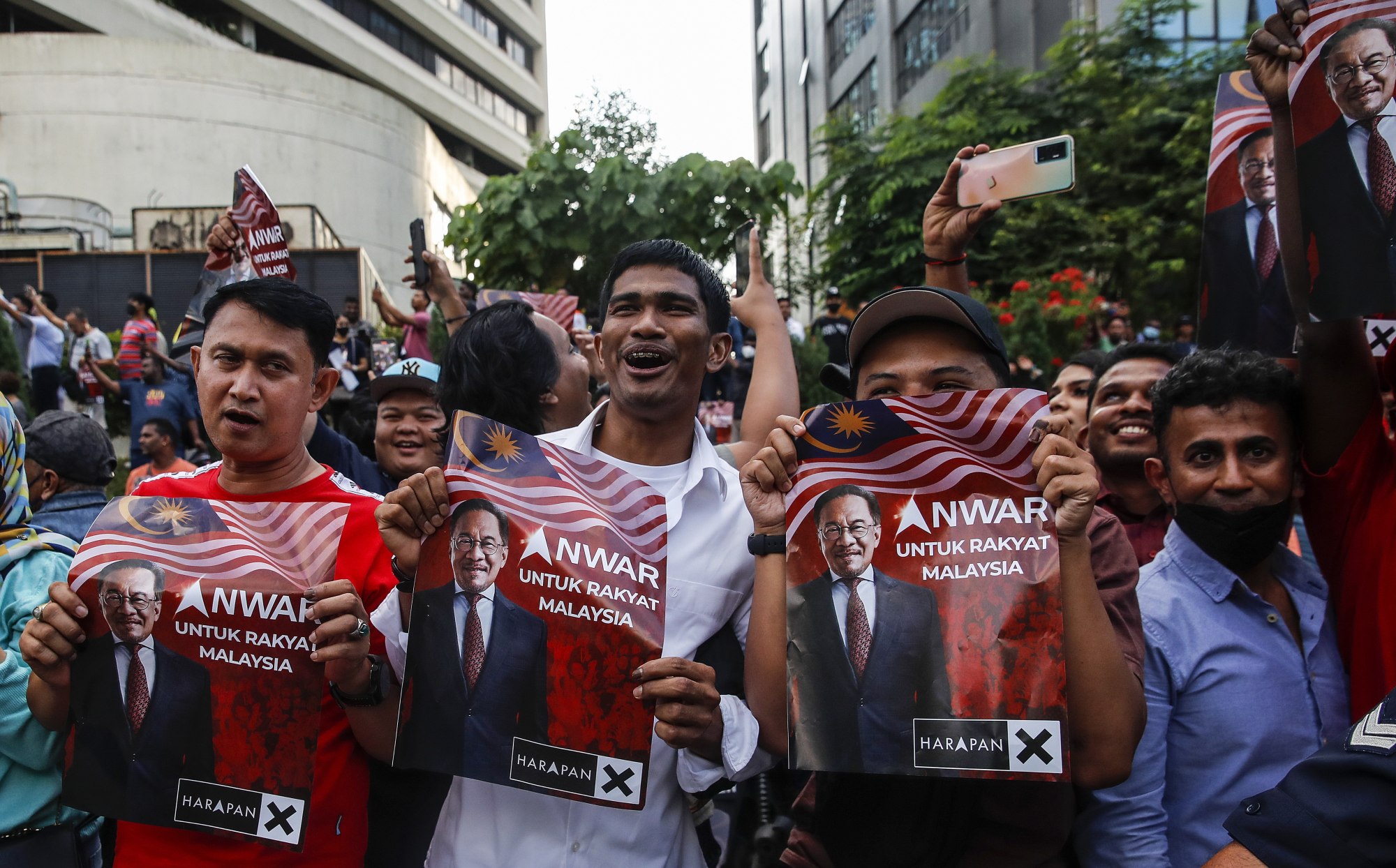 Pakatan Harapan supporters told not to hold gatherings
"I urge all Malaysians, especially supporters and members of PKR, PH and our political allies to respect the urgent need to cool the situation," Rafizi Ramli, the deputy leader of Anwar's Parti Keadilan Rakyat (PKR), said in a statement after the palace statement was released.
"Be careful with whatever social media content or short messages that could cause worry or be used as an excuse for provocation," Rafizi said. "We must all move forward and learn to work together to rebuild Malaysia, for the future and prosperity of every group, race, state and background."
Anwar camp 'optimistic'
This Week in Asia understands that Anwar's camp is "optimistic" that the king will appoint Anwar as the country's next prime minister. There is even an expectation that the 75-year-old leader could be sworn in as early as 4pm on Thursday. Nonetheless, sources said PH and Anwar would refrain from pre-empting a forthcoming National Palace statement on the matter.
Last-minute U-turn
The National Palace is expected to issue a statement soon. Ahead of that, Muhyiddin's PN bloc has said it is now ready to consider Sultan's Abdullah's unity government proposal. The monarch had suggested the power-sharing arrangement during meetings with Muhyiddin and Anwar on Tuesday, but the PN chief outrightly rejected the proposal.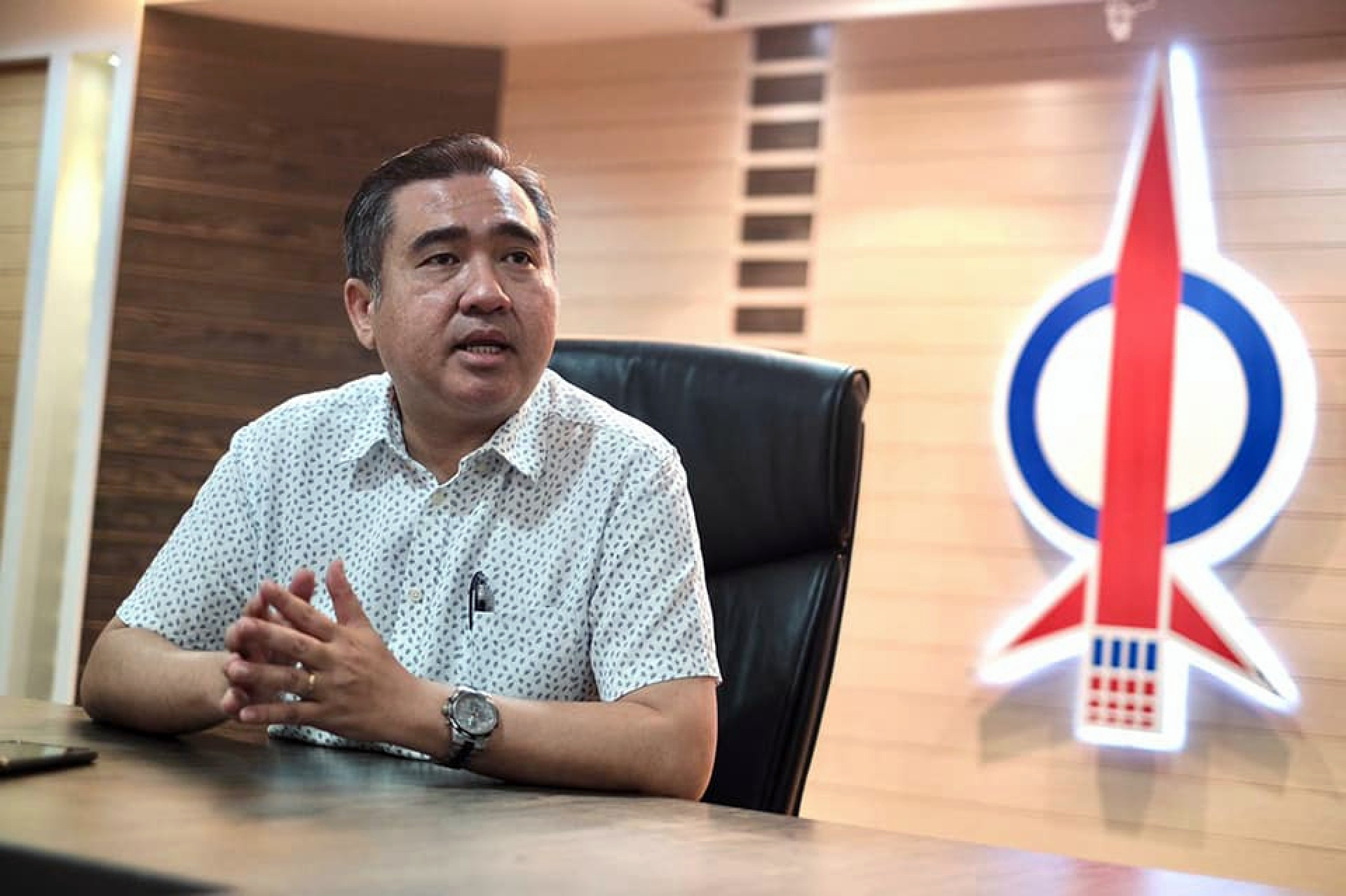 Sarawak overtures
Another crucial factor in determining whether Muhyiddin or Anwar becomes prime minister is support from the Malaysian Borneo states of Sarawak and Sabah. In particular, the backing of the Gabungan Parti Sarawak (GPS) and its 23 MPs could prove crucial.
Anwar's PH and the GPS have had fractious ties due in part to political quarrels between GPS leader Abang Johari Openg and the PH heavyweight Lim Guan Eng, formerly the head of the Democratic Action Party (DAP). The DAP is one of three parties that make up the PH bloc.
In a sign of a thaw, the DAP's new leader Anthony Loke held talks early on Thursday with Openg. In a Facebook statement, Loke said he "apologised publicly" on behalf of the DAP for past statements that may have offended the GPS government and the people of Sarawak.
"I hope today's meeting will open a new chapter to building understanding and cooperation for a more developed and progressive Malaysia," Loke said.
Lim, finance minister from 2018 to 2020, in a separate Facebook statement apologised to Openg as well, saying the "future of the country is more important".
Openg expressed support for Muhyiddin and PN immediately after the election, but later said the bloc would leave the decision on who should be prime minister to Sultan Abdullah.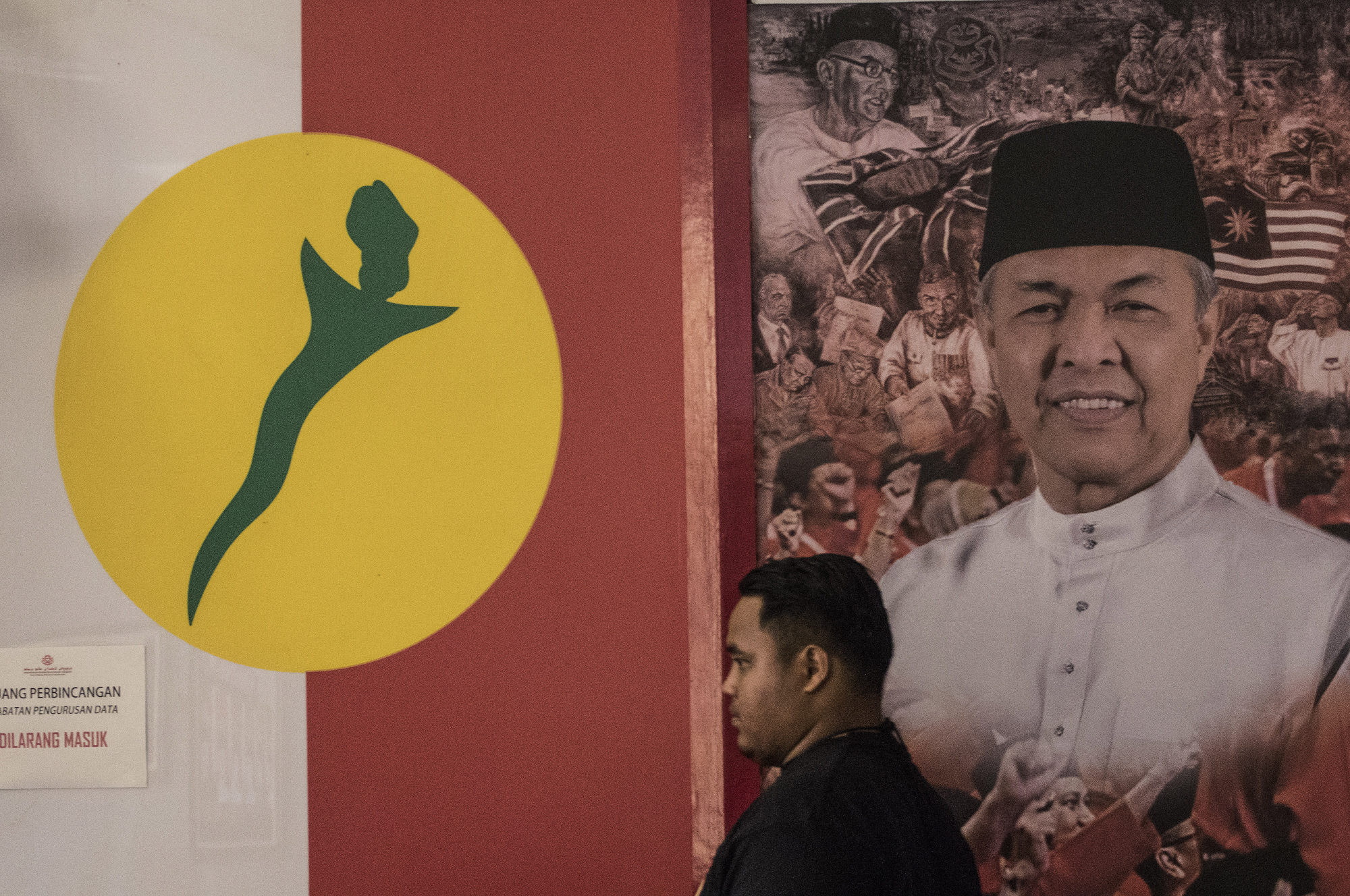 No Muhyiddin: Umno party makes decision on unity government plan
Crucial to ending the impasse is for either Anwar or Muhyiddin to obtain the backing of the Barisan Nasional bloc's 30 MPs. At Saturday's vote, PH emerged the biggest winner with 82 MPs, followed by PN which garnered 73 seats.
Despite its poor showing, BN has emerged as the kingmaker in the current tussle to govern Malaysia, with PN and PH both jockeying for its support. Whichever bloc receives BN's en masse support will have the backing of more than 112 MPs – which constitutes a simple majority in the 222-seat lower house of parliament, known as the Dewan Rakyat.
In the early hours of Thursday, BN's linchpin party, the United Malays National Organisation (Umno), said a final decision had been made on supporting and taking part "in a unity government not led by PN".
Local media suggested this meant Anwar was a step closer to the premiership, although Umno did not explicitly say it would back PH. Anwar's multiracial alliance has its roots in the Reformasi protest movement he led in the late 1990s to oppose Umno rule.