Vietnam
Get more with myNEWS
A personalised news feed of stories that matter to you
Learn more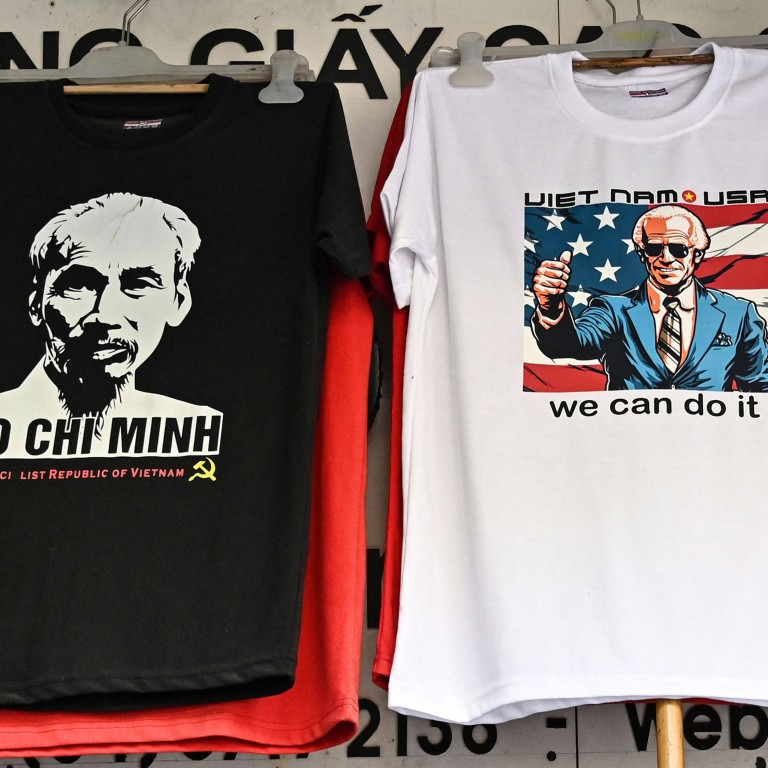 US, Vietnam seek comprehensive strategic partnership amid China's clout, polarised world
While the US and Vietnam want closer cooperation, there are limits to their ties amid several key geopolitical challenges, analysts say
By designating the US as its 'comprehensive strategic partner', as expected, Vietnam is signalling to the world it has an independent foreign policy
As Hanoi prepares to welcome US President
Joe Biden
on Sunday, a formal upgrade in ties appears all but certain. If expectations hold true,
Vietnam
will soon refer to
the United States
as its "comprehensive strategic partner", the highest place among Hanoi's three-tiered diplomatic ranking of its friends.
During his
24-hour stay
, Biden is scheduled to meet all four of the Vietnamese Communist Party's top leaders. He is also expected to pay homage to the late senator
John McCain
at the lake where he was captured after his aircraft was shot down during an air raid against Hanoi in 1967.
The trip will be short, but the new status in relations it is expected to bring will be the culmination of a long-standing bipartisan push in Washington to cement ties with Hanoi as the US seeks to counter Chinese influence in
Asia
.
But while experts in both countries see potential for even greater cooperation once the new status is made official, they caution that the bilateral relationship would still have its limits.
"The upgrade by the two signatories will bring great benefits to the two countries in many fields," said Le Dang Doanh, a retired senior economic adviser to five prime ministers, citing trade and defence cooperation as areas he hoped to see strengthened in the US-Vietnamese bilateral relationship.
But Doanh was quick to point out that Hanoi also has a comprehensive strategic partnership with Beijing, which is widely considered Vietnam's primary geopolitical threat, as well as with Moscow.
"Vietnam has established strategic partnerships with four-fifths of permanent members of the
UN
Security Council, including comprehensive strategic partnerships with China and
Russia
, so upgrading relations with the US to the level of a comprehensive strategic partnership is not unusual," he said.
Carl Thayer, professor emeritus at the University of New South Wales and a specialist on Vietnamese defence, said Vietnam had long tried to avoid putting a label on its relationship with the US beyond that of the "comprehensive partnership" that was signed in 2013, even as Washington lobbied for an official upgrade.
Since the beginning of Biden's administration, a fourth of his cabinet has travelled to Vietnam across multiple visits.
"Ever since the Biden Administration took office, senior US officials such as Vice-President
Kamala Harris
and Secretary of Defence
Lloyd Austin
sounded out their Vietnamese interlocutors about the possibility of raising bilateral relations to a strategic partnership," said Thayer, adding that the response had been "lukewarm at best".
But in the wake of the trade wars of the Trump era as well as the more recent
Russian invasion of Ukraine
, Thayer said Vietnam had been losing options for balancing relations in an increasingly polarised world.
"These geopolitical developments narrowed Vietnam's ability to leverage of differences among the major powers. Vietnam's options were not only shrinking, but its ambitious plans to become a modern industrial country with a high income were seriously threatened," said Thayer, adding that leveraging its relationship with the US appeared to be its best option.
The resulting comprehensive strategic partnership, said Thayer, would be "definitely more than symbolic".
"What matters is the political intent of both parties behind a joint statement indicating an elevation in relations. The intent will be revealed when senior officials later draw up a multi-year Plan of Action," he said.
The US would be keen to help Vietnam create secure and resilient supply chains for semiconductors and other high-value electronic products, said Thayer. Simultaneously, Washington would also push for reforms in Hanoi's regulatory environment to encourage American investment.
But Zachary Abuza, a Southeast Asian security expert at the National War College in Washington DC, cautioned against "over-reading" the geopolitical significance of the comprehensive strategic partnership.
"Symbolically, it is important. I don't want to take away from the symbolism, but these are unilateral Vietnamese rankings; they have no real meaning beyond symbolism," said Abuza, adding that Washington was more keen to risk upsetting Beijing than Hanoi was.
"Obviously, the Americans are trying to play up the pressure and show that this is a Vietnamese rejection of
Chinese aggression
and wolf warrior diplomacy," said Abuza, adding that Vietnam saw it differently.
"I personally view it more as Vietnam's attempt to show the world, including China, that it has an omnidirectional and independent foreign policy beholden to no country," he said.
Still, Abuza said the new status would be an accurate reflection of the state of relations between the two countries.
"Overall, relations are really, really strong, and I simply see this as a recognition of what has already happened on the ground," he said.