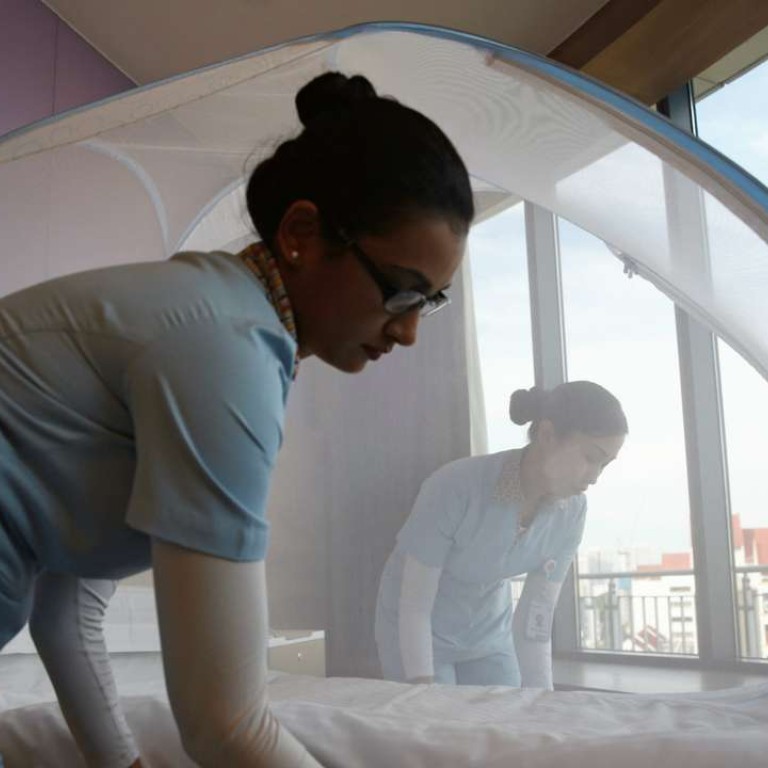 How strong is Singapore's safety net against the Zika virus?
City state's swift action has been praised, but tropical weather, population density and question marks over construction practices raise fears of a long fight ahead
Singapore is basking in the global limelight as it hosts the Formula One Grand Prix this weekend but behind the razzmatazz the city-state's stand-off with Zika continues as medical experts and officials warn the virus is here for the long haul – much like dengue, which continues to fester and pose a persistent danger.
Zika has been detected in more than 300 people in Singapore since the first locally transmitted case was detected on August 27, making the financial and transit hub the single largest beachhead for the mosquito-borne virus in Asia.
As new cases slowed last week after initially soaring in early September, observers including the World Health Organisation (WHO) lauded the government's swift identification of infection clusters and effective dissemination of information to the public.
That in part has allayed fears the crisis will mirror the outbreak of Severe Acute Respiratory Syndrome (SARS) in 2003, which killed 33 people out of 238 infections and brought the economy to a standstill.
But some experts say lax controls on mosquito breeding in construction sites – where hundreds of thousands of South Asian and mainland Chinese migrant labourers ply their trade – need to be urgently rectified.
The WHO says 67 territories have recorded Zika infections since 2007, with a majority of local transmissions occurring since 2015.
The virus causes mild symptoms such as fever and joint pain in most people but in Brazil it has been linked with an increase in babies born with microcephaly, an abnormal smallness of the head associated with incomplete brain development.
"The government has done its best… it's just unfortunate that Zika seems built to thrive in high-density places like Singapore or Hong Kong and has partnered with the very successful Aedes Aegypti mosquito," said Leong Hoe Nam, an infectious disease specialist at Singapore's Mount Elizabeth Novena Hospital.
And May O. Lwin, a heath communication expert at the Nanyang Technological University, lauded the government for its "proactive and timely" response to the crisis.
"It is to the credit of the Singapore government agencies that there has been no mass hysteria," she said.
Song Seng Wun, an economist at CIMB Private Bank, said that so far "it seems largely like business as usual".
"This won't be like SARS…scheduled events like the grand prix are going ahead and there will only be a slight dent on the economy," he said.
Zika is the latest health headache for Singapore caused by the Aedes Aegypti mosquito – which also transmits dengue and Chikungunya, a viral disease causing fever and severe joint pain. Officials have said dengue cases, which have been a menace for decades, may cross 30,000 this year, beating the high of 22,170 in 2013.
Experts say Singapore has one of the world's most advanced vector control regimes but the tropical weather coupled with a high population density makes the eradication of Aedes mosquitoes impossible.
Leong said there was a high likelihood the Zika virus would become endemic in Singapore.
"It will be long drawn… the hope is that the vaccine will come soon," he said.
Health Minister Gan Kim Yong told parliament on Tuesday it was "still early days to ascertain what the long-term trend of Zika infection will be".
"Even if we can control the present outbreak, we will need to continue to guard against imported cases as the Zika virus is still circulating among other countries, including several in this region," Gan said, responding to a barrage of questions from lawmakers.
Gan said authorities had so far been unable to trace the origin of the local transmission.
Paul Tambyah, a Singaporean infectious disease specialist, said analysis done by local health authorities showed the Zika virus evident in the city-state was of "Asian lineage".
"What this means is that the virus was more likely introduced by a traveller from Thailand or somewhere else in Southeast Asia, or even Oceania, than from Brazil or elsewhere in South America," said Tambyah, the secretary general of the Asia Pacific Society of Clinical Microbiology and Infection.
The first wave of locally transmitted cases in late August was predominantly foreign construction workers who worked in the same site in southeastern Singapore.
The government issued a stop work order at the site for failing to eliminate potential mosquito breeding sites.
Migrant workers rights groups said some construction sites and foreign worker dormitories lacked the strict vector control measures usually in place elsewhere.
Sheena Kanwar, executive director at migrant rights group Humanitarian Organisation for Migration Economics, said there were "question marks" on whether construction firms were being thorough in ensuring labourers lived and worked in mosquito-free environments.
And Alex Au, treasurer of TWC2 (Transient Workers Count Too), another independent migrant workers' rights group, said there were "concerns about workers living in temporary accommodation on construction sites".
"The nature of such accommodation, with broken earth and unfinished rubble everywhere, makes for a higher likelihood that mosquitoes breed there," Au said.
Deanne Ong, director at local pest management firm Origin Exterminators, said the firm had encountered such breeding grounds. She said "price sensitive" construction firms were limiting the procurement of vector control services to meet the bare requirements stipulated by authorities.
Masagos Zulkifli, the environment minister, said on Tuesday the government had stepped up scrutiny of work sites prior to the Zika outbreak, with 50 stop-work orders issued between January and July this year. Such continued vigilance will be vital in the months ahead.