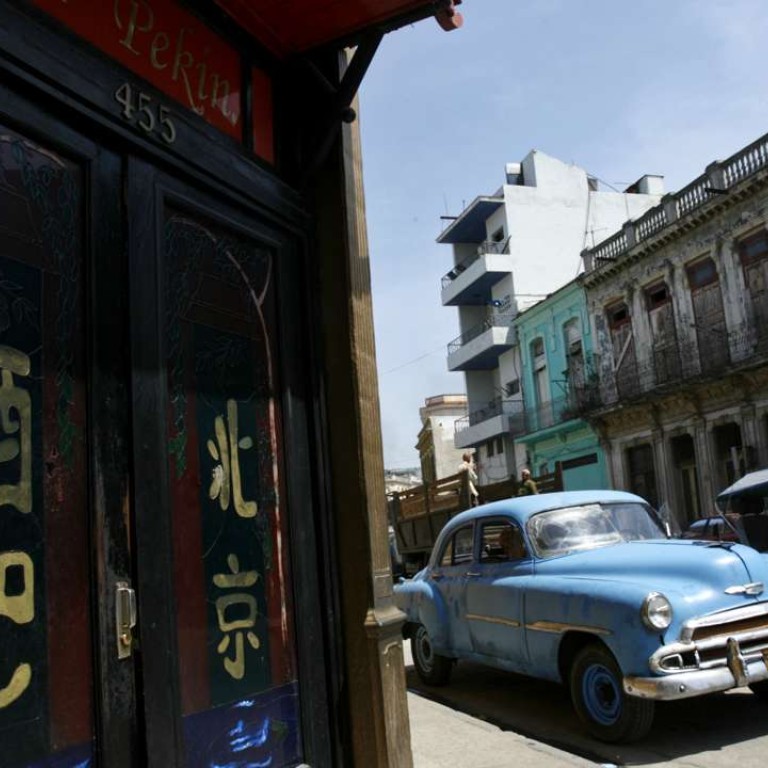 Lost in Cuba: China's 'forgotten diaspora'
As China's premier heads to Cuba for landmark visit, an overlooked community hopes they too can benefit from new era of Chinese influence
Choy Chao Wong was just a boy when his family turned their backs on a newly communist China to pursue a better, more prosperous life in the New World.
It was the early 1950s and his family, from Kaping, Guangdong province, had fled the country following Mao Zedong's declaration of the People's Republic, to settle briefly in Hong Kong – then still a British colony – before setting their sights on a new start in what was then the world's No 1 sugar producing country: Cuba.
Little could the 13-year-old Choy have realised as he boarded the plane at Kai Tak airport he would be substituting one communist revolution for another.
"When I was on board, I thought I would be returning [to Hong Kong] soon," Choy, now 78, recalls. "But I was never able to go back."
Choy is among the 111 first-generation Chinese migrants who remain in Cuba out of the tens of thousands who moved here before Fidel Castro's ascension to power in 1959. It is a largely forgotten diaspora, one that is even now struggling to find its place, caught between nostalgia for its pre-Castro heyday and the promise of a new era of Chinese influence.
Cuban embassy opens in Washington DC
This week, Li Keqiang (李克強) will become the first Chinese premier to visit Cuba, a move that comes amid booming trade figures and that analysts say underlines China's determination to keep the relationship strong in the wake of Havana's resumption of diplomatic ties with the United States this summer.
Choy meets me on the last day of July, when Havana is at its hottest, and spends his time – like most of his days since his retirement a decade ago – resting and chatting at a community centre in Chinatown, a place the Lonely Planet guidebook describes as "one of the world's most surreal".
Surreal, because there are so few Chinese, migrant or tourist.
It was not always so – the Chinese population had numbered in the tens of thousands before Castro's rebels overthrew President Fulgencio Batista, but after the revolution, as it became clear economic migrants were not welcome, many decided to flee and new arrivals dried up.
Choy was not blessed with options. He had no relatives in the United States and could not afford a flight home.
"Of course I miss my homeland," says Choy. "I used to live in Mong Kok, on Sai Yeung Choi Street. I still remember trips to The Peak," he adds, switching to Spanish as a waiter enters with a large pot of Cuban coffee.
Another man approaches and, nurturing his own tiny cup of coffee, introduces himself as Rolando Chiong Chang, president of Min Chi Tang, the Chinese branch of the Freemasons that is active across Latin America.
Chiong left Hong Kong 60 years ago, yet even now he finds the first years of seclusion and homesickness hard to forget.
"It took me a decade to get used to the life [in Cuba]," Chiong says. "When I first arrived there were 20,000 Chinese migrants here. Many of them returned [home] in 1959. But youths like me at that time had no alternatives."
Chiong began his Cuban life in Santa Clara – the city that this month welcomed the first American commercial flight in more than 50 years. He stayed there for five years, working in a grocery store, before relocating to Havana.
Barrio Chino de Havana, one of the oldest and largest Chinatowns in Latin America, was once a vibrant neighbourhood, with its best-known eatery – the Pacifico Chinese Restaurant – appearing in Ernest Hemingway's I slands in the Stream. In its heyday, thousands would gather for Lunar New Year celebrations that remain vivid in the memories of the migrants.
That golden era is long gone; most of the area's buildings are now occupied by black Cubans, and while Chinese characters may feature on the street signs, one suspects this is largely to do with the aesthetic appeal for (mostly non-Chinese) tourists.
Havana's fading Chinatown
"For now, there isn't even an authentic Chinese restaurant [anywhere in] Cuba," Chiong laments.
Yet while one golden era may be in the past, booming business is raising hopes of another.
Chinese trade with Cuba grew 59 per cent in 2015, year on year, to US$2.2 billion – manifesting itself in a flood of electrical appliances like air-conditioners and fridges that are beginning to appear in Cuban households in larger cities.
Chinese trade has long been crucial to Cuba in light of the half-century US trade embargo on the island – an embargo that remains in effect despite recent calls by Presidents Barack Obama and Raul Castro for it to end.
But the glittering fortunes of Chinese-Cuban trade stands in stark contrast to the impoverishment, dispiritedness and neglect felt by many among the forgotten diaspora.
So far, the ageing Chinese migrants have seen little benefit from expanding Chinese influence.
"There is no business opportunity in Cuba yet as the country lacks purchasing power. It is still a socialist system," says Dr Louie Kin-sheun, author of Far in Cuba, a book about the history and modern lives of the Chinese diaspora.
Benjamin Creutzfeldt, a researcher on China's relations with Latin America at Johns Hopkins University, says that while Chinese government and state-owned enterprises tapped in to migrant Chinese families, the focus is on small-scale trade and investment in consumer goods and tourism.
"Larger projects in infrastructure and agriculture remain very much in the hands of government-appointed representatives," he says.
Even so, there is optimism about Beijing's influence. "If Cuba can one day become as open as China, of course that would be good," says Jorge Chao Chiu, secretary of the Chung Wah Federation, an association for Chinese-Cubans in Cuba.
Chao, born in Cuba to a Chinese migrant father, is among the few second-generation Chinese-Cubans who can speak Cantonese. He is planning to reopen a Chinese language school, an initiative he says has won the backing of the Chinese embassy.
While he acknowledges that, given the country's inefficient bureaucracy, his plan may take a long time to bear fruit, he remains hopeful.
"In the long term, it is positive to see more Chinese people interested in coming to Cuba to settle down," Chao said. "I think this would sustain the Chinese culture here."
Amid increasing noises of rapprochement between Washington and Havana, some commentators say that the country Chao's father, and many others like him, arrived in more than 50 years ago is at the crossroads of changing beyond recognition. Yet even now, half a century later, the forgotten diaspora clings to dreams of a better life.