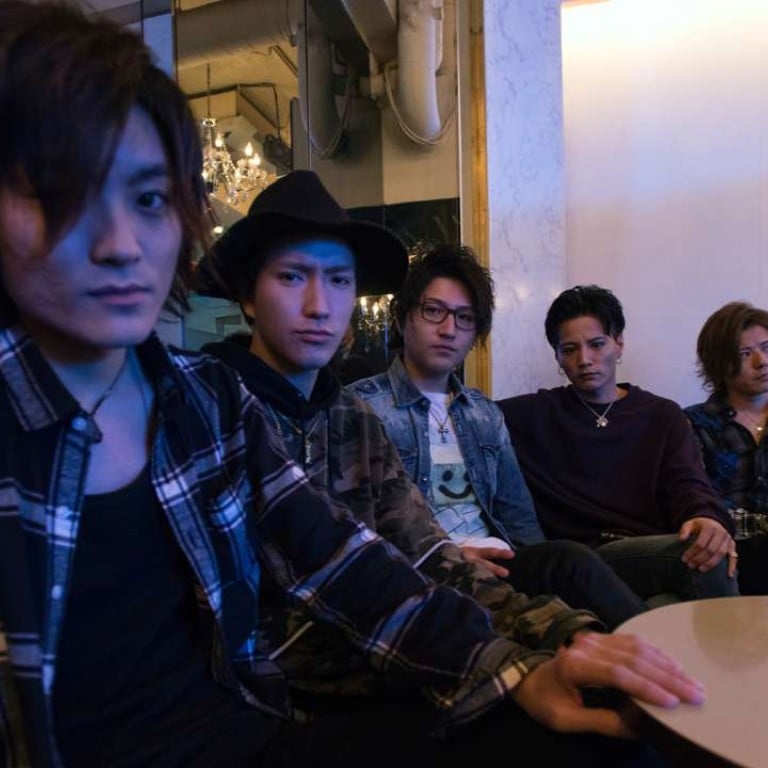 Inside Japan's host clubs: male geishas or just pretty men?
The tables are turned at the Shangrila in Tokyo's red-light district, where men do their best to please big-spending female customers – even when it involves bizarre requests
It's just before midnight when the sounds of the first 'champagne call' of the evening ring out in Shangrila. A dozen slim, perfectly coiffed and stylishly attired young men gather around the woman who has ordered champagne and begin a carefully choreographed performance designed to make her feel like the most important person in the world. The call-and-response lyrics of the song tell the young lady that she's a princess and that the attentions of this pack of Prince Charmings is focused entirely on her, which it is, for these few moments at least. In reality, the champagne call, complete with funky dance moves, serves to show appreciation for the minimum of 40,000 yen (HK$2,720) she has just spent.
Shangrila is a host club in Tokyo's Kabukicho red light district, where the young men earn a living by entertaining the female customers and encouraging them to spend big. It was the owner of Shangrila who 15 years ago created the champagne call. It's now standard at host clubs across Japan.
Host clubs are the male counterpart to kaba kura (a Japanese contraction of 'cabaret club', where hostesses entertain men) and have grown in both popularity and social acceptance in recent decades. Many see the role of hosts and hostesses as an extension of geisha culture. The performances of hosts may not have the refinement of geisha – 'gei' is written with the Chinese character meaning art – but singing and engaging conversational skills are prerequisites, along with the right looks.
As with geisha, the suggestion of sex is more central to the work of hosts than the act itself, though the line is sometimes crossed outside the clubs. For the most part though, it is the egos of customers that are stroked rather than body parts. The role of the hosts is to entertain, compliment and listen to the female customers; to play the perfect boyfriend, albeit one who needs to be bought expensive drinks.
The literary Shangri-La was a mystical, Oriental paradise on earth, and host clubs aim to create a fantasy land where attractive and charming young men attend to the every need of female customers.
Well, almost every need.
"Women can talk to the types of guys here they don't meet in everyday life. Guys who take a lot of care over their appearance. Many of them even have plastic surgery," says Ryo Tachibana, a former host who now manages the business side of Shangrila.
"Essentially, they buy the host for that time and make them theirs. Customers often compete with each other to buy more expensive alcohol so they can spend time with a top host."
Host clubs may deal in dreams and illusions, but the real currency is cold, hard cash. Huge photographs of the hosts are displayed outside the clubs, ranked on how much they convinced customers to part with the previous month.
WATCH: I'm not pure any more – Chinese woman tells all about working as a bar hostess in Japan
The biggest nights at the clubs are birthdays, not of the clientele, but of the hosts. Women frequently spend eye-watering sums on 'champagne towers' (pyramids of glasses theatrically filled with bubbly) of Dom Perignon or bottles of premium cognac for the birthday boy. A bottle of Dom Perignon Rose goes for 250,000 yen at Shangrila, Dom Perignon Gold for a cool 1 million yen and a bottle of Louis XIII de Remy Martin double that.
"One lady spent 4 million yen on a champagne tower on my birthday one year," recalls Hiro Kousaki, 30, the current No 2 host at Shangrila.
For the most part, hosts are reluctant to discuss their earnings, but Kousaki says he made 8 million yen

[HK$550,000] during his birthday month.
But maintaining a perfect appearance doesn't come cheap. Kousaki says he spends 100,000 yen a month on hair and make-up alone, while Ryohey Onizuka,、32, the boss at Shangrila, reluctantly admits to spending as much as 1 million yen a month on his appearance, including on his clothes.
Hosting also takes a physical and psychological toll.
"There are times when you get too drunk or your stomach is bloated, so you go to the toilet and throw up so that you can carry on. If you've drunk too much you have to make yourself sick quickly before the alcohol gets into your bloodstream," explains Kousaki.
"On a regular night, you drink about 10 bottles of beer. In my first year, I put on 20kg and had to start exercising hard to keep in shape."
In addition to excessive drinking, many hosts become heavy gamblers or compulsive shoppers, according to Tachibana, the manager, who has been in the business for 24 years. But the allure of huge rewards is enough for some to make a career as a host, though one that rarely lasts more than a dozen years. Stories abound of women buying expensive presents for their favoured host, including cars and even apartments.
Onizuka says the most he has seen spent in one night was 30 million yen by the daughter of a wealthy landowning family. Customers range from businesswomen to housewives to shop assistants who splurge monthly on pay day.
But around 60 per cent of the regulars at Shangrila are from one industry: Japan's huge sex trade. The hosts don't, though, talk to the women about their work because they come to forget their daily grind.
"They get mentally tired and stressed from that kind of work. And regular guys often look down on them if they find out what they do," says Onizuka. "But hosts are part of that world so we don't judge them."
Although most of the women come just to blow off steam, that stress can manifest itself in bizarre ways.
"About 15 years ago, there was a customer who used to spend a lot of money at the club. One night she offered me 300,000 yen to eat fried noodles that she had chewed and then spat out into the high heels she was wearing," recalls the manager Tachibana. "I ate it. I couldn't do it now, but I was young and wanted the money.
"Working in the sex trade, she had to do whatever customers told her to all day. She came for stress relief and to use the money she earned to make someone do what she said," says Tachibana.
Another dark side of the industry are reports of young women who unknowingly run up huge bills at a club and are then 'introduced' to jobs in the sex trade to pay them off. Earlier this year, a 20-year-old woman was pressured to work in a brothel to pay off an 800,000 yen bill from her first visit to a host club in the Tokyo area.
The number of such incidents appears to be on the decline, but it still happens, according to Aiki Segawa, an advocate at Lighthouse, a human-trafficking NGO that helped the victim.
According to Tachibana, the industry is far cleaner than it was, with very few clubs running scams, restrictions on opening hours, regular police checks, much less yakuza gangster involvement behind the scenes and different kinds of hosts.
"When I started nearly all of the senior hosts had previously been in bosozoku motorbike gangs or came from yakuza families," he says.
"Now it's different, a lot of regular young guys now host, including many university students who work part time."
Miyu, a strikingly attractive 23-year-old who says she works "in the entertainment business", has been coming to host clubs since she was 18. She comes to Shangrila seven or eight times a month, spending an average of 45,000 yen each time.
"I can forget about my job for a few hours here and go back to work tomorrow refreshed. The hosts listen to what I have to say and can give me straightforward advice about my problems because they don't really know me. Overall, it's a plus in my life," she says.
She has no interest in dating the hosts, as some women do, and says she "enjoys spending money to support the guys I like so that they don't fall down the rankings". "The relationship and roles are clear and I'm in the position of power," she adds.
Not all customers are able to view the game so clearly.
"Those who understand that we are hosts and what we do are more fun to spend time with.
"But if they see us as an individual, want to meet us outside work and start to get feelings for us, then it gets difficult," says Kousaki, the No 2 host, who does nevertheless go on 'dates' with customers.
But for all the money spent, compliments given and champagne drunk, Kousaki concedes that hosts are unlikely to truly make any woman's dreams come true.
"I don't think we truly satisfy them, but we fill a hole in their heart." ■