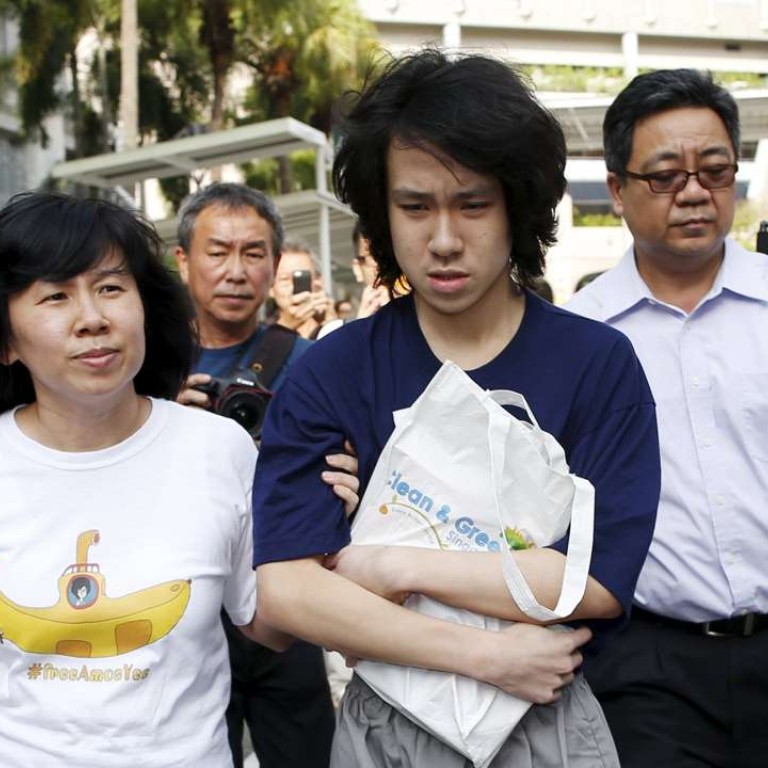 Exclusive
Teenage Singaporean blogger Amos Yee detained in US while seeking asylum
Amos Yee has been jailed twice in Singapore for posts denigrating religion
Amos Yee, the teenage Singaporean blogger jailed twice for posts denigrating religion and the country's late founding leader Lee Kuan Yew, has been detained in the United States while trying to seek political asylum.
Melissa Chen, a US-based Singaporean civil activist involved in Yee's asylum bid told This Week in Asia that Yee, 18, had been detained after landing at Chicago's O'Hare Airport on December 16.
Chen said Yee was being detained at McHenry County Jail near Chicago and that she last spoke with him by video link late on Thursday.
She said Yee had entered the US with a tourist visa, but was detained following a secondary screening in which he told border control officers he was seeking asylum.
Yee's mother, Mary Toh, said she had been told of his detention by a US-based legal team who Yee had approached.
Activist Chen said Yee had first contacted her about an asylum bid earlier this year.
Phil Robertson, the Asia deputy director of the New York-based Human Rights Watch, said the group had also been made aware of Yee's detention.
WATCH: Singapore teen blogger sent for mental re-evaluation
"US authorities should recognise that Singapore has engaged in a sustained pattern of harassment and abuse of Amos because of his political views, especially his regular denunciations of the country's leader and violations of the ruling [People's Action Party's] restrictions on public expression," Robertson said.
Yee was sentenced to a six-week jail term in September after pleading guilty to six charges of deliberately making social media posts that denigrated Christianity and Islam.
It was Yee's second prison sentence in the space of 12 months.
Yee, who has a sizeable following on Facebook and Twitter, served a four-week jail term last year for wounding religious feelings in an expletive-laden YouTube video comparing the late Lee to Jesus.
He was also found guilty of circulating an obscene cartoon he had drawn featuring Lee – who died in March last year – and former British prime minister Margaret Thatcher.
Singaporean political analysts said Yee's detention was unlikely to affect bilateral relations between the US and Singapore.
"I don't see any effect on US-Singapore relations since it is a one off case and the US government tends to deal with political asylum cases case-by-case," said Chong Ja Ian, a political scientist at the National University of Singapore.
And P.N Balji, the former editor of Singapore's Today newspaper, said: "Singapore is unlikely to want to sensationalise this case or protest this move. Amos Yee is not a wanted man in Singapore and has paid the price for his acts…if he wants to live in the US and he is granted asylum, that is his human right."
There is a precedence of high-profile Singaporean dissidents seeking asylum in the West. One such individual was Francis Seow, a former solicitor general turned government critic. He fled the country in 1988 and successfully sought political asylum in the US. He was later charged in absentia in Singapore with tax evasion.
Rights groups say Yee's convictions showcase Singapore's draconian use of laws to curb dissent.
In an interview with Time magazine last year, Prime Minister Lee Hsien Loong said freedom of expression in the affluent Southeast Asian city state came with limits.
"In our society, which is multiracial and multi-religious, giving offence to another religious or ethnic group, race, language or religion, is always a very serious matter. In this case, he's a [teenager], so you have to deal with it appropriately because he's [young]," Lee said.
US authorities were not immediately available for comment.
This article appeared in the South China Morning Post print edition as: Blogger detained in US was seeking political asylum