Taiwan
Get more with myNEWS
A personalised news feed of stories that matter to you
Learn more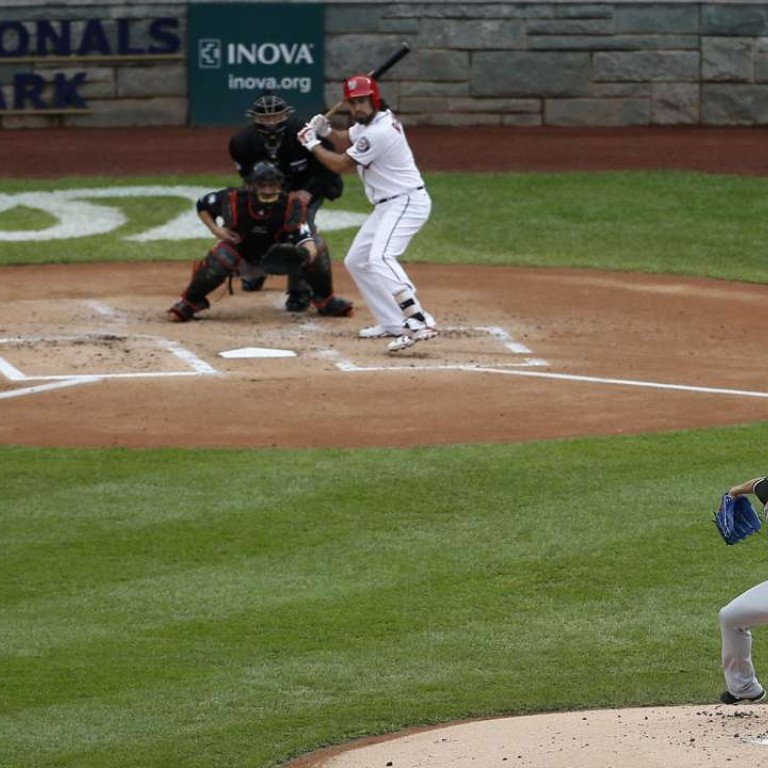 How baseball became a hit again in Taiwan
As the Major League Baseball season in the United States begins, Taiwanese fans are falling back in love with the nearest thing they have to a national sport
As superstar players from around the world step up to the plate this weekend for the start of the 117th Major League Baseball (MLB) season in the United States, a far smaller league is already in full swing in Taiwan, an island falling back in love with the nearest thing it has to a national sport.
A sold-out crowd of 12,500 fans crammed into the Xinzhuang Baseball Stadium in New Taipei City last Saturday to watch the opening game in the 28th season of the four-team Chinese Professional Baseball League (CPBL), which pitted the island's most popular team, the Chinatrust Brothers, against its newest, the Fubon Guardians. Wet, chilly conditions did little to dampen the enthusiasm of the fans who remained in full voice throughout the 8-5 Guardians victory. And nearly 10,000 fans turned up the following night in Taichung to watch the home team Brothers fall 13-4 to the Uni-President 7-Eleven Lions of Tainan City.
"Baseball is a very magical sport in Taiwan," said Sarah Chen, a long-time Brothers supporter whose enthusiasm wasn't dented by her team's defeat. "I will keep supporting the Brothers because they have a long history and the team is like family to me."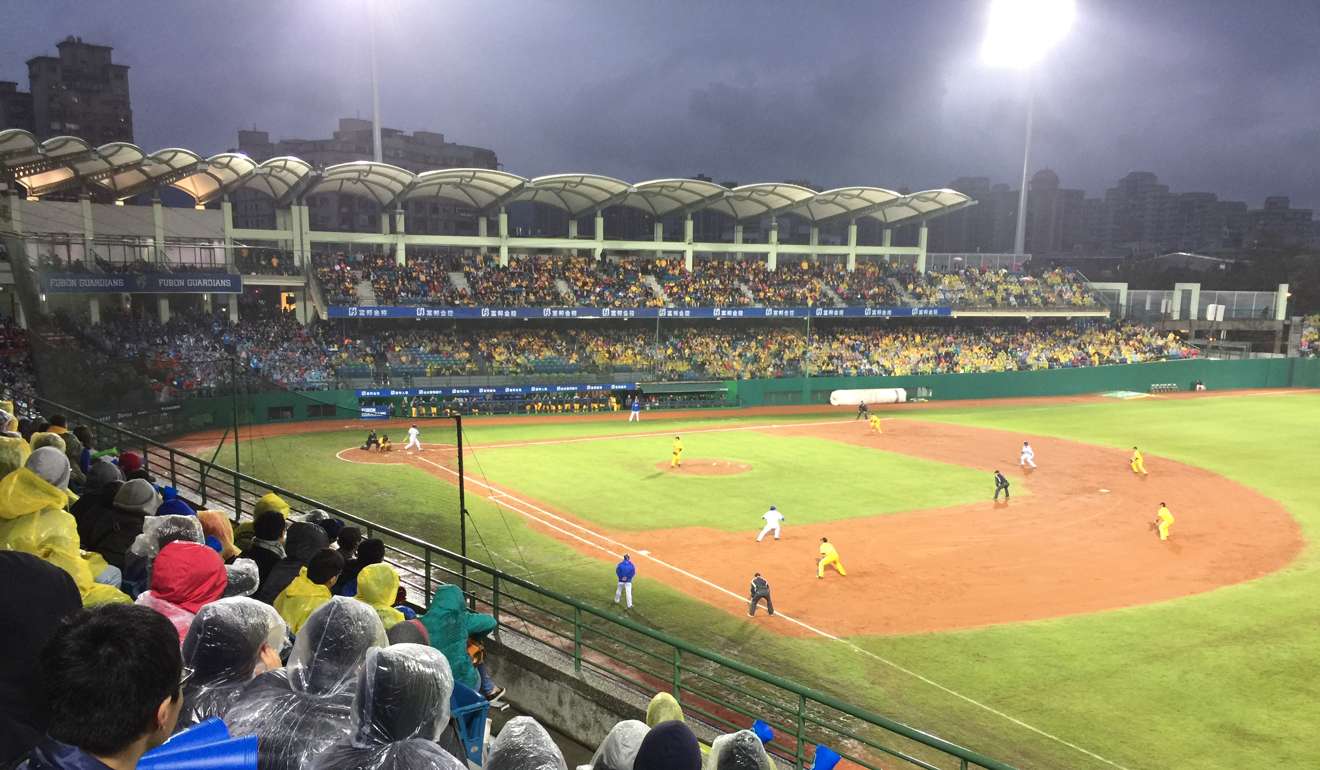 First introduced to Taiwan more than 100 years ago by Japanese occupiers, baseball has become so ingrained in the island's culture that it is even depicted on the NT$500 (HK$128) note. It has played a key part in projecting a shared sense of identity for the self-governed island, which Beijing views as a wayward province to be brought under its control by force if necessary. Indeed, the sport's popularity has sometimes appeared to ebb and flow along with the island's political ambitions; its current upswing coincides with the rise in popularity of the independence-leaning Democratic Progressive Party, whose leader Tsai Ing-wen became president last year.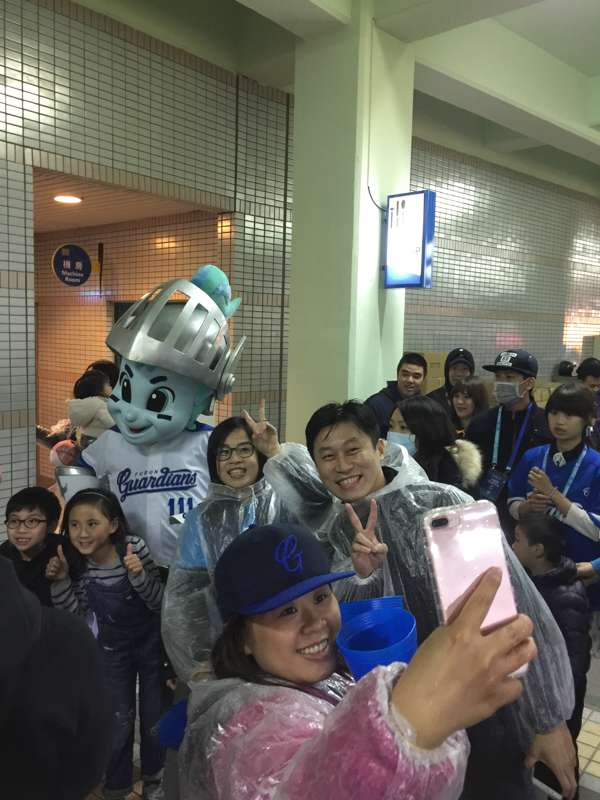 In previous decades, baseball has given Taiwan the opportunity to shine on the world stage despite its international isolation, giving much needed boosts to its soft power and image abroad. To the delight of Taiwanese across the world, the island's youth teams won the US-based Little League World Series 17 times from 1969-1996, while Taiwan defeated Japan en route to a silver medal at the 1992 Olympics in Barcelona.
Meanwhile, Taiwanese baseball players – and in particular pitchers – have distinguished themselves in foreign leagues. Kuo Tai-yuan won more than 100 games in Japan for the Seibu Lions in the 1980s and 1990s. In the US, Wang Chien-ming was a key rotation member for the New York Yankees, winning a World Series in 2009, and Chen Wei-yin inked a US$80 million contract with the Miami Marlins last year.
But if Taiwan has projected power in overseas baseball, it nearly struck out at home following a series of match-fixing scandals that left its professional league in tatters. In August 1996, gangsters kidnapped players from the Brother Elephants, now known as the Chinatrust Brothers, after losing a US$125,000 wager on one of their games. A year later, several players were banned for throwing games and a team was disbanded. Confidence in the league ebbed to its lowest in 1999 when Hsu Sheng-ming, celebrated player and then-manager of the Weichuan Dragons, was stabbed after dropping his daughter off at school.
Attendance bottomed out later that year in October, when two games played on the same day attracted less than 300 fans.
WATCH: Japanese volunteers bring baseball to Senegal
"Taiwan baseball was in a bad place," said Brandon DuBreuil, co-founder of CPBL English, a website that provides insight and analysis on the league. "The country felt cheated and it had a right to feel cheated."
Betting schemes and financial mismanagement continued in the early 2000s, keeping leery fans away from the ballparks. Attendance averaged 2,750 people per game in the 15-year span from 1997-2011.
No longer satisfied with watching Taiwanese teams and players compete abroad, the fans appear willing to put the past behind them and are starting to take a chance again on the CPBL. Attendance has topped 5,000 people per game in each of the past four seasons.
"Taiwan is a really small [place], so baseball is everything," said Allen Chen, who grew up in Taipei but lives in Boston. "And we prefer local baseball because we can use a common language, so it's easier to follow."
The turning point came in 2013 when Taiwan hosted six first-round games in the World Baseball Classic and squared off against Japan in a thrilling, second-round encounter watched by almost one in three households.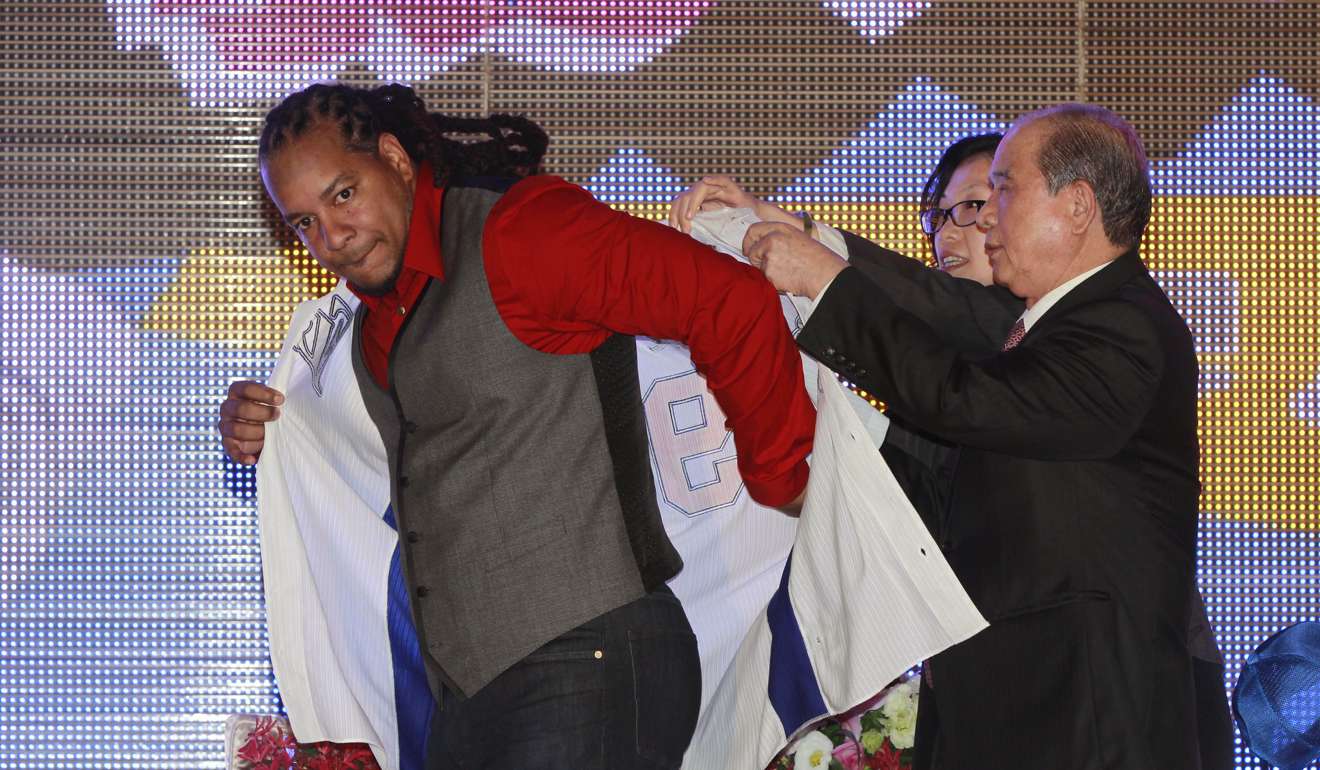 That same year, perennial MLB all-star Manny Ramirez tried to revive the tail-end of his career in a short-stint with the EDA Rhinos, who have since become the Guardians after being acquired by Fubon Financial last November. Ramirez brought unprecedented name-recognition to the CPBL and charmed fans with both exceptional performances and fun-loving antics like imitating Michael Jackson's moonwalk after losing his balance swinging for the ball.
Another factor powering the upswing in the CPBL is the rise in player wages. Average monthly salaries jumped nearly 20 per cent in 2016 from the previous year to around NT$250,000, according to local media reports. Higher salaries raise the standard in the league and ensure players can focus on improving their performance without needing to take additional jobs.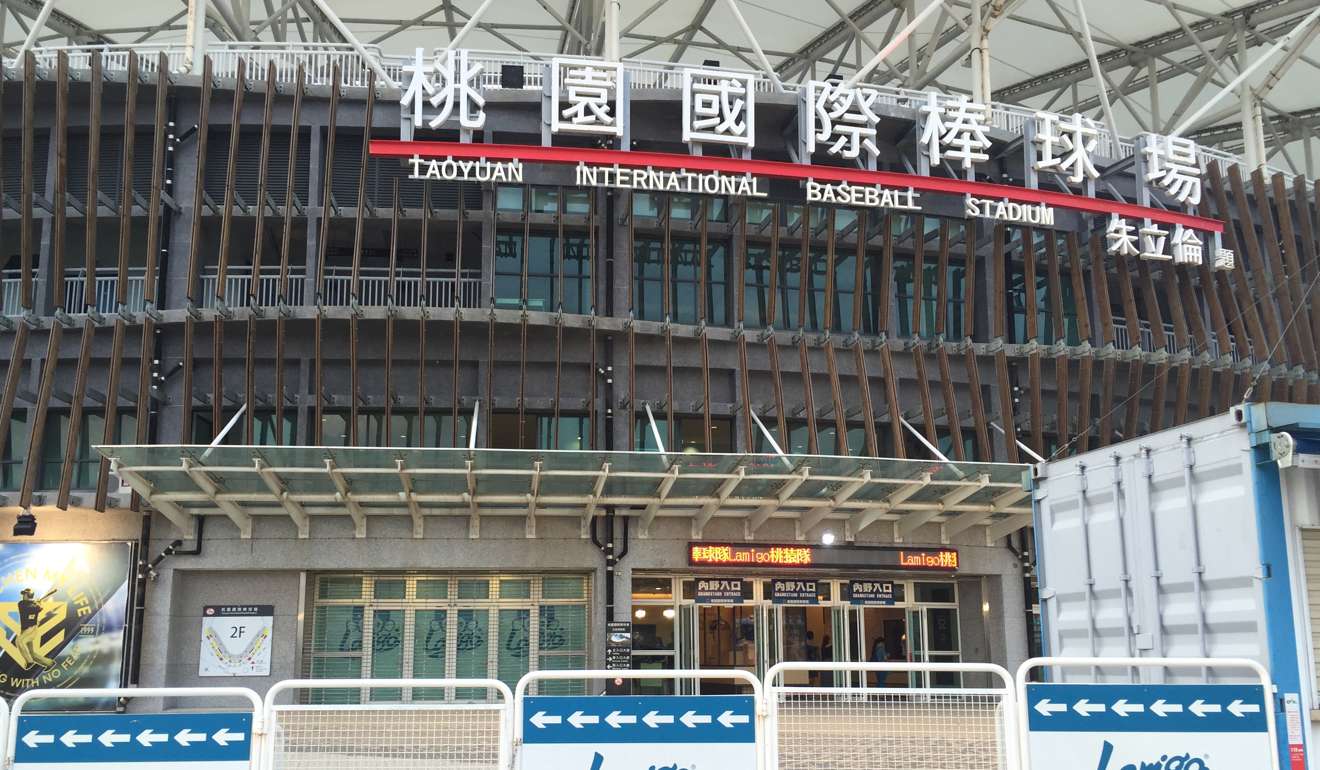 Even so, up-and-coming players may still only see the CPBL as a stepping-stone to other leagues where the riches are even greater. In 2016, players not including foreigners earned the equivalent of NT$5 million in the Korea Baseball Organisation and NT$10 million in Japan's Nippon Professional Baseball, according to industry reports. The average annual salary in MLB was US$4.4 million (NT$132 million).
RAISING THEIR GAME
CPBL teams have also invested in improving the experience of fans. Female cheerleading squads, announcer-led chants for each player, noise crews banging away on drums and mascots posing for photo opportunities ensure that there are no dull moments at the ballpark. Entertainment icon Wang Leehom added his star power this year, throwing out the ceremonial first pitch at the Guardians' opening game.
"This is a big change and something that the CPBL has really worked on," said Steve Liu, an applied technology student at National Taiwan Normal University. "It makes the fans happy and want to get to the field and watch a game."
The Lamigo Monkeys, who play in Taoyuan City, near the airport that services Taipei, has made an extra effort not only to entertain its fans but educate them, too. The team carved out space in its stadium to display memorabilia and key milestones in the career of Chen Chin-feng, the first Taiwanese to play in a MLB game.
DuBreuil attends a few Monkeys games each month as part of his work with CPBL English, which is now fully accredited by the league. He believes the game atmosphere in the CPBL has made significant strides from when he first arrived in Taiwan a decade ago and now even exceeds that of typical MLB games.
WATCH: Chinese baseball players vie for spot in Major League Baseball
"In the US, you go to a game specifically to watch the game itself, but here in Taiwan, and especially with Lamigo, they have geared the entire experience towards the fans," he said. "There are a lot of things that MLB could learn from the stadium experience here."
There are other differences, too. Tickets cost on average US$20-50 for an MLB game, depending on the team, but go only as high as NT$500 (US$16) in Taiwan, according to CPBL data. Meanwhile, concessions at a CPBL game go beyond typical ballpark food such as sausages, chicken strips and mozzarella sticks to include traditional Taiwanese snacks like pig's blood cakes, grilled octopus and fried dumplings.
One area where Taiwan's baseball teams are hoping to more closely align with their overseas counterparts is in merchandise sales and creating an iconic style that appeals to hardcore and casual fans alike.
"Before you would never see anyone wear Taiwan baseball gear because it would be too embarrassing," said Stark Chen, a visual designer at Plugin, the company that designed the logo and uniform for the Fubon Guardians and also led a redesign in 2015 for the Brothers. "That's changing now."
Signs of a turnaround have the CPBL dreaming of bigger things. A forum led by commissioner John Wu in 2015 discussed the possibility of expanding the league to six teams and locating a team in Taipei City, according to the World Baseball Softball Confederation.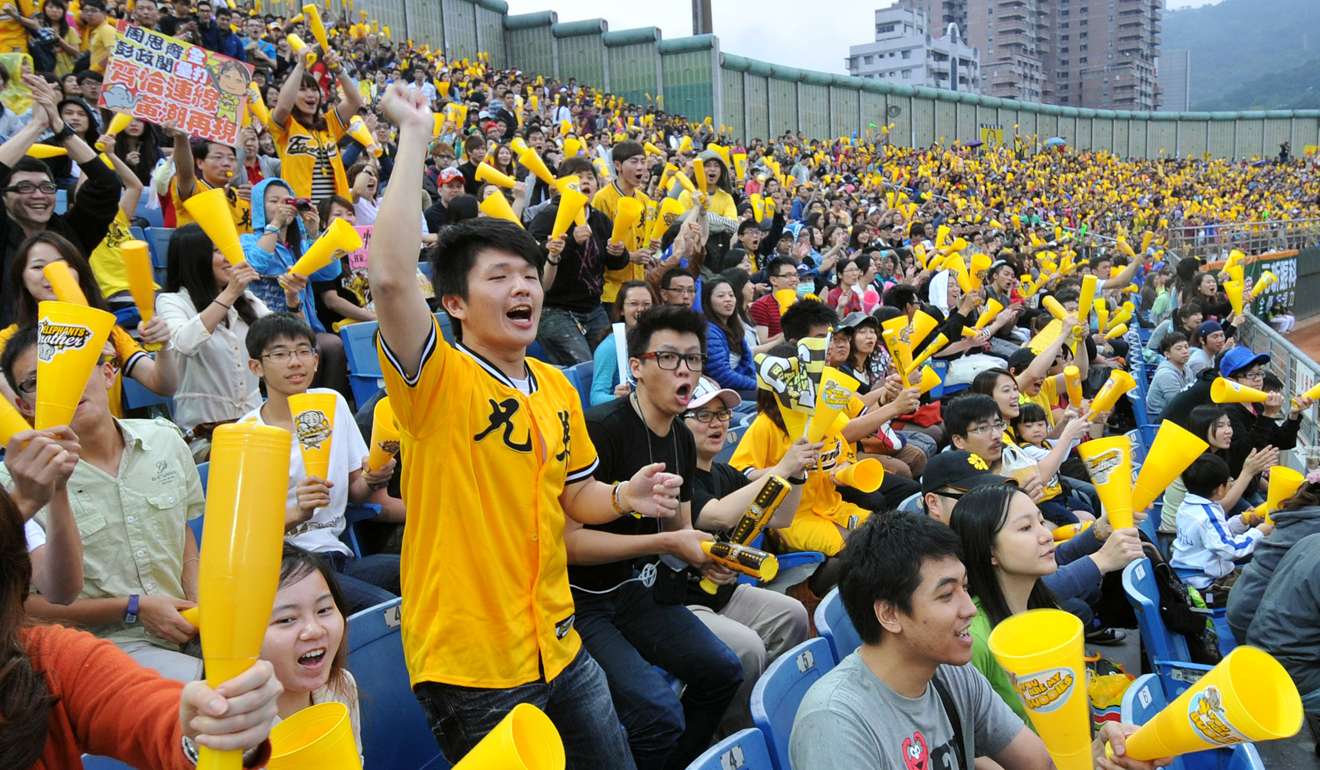 Before taking the next step, the CPBL may need first to upgrade its stadium infrastructure. Only the Lamigo Monkeys play all of their home games in a single stadium. The other three teams split time between nine different sites, leading to a fragmented fan base. The 40,000-seat capacity Taipei Dome now under construction could provide a team with a permanent home in the island's capital when it is finished, but the project remains mired in delays.
Taiwan's baseball players will also need to up their game to ensure the CPBL remains worth watching. Despite its storied history with baseball, the island has never moved beyond the second-round in the World Baseball Classic event, while Japan has won the tournament twice and South Korea once finished second. Taiwan lost all three of its games this year in the fourth instalment of the 16-team international tournament held every four years.
And needless to say, any signs of foul play or cheating must be stamped out without hesitation. Down to just four teams, the league would be devastated by another major scandal.
But last Saturday night at Xinzhuang Baseball Stadium, fans were not worrying about the future. Instead, they were on the edge of their seats after Brothers pinch-hitter Tseng Tao-jung smashed a three-run home run in the ninth inning through pouring rain to left-centre field, shrinking the Guardians lead and adding a dose of drama to a once one-sided game. The Brothers failed to close the gap further, but before leaving the field, the team's players lined up and bowed to their visiting fans to thank them for their loyal support. Just like the CPBL, they will live to fight another day. ■