For the past 20 years, Poch Naht has parked his tuk-tuk in the same spot on Phnom Penh's bustling Sothearos Boulevard. He spends his days waiting to take passengers around the city, earning between US$5-US$10 a day, which he uses to support his wife and three children. "You can say it's difficult," Naht said of his work. "Some days you get some money, some days you do not."
In recent years, as Cambodia has emerged from economic obscurity and Phnom Penh has made progress towards becoming a world class, metropolitan city, work has been increasingly hard to come by for drivers like Naht. "Now, the income is less because there are so many tuk-tuks," he says, his eyes hidden behind black sunglasses.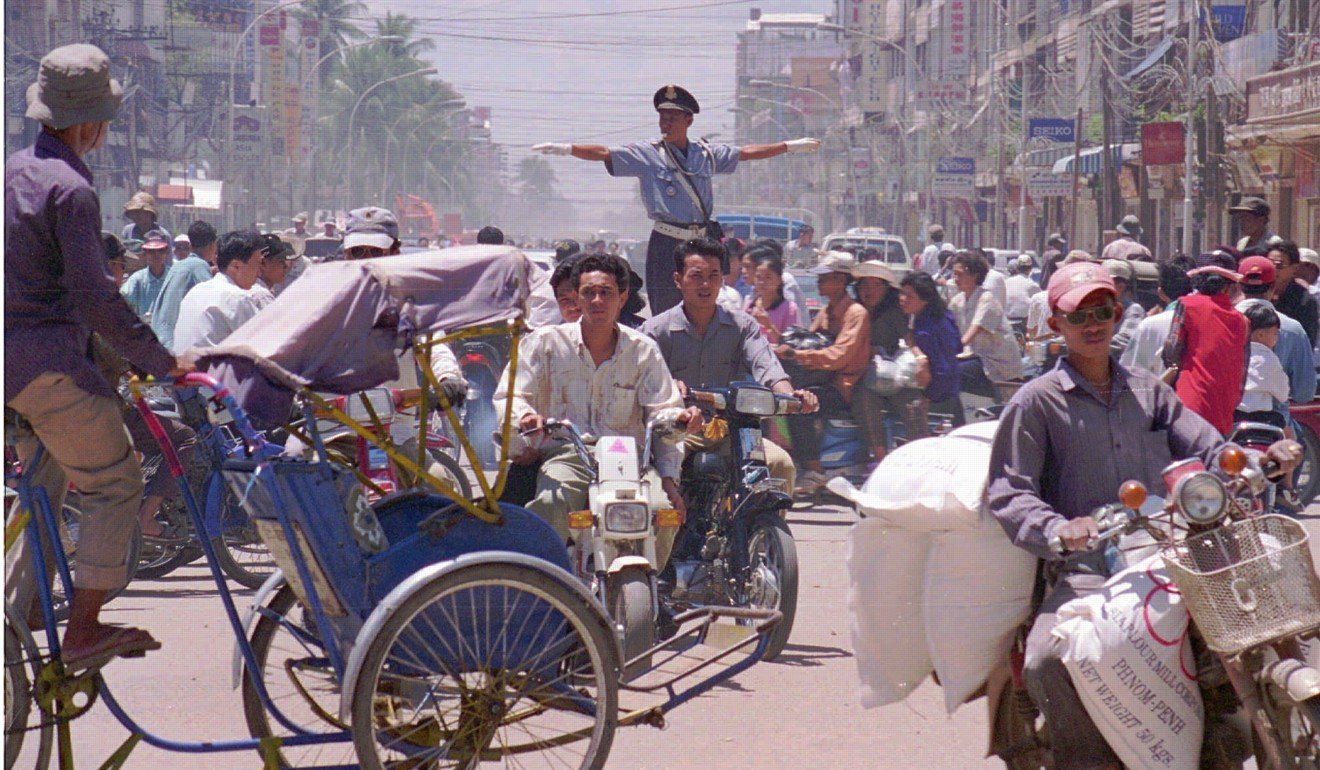 Cambodia's capital is expanding at breakneck pace, with construction investment doubling between 2015 and 2016 and skyscrapers popping up throughout the city centre. Tourists, who for many years largely avoided Cambodia in favour of its more developed neighbours like Thailand, are arriving in droves, with arrivals growing roughly 850 per cent between 2001 and 2016.
Tuk-tuks, two-wheeled carriages pulled by motorbikes that can fit anywhere from two people to entire families, are a ubiquitous sight throughout Cambodia. While the official name is remorque, or "trailer" in French, they are colloquially known as tuk-tuks, paying homage to their Thai counterparts.
In hubs like Phnom Penh and Siem Reap, the home of the famed Angkor Wat temple complex, drivers at nearly every street corner in the capital can be seen soliciting passengers, sometimes to the consternation of tourists. According to the Independent Democracy of Informal Economy Association (IDEA), the largest tuk-tuk union in Cambodia, there are approximately 6,000 drivers in Siem Reap and 10,000 in Phnom Penh.
"I do not know what to do because the business is like this," said Houn Nithon, a 40-year-old driver, in reference to the crowding of drivers in tourist-heavy areas. "They work, I work, it's just the market. Before I could make US$20 to US$30 and now it's cut down to 50,000 riel (US$12.30), 40,000, even 20,000."
Shinier, and more modern, three-wheeled rickshaws have entered the city on the back of apps like CamGo, which allow users to hail drivers much like Uber, Grab or Lyft. Though there is rarely a shortage of tuk-tuks to be found, the three-wheeled rickshaws are often cheaper for passengers and eliminate the need for potentially frustrating haggling.
They are also cheaper for the drivers themselves. Locally made tuk-tuk carriages – crafted from metal, wood and fabric – cost roughly US$900, with the motorbike needed to pull them generally running anywhere from US$2,000 down to several hundred dollars for a beat-up, secondhand Daelim or Honda Super Cub. But the new models, which are already popular in places like India, only cost about US$2,500 new and run on liquefied petroleum gas, which costs just a fraction of the price of normal fuel to operate.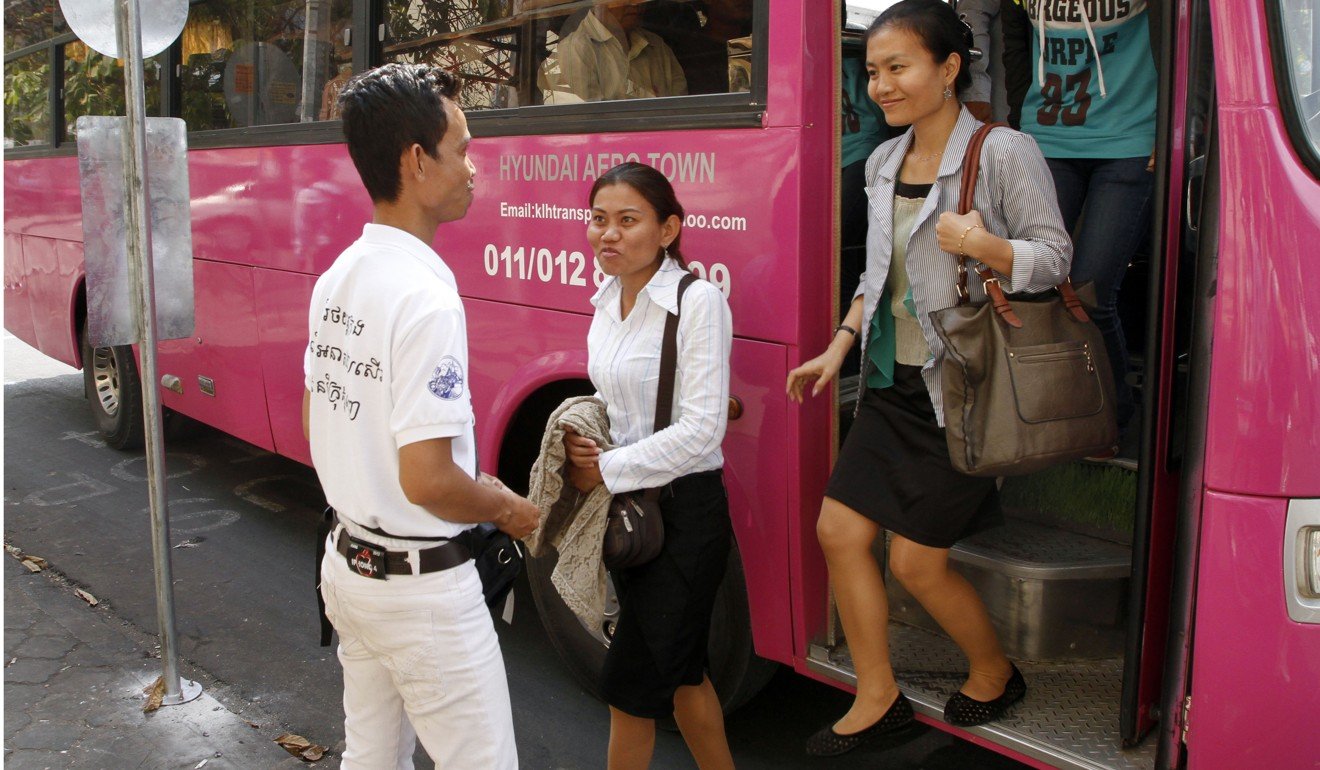 The Cambodian government has also been making efforts in recent years to bolster public transport in the capital, installing a bus system and raising the idea of installing a light rail train system.
While the bus system has yet to gain widespread popularity, it points to the government's supposed efforts to phase out tuk-tuks, which are unwieldy and can clog up traffic in the already-congested capital.
Vorn Pao, president of IDEA, said that the Cambodian government had made plans in 2010 to ban tuk-tuks from five populated districts in Phnom Penh to ease congestion. But, Pao said, his organisation made a formal complaint to the government, which kept the areas open for business.
Pao said a ban on tuk-tuks might not necessarily spell ruin for the drivers, as they could make the transition to driving traditional taxis.
In the meantime, IDEA is running programmes to help tuk-tuk drivers improve their English, master the rules of the road (which are often neglected in Cambodia) and learn better business practices.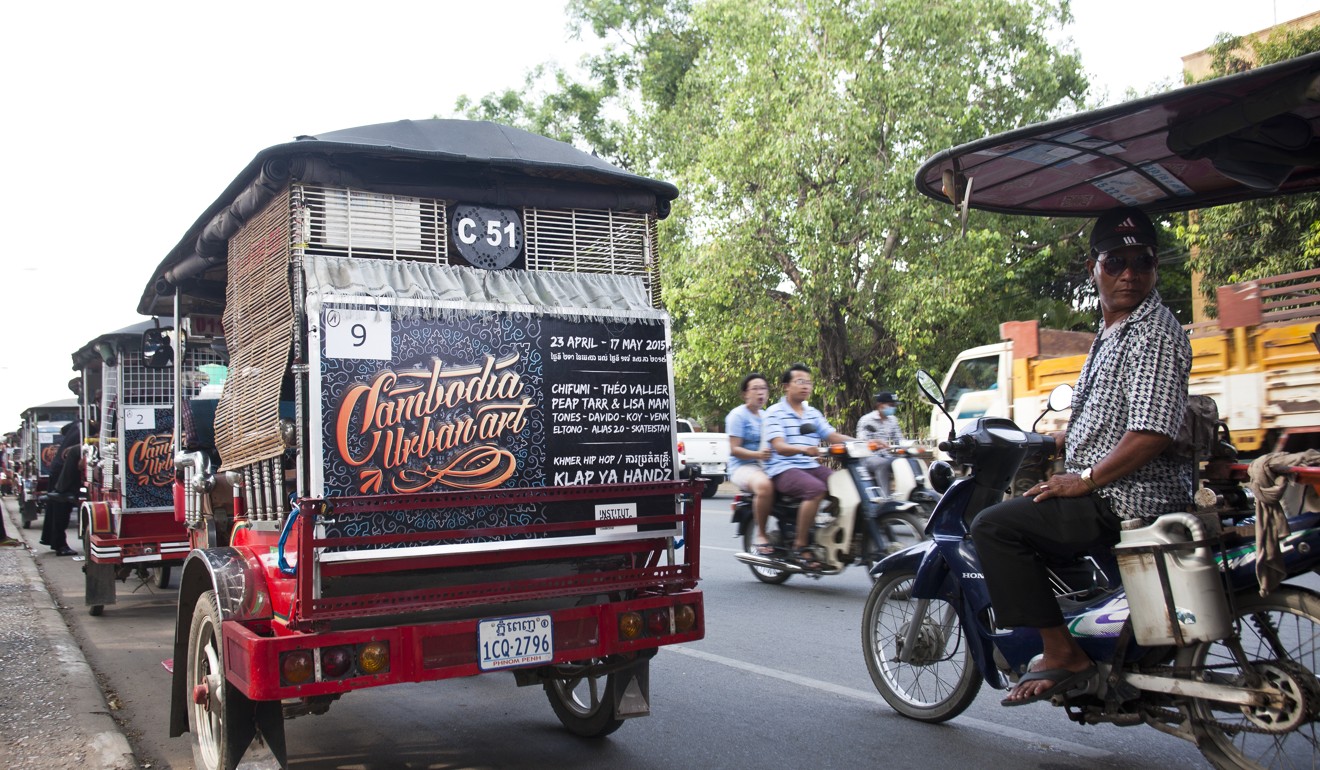 However, he said a ban could still be in the works. "It's true, there will be closings in the future," he said. "However, we will negotiate with the government which areas tuk-tuks can operate in. And we hope that the government will listen and will observe the benefit of the tuk-tuk drivers, so they can earn for their family and for themselves."
Though many of the drivers that spoke to This Week in Asia seemed to portray relaxed attitudes about any economic anxieties that might be coming their way, they said it was incredibly difficult to make a living as a driver and that the situation is only worsening.
Yum Ni, a 44-year-old driver, said that he typically works from 6am until 7pm to help support his wife and four children. Ni said he had considered other options, as the tuk-tuk market had become increasingly saturated. "I've been thinking of changing to the metre [three-wheel] taxi," he said, sitting near Phnom Penh's riverside, where he has been based for three years. "It has more customers because it is more popular. They give you the customers." Ni said that if the government were to go through with plans to install a light rail train, he might switch jobs altogether.
For drivers like Ni, economic uncertainty is a hard price to pay as Cambodia continues its zealous drive towards development. "This job, as time goes on, it dissipates," he said. "I can't make as much anymore as the country advances." ■
Additional reporting by Kimchean Koy