Chen Yan is not an ideal guest for most hotels in China. Instead of being welcomed by receptionists, she is often stopped at the front door. Her latest rejection came when she travelled to the southern Chinese city of Wenchang for business last week. The problem? Chen, a piano tuner, is blind: she wanted to check in with her guide dog.
"I told the hotel Jenny is a certified service dog, but they said no dogs were allowed in their hotel," Chen recalls. Their exchange of words went on for some time and it was only when Chen called the local tourism industry association for help that the hotel relented and allowed her companion a room.
It was not the first time Chen had argued with someone over Jenny, a 9-year-old black Labrador retriever, and it will probably not be the last. By law, registered guide dogs have been allowed in public areas since China amended the Law on the Protection of the Disabled Persons in 2008. But every visually impaired Chinese This Week in Asia spoke to had been the target of discrimination because of their dog in one way or another. Some had been prevented from seeing a doctor by Chinese hospitals citing "hygiene issues" related to their furry best friends; others had been turned down by restaurants.
Across the nation, "it is not rare to see guide dogs remaining unwelcome in public places", says Liang Jia, who works at China's main guide dog training centre in the coastal city of Dalian.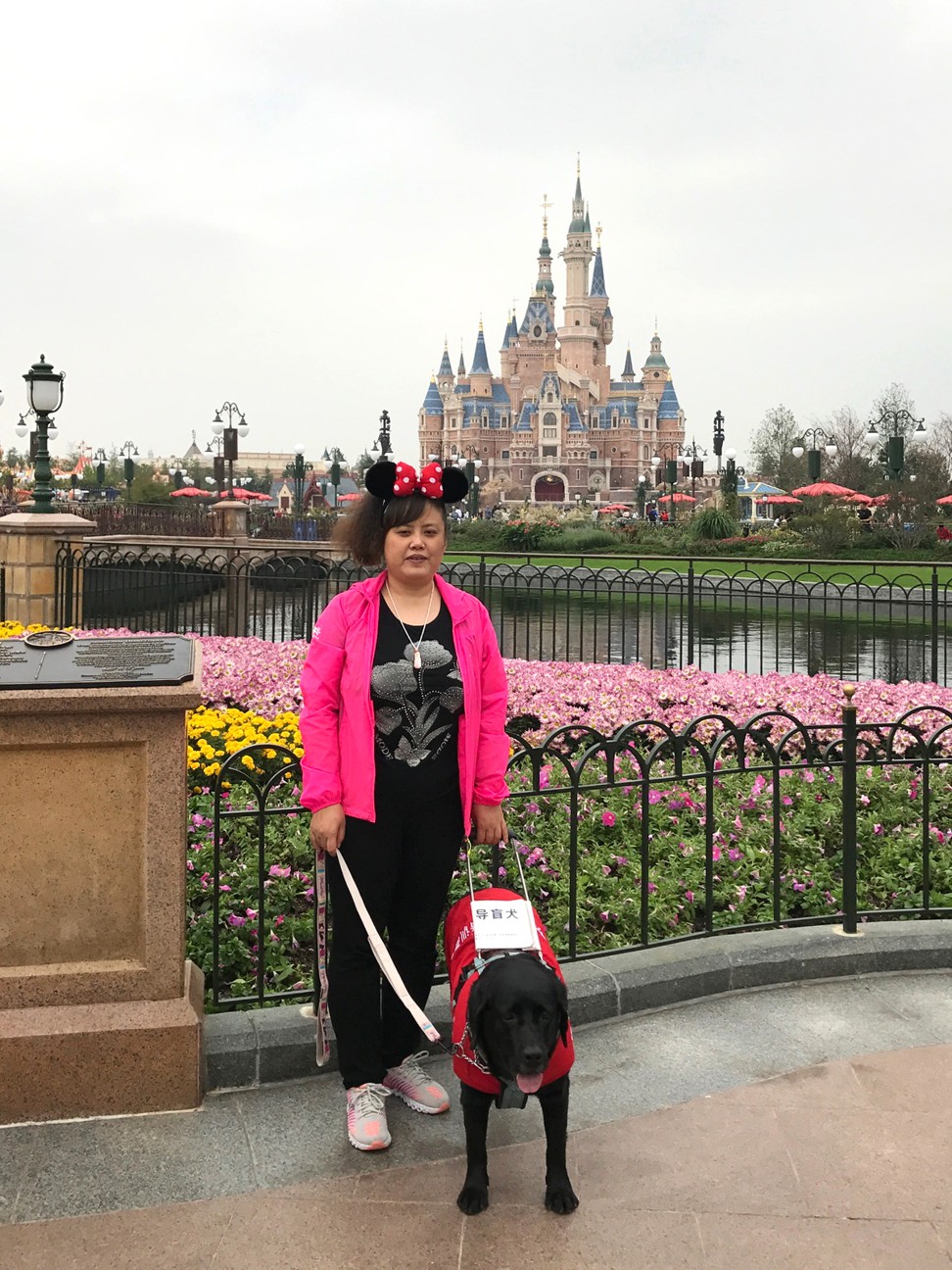 The public's reluctance to accept service dogs underscores China's mixed record at improving the lives of its disabled citizens.
The country has made some strides. Most sidewalks in major cities have textured strips on the pavement to help guide visually impaired people and community support networks are being forged nationwide. But disabled people still face discrimination in education and employment. A survey this year by the non-profit organisation Inclusion China found that of 2,140 respondents across the country, about 27 per cent of them had been told by Chinese schools to drop out because of their disability. In addition, many cities have yet to become fully accessible to those with disabilities.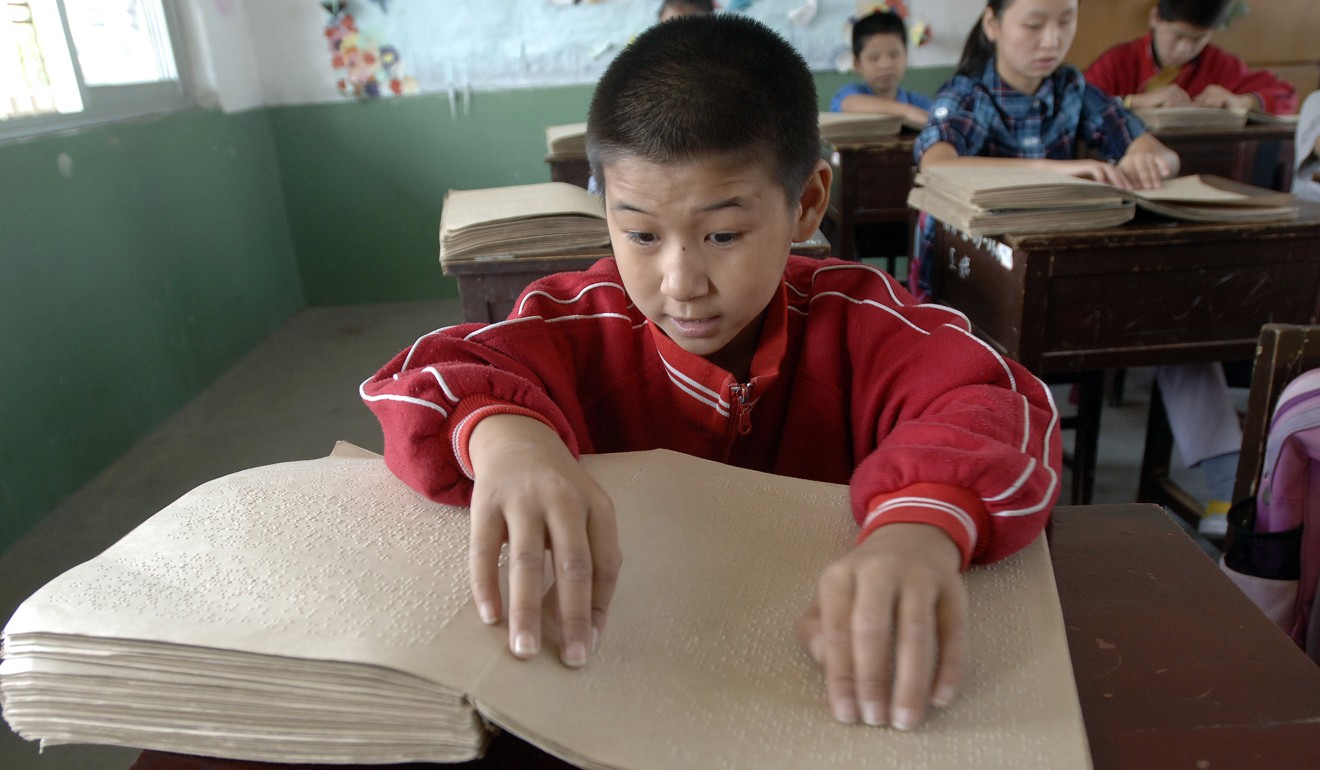 The problem is particularly acute for China's blind. Statistics from the World Health Organisation estimate the country is home to the largest number of blind people in the world – about five million. But there are fewer than 200 guide dogs across China, according to Liang, whose Dalian China Guide Dog Training Centre graduates about 20 canines each year. Trainers say the country's complicated road conditions and high costs of training a guide dog – about US$30,000 – contribute to the low numbers.
For every one of those lucky enough to receive a guide dog, there are thousands on the Dalian centre's waiting list. Yet even for them, having such a companion creates a new kind of discrimination. In November, a blind saleswoman in Beijing spent seven hours trying to convince subway staff to allow her guide dog on board, Guangzhou newspaper Southern Weekly reported. The same month, Zhou Yunpeng, a blind singer who was scheduled to perform in Hangzhou, struggled to find accommodation as hotels refused to cater to his guide dog (Zhou later resolved the problem by booking through a home-sharing platform).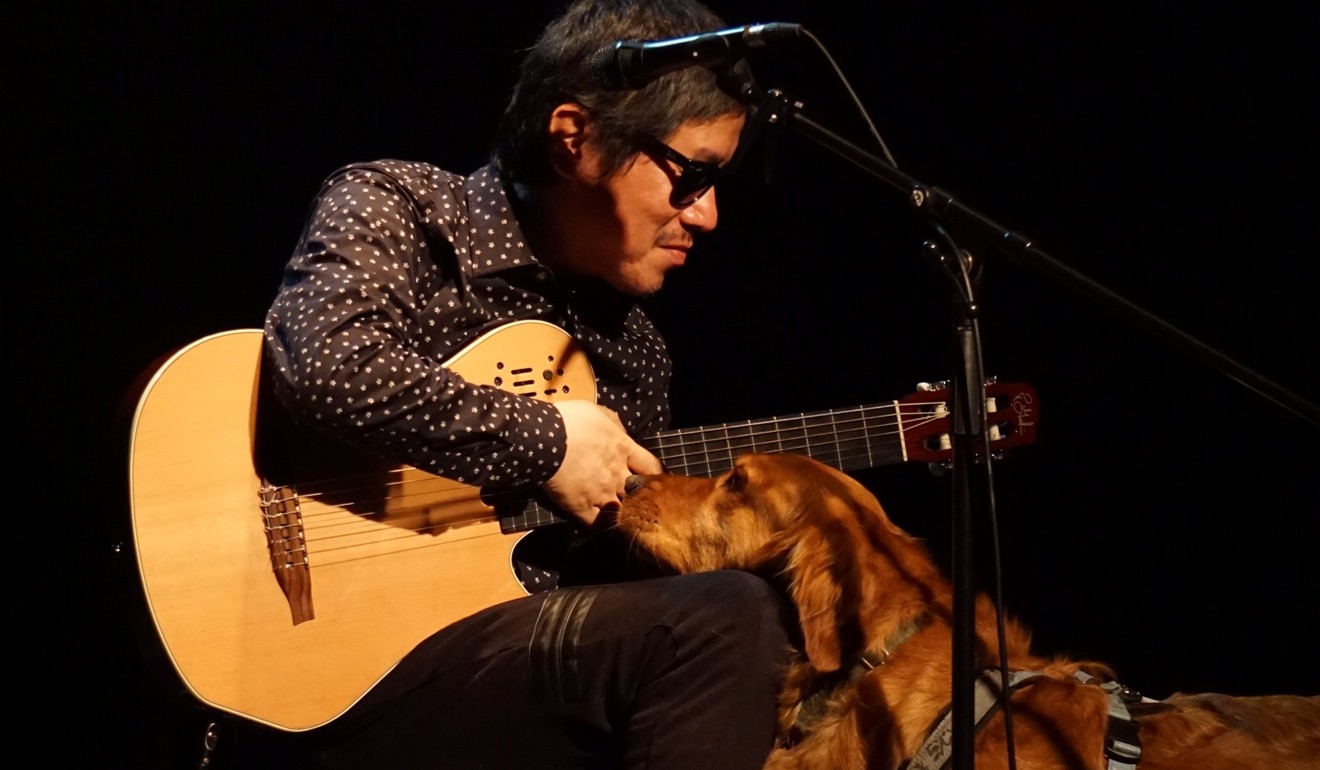 Those barriers have prevented some visually impaired Chinese from leaving home. Wang Jianjun lost her sight 40 years ago after being injured in an earthquake and has rarely left her hometown of Dalian since. The retired factory worker, 62, dreams about touring the country but does not dare to.
"What if hotels would not allow Bei Bei to stay there?" she says, referring to her golden retriever. "Guide dogs are supposed to help blind people like me have a better life, but sometimes, I feel they have actually become a burden as it is so difficult to go out with the dog."
She once walked two hours to get home because taxi drivers and city buses in Dalian refused to allow Bei Bei to accompany her.
Disability advocates blame vague wording in the regulations for the trouble. In principle, the Chinese government has granted guide dogs access to public areas, but a lack of detailed rules on where exactly they can go, and under which conditions, has left room for different interpretations.
On top of that is an issue of public awareness. Unlike Western countries where service dog training centres mushroomed after the first world war as part of efforts to empower disabled soldiers, China's first training centre was not established until 2006. "Some Chinese have never heard of guide dogs, let alone understand their importance to blind people," Liang says.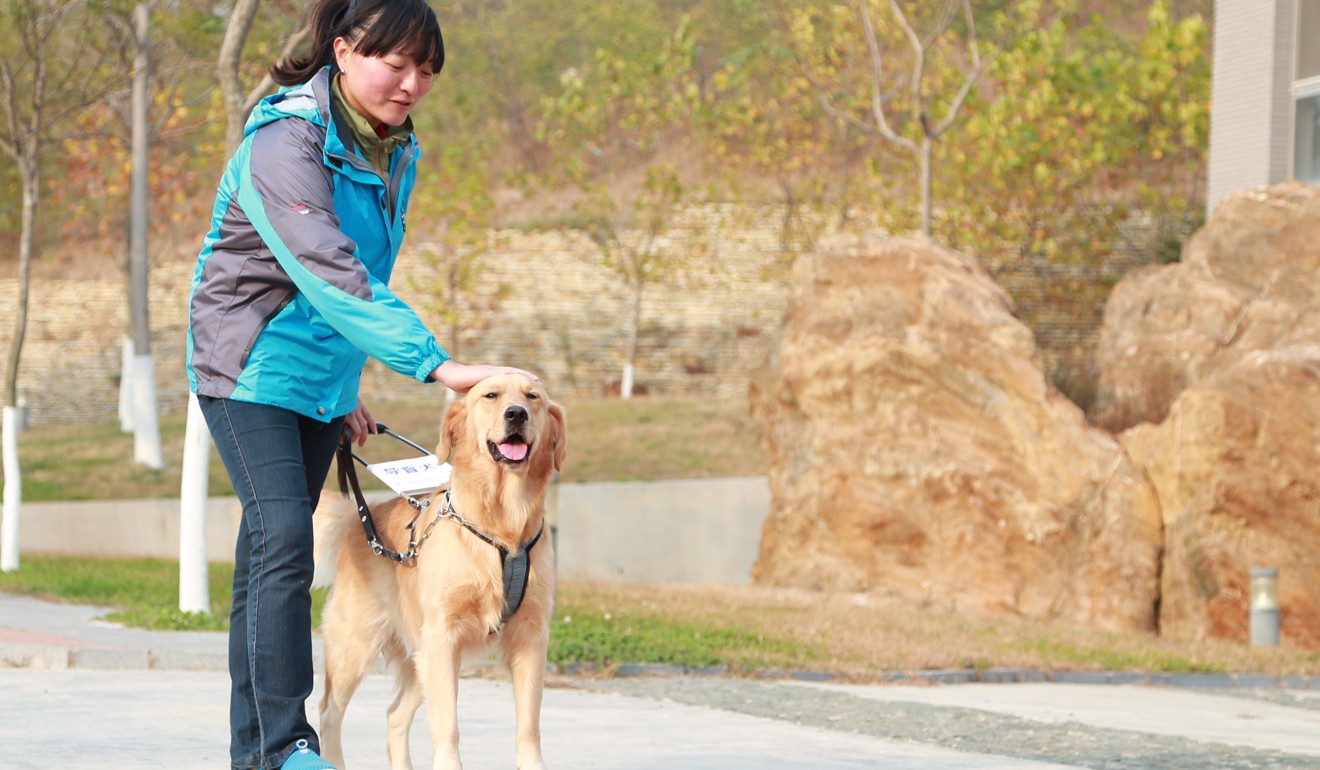 To raise awareness, Ping Yali, a blind long-jumper and China's first Paralympic gold medallist, decided to run alongside her guide dog, Lucky, when she carried the torch in the opening ceremony of the 2008 Beijing Olympics. A passionate advocate, the 55-year-old spent a decade walking around the Chinese capital with Lucky, a golden retriever, to seek out discrimination and educate others. Whenever a bus driver refused to let Lucky come aboard or a supermarket employee said "no" to the dog, Ping jumped at the chance to explain what service dogs do and why they should be allowed in public places. Despite the recent incidents, Ping says social acceptance of service dogs is growing.
"Ten years ago, I had to reason with everyone I met on the way in order to get Lucky into public areas; now, I have only five or six arguments a day," Ping says. "[Nowadays], when I run into resistance at subway stations, other passengers help me convince the staff there. There is definitely a rising acceptance of guide dogs among the Chinese general public."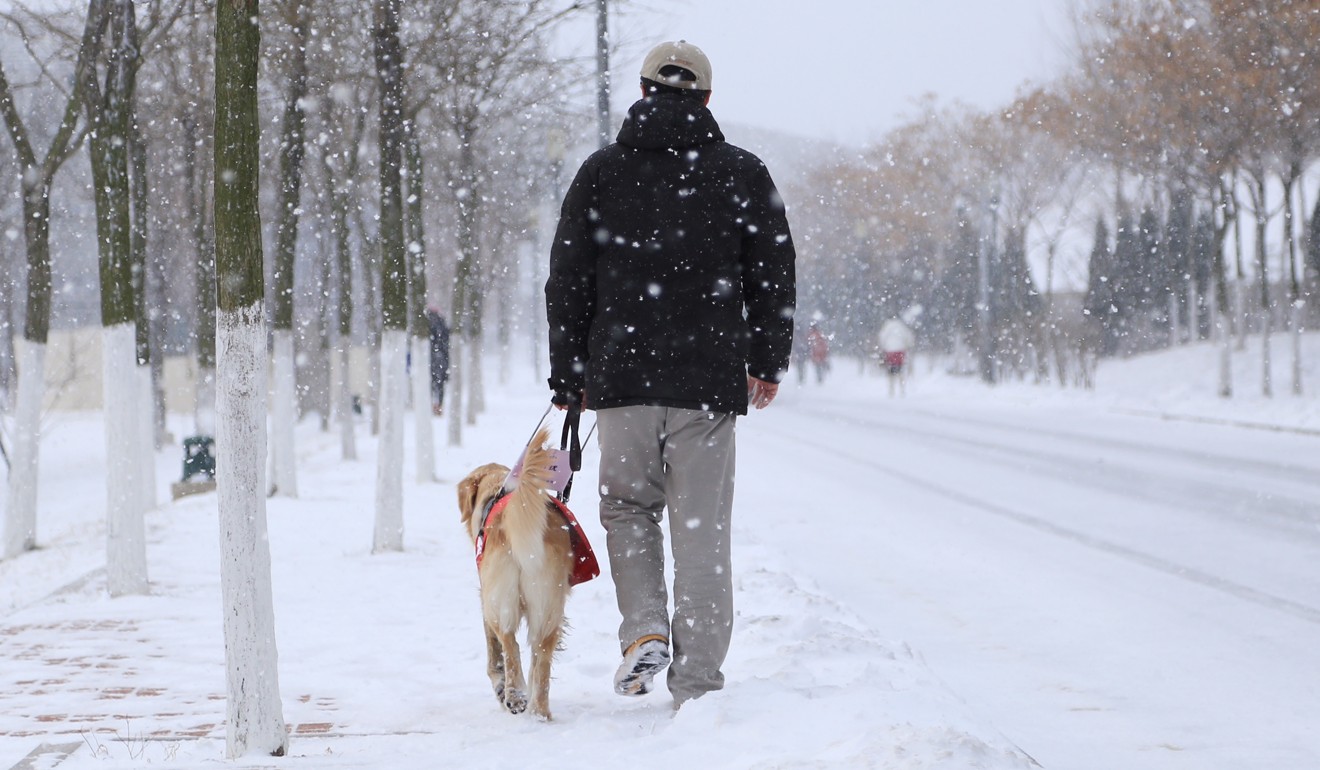 Chen echoes her words. The same week Chen was refused her room because of Jenny, the pair received a warm welcome at another hotel. When she arrived, Chen found a notice in the lobby telling other guests that a guide dog would be in the hotel and explaining why she was welcome – a moment that gave Chen renewed hope that China's attitudes towards guide dogs are changing.
"If someone says 'no' to Jenny, I don't think they are unkind; I think they are just uninformed," Chen says. "The more the Chinese know about guide dogs, the more likely they will accept them. Within 20 years, we will see guide dogs walking freely everywhere in the country." ■