Giselle was half a world away from Hong Kong when she saw a newspaper advertisement that would change her life. Soon after – filled with dreams and aspirations – she boarded a plane in her home of Madagascar bound for the city, where she had secured a job as a domestic helper.
Giselle (not her real name) was expecting to make HK$4,100 a month, the minimum salary for Hong Kong helpers at the time. She hoped the money would be enough to provide a brighter future for her children.
"Hong Kong seemed good, because [it]offered a high salary and it seemed a civilised place, less dangerous than other countries," she recalled.
But her dreams were soon shattered. After her first month of work, she was left with just a few hundred dollars in her pocket. After six months, despite working from 7am to 10pm – sometimes to midnight – she was earning a meagre HK$900 a month.
Giselle said for months she was underpaid and denied time off – she was only given two days off a month, although eventually she was granted four days. She was sometimes forced to work in unbearable conditions, had to sleep in a shared room and was often verbally abused by her employer.
It soon became too much and she quit.
"I could not stand my work any more … And the income was too low considering what I was doing … I never received the full salary," she said, adding that by the time she left she had paid back about HK$16,000 in fees.
"I left the employer's house and slept for one night in a public park, then some friends helped me."
Giselle is one of more than 100 women from Madagascar – believed to be the first group from the African continent – who have been brought to Hong Kong since formal recruitment began in 2014.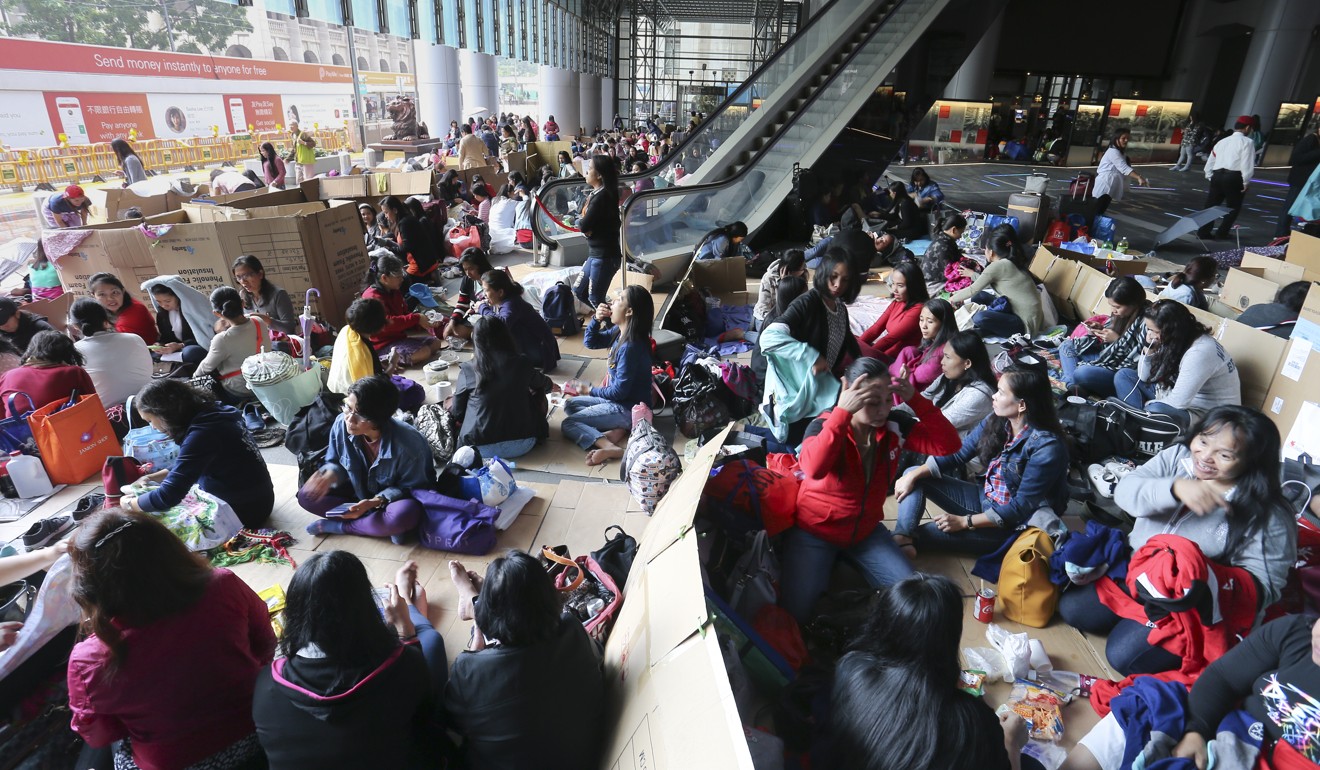 But the city was not the promised land they had imagined, with many having their salaries withheld or being forced to pay back HK$24,000 in fees over eight monthly instalments of HK$3,000.
At least nine of those women took their cases to court, eight of them reaching settlements with their employers, agencies or money lenders, and recovering the money they lost. The one dispute remains unresolved.
Meanwhile, the only Hong Kong employment agency allowed to process Madagascan helpers' contracts has emphatically denied any wrongdoing or overcharging workers.
The women's experience comes as China increases its footprint and investment in Africa, and some advocates and legal experts say that as the relationship grows, so too will the number of cases of human, drugs and ivory smuggling, debt bondage and forced labour.
So far, the International Organisation for Migration (IOM) has identified three Madagascan women in Hong Kong as victims of human-trafficking. But the true number of victims could be far higher, as many Madagascan workers fear speaking out in a city that is without human-trafficking laws that include forced labour.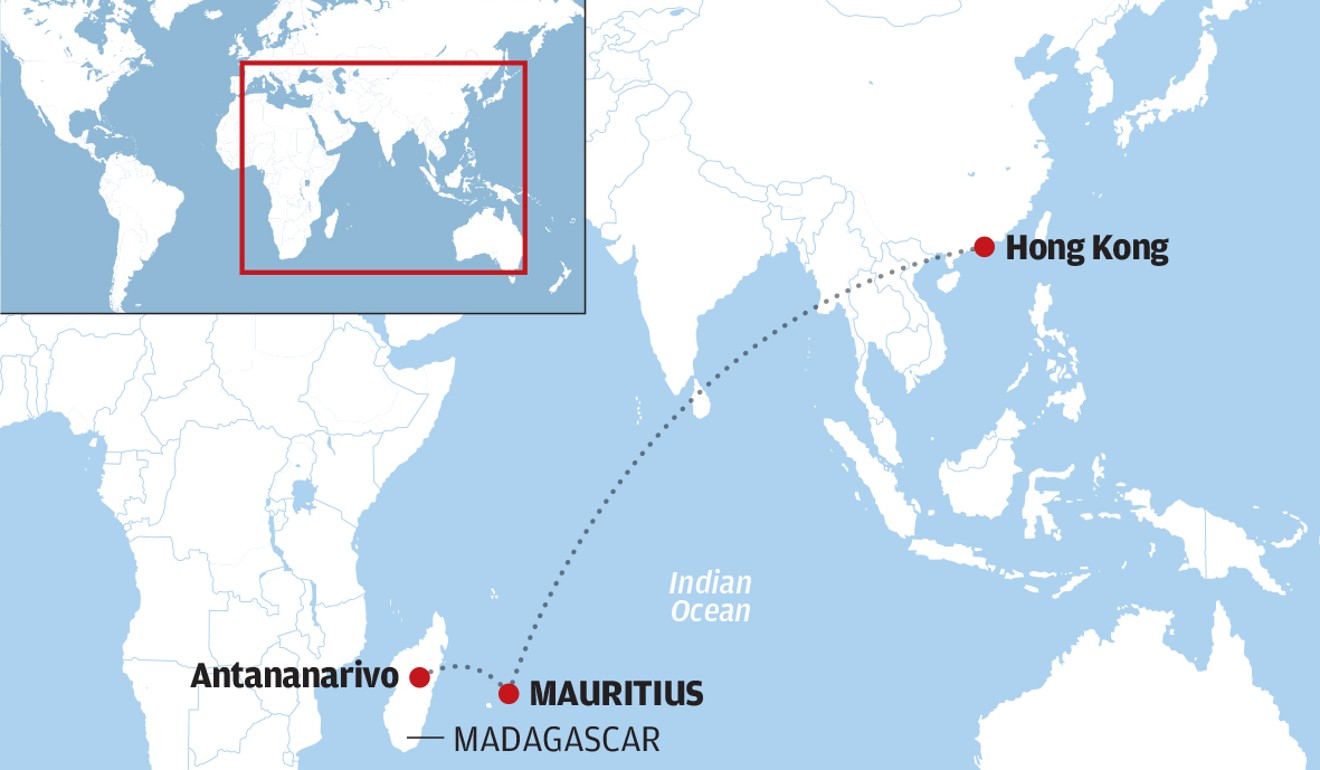 WHAT ARE THE LOCAL AUTHORITIES DOING?
Hong Kong law states that agencies can only charge 10 per cent of the domestic workers' first month's salary as commission, while employers are responsible for all visa and flight costs.
A spokesman for the Labour Department said it received 12 complaints involving Malagasy – one of the two main languages spoken in Madagascar – domestic helpers. Four of those claims were related to non-payment, underpayment "or illegal deduction of wages". Eight were "against employment agencies for overcharging commission, withholding a passport and false representation to an immigration officer".
Police investigated six cases in which women reported that their passports were withheld and forged documents were used to apply for loans under their names, a police spokesman said.
However, all of the cases were dropped because of a lack of evidence, the spokesman said.
The Labour Department said warnings had been issued to "relevant employment agencies, which would be placed on record", but would not disclose the names of the agencies.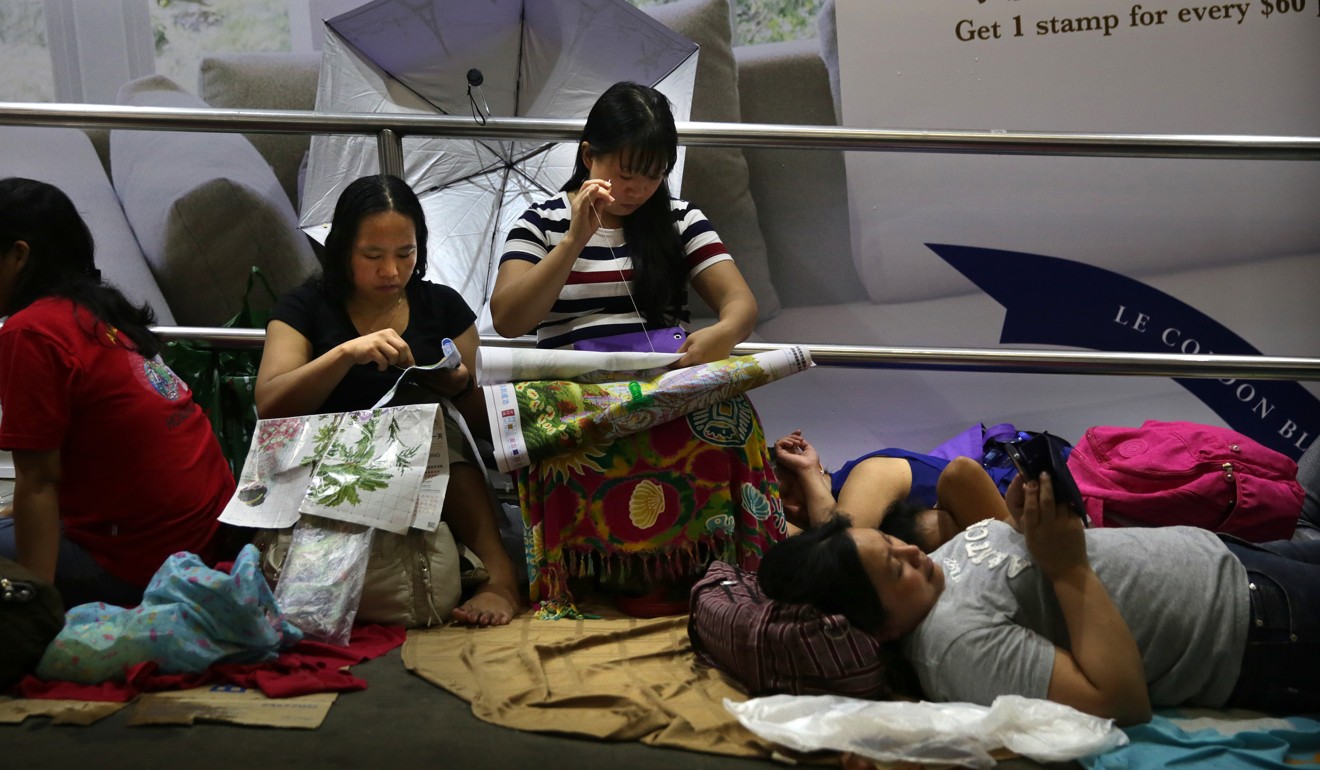 AGENCY DENIES ACCUSATIONS
The Raharja Group Limited is the only local agency accredited by the Madagascan government to recruit domestic workers and process their Hong Kong work visas. The firm said it works with other local agencies – such as Win Dragon Employment Limited – to find employers for the helpers.
The two agencies were consistently mentioned by domestic helpers and both were listed as defendants in court documents seen by This Week in Asia, with compensation paid through out-of-court settlements.
Raharja's secretary, Louisa Lau, denied suggestions that the agency overcharged for recruitment fees and said that the workers agreed to pay for training costs in documents they signed in Madagascar.
"I never charged them. Not even one cent … They are lying," Lau said.
Lau said she helped workers pay back debts they reportedly owed in their home country by finding loan companies in the city that collected part of their salaries and transferred the money to accounts belonging to a training centre in Madagascar.
When asked why the company paid compensation if it did nothing wrong, Lau said: "Someone from our government came to our office and asked me to pay the money and ask them [workers] to go. So we were forced to give the money." She refused to provide a name of an official or the department that approached her agency.
Lau went on to accuse Help for Domestic Workers, an NGO based in the city, of coaching the workers to say they "never signed any document, never knew about the money".
"I was wondering about the intention [of Help], why they want to damage the future of the Malagasy. They are working in Hong Kong very happily," Lau said, adding that her agency processed "over 120 contracts, but only a few complained".
Help for Domestic Workers has denied the allegations.
"We spent a lot of money to establish this market. All the costs, including of Madagascar officials who came to Hong Kong, were paid by us," Lau said.
Multiple sources told This Week in Asia that at least one of the employment agencies and a training centre in Madagascar were run by Chinese citizens.
CONFUSION OVER ALLEGED LOANS
Both Giselle and Lau did agree on one point: there were many workers in the same situation, but only a few complained. Giselle explained that once a worker complains, "you can't work, earn money".
Advocates have long urged the Hong Kong government to allow domestic helpers to work while they file complaints. Giselle, for instance, had to go months without income and sleep in a shelter while she went through court procedures.
It was alleged in court that she had entered into a loan agreement, which was the reason she was not receiving her full salary. But she denied ever agreeing to a loan, and said false documents had been used to cover up the unlawful commissions she had been charged.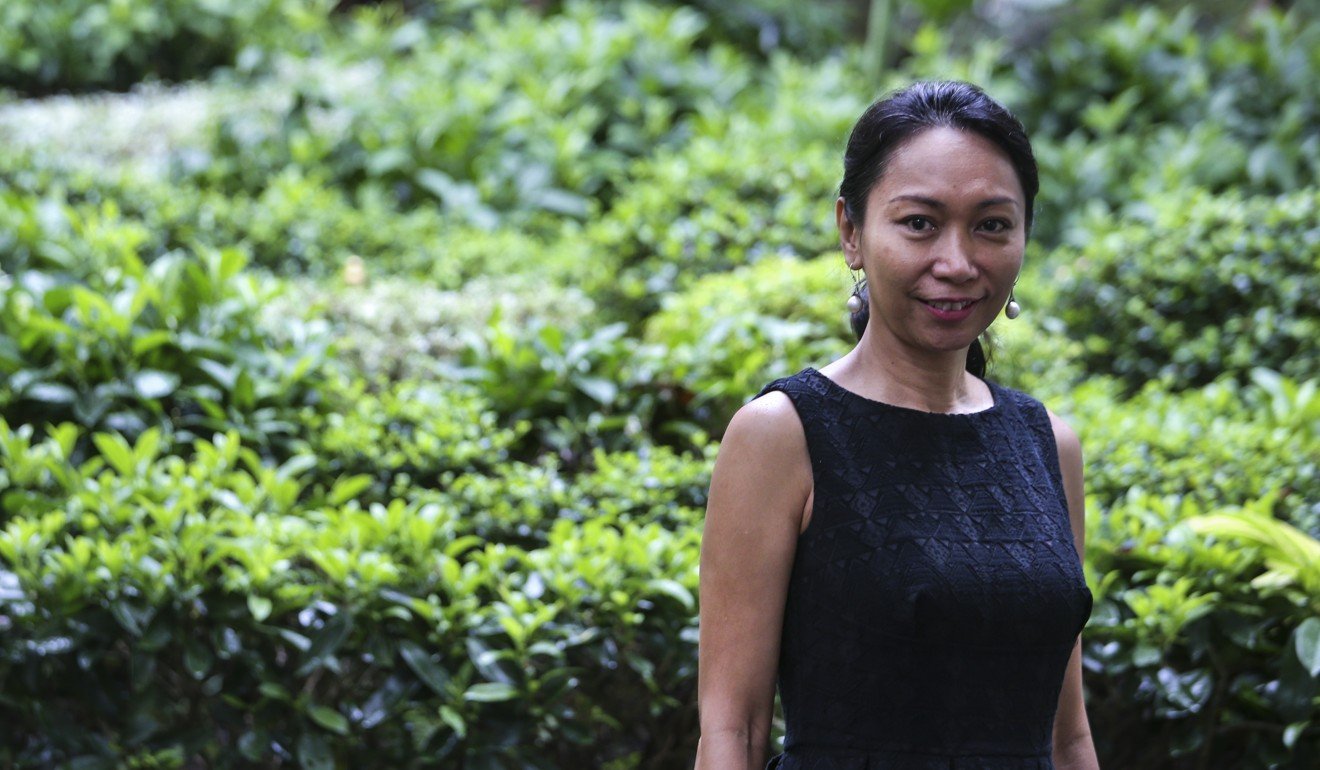 A similar issue surfaced in other court cases involving domestic helpers from Madagascar. Some workers said they never signed a loan agreement, others said they were made to sign documents in foreign languages, while others said they were forced to sign documents but were not aware they were entering into a loan.
Giselle's case was eventually settled out of court and she was repaid her money. The same happened with seven other workers.
"I was very patient because I knew there was something wrong … I did this for me, but also for other people from Madagascar in Hong Kong who are scared," she said.
LESS REPRESENTED, MORE VULNERABLE
Filipinos and Indonesians make up the majority of the nearly 370,000 domestic workers in Hong Kong. There are also workers from other countries, including Thailand, Sri Lanka, India, Nepal and Bangladesh.
Hong Kong requires an estimated 240,000 more domestic helpers over the next 30 years to service the city's ageing population, according to the Labour and Welfare Bureau. So, the government is exploring new markets such as Myanmar and Cambodia, while also expanding recruitment in countries already in the pipeline.
But the issue of migrant domestic workers in Hong Kong facing indebtedness, forced labour and excessive agency fees is well reported. The Philippines last month imposed a three-week ban on the export of labour by suspending the issue of overseas employment certificates.
Manila cited "persistent reports of illegal recruitment" and "pernicious activities of certain unscrupulous individuals preying on Filipinos".
Following the clampdown, Hong Kong leader Carrie Lam Cheng Yuet-ngor made a rare statement on the matter, promising last month to take "vigorous enforcement action against any local employment agencies that conduct illegal activities in Hong Kong".
Madagascar officially ceased sending domestic workers abroad last year. But according to Madagascar's embassy in Beijing, 209 domestic helper employment contracts have been processed in Hong Kong in the past three years, and the Immigration Department said as of November, there were 41 Malagasy still in the city. Raharja said there were 52.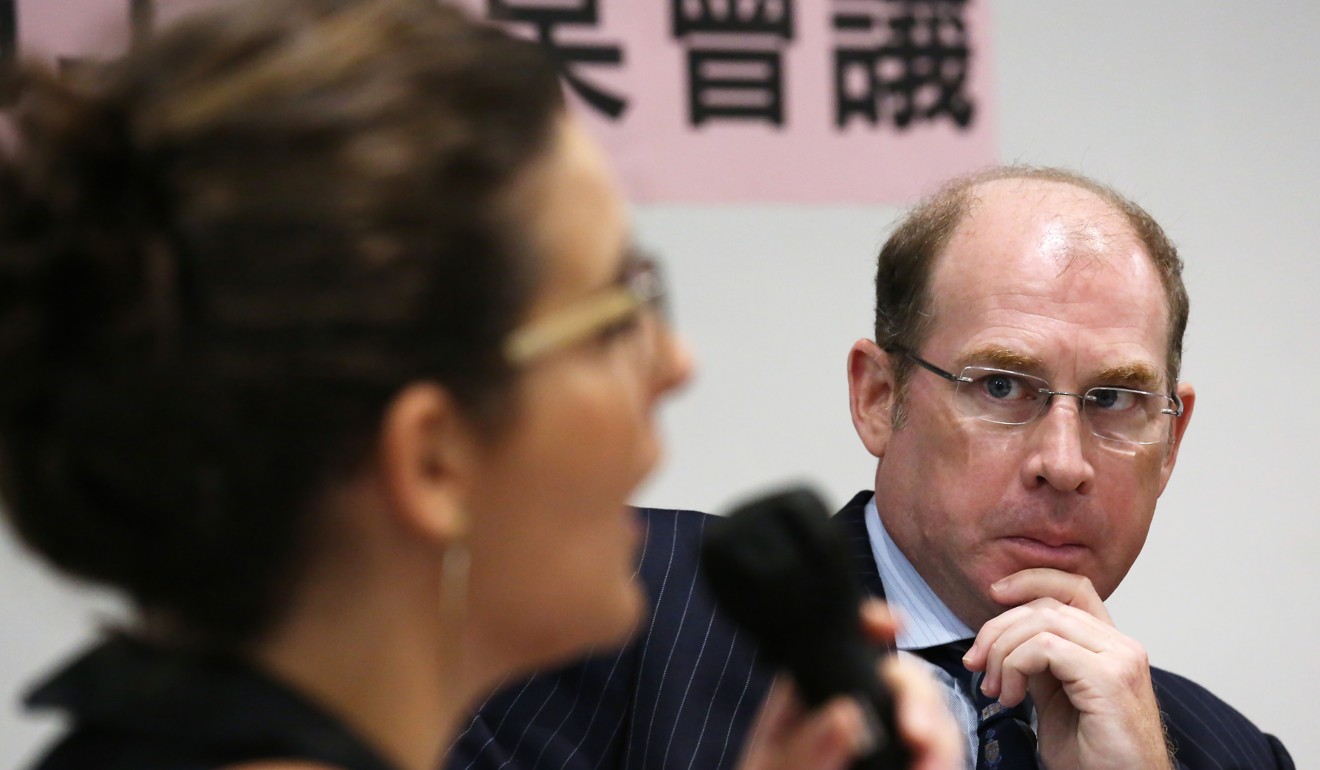 "For me, it's remarkable that these workers ended up in Hong Kong," said Allan Bell, chair of the Hong Kong Domestic Worker Roundtable that serves as a watchdog. "It's an indicator of how desperate Hong Kong is to find alternative sources for the domestic labour market. They don't speak English, they are completely vulnerable."
Nurul Qoiriah, head of the IOM office in Hong Kong, said local employment agencies were starting to avoid Filipinos and Indonesians because they were more aware of their rights and their consulates were more involved. "Hiring new domestic workers from a different country who don't have a big community here, it will be easier to exploit them. The logic of exploitation in recruitment and placement of workers not only in Hong Kong but also in other countries is there," she said.
Qoiriah said several women from Madagascar went to IOM for victim identification and cases of labour exploitation had been identified. "We had three confirmed victims of trafficking from Madagascar. Others we assessed might not be victims of trafficking, but we still considered them as vulnerable migrants. They might have to pay excessive fees but the employer is nice," Qoiriah said.
Several helpers told her their freedom of movement was controlled and their passports were confiscated while in the city. "They are actually found in a debt bondage situation … When they experience abusive employers, they are left with no options."
Holly Allan, director of Help for Domestic Workers, an advocacy group that received complaints from about 20 women from Madagascar, said these helpers were more vulnerable to abuse because of language barriers and because there was only one agency to which they could turn. "Some of those we assisted were allegedly told that if they do not withdraw their complaint against the agency, they could no longer work in Hong Kong. That is why many of the complainants did not pursue their claims. Indeed, none of those who went to court were able to process a new work visa," Allan said.
The Raharja agency's Lau said the Madagascan ambassador in Beijing, Victor Sokonina, told the domestic helpers that if they took the cases to court they would not be allowed to sign a new contract in the city. When asked by This Week in Asia, the embassy said no such thing had ever been told to the workers.
In an email, the embassy also said that it had not received any formal complaints from domestic helpers in Hong Kong. However, it said they "were asked unofficially by a service related to the Labour Department of Hong Kong" to share information about the Madagascar Employment Agencies Association in the city and by another department to provide a list of Malagasy interpreters due to an investigation concerning workers from Madagascar.
The embassy also said it was not formally made aware that there had been workers from Madagascar identified as human-trafficking victims in the city.
EXPLOITATION FROM SOURCE TO DESTINATION
Bell noted that the exploitation of domestic workers from all nationalities is rife and that it happens at each end of the supply chain – the countries of origin and where they are employed.
"The exploitation happens on both sides … There is a small group of agencies that are collaborating. They know each other. The ones in their home countries pay bribes to officials, control policy."
Bell said loans are a common way domestic workers are put in debt bondage.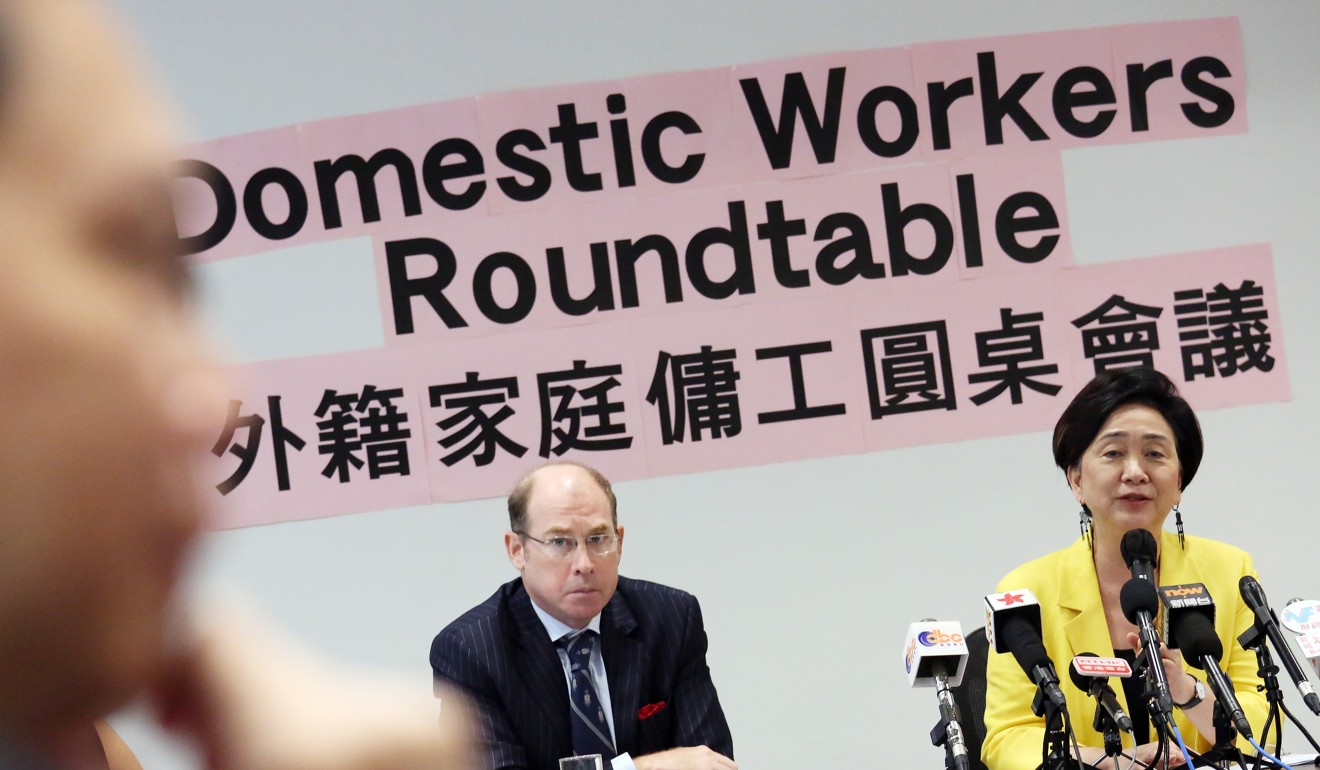 "The loans taken there [the countries of origin] are usually to pay the agents, training … whatever they can squeeze out of them … And then the loans can be assigned. Once they are assigned to Hong Kong money collectors, they are then lawfully able to collect these loans, even though they may have been entered into under less than fair conditions or possibly under duress. It's mafia, it's organised crime."
People have a hard time accepting that such situations happen here, Bell said.
"When you expose it, people get nervous, because they don't think this can happen in Hong Kong. But it is happening, it is really bad. And the government turns a blind eye, often stating concerns for the agents."
A legal expert, who asked not to be identified, said "many unscrupulous agencies have intentionally transferred the liability to employers who are asked to withhold their domestic helpers' salaries. Tens of thousands of employers are doing this without realising they might be fined or even jailed for this."
A recent High Court case, involving one of the domestic workers from Madagascar who sued her employer, has clearly held that employers cannot deduct salaries to repay loans taken out by their employees.
POLICE NEED TO BE PROACTIVE
According to Qoiriah, "excessive placement fees and illegal work [such as working in more than one address] are the main problems" that domestic helpers face in Hong Kong. But despite of the mounting examples of abuse, few effective measures have been introduced.
"Reporting about this illegal work is still challenging in Hong Kong, because the first to be investigated is the domestic worker. Most of the domestic workers just keep in silence … and forced labour is not even criminal here," Qoiriah noted.
Many workers lack evidence, she said, but that could change if there were proactive investigations. "If the police in Hong Kong were really keen to do the proactive investigation, it could easily crackdown particularly on the loan companies and agencies."
Bell also said the Labour Department does not do enough to collect evidence.
"We give them piles of evidence, and nothing happens … They are not actively protecting the rights of the workers, I am sorry to say. The workers are here to do cheap labour and few people will stand up for them. If there is a problem, they need to go to the Labour Tribunal at their own cost and are unable to work during the process."
But there are signs Hong Kong is moving in the right direction. Allan, of Help for Domestic Workers, said that the recent introduction of the Code of Practice for Employment Agencies and the increase in penalties for agencies that overcharge were positive steps.
However, there are still many loopholes to plug, and stronger deterrents must be introduced, especially the statute of limitations on prosecuting agencies that overcharge, she said.
"They can only be prosecuted within six months of committing the offence, which is too short. Few domestic workers would risk their job by complaining against their agency within the first few months of their employment."
At the same time, "the government needs to recognise that many of these cases of exploitation by employers and employment agencies are not merely common labour offences but amount to forced labour and human-trafficking, and the existing laws are not adequate to deal with them," Allan said.
"There needs to be a more robust legal framework that properly identifies and criminalises labour trafficking."