Beware the treacherous skies with organised criminals on the prowl in aircraft cabins, ready to relieve you of your valuables with stunning guile. Expect neither restitution nor recompense, and very little sympathy to boot.
I would have recouped more than I lost if I had a dollar for every person who chastised me for not stashing my cash in my underwear and the likes thereof so it would not have been stolen while flying Air India from Delhi to Hong Kong recently.
I was the unwitting victim of a particularly devious mid-air scam, losing some US$3,000 from my carry-on luggage in the overhead locker above my seat. Every single US$100 note was replaced with a one-dollar bill, completely throwing me off during a cursory check of my belongings before leaving the aircraft after a five-hour overnight flight.
Nothing else – credit cards, laptop, iPhone – was removed from the unlocked zip suitcase, which was so tightly packed that it would have required considerable stealth and manoeuvring skills to open it and carry out such an elaborate switch.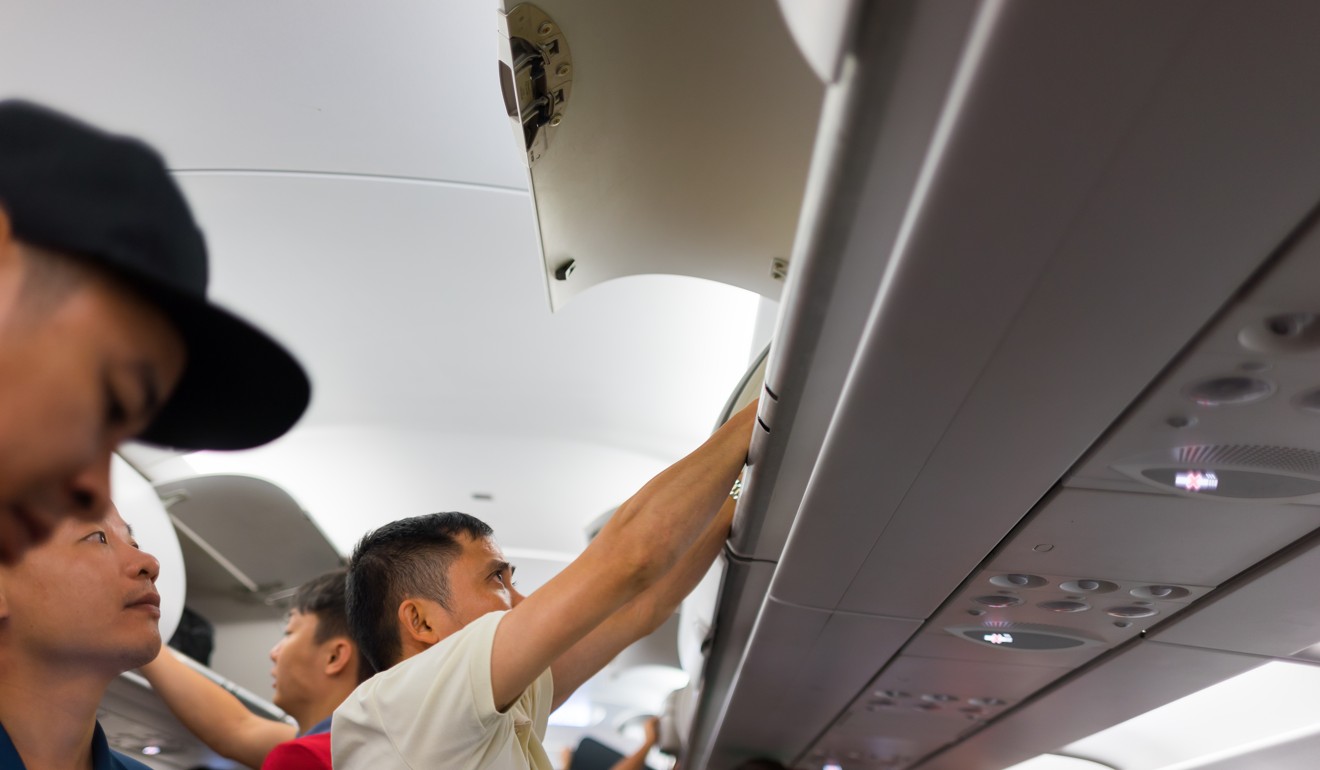 The money was intact when I got on the plane, and no one could have known in advance that I was carrying it except for security staff when my cabin baggage was going through an X-ray scan. I left my seat only once to use the washroom for just a few minutes after the in-flight dinner service, which I would not consider ample time to execute the swap. I drifted in and out of sleep throughout the journey, which means the perpetrators would have had to pounce during one of those precariously short intervals of deep slumber.
It turns out this kind of scam is commonplace, mostly among flights coming into Hong Kong from Middle Eastern or Asian countries, Hong Kong police said.
In addition to the innumerable unhelpful messages, comments and emails from readers suggesting I was an "idiot" for not taking care of my valuables, there were also plenty of similar horror stories as others shared their own experiences. One was a student who lost €9,000 (US$10,800) from a locked cabin bag he had placed in the overhead compartment on an Air France flight from Hong Kong to Paris in 2016 – the thief, whom he suspects was a passenger sitting next to him, replaced the money with 76 US$1 notes.
"I sat in the aisle seat, and he sat in the middle, he was already there when I boarded the flight, and he saw me taking stuff out of my locked bag, which I relocked and placed in the overhead luggage bin," the student wrote.
"Before the flight left the gate, he wanted to access the overhead compartment too. Here comes the weird part – he did not need to stand in the aisle to do it, instead, he stayed at his seat and bent his back backwards, which was a weird position, but I had no idea what he was doing above my head since I was seated, which I guess was his intention after all.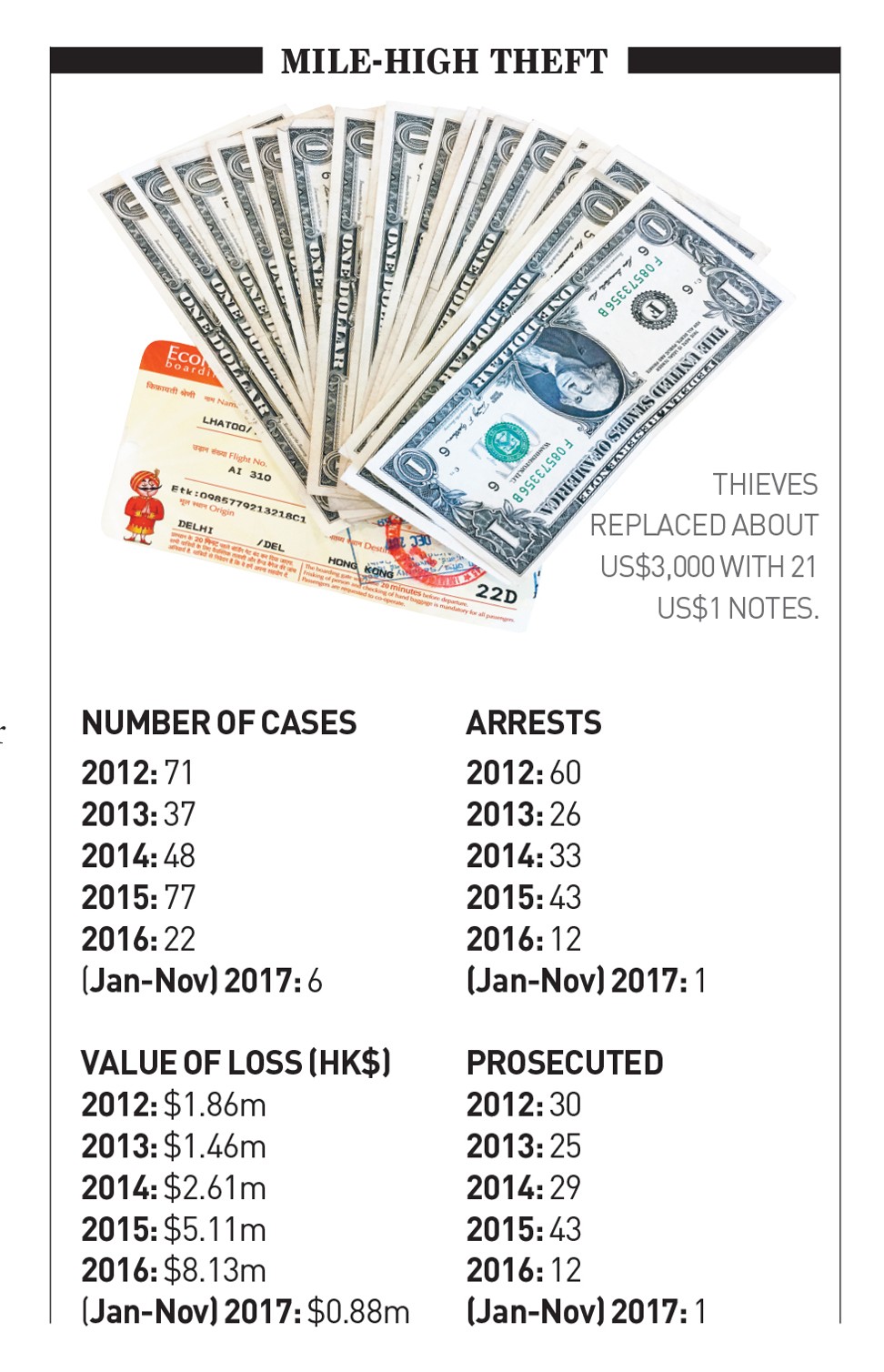 "He messed around like that for a minute and I didn't think that anything was off at that moment. The guy was travelling with another woman sitting in the window seat, but the two of them barely talked at all the whole flight, and even when they did, they whispered extremely softly in Mandarin, which is very strange when I thought about it afterwards."
His account appears to corroborate what Hong Kong police told This Week In Asia. Criminals, often working in pairs, scout for prey first before boarding and blending in with other passengers and casually going through victims' bags as if they are their own.
"They usually place their own bags in the same overhead lockers their targets use, and search targeted bags for cash and valuables before take-off or shortly after landing," a police source said.
On long-haul flights, the mid-air bandits ply their trade when victims are asleep or in the toilet.
"One of them searches for cash and valuables and the other acts as a lookout," the source said. "The stolen property is quickly passed to the lookout."
I was surprised to find out that former South China Morning Post reporter Vivienne Chow, a familiar face on the culture beat, was a victim of mid-air theft well before me in 2016.
Upon learning of my experience, she told me her money was removed from her wallet which she had hidden deep inside her cabin bag while flying Emirates from Hong Kong to Madrid.
"I didn't realise the cash was gone until I arrived at my hotel," she said. "And the funny thing is, the thieves did not take everything from my wallet. Didn't take credit cards or anything else, just my euros. They even left some of it in my wallet, which explains why I didn't realise my cash had been stolen until too late."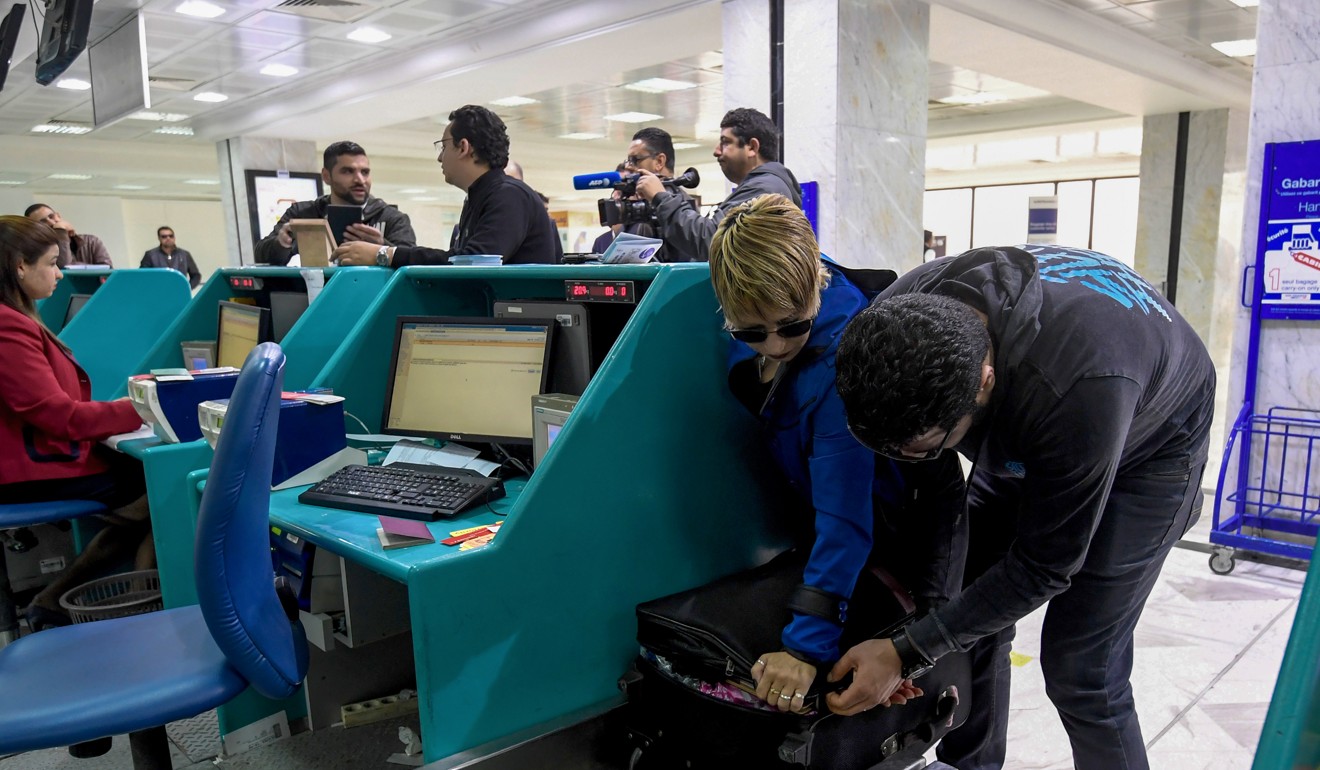 Another reader told me he was also robbed on an Air India flight with the same number as mine from Delhi to Hong Kong last February.
"I had put my wallet inside my jacket which was inside my bag in the overhead locker. Thieves took all my cash, but not my wallet or my laptop," he wrote.
"I have reason to believe that I was drugged on the flight and that put me in a deep sleep. Normally I cannot fall asleep on an aeroplane.
"Just before landing in Hong Kong, two guys sitting in front of me changed seats with two women further down the aisle. I assume those guys are the thieves. Is it a coincidence that they were sitting near me?"
That could be food for thought, given suspicions about inside jobs involving a nexus of crooks that may include anyone from airport personnel running bags through X-ray checks to even cabin crew.
The amount I lost was neither negligible nor ruinous, but compare that with the HK$2 million – US$200,000 in cash and a couple of luxury watches – that a Turkish businessman was robbed of on an Emirates flight from Dubai to Hong Kong in 2016.
How rampant is mid-air theft on planes flying in and out of Hong Kong? According to official records kept by police, the number is actually declining on flights coming in – their area of concern.
From a high of 77 reported cases in 2015, the number dropped to 22 in 2016, although the total amount stolen rose from HK$5.11 million to HK$8.13 million.
The number of suspects arrested fell from a high of 60 in 2012 to 12 in 2016, while prosecutions dropped from a peak of 43 in 2015 to 12 the following year.
Between January and November last year, only six mid-air thefts were reported, with a total value of HK$880,000.
There are no statistics concerning people who don't report their losses, whether out of a sense of hopelessness that no action will be taken or willingness to forgo amounts they consider not worth the hassle and stress chasing after.
The reader who lost his money on the Air India flight shared his frustrations, writing: "The worst part is that Air India failed to handle my case. I am fighting with them for over 10 months now.
"I spoke to the Air India security manager at Hong Kong airport who first denied my story and later admitted it could have happened but didn't want to help me any further. He also refused to give me any contact details besides his first name. I also had numerous chats and calls with Air India without any result.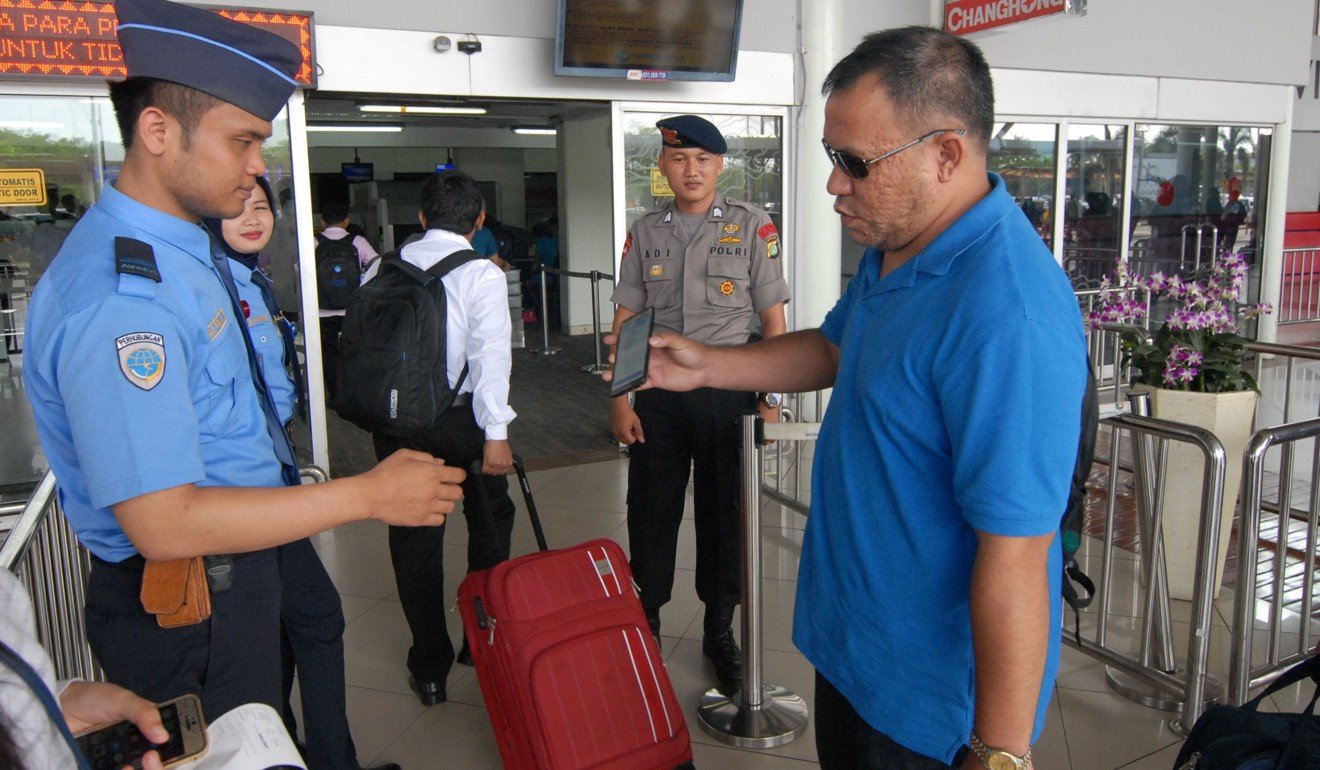 "Hong Kong police aren't very helpful either. They never followed up on my case after I filed a report on arrival. The police consider it a matter between Air India and me."
Earlier this week he had a happier update, having got hold of more helpful Air India staff, and passed on their contact details to me. When I followed up with one of them, the airline's airport manager in Hong Kong, he sent me a prompt and polite reply promising to get back to me with answers to the questions I was asking about security and responsibility.
I also spent nearly two hours at the Wan Chai police station filing a detailed report. The officers I spoke to were polite and receptive, but I haven't heard back from them.
The official figures reflect an improvement, but another police source said it was possible some victims did not report their losses because "the stolen goods were not expensive and the chance of recovering them was not high".
The source also suggested enhanced vigilance on the part of flight attendants might have prompted thieves to seek targets other than the mostly Hong Kong-bound planes they seemed to prefer.
Veteran Cathay Pacific flight attendant Dora Lai Yuk-sim recalled seeing only a few cases of theft in all her years of flying. Even so, cabin crew did not receive specific training on how to deal with in-flight theft, she said, apart from their handbook instructing them to leave such matters to the pilot-in-charge to tackle.
"The crew cannot conclude whether there is a theft case on board because they are not the police and do not have the power to search a passenger," she added.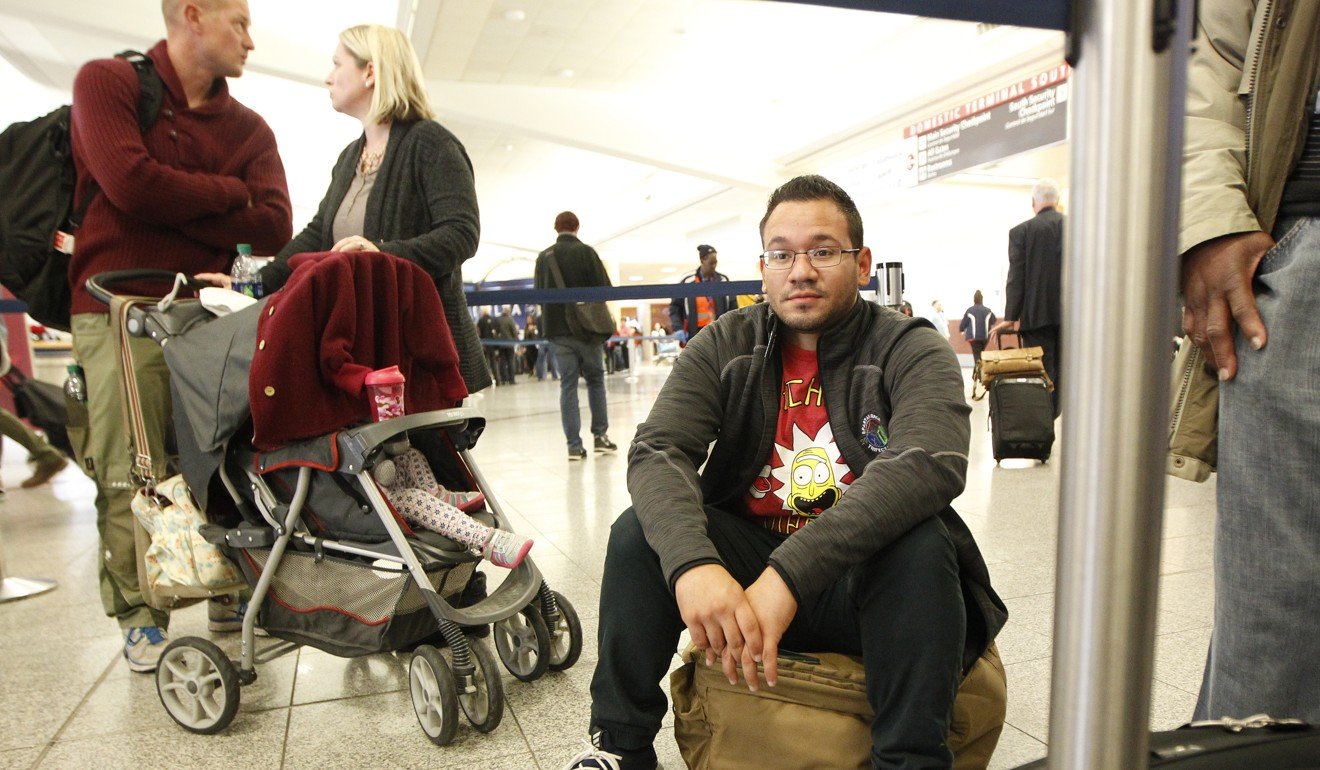 How much should airlines themselves be held responsible for not boosting vigilance and ensuring a more secure environment for passengers carrying valuables on board aircraft?
Mark Medwecki, a former veteran police officer and airport security expert, said it would be impractical to place all the responsibility on airlines.
"Let's suppose airlines, in order to stop the theft inside overhead lockers, we are going to fit the compartments with locks and if you want to remove something you have to have to ask the cabin crew to take it out, would be one possible solution," he said.
"Now that is an enormous inconvenience for passengers. What level of risk would justify that action? I would suggest at the moment the risk is not large enough to warrant something like that."
Passengers should do their bit as well, he suggested. "I suspect a padlock would eliminate 80 per cent of crimes."
Didn't US President Donald Trump just take credit for the fact that 2017 was the safest year for civil aviation since they first started compiling plane-crash statistics in 1946?
"Since taking office I have been very strict on Commercial Aviation. Good news – it was just reported that there were Zero deaths in 2017, the best and safest year on record!" he tweeted.
While he's at it, should we ask him to wipe out mid-air theft as well? ■
With additional reporting by Danny Lee and Clifford Lo