India's insurgency-ridden Jammu and Kashmir province is tipped to enter one of its most violent phases as Prime Minister Narendra Modi has pulled his Hindu nationalist Bharatiya Janata Party (BJP) out of a local coalition government to prepare the ground for a crackdown ahead of the next general election in 2019.
BJP cites rising terrorism, Islamist radicalisation and growing threats to life and free speech as its reasons to withdraw from the coalition with the People's Democratic Party (PDP). The decision took even PDP leader and Chief Minister Mehbooba Mufti off guard, as it was a sudden shift from the national party's earlier stand that Modi's prudent policies had weakened anti-India forces in Kashmir. The Muslim-majority region, together with Hindu-majority Jammu, constitutes the Jammu and Kashmir province. Kashmir has for decades been in the throes of popular protests for autonomy that New Delhi says are aided by neighbouring Pakistan.
Amid rising street protests, Modi's BJP-led federal government in New Delhi announced a unilateral Ramadan ceasefire but refused to extend it, against the wishes of the PDP. The ceasefire was called off two days after the assassination of a senior editor and peace activist Shujaat Bukhari. The state's top police officer told leading television channel NDTV that anti-terror operations put on hold during the ceasefire were being scaled up. Elite commandos have also reportedly been flown in as New Delhi prepares for, what English-language newspaper The Telegraph terms "Mission Krushmir".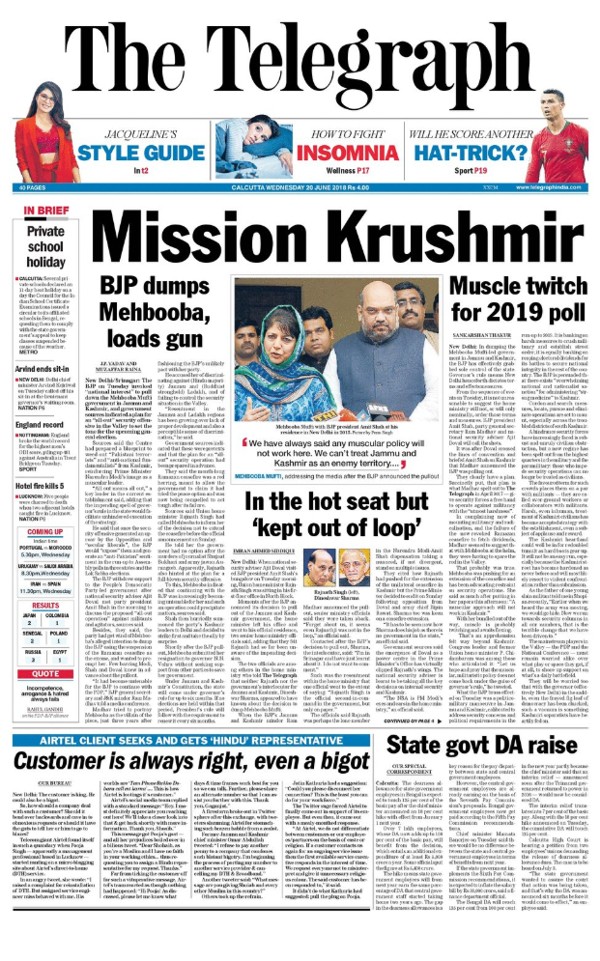 On Friday morning, a gunfight erupted between militants and government forces in south Kashmir's Srigufara area in which four militants, one civilian and a police officer were killed. Separately, clashes broke out between protesters and government forces. At least 30 civilians were injured, including five with bullet wounds.
The government suspended internet services in parts of Kashmir Valley as more reports of protests are pouring in from different parts of Kashmir, coinciding with Friday prayers.
The Modi government's resumption of a tough Kashmir policy comes on the back of a scathing UN human rights report highlighting the excesses of India's security forces. New Delhi has rejected the report as a "false narrative" that ignores the "cross-border terrorism emanating from Pakistan".
According to Hameeda Nayeem, chairwoman of ​the Centre for Social and Developmental Studies, the BJP's decision to break the alliance and place Jammu and Kashmir under president's rule is a purely political move with an eye on the coming general elections. "They want to spill blood in Kashmir to win in India."
A tough stance against insurgents in Muslim-majority Kashmir is expected to go down well with the Hindu majoritarian, ultranationalist vote bank elsewhere in India, as Modi's appeal seems to be on the wane. A recent survey called the "The Mood of the Nation" conducted by the Delhi-based Centre for the Study of Developing Societies found nearly 47 per cent of the nearly 16,000 respondents believed Modi did not deserve another term in office.
Earlier, after mass protests erupted in 2016 leaving more than 120 civilians dead, the Modi government launched Operation All Out in which 275 militants were killed. More than 460 militants and 235 civilians have been killed by the forces in past two and a half years in Kashmir, according to official figures. But as each state response to insurgency escalates, so too does public animosity, creating a spiral of popular unrest and security crackdowns.
"If Delhi chooses to continue to go along with its muscular policy, it can only mean a more security- driven policy in Kashmir," said Siddiq Wahid, a historian and former vice-chancellor of the Islamic University of Science and Technology.