It doesn't seem possible that it's been nearly two decades since the world's first camera phone was released, but the Kyocera VP-210 hit the market way back in 2000. It was a metallic-grey device with an antenna, a small screen and a tiny camera lens on the dialling side – a precursor to today's selfie-ready smartphones.
Almost immediately after it went on sale, however, Kyocera was alerted to a grave and unexpected issue – some male customers were using the phone to take upskirts and other illicit photos of women in public. Just a year later, the phone had to be relaunched to include a camera-shutter sound that could not be disabled.
To this day, whether domestic or foreign, Sony or Apple, "any digital device that takes photographs in Japan has an automatic setting that makes a sound to deter the taking of covert photographs", said Chelsea Schieder, an associate professor and gender studies expert at Aoyama Gakuin University in Tokyo.
But click or no click, hidden cameras remain a major problem in Japan as the nation grapples with the issue of tosatsu , or voyeurs.
This month, a Tokyo man was arrested for secretly filming a woman on the train with his smartphone; in September, a male police officer in Osaka was caught using his phone to film upskirts in a subway station; over the summer, a man in Saitama prefecture was apprehended installing hidden cameras in women's public toilets; and in March, among other incidents, a male junior-school teacher was arrested for attempting to shoot hidden camera videos of female students inside the school's toilets.
Over the years, a variety of gadgets have been used for such activities. In 2016, cameras disguised as coat hooks were discovered by Japanese internet users who remarked they had seen similar hangers in public and private washrooms. More notably, in 2014, policemen in Kyoto launched a citywide campaign to combat tosatsu shoes – running shoes equipped with hidden cameras concealed in their mesh uppers. Police visited homes around the city asking people to voluntarily give up the shoes – to which hundreds surprisingly complied.
Upskirts and hidden-camera photography are so widespread in Japan that the act has its own icon and special category on Gaccom Anzen Safety, an interactive crowdsourced crime map that pinpoints where and when such activities took place. In Tokyo alone, dozens of spots have been reported by users.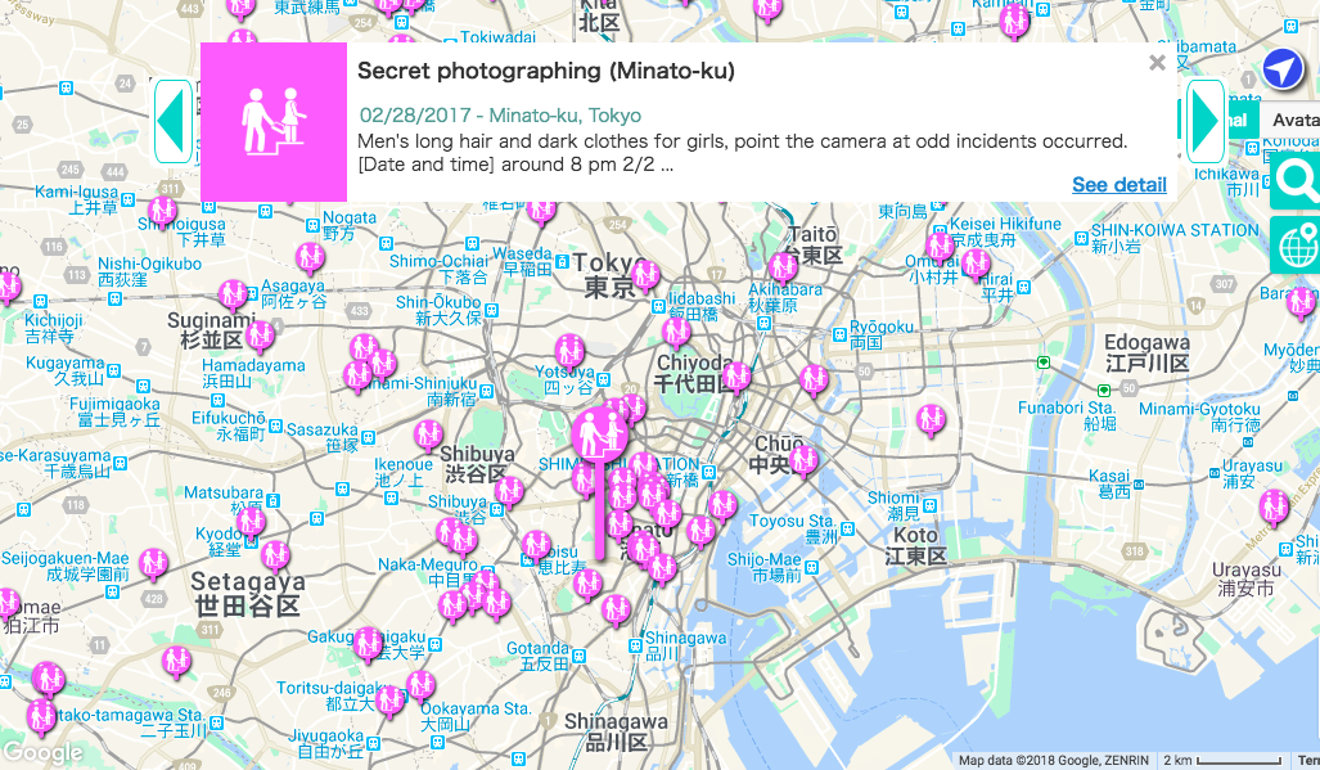 Although hidden-camera crimes remain common, laws have been tightened to tackle the problem.
In July, Tokyo updated its anti-nuisance ordinance to encompass more behaviours including illicit and unwanted photography, and increased the punishment for such crimes to one year in prison and a fine of up to 1 million yen (US$8,784).
In Kyoto, a picturesque city popular among photography aficionados, taking illicit photos has been punishable with a fine of up to 1 million yen and up to two years in prison since 2014. The city's main railway station is known as a major upskirting area among online tosatsu communities, according to local media.
Despite legal changes, women should be given more support when it comes to reporting such crimes, said Liv Coleman, a Japan expert and associate professor of political science and international studies at the University of Tampa, who advocates for better outreach in this area.
"It would be helpful to have more police officers who are women, and more hotlines for women to call," she said. "It would also be good to have more comprehensive sex education in schools in Japan, including about topics of consent."
Hidden cameras are about more than just capturing private or illicit images, according to Aoyama Gakuin University's Schieder. "This kind of photography is not only about male sexual desire, but about intimidating and maintaining a sense of control and ownership over women's bodies," she said.
This year, Japan saw the rise of its own #MeToo movement when freelance journalist Shiori Ito alleged she had been drugged and raped by veteran journalist Noriyuki Yamaguchi. Compared with neighbouring South Korea, however, Japan's movement has been slow to grow, lacking public support and leaving critics wanting more.
Coleman said there was a need for greater support for alleged victims and an end to victim-shaming.
"We have seen a new kind of outspokenness in part because of the #MeToo movement," she said. "But when high-profile [alleged] victims such as Ito have come forward with allegations, they have received a lot of criticism … This deters other women from bringing forth allegations of sexual harassment and assault."
Other experts, including Linda White, an associate professor of Japanese studies at Middlebury College in Vermont, believe gender norms ultimately have to change.
"Gender inequality is at the root of many forms of violence against women. It's a simple idea, but engaging [with] it on a deep level is much more difficult," she said. "In Japan, the sexual double standard that allows men to make mistakes, cross lines, or rape and abuse without consequence, while condemning women for any sexuality that results from their own self-determination must be confronted." ■