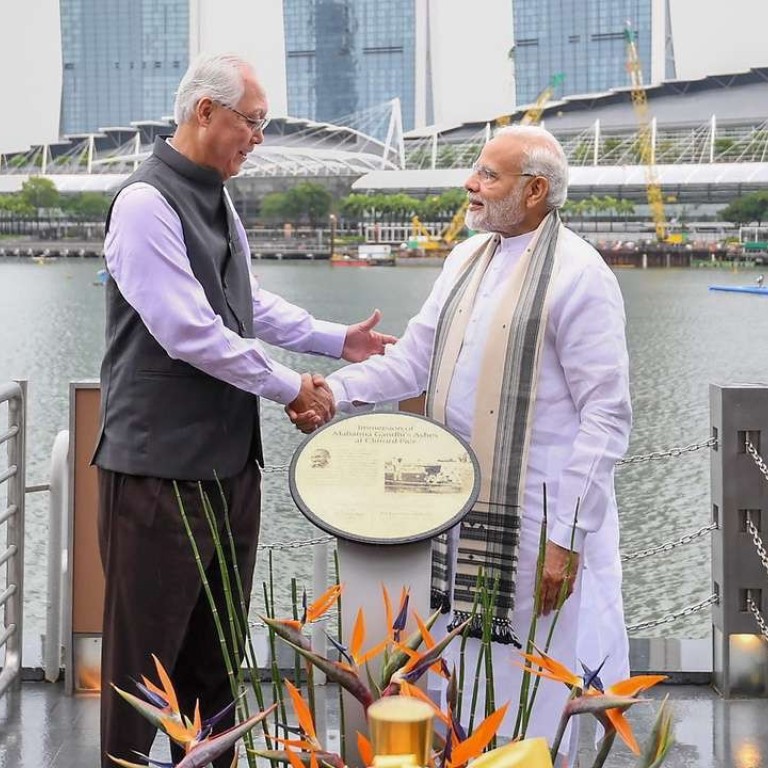 India's 'Modi vest': the latest fashion in foreign policy
From Singapore's ex-PM Goh Chok Tong to South Korea's Moon Jae-in, Asia's leaders are taken by Modi's signature outfit, which is still a divisive topic at home
When it comes to cultural diplomacy, history is teeming with creative examples of countries exercising their soft power. Ancient Egypt's Queen Cleopatra is said to have gifted Julius Caesar, emperor of Rome, with a giraffe, an animal native to Africa. The first of its kind to reach Rome, the giraffe was received as an exotic curiosity and called a "cameleopard" due to its spotted appearance. Thousands of years later, in 1912, Japan gifted 3,000 of its prized cherry blossom trees to Washington, where they remain to this day and bloom in a sea of pink each spring.
Culturally-oriented gifts to faraway lands continue to be a theme of modern diplomacy. China leases its prized furry pandas to other nations; Cuba gives away its renowned Cuban cigars; and now, India is adding "Modi vests," popularised by Prime Minister Narendra Modi, to the list of signature gifts exchanged between nations.
In June, Singapore's former prime minister Goh Chok Tong was seen in a charcoal grey version of the vest when he and Modi, who was visiting Singapore at the time, paid their respects to Mahatma Gandhi at Clifford Pier – one of several places in the world where the Indian activist's ashes were scattered following his death in 1948.
In an interview with the South China Morning Post, Goh mentioned his fondness for the garment, explaining how it keeps him warm in Singapore's air-conditioned spaces, and suggested the vest could start "an India fashion fever" in the city state.
Goh is not the only public figure to be a self-proclaimed fan of the collared button-up vest. On Wednesday, which was coincidentally Halloween, South Korean President Moon Jae-in tweeted a photo of himself wearing a dark grey cotton-spun version of Modi's signature vest.
"Prime Minister Narendra Modi of India sent me some gorgeous garments," wrote Moon on Twitter. "These are modernised versions of traditional Indian costume, known as the 'Modi Vest', that can also be worn easily in Korea. They fit perfectly."
The post caused a stir among Indian Twitter users, who immediately corrected the president by pointing out that the garment is better known as a "Nehru jacket," named after India's first prime minister Jawaharlal Nehru, a well-loved public figure and protégé of Gandhi.
Others accused Modi of trying to claim the vest as his own, despite its association with former prime minister Nehru.
"Mr. President, You are wrong," said Twitter user Ashok Swain. "This is not Modi Vest, this is Nehru jacket (sic). Modi is no Nehru, can never be one." If anything, the user added, Modi's signature item is the khaki nikkar or khaki shorts that are part of a uniform worn by members of the Rashtriya Swayamsevak Sangh, a controversial right-wing Hindu nationalist volunteer organisation that Modi is closely associated with.
Despite these claims, Nehru himself never wore a "Nehru jacket", a short, hip-length jacket, but an achkan – a longer version which later evolved into the Nehru jacket which have been popular for several decades.
"The Nehru jacket is quite a common semi-formal item for men in India, for attending dinners and functions," said Angela Besson, the founder of Angela Jey, an Indian pashmina and accessories brand in Hong Kong. "At weddings, guests definitely wear a lot of these jackets."
But what makes Modi's version stand out are the light colours he wears. "He likes to wear colours like pistachio and beige, he doesn't often wear deeper colours," Besson said. "I think in India, light colours first of all, bring out your skin tone, and second, it's a sign of purity … a clean, spiritual and cleansing colour."
With his Nehru jackets, Modi is trying to strike a balance between being a serious leader, and appealing to his main audience – most of the 1.3 billion Indians living in India. "He's a very mass-related person," said Tuhina Goya, the founder of jewellery brand House of Tuhina and a fashion textiles expert.
"You need attire that is respectable, but also not too formal," she said of Modi, whose right-wing Bharatiya Janata Party won 31 per cent of votes during the 2014 national election, and his efforts to appeal to the masses.
While former US president Barack Obama's penchant for navy blue suits did not convey anything distinctly American, Modi's favoured garment embodies its origins. "The moment you see the Nehru jacket, the first thing you think about is India," said Goya.
Although critics may accuse Modi of appropriating the Nehru jacket, Goya said the exposure is good for India's textile and fashion industries. "Modi is reviving the Nehru jacket," she said. "India has a lot of textiles and crafts, but our designers are not taking pride in our textiles. We are still talking about how amazing French fabrics are."
Goya said Modi's popularisation and gifting of the jacket to international leaders would make the world more aware of India's rich indigenous textile cultures.
"People will want Nehru jackets, they will start ordering them … It will give artisans more jobs, so what's wrong with that?" she said. "You can call it diplomacy or you can call it smart."