Warung Tiga Putri is not your typical warung . Although it sells snacks, cigarettes and assorted knick-knacks like countless other ramshackle convenience stores across Indonesia's towns and cities, the tiny bright-yellow kiosk does much more for it is one of Indonesia's growing number of smart warung . No fewer than five CCTV cameras at the busy Jakarta kiosk collect data on customers, such as their approximate age and sex, which is later analysed to improve marketing, distribution and engagement.
The concept is the brainchild of Warung Pintar, a local tech start-up that has transformed more than 1,000 warung and counting in Jakarta and other Indonesian cities.
"We put in CCTV cameras to know how many people shop there, how many among them are men or women, their ages. Basically we use them to capture the shoppers' demography," Warung Pintar co-founder Harya Putra told This Week in Asia . "We realised there was a data blind spot in warung . A lot of things were happening there that we didn't know about. There's a lot of opportunities in waru ng because the community and the economy are there, but there was no technology that empowered them."
Customers at Warung Tiga Putri can also rent power banks, watch television, use free Wi-fi, buy train and plane tickets, charge their mobile phones, and opt for cashless payment via mobile wallets such as Go-Pay and Ovo.
For the kiosk's owner, Junaidi Salad, Warung Pintar has been a godsend. Before the company approached him about turning his 1.5-metre-wide kiosk into the first-ever smart warung , the 32-year-old was worried about being evicted from the roadside he had illegally occupied for several years. The tech start-up – whose co-founders used to work with Jakarta-based venture capitalist East Ventures – helped Salad gain legal status by moving the kiosk to the car park of one of its co-working spaces, where he doesn't have to pay rent or for electricity.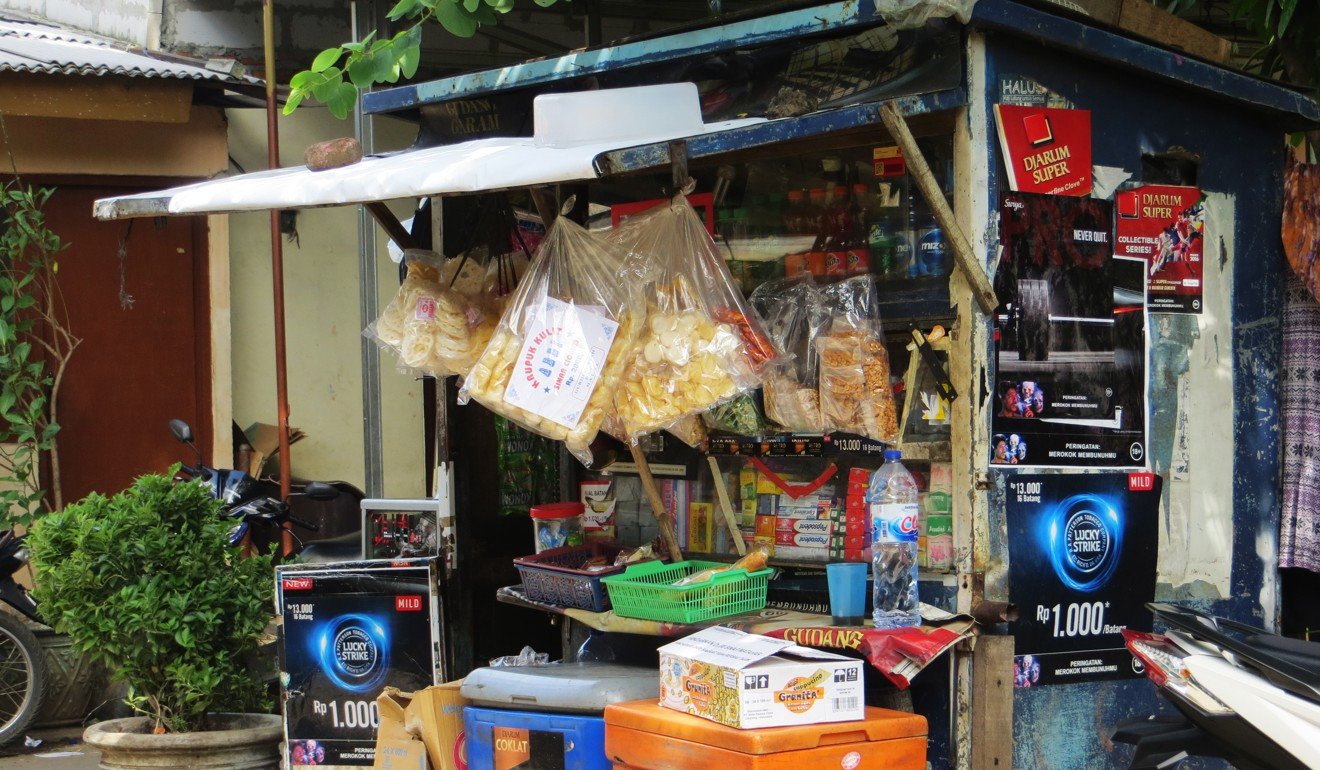 Warung Pintar also provided him with an Android tablet, installed with an application that allows him to track sales and inventory, as well as order goods. For 100,000 rupiah (US$7) per month, Salad benefits from open-access Wi-fi that regularly attracts ride-hail drivers and others to his shop. Since the change, Salad has seen his daily profits shoot up to 4 million rupiah (US$274) from 70,000 rupiah. He now owns a car and two other warung , one of which is also a smart warung , and his brisk business pays for the education of his three daughters.
"When [Warung Pintar] approached me I was still cautious, then I decided to try anyway," Salad said. "Now I'm really glad because I can track my sales and expenses. I also have more friends. My warung is now more comfortable so people can spend their time here."
Indonesia is Southeast Asia's largest internet economy. Its value is expected to reach US$27 billion in 2018, a year-on-year rise of 49 per cent, according to a report by Google and Singapore investment fund Temasek. With only 150 million of the country's 260 million people connected to the internet, the potential for growth is enormous.
The evolution of warung from cramped kiosks into technologically powered small businesses follows trends in China, where tech giants such as Alibaba – which owns the South China Morning Post – and JD.com introduced unstaffed and cashless convenience stores and smart shopping trolleys.
Warung have been at the forefront of Indonesia's retail market long before mini markets and department stores took up space in urban and rural areas. Indonesia's second-richest man, Eka Tjipta Widjaja, earned his fortune by selling household items in a warung as he was growing up in the 1930s.
Many warung, however, have struggled to compete with air-conditioned mini markets, which offer more items and other services.
"We want to leverage data to grow the warung business," Putra said. "In 2013 alone there were 57 million micro businesses such as warung , but those which have upscaled to a small or medium business, or even to a large enterprise, are still minuscule in number. There is a missing bridge between micro and small and medium businesses, and we believe that the key to upgrading warung into small businesses is through data."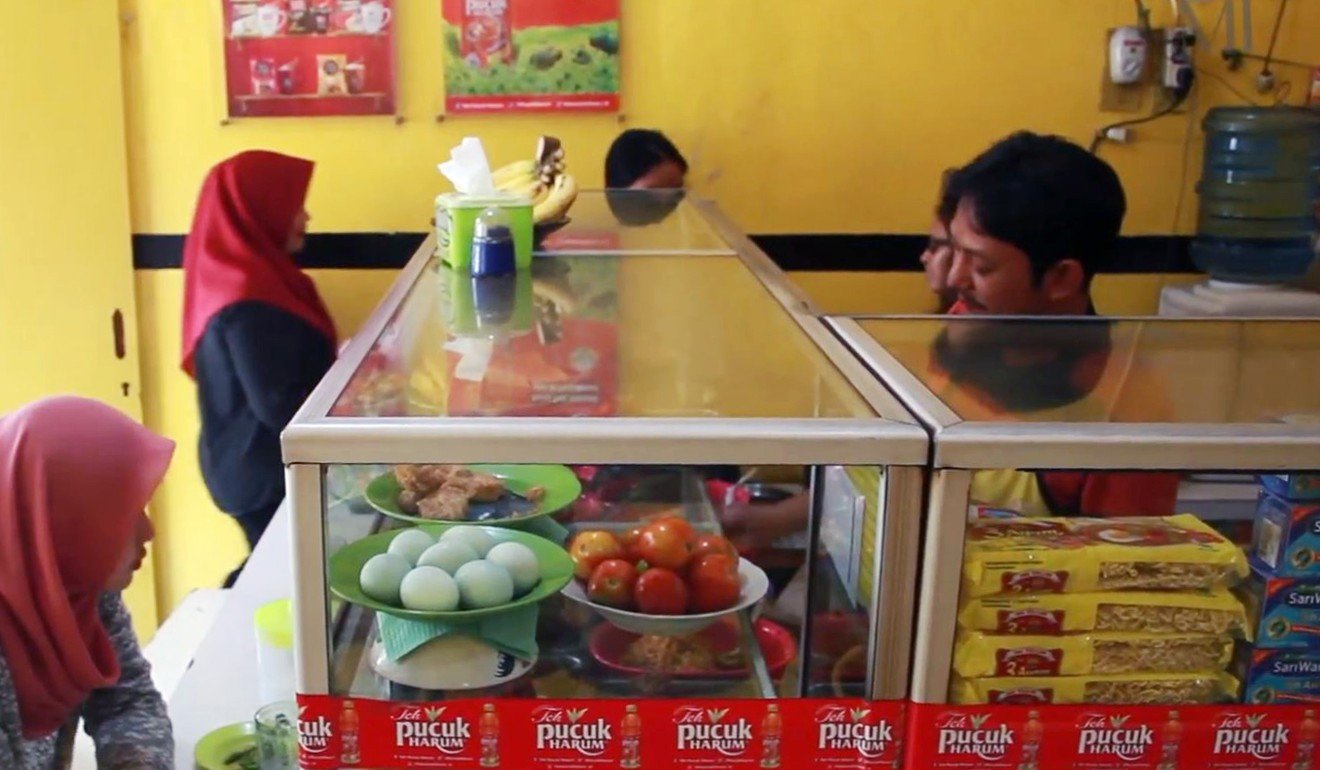 Warung Pintar isn't alone in its efforts. Wahyoo, another start-up, aims to modernise food kiosks known as warteg that are scattered in Indonesia's big cities. Much like Warung Pintar, Wahyoo is streamlining supply chains: warteg owners can now order bottled water, beverages, eggs, cooking oil, sugar, flour, tea, and coffee through a Wahyoo app. The company now has over 2,000 warteg under its name, up from 50 soon after it was founded in April last year.
"There are only a few warteg that are really clean, and that's what deters people from eating in them. Despite that, warteg are always full," said Wahyoo founder Peter Shearer. "We want to be the biggest digital warung operator in Indonesia. In the future we want to enable a point-of-sale system that will allow us to find out the bestsellers on the menu and identify consumers' profiles."
Digital illiteracy and lack of trust are the biggest challenges the start-ups face when trying to bring technology to warung owners.
Sugiarti, a 46 year-old warteg owner in west Jakarta, does not own a smartphone and struggled to check if customers had paid for their meals via Ovo, a mobile wallet app.
"I was so confused at first," she said. "Here my customers rarely pay with Ovo. Once, a customer told me that he had paid with Ovo, so I had to check with my husband who has the phone, and he's not always here with me."
Start-ups like Wahyoo and Warung Pintar see continuous learning, for their companies and clients alike, as key to expediting the digitalisation of warung in Indonesia. Both firms send an employee once a week to check on warung inventories and address the concerns of owners.
"We need to be fast. As of today, we have over 22,000 warung that have registered with us to be a smart warung, but we don't have the capacity to process their requests in a prompt manner," Putra said, adding the company is still learning on the go about how best to cater to warung. ■