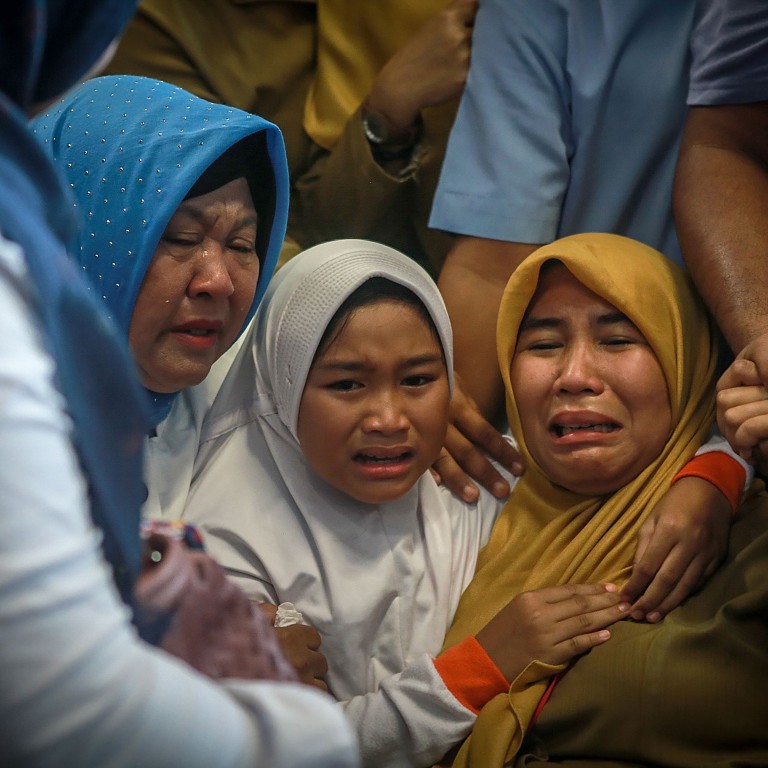 Families of Lion Air crash victims ask why Boeing 737 MAX not grounded before deadly Ethiopian Airlines accident
Since the tragedy in Ethiopia, deliveries of Boeing's bestselling 737 MAX jets have been halted and the company's shares have fallen nearly 13 per cent
Aviation experts have noted eerie similarities between Sunday's accident and the crash of the same model of plane in Indonesia in October
When Anton Sahadi heard about the Ethiopian Airlines Boeing 737 MAX 8 jet that
crashed on Sunday
leaving no survivors, he felt both sorrow and indignation.
The 29-year-old's cousins Ravi Andrian and Riyan Aryandi died after the same model of aircraft operated by Indonesia's Lion Air
crashed
into the Java Sea on October 29, killing all 189 passengers and crew.
At the time,
relatives
questioned if the 737 MAX, which had only entered service in 2017, needed to be grounded over safety concerns, but the Indonesian government said operators need do nothing more than carry out additional checks.
Then came the crash in Ethiopia. At first, Indonesia's aviation authorities only ordered the country's domestic airlines suspend operations of their MAX 8 aircraft for a week, but after the US Federal Aviation Administration issued an
emergency order
on Wednesday grounding the narrow body aircraft, within 24 hours
Indonesia
was following suit. Lion Air operates 10 MAX 8 jets, while flagship carrier Garuda Indonesia has one.
"I felt hurt when I heard that the jet involved in the Ethiopian air crash was the same [model]," said Sahadi. "It seems like the government brushed off our demands, they need to be firmer. The authority is too late to act, why didn't they ground [these] jets after the Lion Air crash?"
Sahadi's is among the two dozen families of victims of the Lion Air crash
suing Boeing
in Chicago, where the plane manufacturer is based.
He said Andrian's body was found seven days after the crash but Aryandi's remains have not been recovered. Both men has been in Jakarta to see a soccer match starring the national team and were flying back to Pangkal Pinang when the plane crashed into the sea 13 minutes after take-off. The remains of 64 passengers have
not been found
.
Aryandi's parents remain hopeful that their son's remains will one day surface. When Andrian's body was found, his family said they did not want to see his remains to make it easier for everyone to "let him go", Sahadi said.
"We did not want to see his body parts, but we were told that they were mushy like paper pulp," he said.
Since the Ethiopian Airlines tragedy, deliveries of Boeing's bestselling 737 MAX jets have
been halted
and the company's shares have fallen about 13 per cent, with it shedding about US$32 billion in market value.
One Indonesian – Harina Hafitz – was among the 19
United Nations
workers on the plane. Her family said she would be buried in Italy, where she was based.
"What we've been asking is, how would Boeing take responsibility for this? We cannot let this many human beings turned into guinea pigs," Sahadi said.
"So I'm asking, again, for authorities, to forever impound [these jets]. I've been wondering, after the Ethiopian crash, which [MAX 8] would crash next?"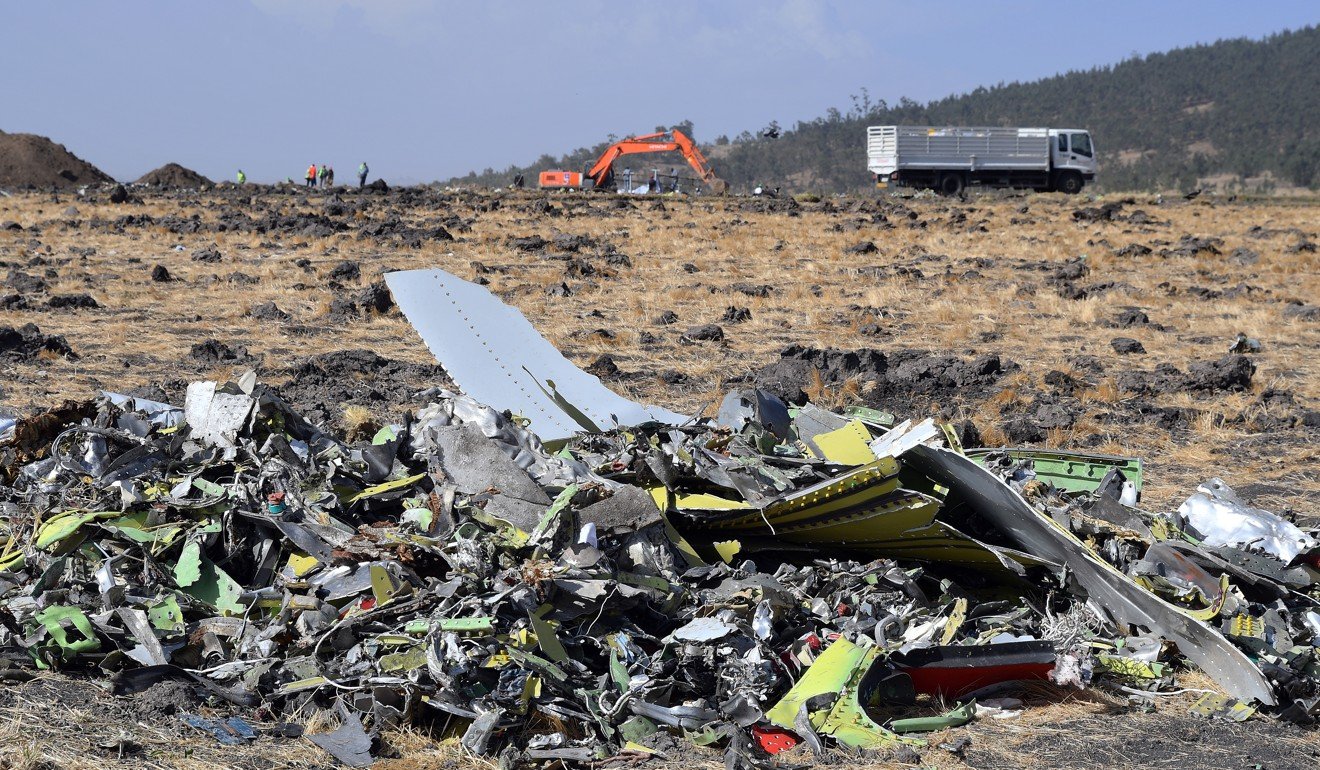 Vini Wulandari, sister of one of the ill-fated Lion Air flight's co-pilots, said that the Ethiopian crash confirmed the suspicions that she and many of the victims' relatives had about the MAX 8 being a "defective product".
"God truly exists, we've been talking from the start, since [the Lion Air crash], that we should never use Boeing 737 MAX 8 again, if not we will all be air crash victims," said Wulandari, who has also filed a wrongful-death lawsuit against Boeing. "The [Ethiopian] crash shows that 737 MAX 8 is a manufacturing fail from the beginning."
"When I first heard about [the Ethiopian crash] I was sad because I am familiar with the sadness that the victims' families must feel and I was also sad because the 737 MAX 8 should have been grounded after the Lion Air crash," she said. "Maybe because it was only one accident, so a lot of people thought there was no need for immediate [action]."
Wulandari said she had developed a fear of flying after her brother's death and hoped the tragedy would tame Boeing's "ego".
"They used to say that the 737 MAX 8 is a sophisticated aircraft, but what do you know? It crashed into the sea," she said. "They should have provided the software fix after [the Lion Air] accident."
Wulandari's pilot brother, Harvino, left behind a 18-month-old baby and two young children aged 5 and 8. The middle child still hopes his father will return home, Wulandari said.
"I told him that his father has passed away but he doesn't believe that because there's no grave for his body yet," she said.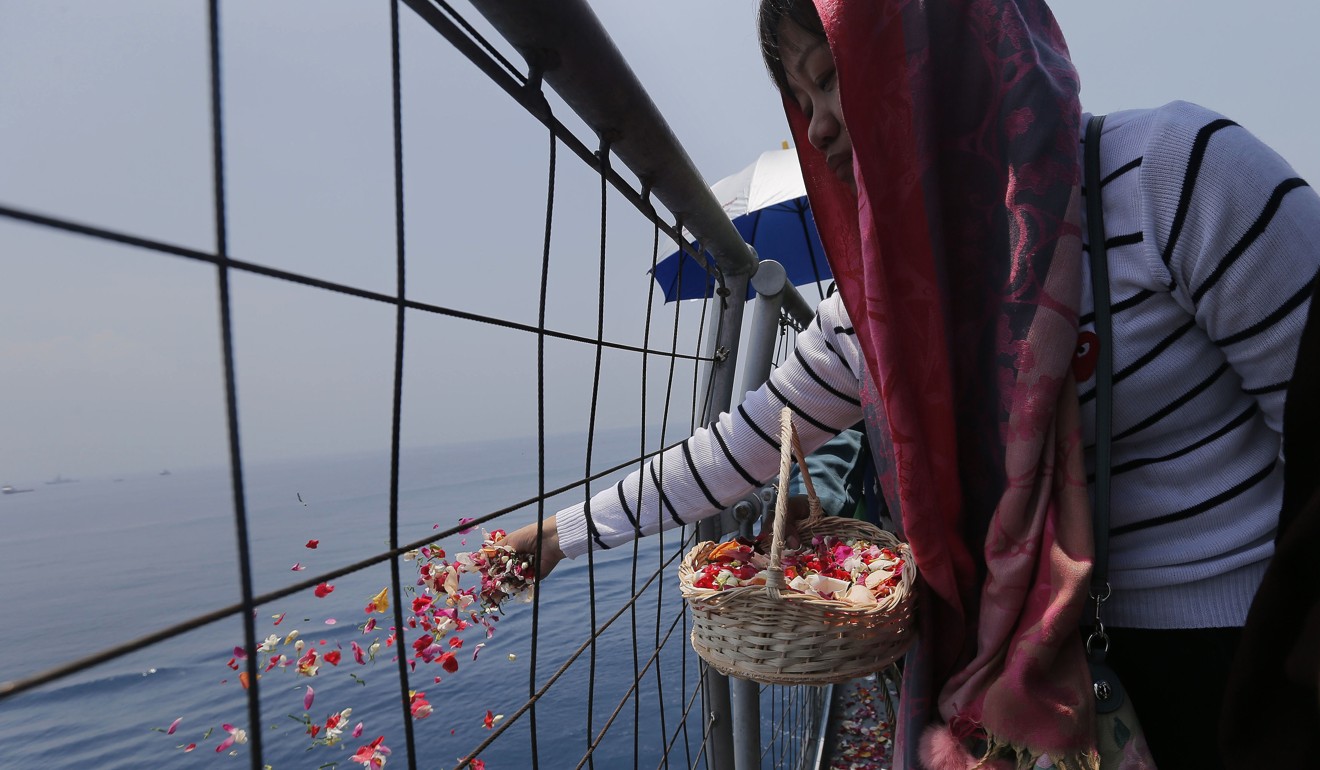 Investigators have not yet determined the cause of the Ethiopian Airlines crash, but aviation experts have noted
eerie similarities
between it and the Lion Air crash in October. Both planes lost contact with the control tower within minutes of take-off and the pilots had apparently asked to return to base.
"An aircraft will keep climbing during cruising after take-off, but in both cases the jet went erratic, it went up and down, up and down," said Gerry Soejatman, a Jakarta-based aviation expert, citing available flight data. "The two crashes shared similar patterns, including an unreliable airspeed, then it's rightly or wrongly normal for people to come to the conclusion that the two crashes are caused by the same thing. The similarities are worrying."
A
preliminary investigation
into the Lion Air crash, issued by Indonesia's national transport safety committee, pointed to a faulty "angle of attack" sensor that triggered a new flight control system found in the 737 MAX model which is designed to push the nose of the aircraft down to prevent a stall.
Boeing grounded the entire global fleet of its 737 MAX aircraft on Thursday and is expected to issue a software fix in the coming weeks. Many countries around the world had already grounded the aircraft, including China and the US.
No fix, however, is likely to persuade the victims' families to board the company's jets any time soon.
"Honestly, to this date, I still have fear of flying," Wulandari said. "I was supposed to fly to
South Korea
10 days after the Lion Air crash, but I cancelled the flight and I haven't taken a flight since."