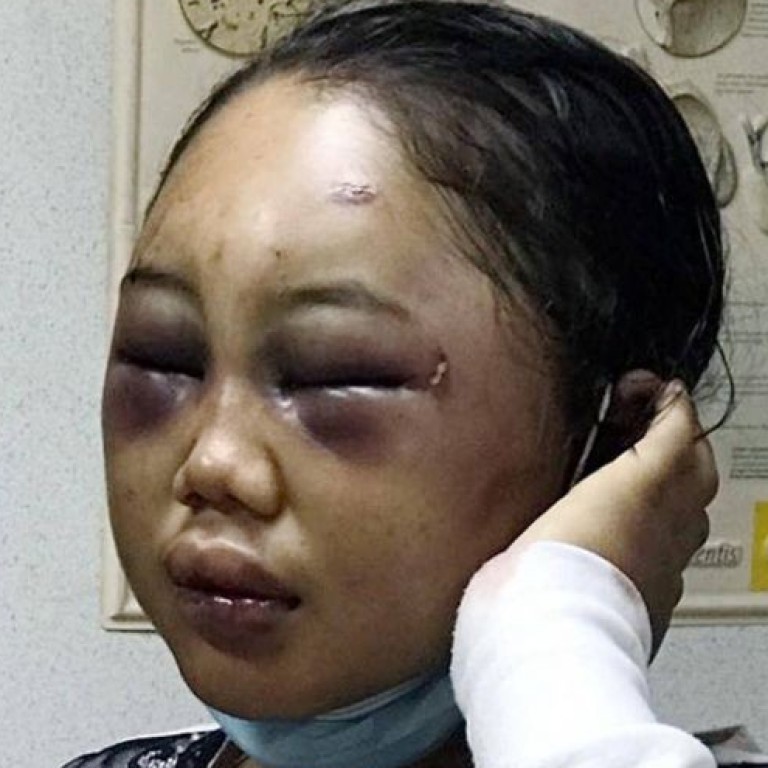 Starved, beaten with hammer, forced to sleep with dog: worst domestic worker abuse cases of Hong Kong, Singapore and Malaysia
The Singaporeans jailed this week for ordering their domestic worker to eat her own vomit were not a one-off
From Hong Kong's Erwiana to an Indonesian beaten with bamboo, here are some of Asia's most notorious cases of helper abuse
A Singaporean couple who force-fed their domestic worker with a funnel, ordered her to eat her own vomit and threatened to hire an assassin to kill her family if she reported them
were jailed on Monday
.
The pair – who were sentenced two years ago in a separate case regarding the abuse of an Indonesian domestic worker – caned and kicked Myanmar national Moe Moe Than, 32, and also forced her to perform chores in her underwear.
Chia Yun Ling, 43, was sentenced to 47 months in prison and fined S$4,000 (US$2,962). She was ordered to pay Than S$6,500 in compensation.
Her husband, Tay Wee Kiat, 41, was jailed for 24 months and ordered to pay S$3,000 in compensation.
Hong Kong,
Malaysia
and
Singapore
have seen their fair share of domestic worker abuse. Here are some of the worst incidents over the years.
STARVED TO DEATH
Fong Kong Meng, then 58, and his wife Teoh Ching Yen, then 56, failed to provide food and medical treatment for Isti Komariyah during the three years she worked for them, the Malaysian High Court found.
Isti, 26, who weighed barely 26kg, was declared dead on arrival at the University Malaya Medical Centre in Kuala Lumpur.
She had weighed 46kg when she started working for the couple.
The pair were sentenced to hang for murder in March 2014 but the Federal Court amended the charge to culpable homicide not amounting to murder and sentenced the couple to 20 years in jail last year, according to Malaysian media.
In an earlier case, a Cambodian domestic worker was starved to death in 2012 by her Malaysian employers.
Housewife Chin Chui Ling and her husband Soh Chew Tong, a hardware store owner, were convicted of murder in 2015 by the Court of Appeal and sentenced to death.
Their domestic worker Mey Sichan, 24, was found dead at the couple's shophouse in Penang. At the time of her death, she weighed just 26kg.
Last year, the Federal Court overturned their murder charge and sentenced the couple, both in their forties, to 10 years in prison.
ERWIANA
Former domestic worker
Erwiana Sulistyaningsih
suffered months of abuse between May 2013 and January 2014 at the hands of her Hong Kong employer.
The Indonesian, then 23, returned to her home country on January 10 in a critical condition and was admitted to a hospital in Sragen, Java.
The court heard that Erwiana had a metal tube from a vacuum cleaner shoved into her mouth, injuring her lips. In another incident, she was stripped naked, sprayed with cold water and forced to stand in front of a fan for up to two hours.
Law Wan-tung
, 44, was sentenced to six years in prison in 2015. She was convicted of 18 of 20 charges, including assaulting and criminally intimidating Erwiana and another Indonesian domestic worker, Tutik Lestari Ningsih.
Law was released from jail after serving only about half of her six-year sentence and her whereabouts are now unknown. She is yet to pay damages owed to Erwiana and Tutik as ordered by the court.
Erwiana graduated last year with a bachelor's degree in economic management at the Sanata Dharma University in Yogyakarta.
KNIFE, MOP, HANGER, UMBRELLA
A Malaysian woman was convicted for attacking her Indonesian domestic worker with a kitchen knife, a steel mop, a clothes hanger and an umbrella on June 21, 2016.
Suyanti Sutrinso, then 19, suffered multiple injuries to her eyes, hands, legs and internal organs. She also had a broken scapula, injuries to her right lung, a blood clot near her brain and a cheek fracture.
Rozita Mohamad Ali, who holds the honorific title "Datin", was initially charged with attempted murder. On March 15, 2018, the 44-year-old was placed on a good behaviour bond of 20,000 ringgit (US$4,938) for five years after pleading guilty to the amended charge of causing grievous hurt by dangerous weapons or means.
The case sparked public outrage, and a change.org petition calling for "equal justice for the rich and poor" surpassed its target of 50,000 signatories.
Rozita was sentenced to eight years in prison after the High Court reversed a lower court decision, Malaysian media reported.
SCALDED WITH HOT WATER
A Singaporean couple were convicted of abusing their Myanmese domestic worker, including forcing her to
pour scalding hot water on herself
and drink dirty water mixed with floor cleaner between August and October 2016.
Phyu Phyu Mar was not paid her salary throughout her employment. She was also denied food, which caused her weight to drop from 50kg to 38kg.
The domestic worker was forced to pour hot water onto her left shoulder on two occasions and suffered scald marks and blisters on her skin. She was given a needle to puncture the blisters herself and did not receive medical care.
Linda Seah Lei Sie, 39, was found guilty of six charges – five for assault and one for making Phyu Phyu drink tainted water – and jailed for three years. She was also ordered to pay the victim S$11,800 in compensation. Her husband Lim Toon Leng, 44, was convicted of punching the maid on the forehead and sentenced to six weeks in prison.
Seah forced Phyu Phyu to knock her head against the floor, grabbed her hair and hit the Myanmar national with a mobile phone multiple times, the court heard.
BEATEN WITH A HAMMER
A Singaporean couple were convicted of assaulting their Indonesian domestic worker with household items such as a hammer, bamboo pole and scissors between June and December 2012, causing permanent disfiguration.
In September 2017, Zariah Mohd Ali, 56, was found guilty of 12 charges of abuse, while her husband, Mohamed Dahlan, 58, was convicted of a single charge of hitting their domestic worker Khanifah with a frying pan cover.
Khanifah, who was 32 at the time, was hit on the head with a hammer on about five occasions. Her teeth were knocked out or broken when she was hit on the mouth with a hammer on more than two occasions, The Straits Times reported.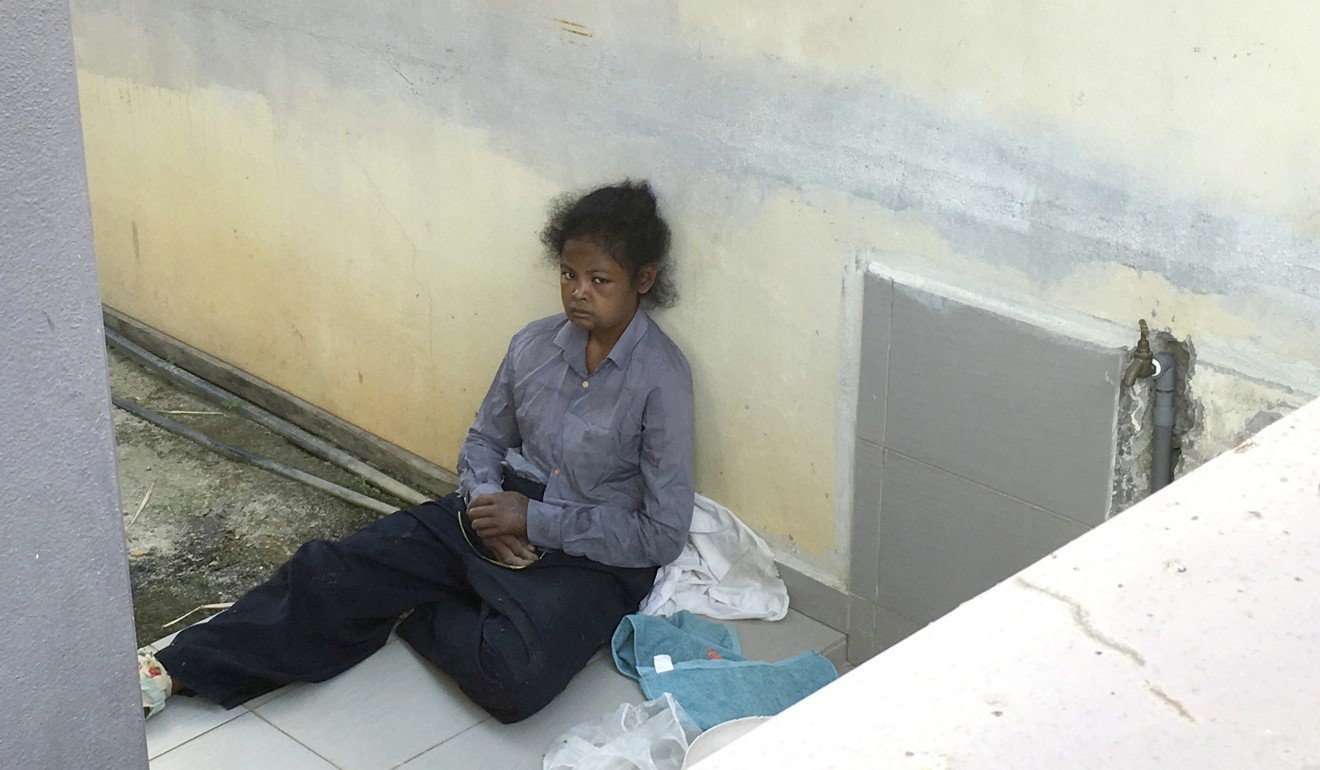 FORCED TO SLEEP WITH DOG
Neighbours reported that Adelina Lisao, 21, was abused for more than a month before she was rescued by assistants to Democratic Action Party MP Steven Sim on February 10, 2018.
"There were wounds on her hands and her face was covered in bruises," Por Cheng Han, a staff member for Sim, told Reuters. "She was so terrified and couldn't speak a word, she just shook her head."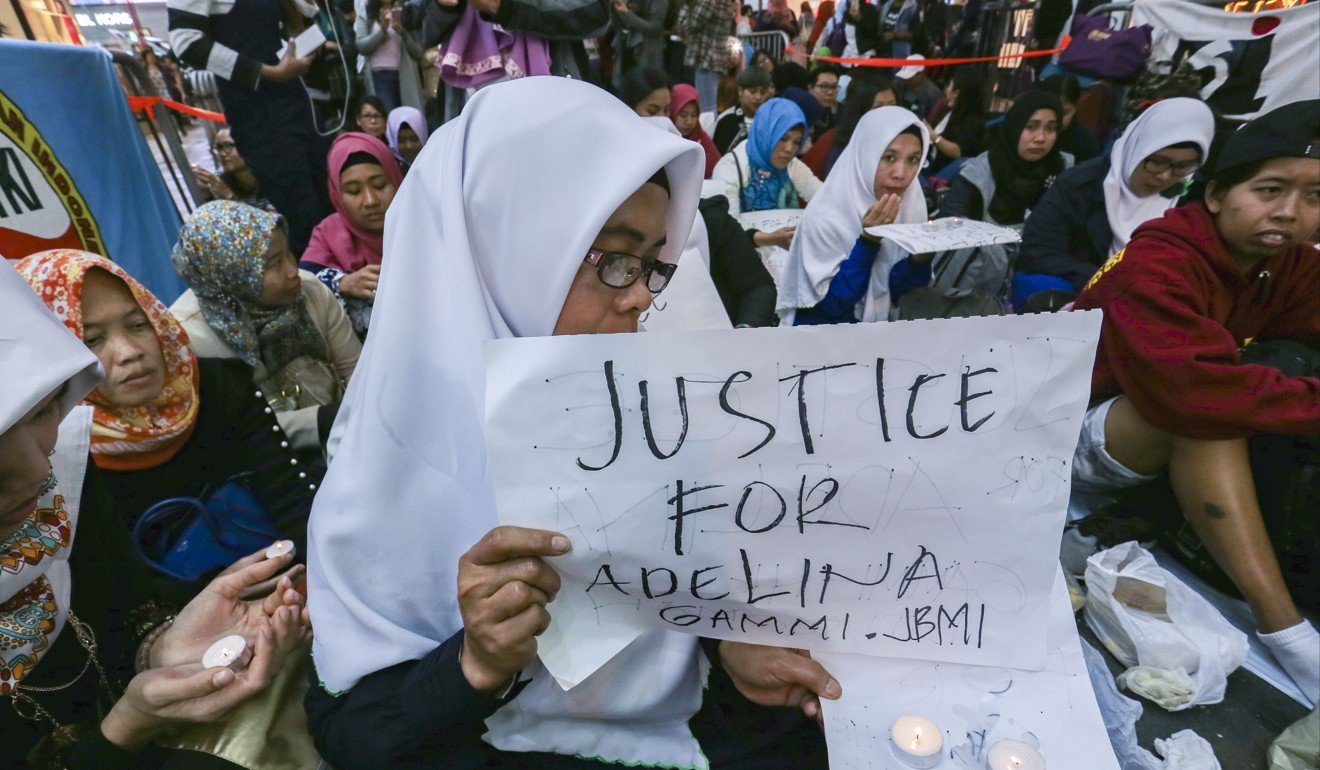 Adelina died the following day at Bukit Mertajam Hospital due to multiple organ failure, according to The Star.
Her employer, S. Ambika, 60, was charged under Section 302 of the Penal Code for murder. No plea was recorded from her.
Ambika's daughter, R. Jayavartiny, 32, was charged for employing a foreigner without a valid work permit.