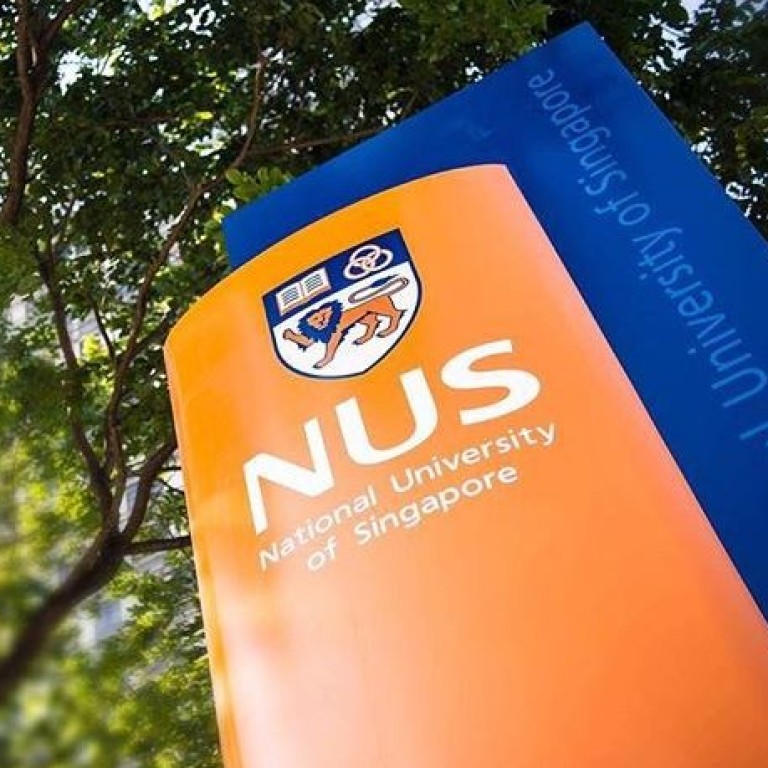 Singapore's NUS forced to overhaul handling of sexual harassment cases after backlash over Monica Baey's peeping Tom incident
The National University of Singapore will set up a unit to support sexual assault victims, among other measures, after a student was filmed showering
Education Minister Ong Ye Kung has called NUS' penalty for the offender as 'manifestly inadequate'; other top universities are also rethinking their policies
Strengthening its hostel security system and establishing a unit to support
sexual assault victims
are two "immediate" measures the
National University of Singapore
(NUS) would adopt to tackle sexual harassment on campus, in the face of a backlash following its handling of a peeping Tom incident.
The measures were announced during a two-hour town hall meeting on Thursday, at which the student body raised concerns about sexual misconduct to the university's vice provost for student life Florence Ling and dean of students Peter Pang.
"The town hall was definitely necessary because clearly a lot of voices from the student body were demanding to be heard," said Inez Yuen, a final-year sociology major who was one of hundreds at the meeting. "Sexual assault has been normalised by institutions for too long and the loud majority have finally had enough."
Besides NUS, other top universities in
Singapore
are also rethinking policies related to sexual harassment on campus, in a bid to tackle such misconduct.
These efforts come amid closer scrutiny of university policies after NUS student Monica Baey last week took to social media to publicise an incident in which she was filmed while taking a shower in her hostel bathroom.
She asked for "real change" in how authorities tackle acts that violate women.
The man who filmed Baey last November was given a 12-month conditional warning by the police. NUS suspended him for a semester, banned him from entering campus residences and made him send Baey a letter of apology.
Baey, who flew back to Singapore from Taiwan where she was on an exchange programme, kicked off the town hall by raising concerns over the university's lack of victim support.
"There was little to no victim support provided to me by the school from the first point of contact," she said, adding that she felt "extremely uncomfortable" when her statement was taken by a male officer.
Lack of proper communication from the university also made her feel that NUS wanted to "quickly close the case and move on", Baey said.
Other students proposed a range of measures the university could implement to ensure the better handling of sexual misconduct cases.
These ranged from improving facial recognition services so sexual offenders would not be allowed to enter campus residences, to meting out more transparent punishment to deter would-be offenders.
These suggestions would be taken into consideration, said dean of students Pang, and would be brought to the newly convened review committee tasked with reviewing the current disciplinary frameworks at NUS.
The university had earlier said it used a "second strike and you're out" rule when handling sexual misconduct cases, which meant a student would only be expelled when found guilty of sexual misconduct for a second time.
According to records found on NUS' student portal, 26 cases of sexual offences had been recorded over the past three years, and 18 involved sexual voyeurism.
Describing the penalty as "manifestly inadequate", Education Minister Ong Ye Kung later said in a Facebook post that the current policy "cannot be the standard application".
Pang during the town hall said changes would be made to NUS' current policies, adding that the university would prioritise care and support for victims.
"We are starting the conversation with you, and this is just the beginning," he said. "Our victim care is totally inadequate and we want to make things right."
Moving forward, NUS will set up a centralised unit for victim care and strengthen safety measures at its hostels.
"I hope that this town hall can be the beginning of constructive and ongoing dialogue about what can be done to ensure better handling of sexual crime incidents and how the university can ensure its students feel protected," said Baey, the student.
Meanwhile, Singapore Management University (SMU) and Nanyang Technological University (NTU) are also rethinking their sexual harassment policies.
In a circular to its students seen by the South China Morning Post, SMU president Lily Kong said the university would review its existing disciplinary framework related to such cases.
NTU said it had strengthened its policies governing harassment, in addition to the introduction of a new anti-harassment online module for its freshmen come July.
The module, designed in consultation with student leaders, will include videos and information on what constitutes harassment as well as support resources for victims, and will later be rolled out to all NTU students.
The module is "designed to address new forms of harassment that have arisen due to advancements in technology", said NTU's deputy associate provost for student life Victor Yeo.
"Raising students' awareness on how to deal with such situations is essential to help curb harassment, and ensure a safe and conducive environment for everyone on campus."
The NTU Student Union (NTUSU) felt the module was a good first step toward educating students on detecting signs of harassment as well as the appropriate channels to seek help.
"We believe that prevention is definitely better than cure," said Tiffany Choo, NTUSU's vice-president for corporate communications. "It is important for students to be more sensitive and aware of what constitutes harassment so that they can spot the signs and intervene among their peers in order to nip the issue at the bud."
But the use of an online module to tackle a sensitive issue like sexual harassment has garnered mixed responses from students.
Some, such as final-year psychology major Allen Kwok, felt the module would be useful for raising awareness about such issues on campus.
"Victims would also know where to seek help and that there's a community that they can fall back on," he said.
Others felt that even though the intentions behind such an online module were in the right place, it was idealistic to think the university could change perspectives with it.
"There are many things the university is doing that are trial and error," said communications major Megan Koh.
"We would not know how successful an online module would be, but at least we know the school has started to pay more attention to sexual misconduct on campus, and hopefully improve their measures along the way."
This article appeared in the South China Morning Post print edition as: Schools take tougher stance on sexual misconduct on campus