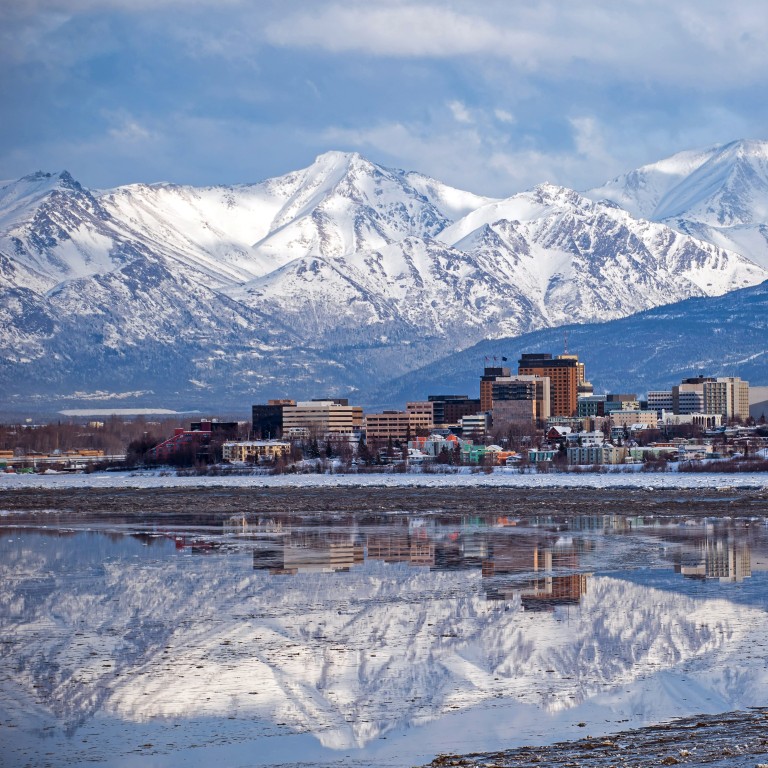 There are Filipinos in Alaska – they're called Alaskeros, and they've been there for more than 200 years
The coldest state in the US is home to 30,000 Filipinos who make up the largest immigrant minority in Alaska
They have settled in the state since the late 1700s, many intermarrying with local Native Alaskans, creating dishes such as beaver adobo and salmon lumpia
Jerry Manolo always dreamed of seeing snow. He grew up in
the Philippines
, where the average year-round temperature is 26.6 degrees Celsius, but daydreamed of living in a rustic log cabin hidden among glacial, snow-capped mountains, hiking over frozen lakes and sledding down powdery white hills.
When he told friends and family of these visions, they thought he was crazy. But Manolo didn't listen. In 2003, he visited the coldest state in the
United States
, where the average low in the chilliest months is minus 19 degrees.
"People told me it was too cold there," Manolo recalls. "But when I asked them if they had ever been, they said no!
"The beauty of Alaska is unique. You fall in love with the local nature – that's why I'm still here."
Today, Manolo lives with his family in Anchorage, the largest city in Alaska. He belongs to the flourishing community of more than 30,000 Filipinos – the largest immigrant minority in Alaska, according to 2017 state statistics.
Filipinos are also Alaska's largest minority group after the indigenous population, which at 112,800 people represented more than 15 per cent of the state's inhabitants last year.
Jessie Gacal-Nelson also grew up with visions of a white winter. The amateur photographer immigrated four years ago to Soldotna, a town of 4,000 people, after meeting his American husband online.
"I fell in love with Alaska," Gacal-Nelson says. "I have adjusted to the weather. I always go out for walks or bike rides whether it's hot or cold. Alaska has brought out the best of my art and photography."
After Manolo settled in Alaska, his family followed. His mother, five brothers, an aunt, uncle and his wife – a Hawaiian of Philippine descent – joined him, and his son, now six, was born there.
The family runs Jeepney by Adobo Grill, a successful food truck and catering business that serves fusion Philippine dishes such as pork adobo, barbecue chicken and lumpia (Philippine spring rolls) to the residents of Anchorage.
"Pork adobo is a No 1 dish in the Philippines," says Manolo, describing the soy-marinated pork belly often served with rice. "Here we put it in a burrito, we do pork tacos, nachos, so American people can kind of relate. But it's got a Philippine taste."
Although such dishes may seem a novelty in Alaska, the links between the Philippines and the most remote state in the US stretch back centuries.
WHO ARE THE ALASKEROS?
The arrival of Filipinos to Alaska dates back to 1788, according to local media, when crew from merchant ships came to trade furs with the natives. Eventually, whaling ships brought still more Philippine crew. Many settled and married women of the Aleut, Eskimo and Tlingit tribes.
In the early 1900s, almost 1,000 Filipinos – mostly single men – came to work in Alaska's commercial fishing industry, a sector that remains the state's largest private-sector employer. They toiled in fish canneries, where they were often the lowest-paid workers and endured impoverished conditions.
In her 1996 book Filipinos in Alaska, Thelma Buchholdt describes how white workers were housed in heated compounds, while Filipino workers often had to put up with living in cramped, unheated spaces without showers or proper hygiene facilities, and were fed meagre meals of fish and rice.
These Filipino communities became known as "Alaskeros" – a term still used today.
Gabriel Garcia, a Filipino-American associate professor of public health at the University of Alaska Anchorage, explains that these men came to Alaska seeking the opportunity for a better life. "Other Filipinos came to Alaska as seasonal workers from California, Washington, and Hawaii," he says.
They were US nationals, as the Philippines was an American territory at the time, but they still faced discrimination. Filipinos were not allowed to interact with whites – especially white women.
Native Americans faced similar racism and, as a result, Filipinos and indigenous Alaskans were segregated together.
"They worked together to fight against discrimination," says E.J.R. David, a Filipino-American professor of psychology and history expert at the University of Alaska Anchorage. "Over time, many Alaskeros and Alaska Natives had children together. They combined Alaska Native and Filipino cultures in raising their families, such as making beaver adobo and salmon lumpia."
Nez Danguilan, a local Filipino community leader and former television host, says many Alaskans do not even realise they are of partial Filipino heritage until they interact with more recent arrivals from the Philippines.
"I have talked to some of my Alaskan colleagues about food of the Philippines and they say, 'Wait, my grandpa cooked that'," Danguilan says.
"Many people also don't realise that a lot of the Asian food they eat was introduced to Alaska by settler Filipino husbands. That's why restaurants like Jeepney are so popular … For instance pancit [noodles] or Filipino chow mein – they had been cooking it and didn't realise its Filipino influence."
FILIPINO-ALASKANS TODAY
After the 1965 US Immigration Act was passed, more Filipinos moved to the US. The new law enabled the easy entry of skilled labourers from the Philippines, and their populations grew quickly. Many relocated to reunite with their families, says David from the University of Alaska.
"But also, Filipinos come to Alaska today for reasons that are typical of any other immigrants – to look for jobs, for a better life, or for more opportunities," he says, pointing to the large Filipino community working in health care and education.
Alaska's natural beauty notwithstanding, the contrast with the Philippines could hardly be more stark. David takes pains to point out that the long history and large presence of Filipinos in Alaska was not simply down to their choice, noting that poverty and seeking better opportunities for loved ones was often at the crux of such decisions.
"Something happened that made it necessary for so many Filipinos to leave their loved ones, that made Filipinos want to move to the US, including Alaska. And what happened was colonialism and its continuing legacies," he says.
"Filipinos and Alaska's indigenous peoples share a similar history of colonialism. The same notion of manifest destiny that was used to colonise North America and Alaska was also used to justify the colonisation of the Philippines.
"The same notion of benevolent assimilation that led to the creation of Native boarding schools, was the same benevolent assimilation that was used to inculcate Filipino minds with ideas of American superiority."
For Jerry Manolo and his family, becoming Alaskan is a point of pride. His parents were US contract workers who travelled abroad to work long hours in cleaning and cashier jobs to provide better lives for him and his brothers. Today, he and his food truck business do the same for his extended family.
"Back home in the Philippines we do whatever it takes to make a living to support our families," Manolo says. "And that's how we are too over here. That's our culture." ■
Connect with us on Facebook.