Japan
Get more with myNEWS
A personalised news feed of stories that matter to you
Learn more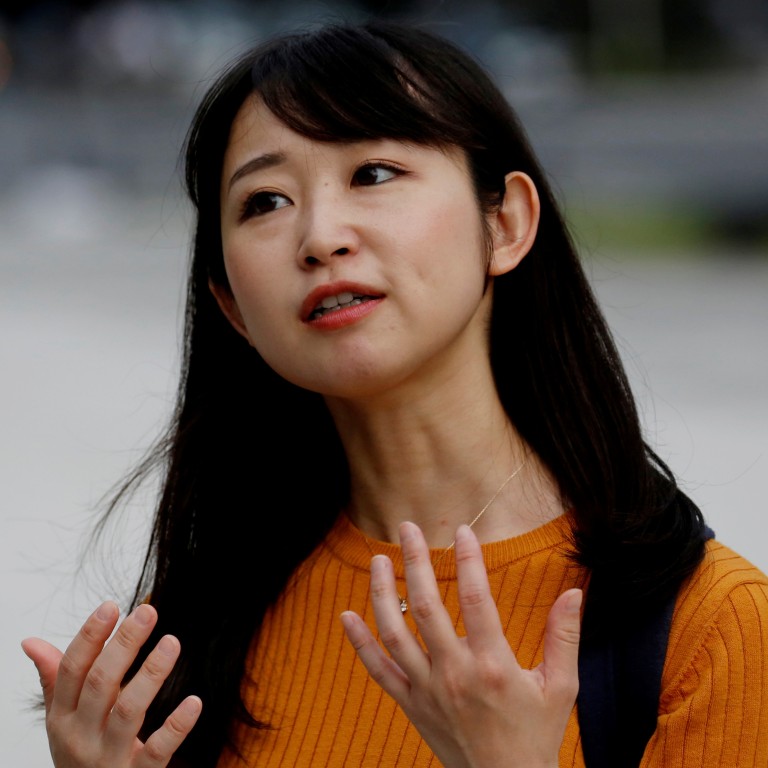 Japan's #KuToo founder Yumi Ishikawa asks: 'Is it bad for a feminist to get naked?'
KuToo began as a movement against high heels and gendered dress codes in Japanese workplaces
The founder, however, has become the target of online harassment after her nude modelling photos stirred further debate about image expectations placed on women in Japan
Yumi Ishikawa is one of the most recognisable faces of
Japanese
feminism today. Over the last few months, the 32-year old part-time funeral attendant has been featured by local and international media for her role as the founder of
#KuToo
, Japan's anti-high heel discrimination movement launched by a series of Ishikawa's tweets in January.
#KuToo – a portmanteau of the words kutsu (shoe), kutsuu (agony) and MeToo – became a rallying cry for Japanese women. Thousands of Twitter users responded with photos of bloodied, bruised and injured feet, to protest against the expectation of having to wear high heels at work in the conservative and patriarchal nation.
A petition Ishikawa created on
Change.org
urging Japan's ministry of health, labour and welfare to revise gendered expectations of workplace footwear also went viral, attracting more than 28,000 signatures since it was published in February.
Despite the success of #KuToo, though, Ishikawa's growing public prominence has made her the target of online attacks – especially after photographs of her past work as a nude model appeared on Twitter. Such comments have opened more discussion regarding the social and image-based expectations of women, and what it means to be a feminist in Japan.
Ishikawa's critics, who are largely male, have called her a hypocrite for her feminist activism when she was once a pin-up model.
"I was surprised to see that Yumi Ishikawa, who's making a big fuss over 'gender discrimination' using KuToo and MeToo hashtags," tweeted @Austin39526189, along with photos of Ishikawa's nude modelling shots. "You've been making money from sexual photos, and once you stopped profiting from them, you've made a big cry over sexism."
Another Twitter user alleged Ishikawa had been lying about her workplace dress code and associated foot injuries: tweeting: "I will try to find out where she works, and whether she is in fact required to wear 5-7cm heels."
Ishikawa responded by retweeting these angry comments along with her old modelling photos, and by launching the new hashtag "Is it bad for a feminist to get naked?"
"What I'm experiencing now is slut-shaming," she told the South China Morning Post. "I've been used to receiving this kind of harassment since my modelling days. People think that it's OK to insult a woman if she dresses sexy, or is involved in a sex-related line of work.
"I expressed myself using my own body. I can't understand why I'm being abused as if it is a crime.
"When a woman speaks up about sexism and is harassed and criticised for it – that in itself is proof that gender-based discrimination exists as a problem."
In a recent survey conducted by Business Insider Japan, more than 60 per cent of respondents said they had experienced high heels being enforced as part of their workplace dress codes.
Kumiko Kawashima, a gender studies lecturer at Macquarie University, said women have long been expected to wear certain make-up, stockings, hairstyles and heels in Japanese workplaces.
"Employers frequently use the rhetoric of 'manners' to justify such demands and individualise the issue," she said. "However, gender stereotypes clearly influence company policies regarding dress styles and self-presentation."
Kawashima said movements such as #KuToo have exposed gendered assumptions behind the notion of presentability in workplaces, as well as the harmful effects on female workers.
"Many women enjoy wearing high heels on their day off, yet feel frustrated when they are forced to wear them at work on a daily basis," she said. "Many of Ishikawa's critics who take issues with her past occupation are missing the point of Ishikawa's campaign, which is about choice, autonomy and fairness."
She cited the example of Shiori Ito, the female journalist who spoke out after allegedly being drugged and sexually assaulted by prominent journalist Noriyuki Yamaguchi – and was subsequently shamed and inundated with hate mail for publicising the incident.
"When women such as Ishikawa or the journalist Shiori Ito voice their views to protest against gender discriminatory practices, their appearance, as well as their past activities, are scrutinised, judged and criticised," Kawashima said. "This is not an accident, as such criticisms are designed to silence women's protest and use gender stereotypes to maintain power inequality."
Earlier this month, Japanese health minister
Takumi Nemoto
responded to Ishikawa's #KuToo petition by claiming high heels are "necessary and appropriate" for the workplace. Despite these pronouncements, Ishikawa attended a session of Japan's National Diet on June 11 for a discussion on how to end workplace sexism.
Although the constant stream of threats and backlash has caused her to consider quitting her job at the funeral home, Ishikawa will continue to defend women's agency over their own bodies and confront gender discrimination.
"I won't shut up," she said. "It's up to me how I expose my body, and my choices. That's my declaration."
Additional reporting by Yumi Mizuno
This article appeared in the South China Morning Post print edition as: #KuToo founder in new controversy over nude photos