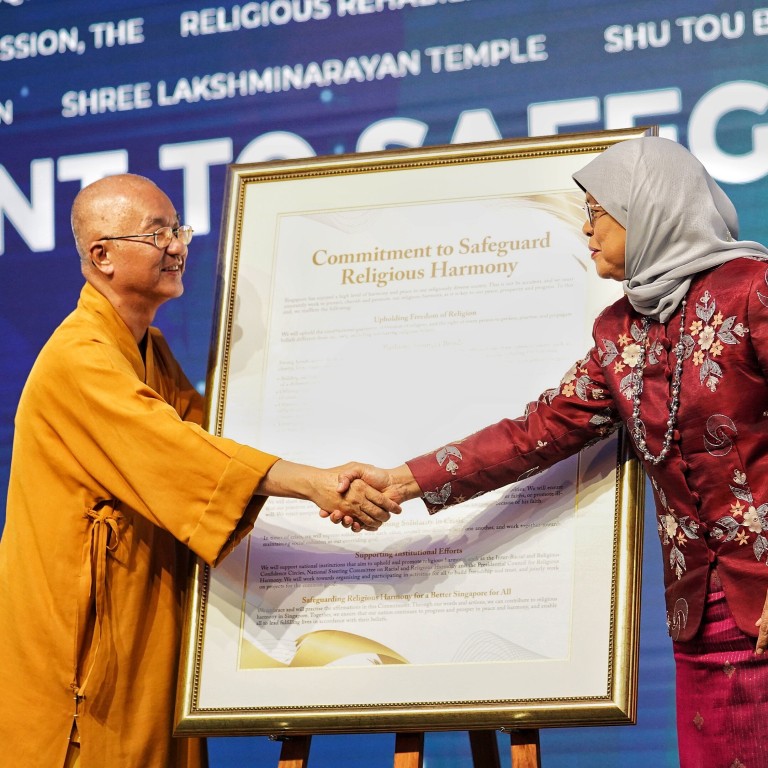 Singapore's strict laws alone cannot ensure racial cohesion: President Halimah Yacob
The city state is known for its no-nonsense approach to protecting ethnic sensitivities, with firm policies ensuring tensions are kept to a minimum
The 'real test', Halimah said, was the reaction of people when 'a bomb goes off or [when] people get killed because of racial or religious hatred'
Constant dialogue among
Singapore
's diverse ethnic and religious groups – not just its tough anti-hate speech laws – helps the Lion City remain one of the world's most socially harmonious places.
That was the assessment of the city state's President Halimah Yacob on Wednesday at the launch of a new international conference looking into issues surrounding building cohesive societies.
The three-day forum will feature a keynote speech on Thursday by King Abdullah II of Jordan, as well as sharing sessions by experts in the field of social harmony.
Speaking to youth leaders taking part in the conference, Halimah acknowledged Singapore – globally known for its no-nonsense approach in protecting ethnic sensitivities – has strict laws as part of its repertoire.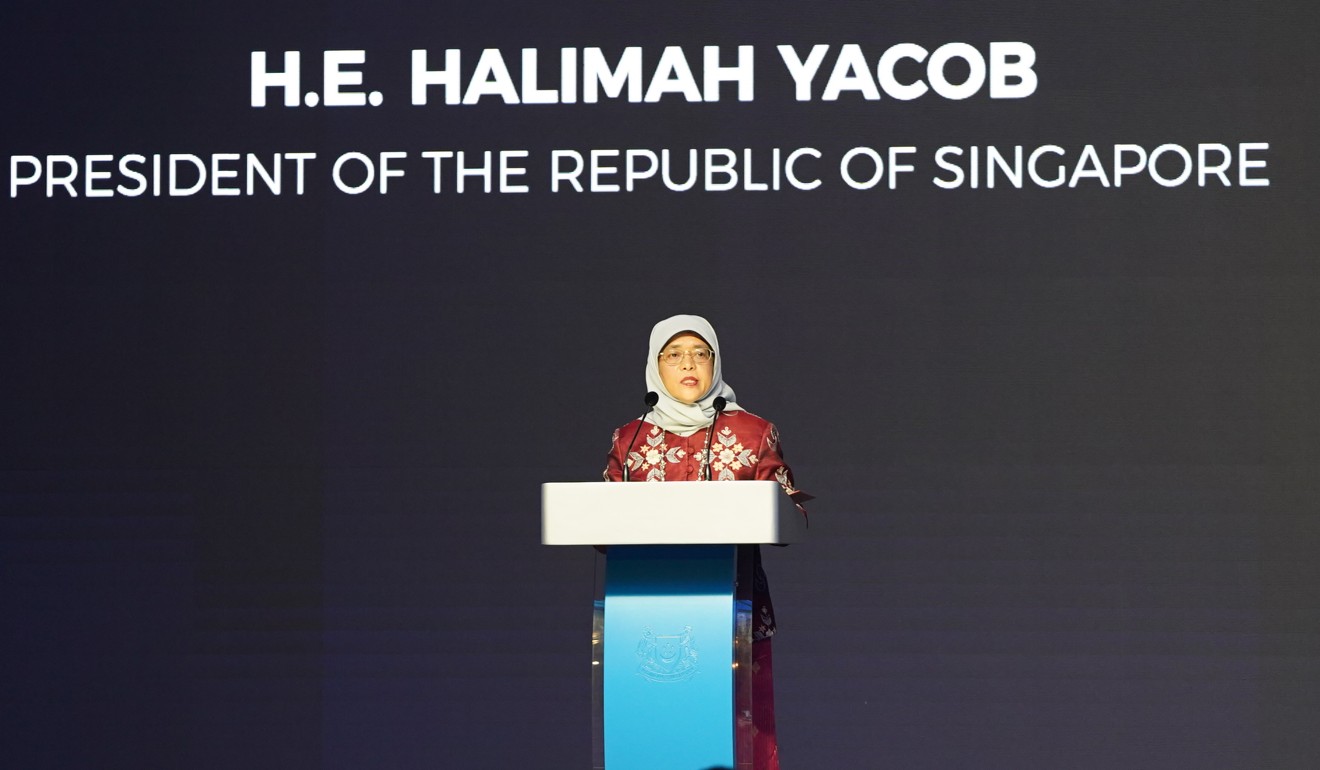 The multiracial city of 5.7 million people was forged from the embers of race riots in the 1960s, and the long-ruling People's Action Party (PAP) wields an extensive range of policies, including preventive detention, to keep a lid on tensions.
"We have the [Maintenance of Religious Harmony Act] for instance, which ensures that you do not cross the line, to ensure you do not go on social media and call someone else all kinds of names with regard to that person's race or religion," the president said.
"[But] legislation alone will never be able to achieve the goal because legislation by its own nature, is something we look at only when something is transgressed."
The "real test", Halimah said, was the reaction of people when "a bomb goes off or [when] people get killed because of racial or religious hatred".
"This is when you need organisations [that] are promoting [cohesion] all the time, talking to each during times of peace," she said.
In a separate speech at the opening of the conference – which was mooted by Halimah – the president stressed that countries need to foster space for diverse groups to be different.
"The world would be all the poorer if it had no room for difference. If we were all the same, we would have nothing special to offer, nor anything to learn from others. The more diverse we are, the richer we become," she said.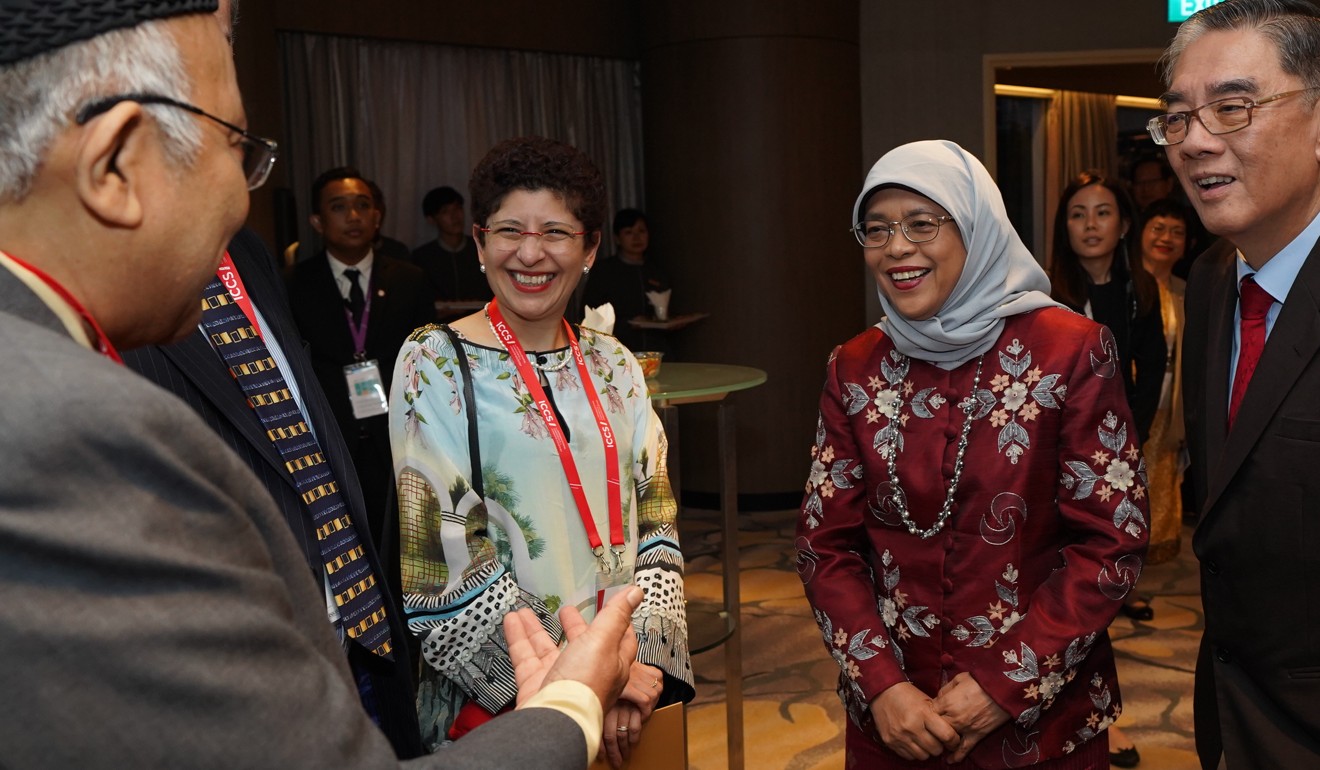 Speaking to an audience of some 700 officials, religious figures, youth leaders and academics, Halimah highlighted the twin threat from
Islamic militants
and the violence perpetuated as a result of Islamophobia, as well as "acts of violence promoted by a resurgent far right".
"Segregationist and nativist" instincts arising from global mass migration was also a challenge, the president said.
"Those belonging to one culture find comfort and a sense of belonging among their own," she said. "But when taken to the extreme, such tendencies can invite host societies to see these immigrants as threat to their own cultural cohesion. Worse still, such anti-immigrant rhetoric may take on racial and religious overtones."
Halimah said that "ultimately, social cohesion is not something that can be commanded by any government" and that it can only grow from "dialogue, give and take, speaking, and listening".
Jordan's King Abdullah II, whose government has had to balance the interests of citizens of different descent – including refugees from occupied Palestine – is expected to speak about his country's experience in fostering social cohesion during his keynote speech on Thursday.
Other speakers include the prominent British inter-religious author and researcher Karen Armstrong, and Lai Pan-Chiu, a professor focused on the study of Christianity and religious pluralism at the Chinese University of Hong Kong.
Connect with us on Twitter and Facebook
This article appeared in the South China Morning Post print edition as: Strict laws alone 'cannot ensure social cohesion'