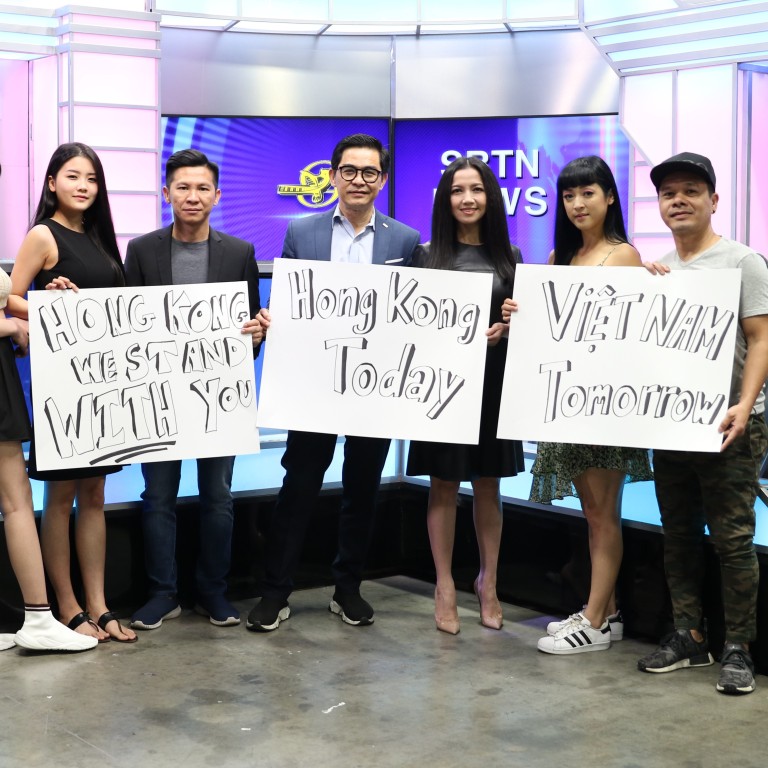 An ode to Hong Kong's extradition bill protesters, penned by Vietnamese-American dissidents
Sea of Black started life as a melody inspired by the 'umbrella movement' of 2014, but it wasn't until this year that it got all its lyrics – and title
The song draws parallels between Hong Kong and Vietnam, which has been a one-party communist state since the end of the war there in 1975
When Vietnamese-American musician and television producer Trúc Ho came to
Hong Kong
to join the "
umbrella movement
" in 2014, a melody came to him, along with the words "freedom, democracy, is all that we need".
These beginnings of a tune would not gestate into a fully fledged song until June 16 this year, however, when the musician read about the
close to 2 million people
who took to the streets of the city to demand the withdrawal of a controversial
extradition bill
.
"The image of 2 million people in black standing up for freedom inspired me once again and I picked up a guitar and started writing the song," Trúc Ho said. His two children, Lala Truong and Ly-Bach Truong, helped him finish the lyrics for what they went on to name Sea of Black.
"I want [my children] to know what is going on in Hong Kong and to understand the struggle Vietnamese people are going through as well," Trúc Ho said.
The lyrics to
Sea of Black
include the lines "Hong Kong, land of free, land of you, land of me" and "today Hong Kong, tomorrow
Vietnam
", invoking solidarity between the two.
Trúc Ho, who goes by a pseudonym, is a refugee who fled the Vietnamese communist regime on foot in 1981 at the age of 16. He walked from Saigon through the killing fields of
Cambodia
during the Khmer Rouge period and then on to
Thailand
in seven days. There he managed to find a sponsor for him to go to the
United States
.
He is the founder of the Saigon Broadcasting Television Network, which is based in California and aims to give overseas Vietnamese a voice through news and entertainment programmes broadcast in the US and
Canada
.
The songs he writes range from love ballads to political music, depending on how the feeling takes him, but the one he penned for Hong Kong with his children holds special significance. The three of them took just three days to finish writing it and another 10 to produce and record the music, as well as record and edit an accompanying video.
Sea of Black features vocals from a clutch of well-known Vietnamese-American singers and Trúc Ho said he was in the studio until 5am to have it completed before Hong Kong's annual pro-democracy march on July 1.
"It was the right thing to do, they stood up for their rights and we support them however we can," said Mai Thanh Son, a 34-year-old singer who migrated to the US in 1994 and lent his voice to the song.
"I had been following the 'umbrella movement' very closely, and even though I could not be there, I really admired the young people of Hong Kong. We watched them and we learned from them. I would love to be there standing with the protesters, hand in hand, singing the song."
Overseas Vietnamese who fled their homeland after the country fell to the communists in 1975 understand "very well the desire of the Hong Kong people to protect their identity", Trúc Ho said.
The city's
extradition bill, which was shelved
in response to the protests, would have allowed Hong Kong to transfer suspects to jurisdictions with which it does not have extradition agreements, including mainland China.
Over the past month, protests against the bill have raged almost every week, with police responding at times by firing tear gas and rubber bullets. Trúc Ho said watching footage of such police tactics felt like a personal attack.
"My people in Vietnam, every time they stand up to fight [the government], they get beaten by the police," he said.
Although reforms three decades ago opened up communist-ruled Vietnam to foreign investment and trade and made it one of the fastest-growing economies today, the one-party state keeps a tight grip on all aspect of life including the media and does not tolerate dissent.
Democracy and political freedom NGO Freedom House ranks Vietnam as "not free", with the country only scoring 20 out of 100 points on its freedom index. In 2018, there were 244 prisoners of conscience in the country, according to the organisation.
Meanwhile, Vietnam's relations with its powerful neighbour and fellow communist state China have become increasingly strained as
anti-China sentiment has flared
over proposed special economic zones that would allow 99-year concessions to foreign investors.
"I still have friends who have been jailed for 17 years in Vietnam," said Trúc Ho, adding that another singer who took part in the Sea of Black project, Viet Khang, had been sentenced to jail in 2012 after he wrote two songs titled Anh La Ai (Who Are You?) and Viet Nam Toi Dau? (Where is my country?) in response to police crackdowns on anti-China protests in 2011.
The Vietnamese-American community campaigned for Viet Khang's release and Trúc Ho wrote a song for him titled One Million Hearts.
"I didn't know Viet Khang, but I thought it was unjust. Why did you put him in jail for his music, when the song was about loving your country?" Trúc Ho said.
In 2018, thanks in part to Trúc Ho's lobbying efforts and intervention from the
late US Senator John McCain
, Viet Khang moved to the US after spending four years in a Vietnamese jail.
"That's Vietnam today, you go to jail for your patriotism," said Trúc Ho, who also said he wrote the line "Hong Kong today, tomorrow Vietnam" with the dissident singer in mind.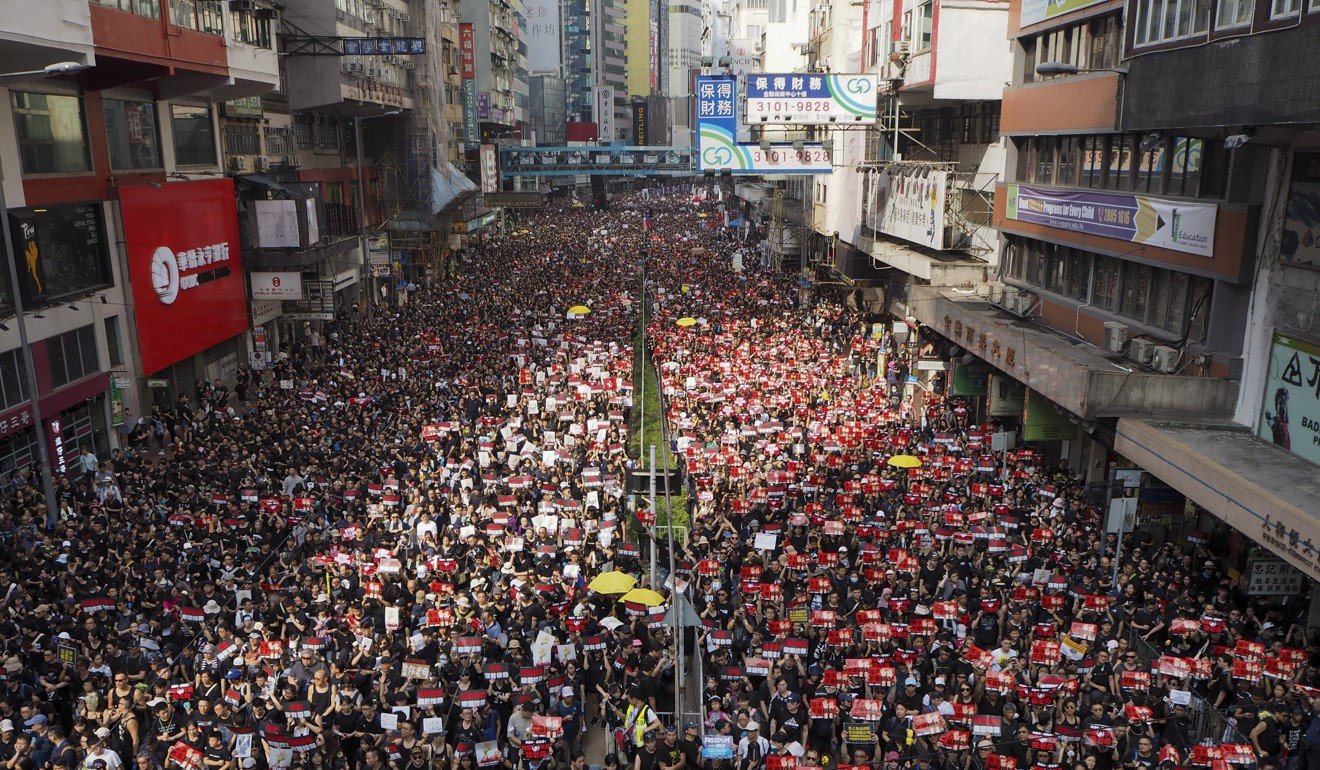 Son, the singer, said he hopes that one day people in Vietnam will be able to stand up to the state, like the people of Hong Kong, even though it will take time.
"I want to tell [Hongkongers] they should be proud of themselves, and keep doing what they are doing," Mai said.
Trúc Ho, who has been to Hong Kong numerous times, said he hoped the territory would not change.
"It will be a very sad day for me if Hong Kong is not Hong Kong any more, it will be a sad day for people who love freedom and democracy," he said, adding that he had been heartened by the many comments from people in Vietnam who were inspired by Sea of Black.
"When Hong Kong stands up, the world will follow. That's why I wrote the lyrics, today Hong Kong, tomorrow Vietnam," he said.
Connect with us on Twitter and Facebook